Alonso pleased with Alpine's points at Monza after 'uncompetitive' start to weekend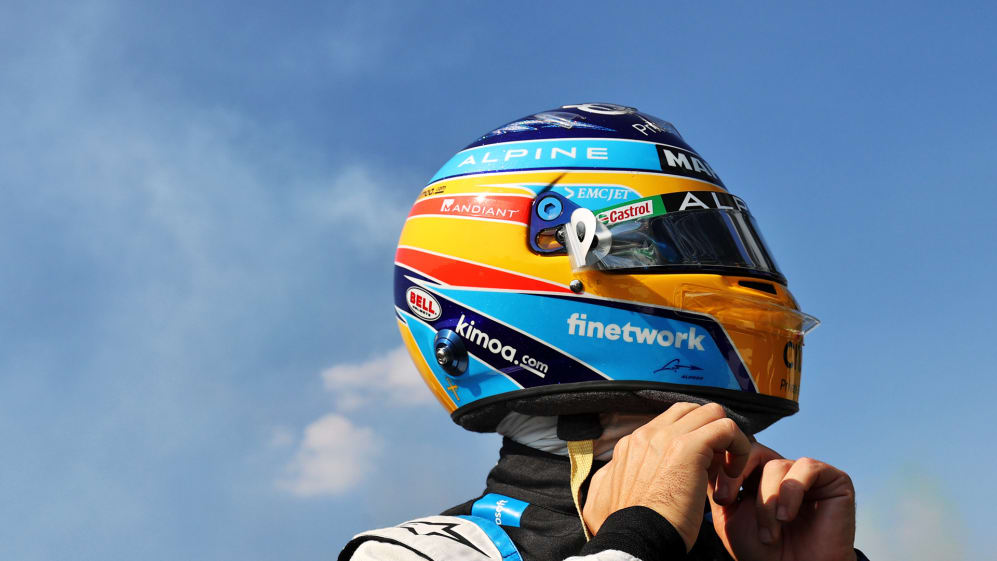 Fernando Alonso came away from the Italian Grand Prix with an eighth-place finish to bring up a half-century of points for the 2021 season. And Alonso said he was happy with the haul, given he deemed that Alpine's Monza pace had been "uncompetitive".
P13 was Alonso's grid spot for the F1 Sprint given a Q2 exit in qualifying, with team mate Esteban Ocon lining up 14th for the Saturday afternoon event. But from there, the Alpine duo moved forward, finishing 11th and 13th respectively in the Sprint before taking P8 and P10 in the Italian Grand Prix.
READ MORE: Ross Brawn on McLaren's Monza magic, and what the Verstappen-Hamilton crash means for the title battle
"Yes, I'm happy, because this was an uncompetitive weekend; we were a little bit on the slow side of the grid; we qualified 13th, 14th on Friday, so that was probably our potential here and even with that we still scored points with both cars," said Alonso.
"So that only means we executed a good race: good strategy, good pitstops, no mistakes on the weekend, so happy to deliver the job again."
The two-time champion made up places thanks to the Lewis Hamilton-Max Verstappen collision – pitting right before the Safety Car period on Lap 26 – while Esteban Ocon took the final point off Nicholas Latifi of Williams. Regardless of the double-points haul, Alonso said he was looking forward to tracks that suit the Alpines more than Monza did.
"Yes, I think it's going to be the same for everybody. There will be some circuits that we feel a bit better, some circuits that we're a little bit slower, so hopefully Monza is out of the way, and now we are a bit more competitive," he explained.
READ MORE: The Hamilton-Verstappen crash changed the face of the Italian GP – but would Ricciardo have won regardless?
The team's Executive Director Marcin Budkowski added that the team's Italian Grand Prix showing wasn't a "bad day's work" as the fifth-placed Alpine are now 11 points ahead of AlphaTauri – both of whose drivers retired from the race with mechanical issues.
"It was an eventful race today and it's good we were able to get through it unscathed with both cars again in the points," said Budkowski. "Given our starting position, it's not a bad day's work, especially as our closest rivals in the championship did not score. We have consolidated our fifth place in the championship on a circuit that isn't very favourable for our car.
"After three races in a row, the race team is now going to take a well-deserved break before continuing the season in Sochi, a circuit which should allow us to be more competitive and fight for bigger points," concluded the team boss.