Alonso promises 'more to come tomorrow' after Alpine's surprise top-six times in FP2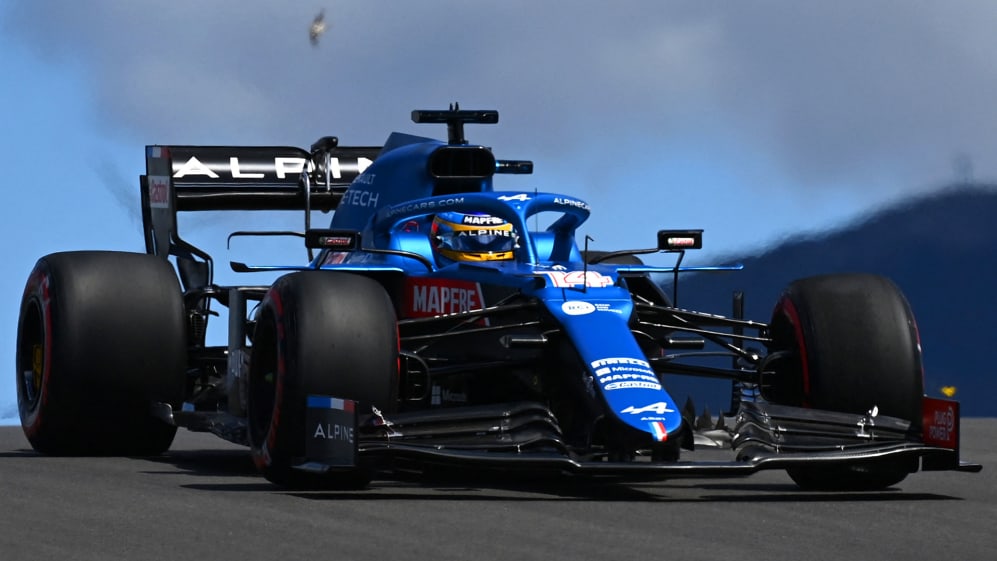 "A happy Friday" was how returning two-time champion Fernando Alonso described his and Alpine team mate Esteban Ocon's efforts at Portimao, with the pairing finishing Free Practice 2 in an unexpected P5 and P6 – and hopeful of remaining in those positions come qualifying for the Portuguese Grand Prix.
Ocon and Alonso finished FP1 in just 10th and 14th place respectively on Friday morning, their pace not giving any real indication that updates brought to the A521 for this weekend had had any significant impact on their pace.
FP2: Hamilton heads Verstappen and Bottas at Portimao to seal Mercedes clean sweep on Friday
Come FP2, though, and after the qualifying simulation runs, Alonso and Ocon found themselves a shock fifth and sixth, Alonso just 0.383s off Lewis Hamilton's leading time, while Ocon was just a further 0.015s adrift of his team mate.
"It was good – we were happy withy the car today," said Alonso. "We were comfortable from Lap 1, and we didn't touch much the set-up because everything felt reasonably okay.
"Fingers crossed that we can keep the pace tomorrow," added Alonso. "The positions will not be too different compared to Imola or Bahrain – I don't think there are any big changes in the order, it's just a different Friday, a different approach maybe comparing teams but let's see… But generally a happy Friday, and still more to come tomorrow."
READ MORE: Hamilton predicting 'exciting' fight for pole with little to choose between Mercedes and Red Bull
Less than a second covered the top 12 runners in FP2, from Hamilton down to McLaren's Lando Norris. And Ocon said he expected that tightness in the field to carry over into qualifying – while remaining "optimistic" that Alpine could hold onto their fourth-fastest team status from FP2.
"I think it will be close tomorrow," said Ocon. "It will be a tough battle with everybody, looking at how close the times are. I think this track is still a challenge for everybody. The grip has improved compared to last year, but it's still quite tricky out there… [Our pace] was good enough for today, but tomorrow it will be tight.
"Tomorrow [if] we are there, I will be very happy, but it's only Friday," Ocon added. "For sure we are working towards improving the car, understanding and as I said extracting the maximum out of the platform, and we are finding little bits here and there constantly, which is very positive. But we need to do that tomorrow.
READ MORE: Work to do for Red Bull on 'super slippery' Portimao says Verstappen – but Perez eyes pole
"[But] it leaves us optimistic; Fernando is very quick as well, so there's all the reason that we can be very happy about today, and we are in a good position to fight for tomorrow."
A tricky start to Alpine's existence means the team sit seventh in the constructors' standings ahead of the Portuguese Grand Prix, with just three points to their name.