Alonso says Bahrain podium 'a perfect start' to Aston Martin project as he recounts breathtaking moves on Hamilton and Sainz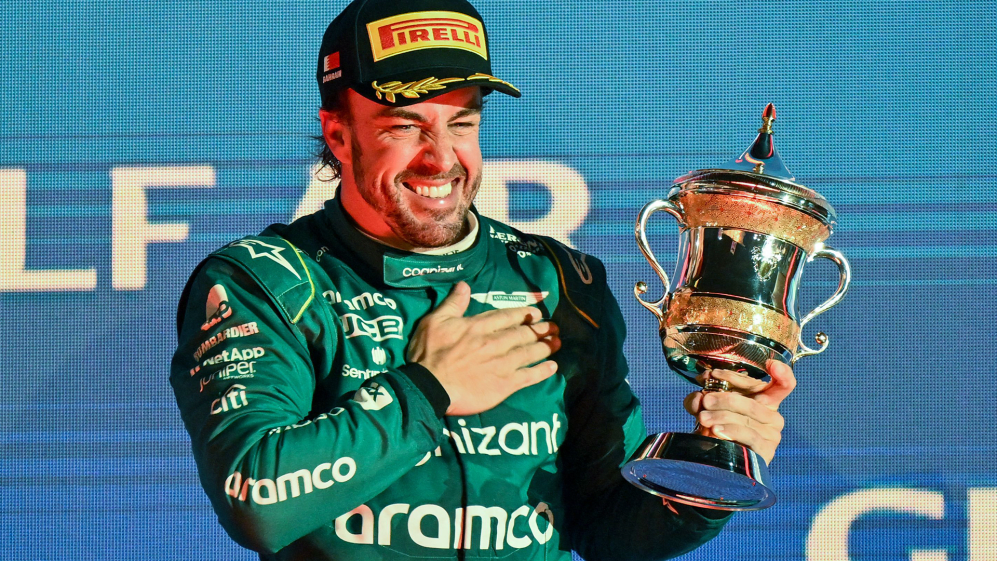 Fernando Alonso and Aston Martin walked away from the 2023 season opener with a spectacular podium finish after the team converted the hype around their testing and practice performances at the Bahrain International Circuit.
Fifth fastest in qualifying, behind only the Red Bull and Ferrari machines, Alonso used his typically tenacious race craft and benefitted from Charles Leclerc's retirement to rise to the top three during Sunday night's encounter.
READ MORE: Verstappen leads 1-2 in Bahrain season opener as Leclerc retires and Alonso takes final podium place in style
His ascent featured some thrilling scraps with Mercedes pair George Russell and Lewis Hamilton – a multi-lap battle between the two world champions ending in Alonso's favour via a clever move into Turn 10.
Once clear of the W14s, Alonso set his sights on fellow Spaniard Carlos Sainz, completing a DRS-assisted pass down the back straight in the closing stages to follow the Red Bull drivers home and spark jubilant scenes in the Aston Martin camp.
Speaking after the race, Alonso said: "It's a perfect start for this project. We didn't expect to be that competitive. I think the aim in 2023 was to get in the mix with the midfield, maybe leading that midfield and get close to the top three teams eventually.
"Even a podium maybe was not on the radar in 2023, and we found ourselves with the second best car today in Bahrain, of the whole weekend, just behind Red Bull. This is a little bit of a surprise, but we are extremely proud, happy with the job done at Silverstone in the factory.
"A big congratulations to everyone. Let's enjoy this moment and build from here hopefully a good 2023 campaign, and get closer and closer to the top guys."
READ MORE: 'We're the fourth fastest team now' – Hamilton offers honest Mercedes assessment as he admits the team are 'going backwards'
Asked about Aston Martin potentially needing to reset their targets for the season ahead, Alonso continued: "Let's see. I had this same feeling from testing, like too good to be true, and you're always expecting that… you will get a step back and you will get back to reality. But it seems real, the performance.
"Let's see in Jeddah. I'm curious to go to Jeddah and Australia – very different circuits. I think in Bahrain we were strong in things that maybe we don't find in Jeddah and Australia. If we are strong in the next two races, I think we will have a very good 2023."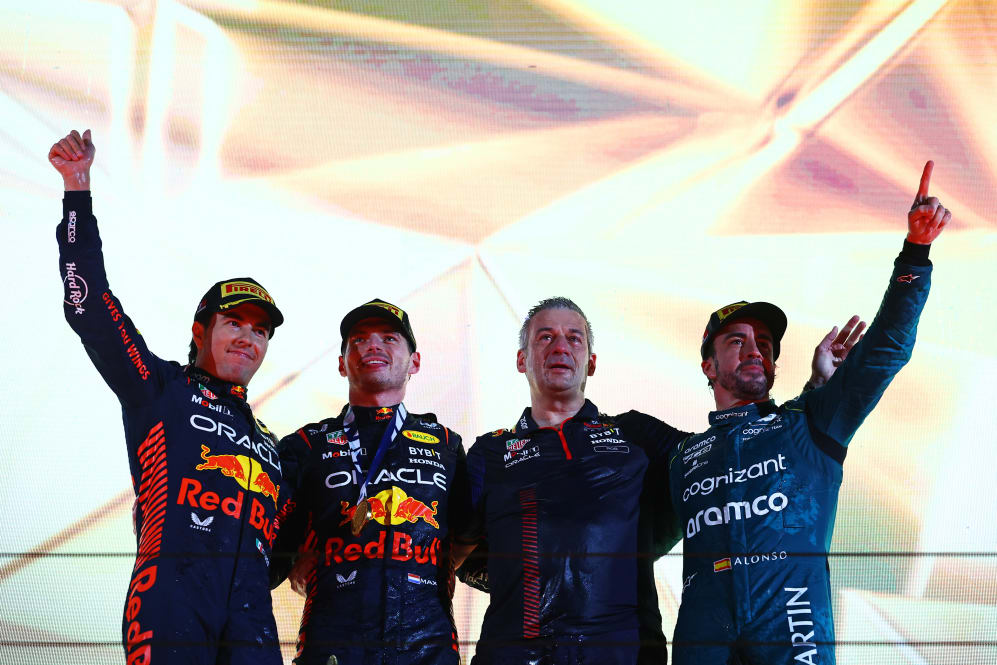 As for the scraps with Hamilton and Sainz – which followed a "lucky" escape for Alonso on the first lap when team mate Lance Stroll tagged him under braking for Turn 4 – the two-time world champion revelled in being back at the sharp end.
"I obviously enjoyed it, because I ended up in front, that's always the same thing in any battle. It's always the same when you fight at the front; with these great drivers, great champions it is a little bit more intense, a little bit more adrenalin, when you are wheel-to-wheel," he said.
READ MORE: Leclerc calls on Ferrari to 'understand what went wrong' after painful Bahrain GP retirement
"I didn't want to have any mistake or any contact because obviously when you are P12 you lose nothing but today we were fighting for big things. I was happy, the car was nice to drive – that was probably our strength all through testing and this weekend.
"Even though the race felt very long [in] the last 10 laps, because I wanted to see the chequered flag and be on the podium, the car was very good to drive and I could have driven for another hour or something, just alone on track."
Stroll took sixth in the other Aston Martin, as he nursed injuries to his wrists and feet sustained in a pre-season training accident, to put the squad second in the constructors' standings.