Alonso says P2 qualifying is a 'nice surprise' as he hopes for 'boring race' in Miami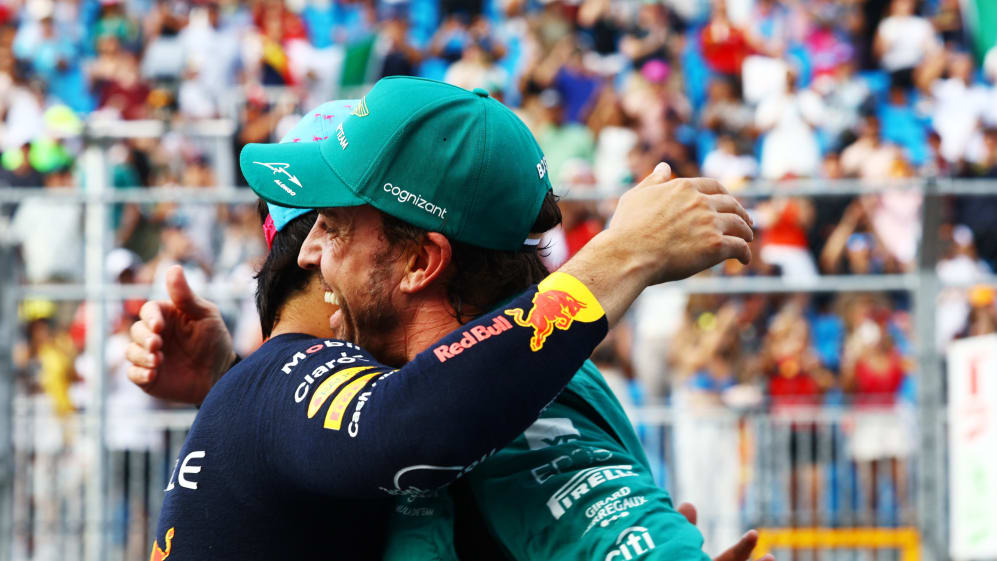 Fernando Alonso qualified second for the 2023 Miami Grand Prix for Aston Martin, and the two-time champion said he wasn't exactly praying for rain to hit the Sunshine State on Sunday.
Alonso qualified second behind Red Bull's Sergio Perez after Charles Leclerc spun in the last minutes of qualifying to bring out a red flag. That left Max Verstappen ninth on the grid and Leclerc himself starting a provisional P7 for Sunday's race in a mixed-up grid.
READ MORE: Leclerc spin leaves Perez in pole and Verstappen starting P9 for Miami Grand Prix
"I think it was a nice surprise; we didn't expect probably to be that competitive in qualifying," began Alonso. "We were hoping to improve the performance, we've been up and down in the Free Practice and then in qualifying maybe P5, P6 was possible behind the Ferraris and Red Bulls. They seemed quite fast this weekend, but yeah, we put it all together in Q3 and yeah, P2 is a nice starting position.
"We are not afraid of the rain either. But I think starting P2, a normal boring race will be our choice," he added.
The veteran driver added that while he might be in a "privileged position" for Sunday's race, the 2023 Miami Grand Prix will be a challenging one given a lack of grip off the racing line and the threat of inclement weather.
He said: "Yeah I think we start in a privileged position for sure to fight for the podium, but I think it's going to be a long race, a lot of challenges ahead with the new asphalt – very grippy on-line but off-line it's very slippery, so there's a great contrast there," he said.
"There are some threats of rain maybe during the race, so maybe a lot of challenges I think we still have to overcome if we want to be in the podium, but we will try to be focused and deliver the job."
FACTS AND STATS: Magnussen's P4 gives Haas their first ever top four start for a Grand Prix
Team mate Lance Stroll meanwhile qualified 18th for the race having only used one set of soft tyres in Q1. He said it was a gamble that clearly didn't pay off.
"We just didn't put another set of tyres on; we just tried to get through on one set thinking it was just enough to get through – but there was like a one-second improvement putting a second set of tyres by the looks of it, seeing everyone else. That was just a shame, really," said Stroll.
READ MORE: Perez relieved to take Miami pole after enduring 'worst weekend up to qualifying'
The Canadian however said he was looking forward to the race, with Aston Martin looking to add to the 87 points they've clinched from four rounds and consolidate P2 in the standings.
"Yeah I think so, we have good car pace, so I'm comfortable," concluded Stroll.