Alonso swaps seats with NASCAR racer Jimmie Johnson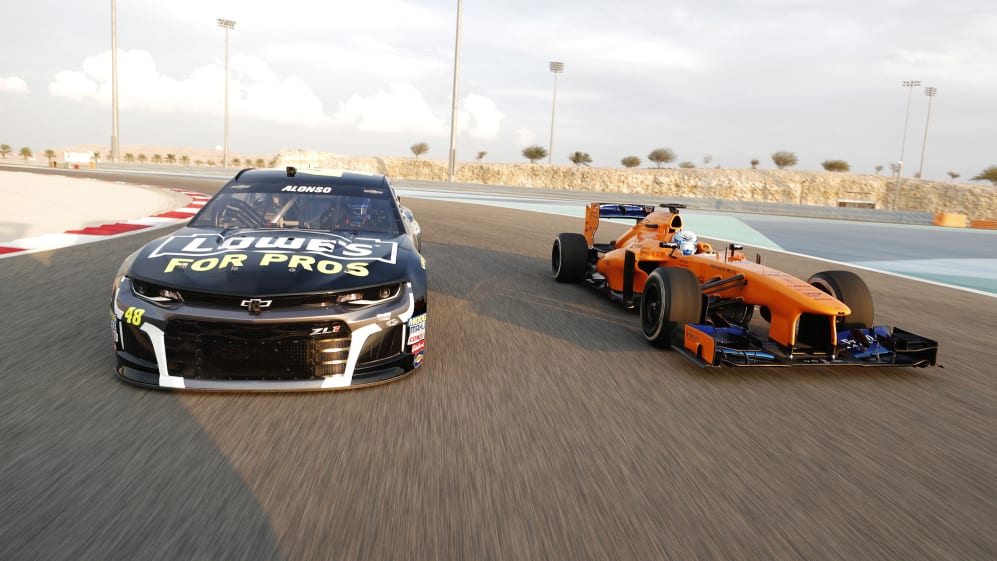 Less than 24 hours after finishing what could well be his final Grand Prix, Fernando Alonso was already sampling other racing options for his post-F1 existence, taking part in a McLaren-organised car swap with NASCAR Cup Series racer Jimmie Johnson which saw Alonso get a run in the American's #48 Team Hendrick Chevrolet Camaro ZL1 racer around the Bahrain International Circuit.
Just a day after he finished 11th in Abu Dhabi and called time on his 17-season F1 career, Alonso was being strapped into the 5.8-litre V8-engined NASCAR brute, which pumps out in the region of 725bhp, for a blast around the 5.4km Bahrain track.
In return, seven-time NASCAR Cup Series champion Johnson got to try out the McLaren MP4-28 that Jenson Button and Sergio Perez campaigned in the 2013 Formula 1 season, the car now adorned in McLaren's current papaya orange colour scheme.
Oops! Error retrieving Twitter post
It's not the first time McLaren have given a NASCAR driver a taste of F1 machinery, after Tony Stewart swapped seats with Lewis Hamilton in 2011, with Stewart afforded a run in Hamilton's 2008 championship-winning MP4-23 around Watkins Glen in New York State, as Hamilton headed out on track in Stewart's Chevrolet Impala Sprint Cup car.
Alonso, meanwhile, will get another taste of American racing machinery in 2019 when he heads Stateside for his second attempt at winning the Indianapolis 500 with McLaren, having first tried in 2017, a move which necessitated skipping that year's Monaco Grand Prix. Although Alonso impressively led the event in his rookie year, he ultimately retired from the race on lap 179 with issues on his Honda engine.
Should Alonso win the Indy 500, however, he would become only the second driver in history – after Graham Hill – to claim motorsport's mythic Triple Crown, namely victories in the Indy 500, the Monaco Grand Prix and the Le Mans 24 Hours, which Alonso won earlier this year with Toyota.
Oops! Error retrieving Twitter post
Alonso also hinted after the Abu Dhabi Grand Prix that he would potentially consider a return to full-time single-seater racing in 2020, naming either IndyCar or a Formula 1 comeback as possible options.
"In 2019… I want to fight for the Triple Crown, the Indy 500 and other iconic races," said Alonso. "Maybe Daytona, maybe other things will come. But yeah, for 2020 maybe I feel the need to do a full calendar in something. Maybe full IndyCar, maybe full Formula 1, I don't know. Maybe that's the time to come back, or maybe I will enjoy next year so much that I will not come back."
Meanwhile, after a fun few hours spent hammering his on-loan NASCAR around the track in Bahrain, Alonso's day ended exactly as it had done in Abu Dhabi – with a series of glorious, smoky donuts...
Oops! Error retrieving Twitter post