AlphaTauri duo take P6 and P7 despite 'confusing' car issues at Red Bull Ring for Gasly and Tsunoda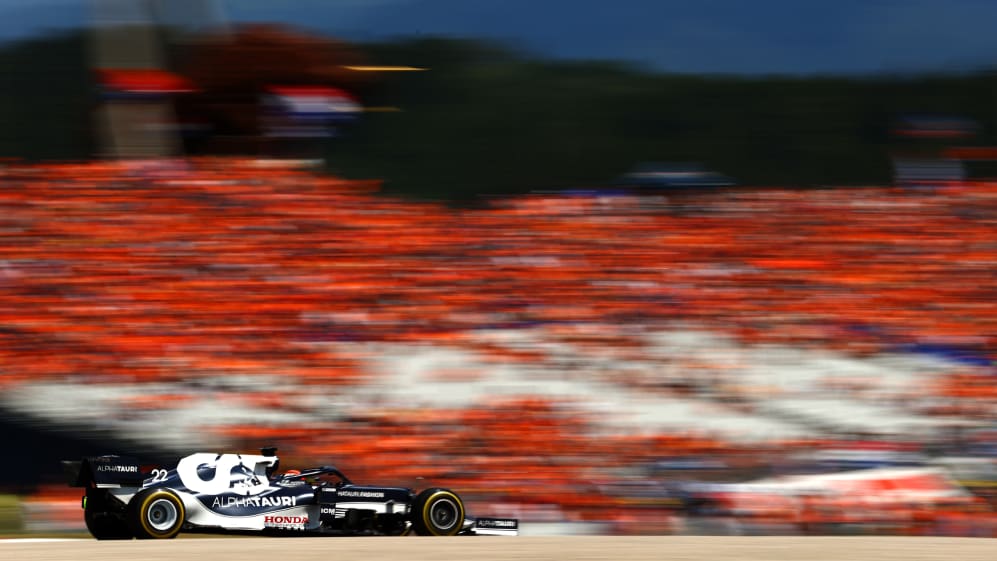 The first three rows of the grid are starting to become familiar territory for Pierre Gasly, but his latest top-six performance came amid confusion at AlphaTauri in Austria.
Gasly secured his sixth top-six start of the season with another strong qualifying at the Red Bull Ring, finishing close behind the Mercedes pair of Lewis Hamilton and Valtteri Bottas. Yet the Frenchman was a little thrown by some strange feedback the team were getting from his car this weekend that was also affecting his confidence in the AT02.
QUALIFYING: Verstappen edges out sensational Norris to take Austrian GP pole
"I must say I'm always happy to be sixth," Gasly said. "We qualify right behind the Mercedes. I think it was a very strong job, especially after practice, I didn't feel so comfortable this weekend for some reason in the car. There were a couple of weird things we were seeing on the data and going into quali we had a bit more unknown than usual - that's why I'm really pleased.
"We still managed to make it work and looking at the gaps it's really, really close. We're only a tenth away from P3, which is good. So we need to keep pushing, because there might be opportunities in the season, as [Lando] Norris showed today. It's been a long time since we saw a midfield car in second position. So that's good."
For Gasly, those issues were relating to the way the car was handling that didn't tally with what he had expected.
"More in terms of balance, a lot of differences which didn't really correlate with the setup we had. So we don't really have the answers. And that's why going into quali unfortunately, we didn't have time to really understand. We'll have a look after the weekend if there was anything a bit funny.
"On my side, it does feel quite a lot different, which is odd. For Yuki [Tsunoda - team mate] it is still the same, and then we get quite opposite car balance. So that's why it's a bit strange. There must be a few things we will understand with a bit more time."
HIGHLIGHTS: Watch all the action from Austrian GP qualifying as Norris pushes Verstappen for pole
Gasly also said he had to adjust to the tyre allocation being one step softer than it was for last week's Styrian Grand Prix – also run at the Red Bull Ring.
"Clearly with the C5 compound it's different, the temperatures are a bit different, the wind was a bit inconsistent as well which made it difficult, but nevertheless, we still there still qualified P6, and that's the positive. Now we need to make sure we do more than one corner tomorrow."
Tsunoda confirmed Gasly's comments, but says it's something he himself has been wrestling with at other times during the season so far.
"I was really happy because in FP3 we had completely opposite feedback and that makes the team a little bit confused because it was really the complete opposite," Tsunoda said. "For example in Turn 1 he [Gasly] had a lot of oversteer but I had a lot of understeer. I don't know where that came from, and every single corner we had different issues which is a little bit unusual.
"We've had this a little bit from the beginning of the season, so for us it's not a surprise, but it's one of the things to analyse to get more consistency from the car, because consistency through the corners is really important for Formula 1 to build up the pace and try to carry speed a lot. So this is clear for the team, but I think it will be OK."
And the issue clearly didn't hurt Tsunoda too much, as he secured his best qualifying result of the season with seventh on the grid, despite a hairy moment in final practice when he lost the car at Turn 9, but just managed to keep it out of the barriers.
"I'm happy. I think the best qualifying so far, especially the progress through the sessions was good. Best qualifying so far and also the pace was there already from FP1 for the team, so just from my side I put it all together. I'm happy with my lap as well, I couldn't use a bit of slipstream and that cost us a little bit on the straight but I'm really happy with the lap time and will just aim for the points tomorrow."