AlphaTauri pair reflect on 'unnecessary' and 'avoidable' collision after point-less outing at Silverstone
It was a difficult British Grand Prix for AlphaTauri, as while Pierre Gasly retired from the race, Yuki Tsunoda finished last of the remaining drivers in 14th. But things at one stage looked promising with both drivers comfortably in the top-10 before they came together in what Gasly called an "unnecessary collision".
Starting 11th, Gasly made his way up to P7 when on Lap 10, the two AlphaTauri racers collided with each other at Village. And as a consequence of the collision, Gasly was forced to retire on Lap 25 with damage to his rear wing. And the French driver was not only disappointed with the incident, but the points his team missed out on.
"The rear wing wasn't [on] properly, I was missing parts of the rear wing, and it was just hanging there so we had to retire," said Gasly. "From a difficult weekend we actually made it quite a bit better with qualifying, then after the race restart today I was running in seventh – we were in a great position.
TECH TUESDAY: Analysing Red Bull's radical updates for the British Grand Prix
"I don't want to speak about it but clearly it is something we need to speak about internally, because we were both in the points, was clearly an unnecessary incident, so just disappointed about it. Every point is valuable, especially in a season like this, so I'm disappointed with the end result today, as it was an unnecessary collision."
Gasly's start to the race saw him make contact with George Russell, which ultimately caused Zhou Guanyu to end up flying into the catch fencing. The AlphaTauri driver, who was heard immediately on the team radio asking if Zhou was okay, says it was "shocking" to see the Alfa Romeo driving upside down.
"The accident with Zhou was really scary at the start of the race, it was shocking to see him upside down but I'm glad to hear he's okay, that's the most important thing."
READ MORE: Ross Brawn on the 'fabulous racing' at Silverstone, his relief after Zhou's crash & why we're truly entering a new era of F1
When asked for his perspective on the collision with his team mate, Tsunoda said: "I need to review it properly but at the moment, I think I could've waited for another opportunity to pass him. My speed was good going into the corner so I thought I could make it through, I also didn't expect Pierre to close the door quite as much as he did, so this is a mistake from my side.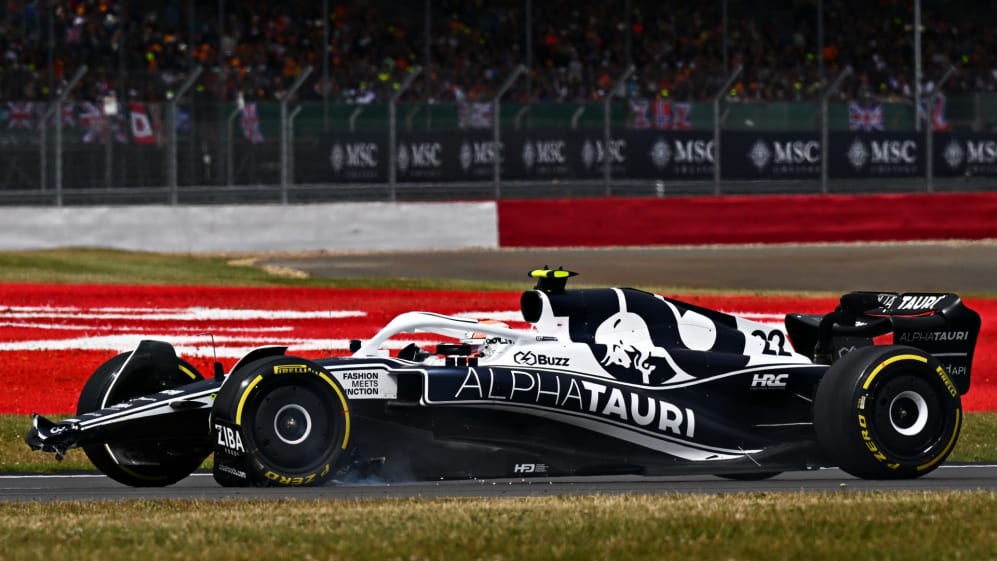 "Mainly, I just want to say sorry to the team. After that, I had damage to the car, it was very tricky to drive and that made the rest of the race very difficult for me."
F1 NATION: British Grand Prix review featuring maiden winner Sainz and Ferrari boss Binotto
Tsunoda was another one of the drivers that was caught up in an opening lap collision at Turn 1, as while he was making his way up the field – after starting in 13th – he hit the spinning Williams of Alex Albon, which he says was "unavoidable."
"It's been a difficult day," admitted Tsunoda. "The collision I had at the start of the race was completely unavoidable, a car came in front of me sideways and there was nothing I could do. Luckily, I only damaged my front wing and was able to get back to the pits with the red flag and continue to race with the restart."