'An unbelievable job' – Horner praises Perez and Verstappen for delivering first Red Bull 1-2 in six years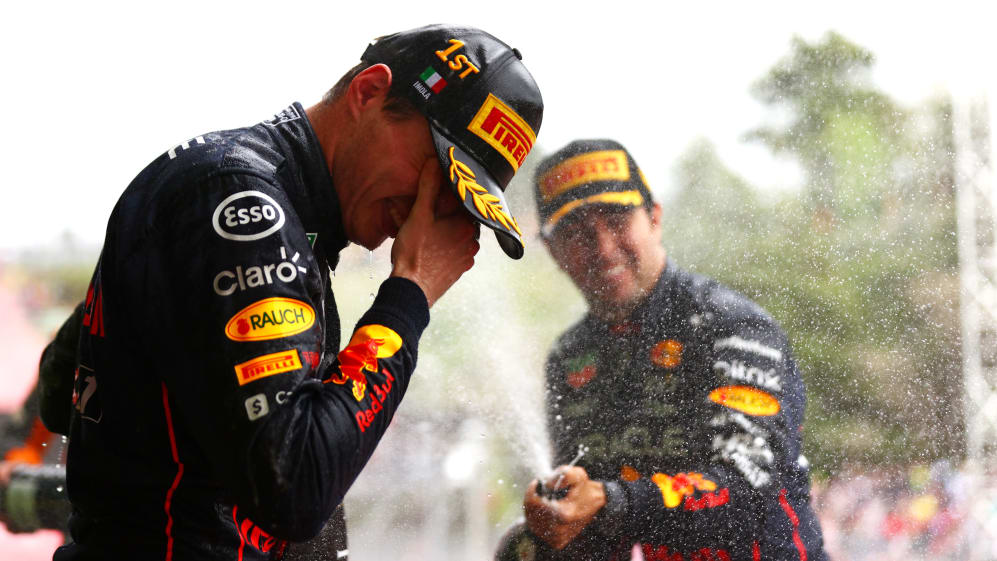 Red Bull Team Principal Christian Horner was full of praise for his drivers Max Verstappen and Sergio Perez after they delivered the team's first one-two finish since 2016 in the Emilia Romagna Grand Prix.
The drivers' championship-winning team have suffered three DNFs so far this season and were on the back foot coming into Ferrari's home race, but Red Bull managed to deliver at Imola. Max Verstappen not only took pole position on Friday; he delivered a Sprint win and a dominant Grand Prix win too.
READ MORE: Verstappen leads Red Bull 1-2 as Ferrari falter in action-packed Imola race
"It was quite a stressful race on the pit wall because of changing condition, and there's a lot that can go wrong in those situations, but I thought both Max and Checo did an unbelievable job today," said Horner
And after Verstappen's DNF in Australia, this result was all the more sweeter for the boss.
"Absolutely. To come here, we attacked the weekend, we brought a little upgrade – a lot of people said, 'you shouldn't do that with only one practice session.' We believed in ourselves, and it paid off. And I think we were unlucky in Australia a couple of weeks ago, but we came within one point of maximum points this weekend, so it's a great fightback by the team."
Horner's elation wasn't just reserved for his drivers, as he praised the team for executing four pitch-perfect pit stops to keep their drivers ahead of Charles Leclerc – who threatened right until his late off at Variante Alta.
READ MORE: Verstappen scoops Laureus World Sportsman of the Year Award for 2022
"We then had the buffer to be able to cover [Ferrari], first with Checo and then with Max. And the guys chucked out an incredible stop today… just all round, not only trackside but back at Milton Keynes, back at the factory. A wonderful, wonderful team performance."
Furthermore, Horner said Verstappen and Perez did well to learn from Saturday – where neither enjoyed ideal starts – and launch themselves off the line into that eventual one-two finish.
"I think you learn from yesterday. I think both guys made great starts. That left-hand side of the grid, if anything, looked a little bit advantageous to the right-hand side, so both Max and Checo got a great start, and then it was a matter of controlling the race.
READ MORE: 'It seemed easy on the TV' says Verstappen after dominant Imola showing
"There was one trip over the grass with Checo, but other than that, he had Charles under control. So, just a wonderful team performance."
Heading to Miami, Red Bull are now just 11 points behind Ferrari in the teams' standings – while Verstappen is up to second in the drivers'.