Report
Verstappen leads Red Bull 1-2 as Ferrari falter in action-packed Imola race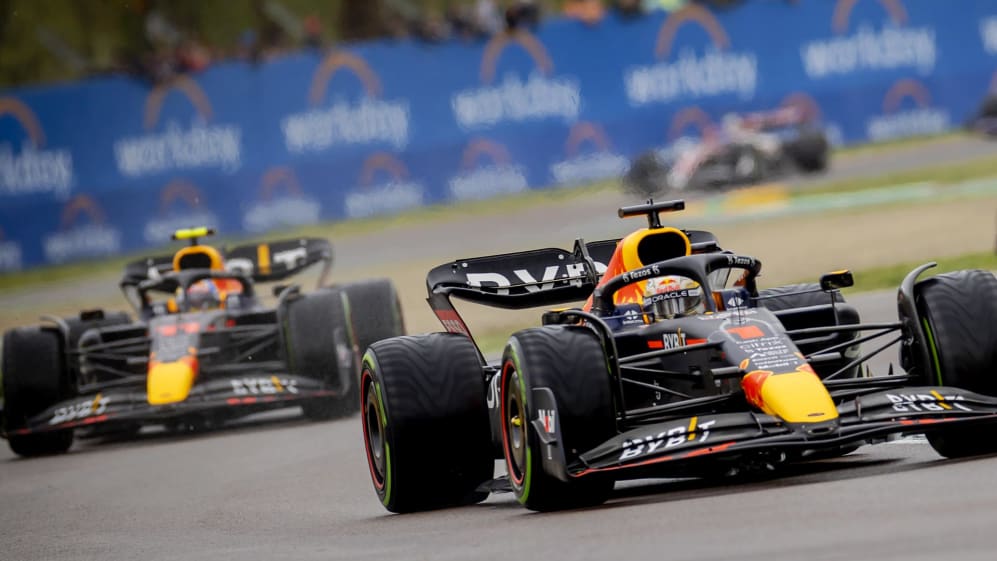 Max Verstappen won a dramatic wet-dry Emilia Romagna Grand Prix over Red Bull team mate Sergio Perez as Ferrari couldn't deliver on home turf – Charles Leclerc spinning late on to finish sixth after Carlos Sainz retired.
The Dutchman topped Saturday's Sprint and led off the line on Sunday, team mate Perez joining him at the front – while Leclerc momentarily dropped to fourth. The Safety Car emerged on the opening lap as Daniel Ricciardo tipped Carlos Sainz into the gravel and out of the race for the second Grand Prix.
With the track drying, drivers began to swap from inters to mediums on Lap 19 – Perez coming in before Verstappen, who led Leclerc into the pits one lap later. The Monegasque emerged just ahead of the Mexican, but Perez skated past for P2 with warmer tyres and then kept the Ferrari at bay.
A late gamble to pit for softs from P3 from Leclerc saw the Red Bulls follow suit and retain the lead, but on Lap 54 – again in chase of Perez – the championship leader spun and hit the wall at Variante Alta. He dropped down to ninth having had to pit for a new nose and softs, and recovered only to P6 at the flag.
Lando Norris therefore took the final podium place, promoted twice with Sainz retiring and Leclerc going off track. Mercedes' George Russell enjoyed a brilliant start and was up seven places to P4 as the chequered flag loomed, holding off Alfa Romeo's Valtteri Bottas by under a second despite a late duel with the driver he replaced at the Silver Arrows.
Yuki Tsunoda finished seventh for AlphaTauri, passing Aston Martin's Sebastian Vettel (P8) late on – while Leclerc finished ahead of the pair with his late rescue effort.
Haas's Kevin Magnussen ran as high as P5 thanks to another blistering start but fell back down the order to ninth. Aston Martin's Lance Stroll rounded out the top 10, a double-points haul for the team that entered Imola on zero.
Alex Albon's solid showing put him 11th, ahead of AlphaTauri's Pierre Gasly – who couldn't pry his way past even with DRS (which was activated when the track was deemed dry enough on Lap 34). Lewis Hamilton was next, the Mercedes driver having been unceremoniously lapped by Verstappen on Lap 40, to finish 13th – Esteban Ocon finishing 11th but dropping to 14th thanks to a five-second penalty for an unsafe release.
Zhou Guanyu started from the pit lane after his Sprint crash, the Alfa Romeo driver taking P15 ahead of Williams' Nicholas Latifi.
In 17th was Mick Schumacher, the Haas driver having spun twice on Sunday afternoon – while Daniel Ricciardo was last and 18th after his Lap 1 tangle with Sainz, pitting again for hards midway through the race in a fruitless strategy.
Along with Sainz, compatriot Fernando Alonso was the other DNF having lost a chunk of his sidepod, Schumacher having lost control and hit the Alpine's flanks on Lap 1.
As it happened
Rain may have washed away the glorious weather that graced the thousands of fans at Imola in the morning, but it did little to dampen their spirits – tifosi painting the grandstands red, smatterings of blue and white among them for AlphaTauri's home race. The clouds let up during the laps to the grid, which were conducted on intermediate compounds – but there was still a risk of precipitation in the air.
After taking P1 from pole in the Sprint, Max Verstappen ensured he'd line up ahead of Charles Leclerc, while Sergio Perez and Carlos Sainz made serious moves on Saturday in the Sprint to occupy the front row for this Emilia Romagna Grand Prix.
Also in the air was a sense of jeopardy for Ferrari, who overnight changed parts on all of their engines – including those of customer teams Haas and Alfa Romeo – and Mercedes' Lewis Hamilton, the 14th-placed starter having noticed hiccups on his power unit on the laps to the grid, with assurances that the problem would be fixed.
The lights went out under grey skies, the whole field on intermediate tyres – Zhou Guanyu starting from the pit lane – in chase of Verstappen, who led away with Perez moving to second. Cue heartbreak for the Ferrari faithful: Daniel Ricciardo collided with Sainz at Tamburello, sending the Ferrari out – and bringing out the Safety Car.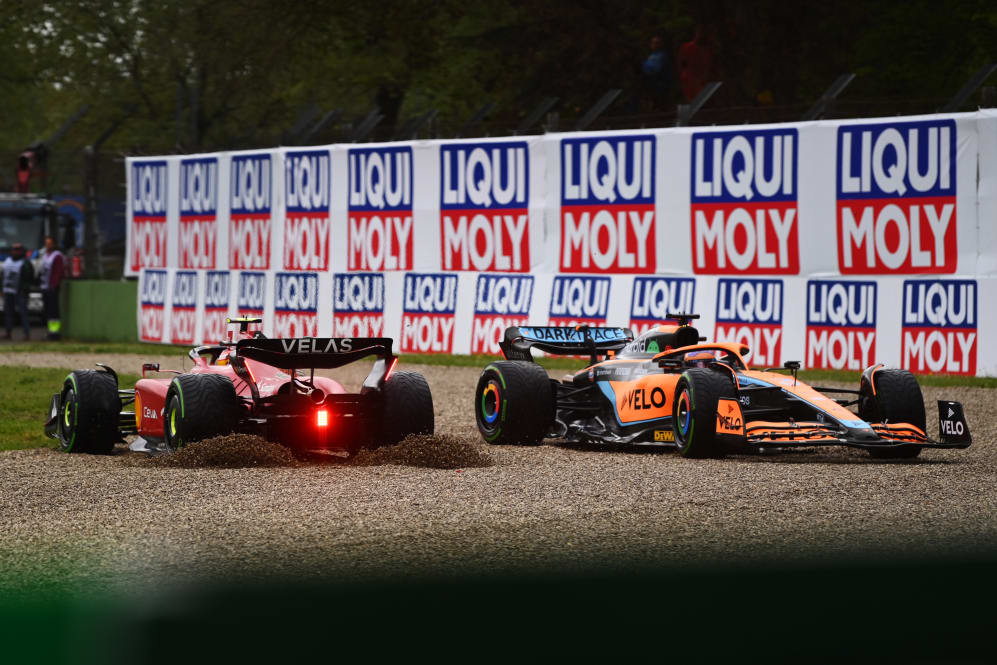 Leclerc lost out too, down in fourth behind Lando Norris, who pipped him into Turn 2; the winners in that chaos were Kevin Magnussen, going from P8 to P5, ahead of George Russell (P11 to P6). Lance Stroll also enjoyed the opening tour, making it from P15 to P11 while team mate Sebastian Vettel was up to ninth from P13.
The race restarted for Lap 5 of 64, Red Bull retaining their one-two for the time being, while Norris held strong in P3 ahead of Leclerc – until Lap 8, when the Ferrari swept by on the main straight. The Dutchman was three seconds ahead of team mate Perez by that point, Leclerc another three seconds back.
The dry line was prominent by Lap 10 and drivers were hunting for some wet patches to soothe their searing inter tyres – the racers holding out for what was billed as an incoming shower.
Russell, up five places thanks to a brilliant start, provided the fireworks at this point in a stunning duel with Magnussen for P5. He stalked the Haas from Lap 11 to 13, the Dane keeping his elbows out at multiple points and almost losing out to Russell at Turn 2 on Lap 12, but just about keeping his place. The Silver Arrow finally got past at Variante Alta with a stunning move on Lap 13.
That battle helped Bottas close up and pry P6 off the Haas driver a lap later at Rivazza.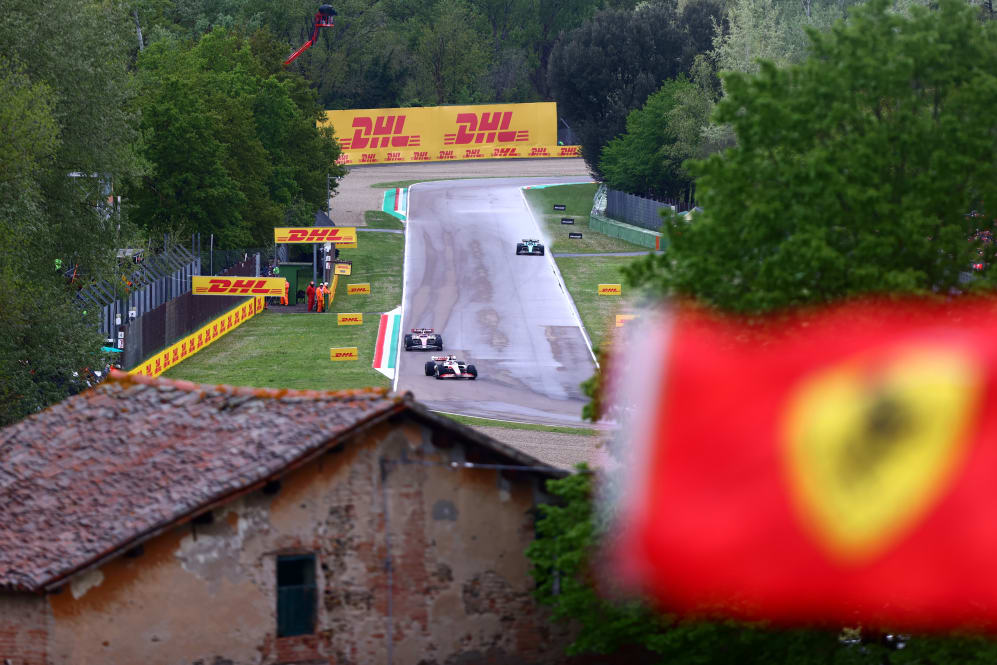 Back at the front, Leclerc was reeling in Perez at a race of knots, just 1.3s behind the Mexican who was in turn six seconds behind his team mate on Lap 15 – Verstappen still stretching his legs.
No rain yet so the tyres were suffering, and it was Ricciardo who took the risk to pit for mediums on Lap 18, perhaps hoping to salvage something after his Lap 1 collision with Sainz. That opened up the window.
Ferrari's pit crew then emerged but Leclerc didn't come in for a new set. Rather, it was Red Bull who reacted first and sent Perez in for mediums. On Lap 20, Verstappen would lead Leclerc in – the Dutchman enjoying a stop 1.4 seconds faster than his rival's – after which the whole field was on yellow-banded slicks.
Leclerc would emerge just ahead of Perez, but the Mexican's tyres were warmer and he squirmed past into the opening chicane on Lap 2. It seemed that Red Bull's strategy had worked, and they were back on course for a one-two… albeit with Leclerc lurking.
Leclerc would have a look on Lap 22 but he couldn't make it past, and gave his tyres some respite before closing back in on Lap 29 when Perez went off track. With no DRS yet, however, the pass for P2 would be that much harder. Verstappen continued, now 9.5 seconds in the lead.
On Lap 34, conditions were deemed dry enough for DRS to be enabled.
Unaffected, Verstappen stretched his legs further, symbolically lapping then-14th-placed Hamilton on Lap 41 with the reigning champion now 12 seconds ahead of his team mate.
Lap 50 saw Leclerc come in for soft tyres, triggering Perez then Verstappen to pit for the same compounds on the following laps. Perez was now put into the clutches of the Ferrari and once again had to mount a staunch defence if he was to seal the Red Bull one-two.
That was the case until Leclerc spun and tapped the wall at Variante Alta on Lap 53 – causing him to drop down to P9 as he pitted for a new front wing. On another set of soft tyres, he recovered to P6 with late passes on Vettel and Tsunoda.
Verstappen cruised to a win by 16.5 seconds over team mate Perez, the Driver of The Day clawing his way back into the championship fight with a decisive victory. Faltering on home turf, Ferrari's woes allowed Norris to take the final podium spot for McLaren.
In P4 was Russell, 0.6s ahead of ex-Mercedes driver Bottas – the Alfa Romeo driver having chased the Silver Arrow late on to no avail. Seventh-place Yuki Tsunoda overtook Magnussen with DRS on Lap 48 and took another off Vettel on Lap 54 – useful points for AlphaTauri just a few miles away from their Faenza factory despite the Japanese driver struggling for traction mid-race.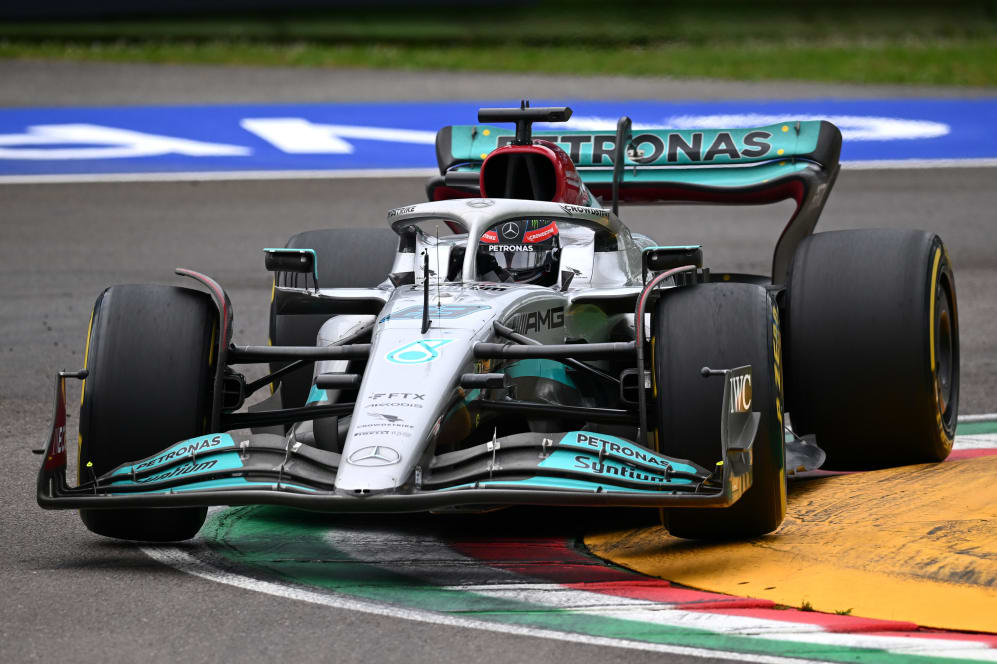 Vettel finished eighth, his team mate Stroll 10th – both Aston Martins bringing home points having entered Imola without any. Between them was Magnussen, the Dane falling to P9 despite running as high as P5 after another great start.
Alex Albon took a brilliant P11 for Williams, his pace on mediums good enough to keep AlphaTauri's Pierre Gasly behind by 0.6s, Lewis Hamilton another seven-tenths off in P13 as the Mercedes driver just couldn't make his way past, despite getting agonisingly close after DRS opened up on Lap 35.
Esteban Ocon finished 11th from 16th, but was classified 14th, thanks to a five-second time penalty for an unsafe release on his pit stop, which saw the Alpine bang wheels with Hamilton's Mercedes in the pit lane.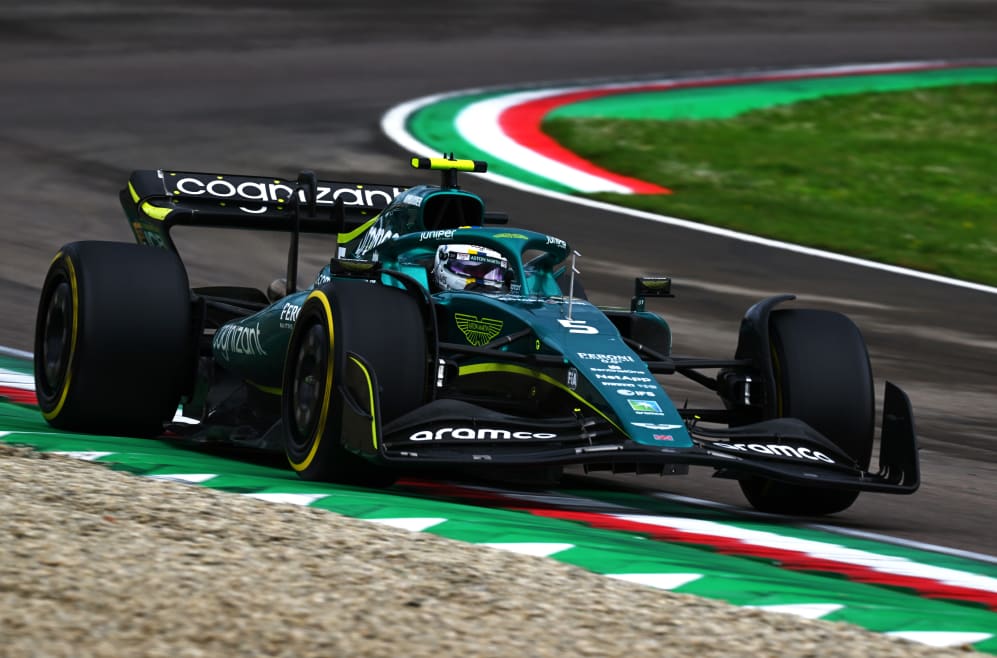 Zhou Guanyu's Sprint crash saw him start from the pits and finish 15th for Alfa Romeo – ahead of Williams' Nicholas Latifi in 16th.
Mick Schumacher spun at the start, just after Sainz had been beached at Tamburello. The Haas driver suffered another spin on Lap 25 in a duel with Latifi, to finish 17th.
After his Lap 1 tangle with Sainz, Ricciardo had been the first driver to pit for slicks. The Australian came in once again at the halfway point for a set of hard tyres but only finished 18th – with Alonso and Sainz the two retirees on Sunday.
Not Ferrari's finest day, but the fans were in full voice as they watched Red Bull's delighted duo spray champagne on the podium with an equally jubilant Norris.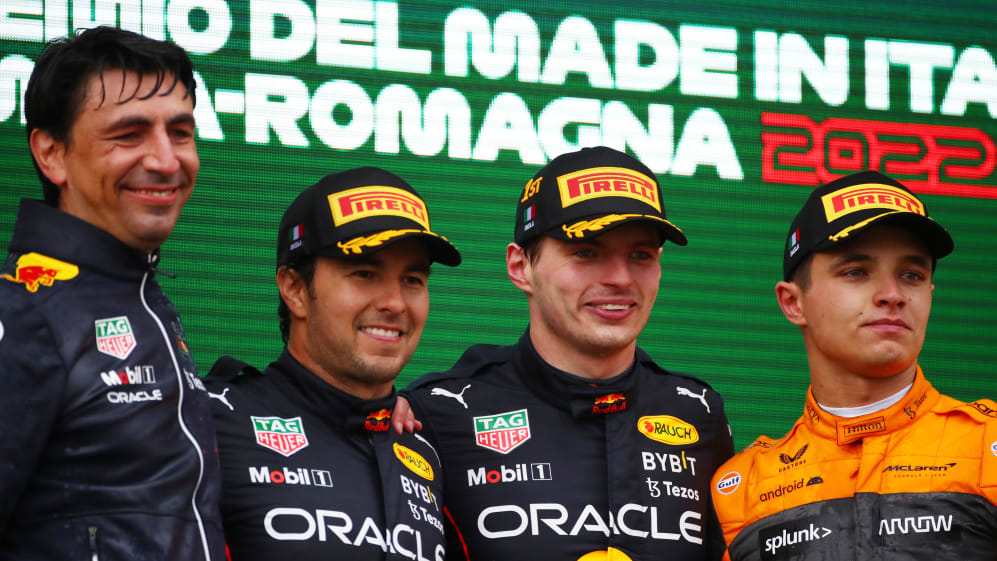 Key quote
"It's always tough to achieve something like that," said Emilia Romagna Grand Prix winner Max Verstappen. "Already yesterday and the day before, we were on it and it was looking like a strong weekend. Today, you never know with the weather how competitive you will be… but as a team we did everything well and I think one-two is very well deserved.
"The start was very important, but afterwards [also], judging the conditions and when to swap to the slick tyres and on the out lap on slick tyres not to make mistakes. In the lead, you have to always dictate the pace, and it's always a bit more difficult initially but everything was well managed."
What's next?
The Miami Grand Prix makes its debut on May 6-8, this brand-new era of F1 taking to a brand-new circuit – with Max Verstappen having scored a valuable victory in Ferrari's back garden, Verstappen having now moved to P2 in the drivers' standings behind Leclerc.