Feature
ANALYSIS: Will Kimi Raikkonen stick around in Formula 1 in 2021?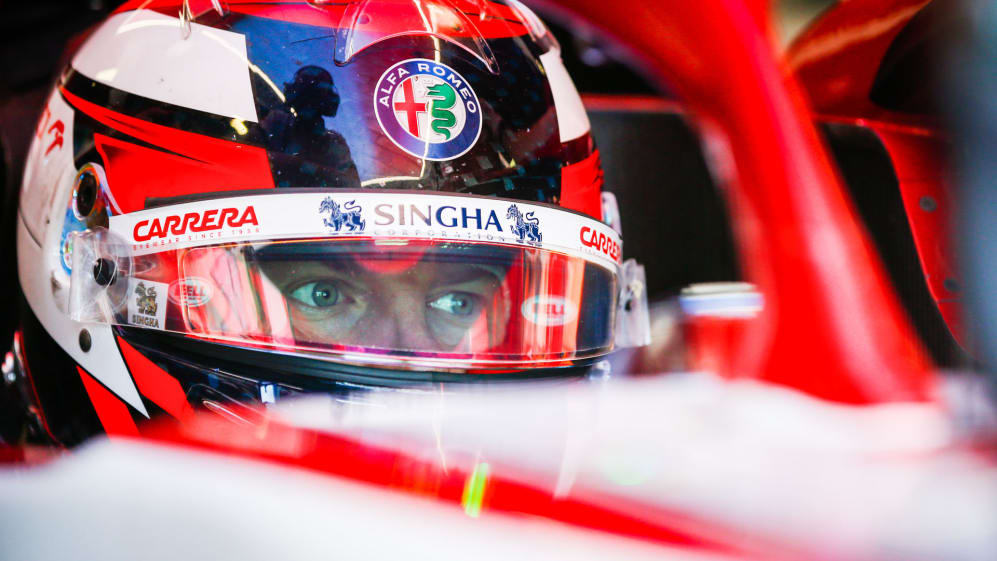 "I haven't decided yet." That's Kimi Raikkonen's standard response when asked about his future in F1, the Finn's contract with Alfa Romeo expiring at the end of the season. Will he stay? It depends on three key factors...
Does Raikkonen want to stay?
This has been Raikkonen's worst season in Formula 1 since he made his debut way back in 2001, the Finn having failed to score a single point in eight races. That puts him 19th in the drivers' championship, and an ocean away from his position last year, when he was fighting to be best of the rest in eighth, with 19 points on the board.
Raikkonen admits the performance of the car "makes a difference" when coming to a decision on his future as "you'd much rather race in a better position or fighting for points". If that was the sole factor, he'd hang his helmet up instantly given Alfa Romeo's significant drop in performance this season, but it's of course not as simple as that.
READ MORE: Raikkonen in no rush to decide future amid 'odd situation'
He's experienced enough to know that you can't always have a good car and "there's never a guarantee, wherever you go, that it's going to be good or bad".
What does matter is how happy he is – and right now, he seems to be ticking that box. Raikkonen is evidently more relaxed this year and is enjoying coming to the track and trying to make the car go faster, even if points are unlikely to be a reward any time soon.
Sticking with Alfa Romeo would suit his lifestyle, too, with the factory in close proximity to his home, which means he can spend much more time with his wife and two children – something he's keen to do more of, as he doesn't want to miss out on them growing up.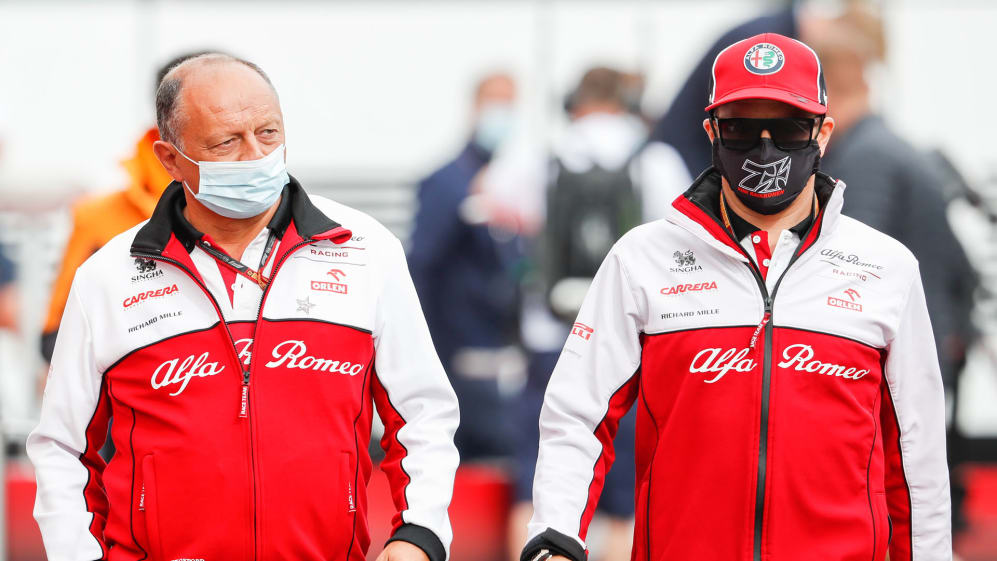 Is he performing well enough to earn a drive?
A look at the points table would suggest not, he's behind team mate Antonio Giovinazzi, who has two points to his name after a ninth-place finish in the season-opening Austrian Grand Prix. But dig a little deeper, and the evidence suggests he's performing better.
Both drivers have seen the chequered flag at seven of the eight races. When their finishing position is averaged out, Raikkonen ends up with an average finish of 13.8, almost a full position clear of Giovinazzi on 14.7.
READ MORE: 'Bigger picture' key to decision on F1 future says Raikkonen
In qualifying, Giovinazzi started the year off in sharper form, outqualifying his team mate in four of the first five races. But Raikkonen has hit back and after eight races, he has an average grid slot of 17.1, versus 18.5 for Giovinazzi. In the last three races, Raikkonen's average improves to 14.7, four grid places clear of Giovinazzi.
Your first rival is your team mate, and as we approach the halfway point of the season, Raikkonen is leading the way in this metric.
Do Alfa Romeo want to keep him?
Raikkonen scored 43 of Alfa Romeo's 57 points last year, the Finn playing a significant part in them securing eighth in the constructors' championship. But he delivered so much more than that.
His feedback is among the best on the grid, and the fact a driver of his calibre wanted to drive for a team like Alfa Romeo served as significant motivation for the engineers and mechanics.
READ MORE: Raikkonen hails 'first positive day of the year' as he qualifies P14 – but says Q3 was possible
Raikkonen is certainly in the running for this seat, but he needs to assure Vasseur of his motivation to continue. "The most important thing is the motivation," said the Alfa Romeo team boss. "The motivation on the driver's side first, because I think it's difficult for Kimi to struggle with the pace when we are at the back." Vasseur is also aware that his team need to make progress in terms of results this year to remain an attractive proposition to Raikkonen – but also other drivers.
Vasseur rates Nico Hulkenberg highly and it is believed he would be interested in bringing the German back to the championship. It's also understood the Swiss team made contact with Sergio Perez's management when Sebastian Vettel was linked to the Mexican's seat, but there was no interest on the driver side to follow that up right now.
With Giovinazzi's seat set aside for a Ferrari-backed driver [and Mick Schumacher is flying in F2 at the moment], it essentially looks like Raikkonen is up against Hulkenberg and Perez if the latter doesn't end up staying at Racing Point. The Finn offers consistency, his form is on the up, and his feedback is useful given they are struggling. So keeping him makes a lot of sense, that is, if he wants to stay...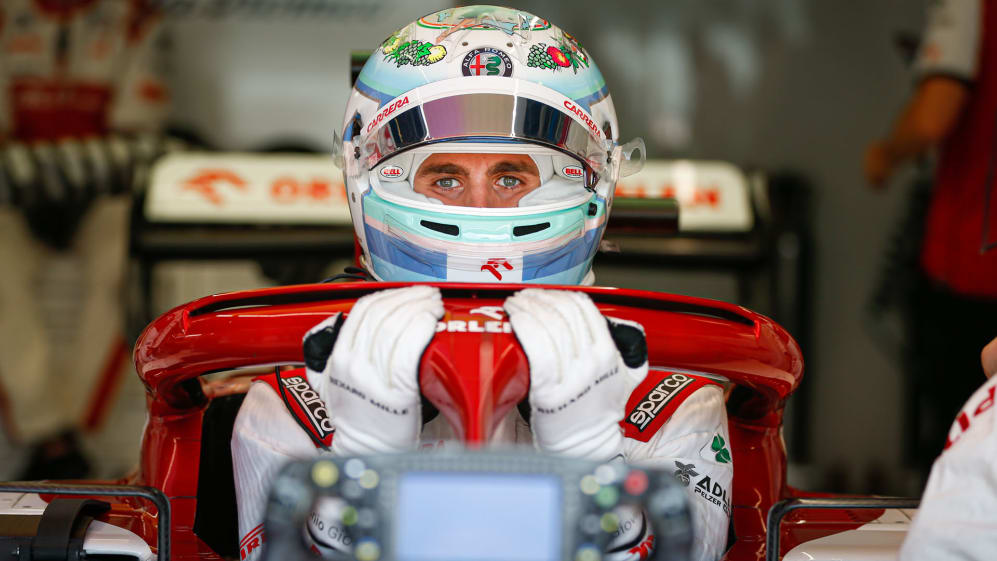 What about the second seat?
Giovinazzi is under pressure, the Italian's form having tailed off in recent races coinciding with the biggest threats to the seat – Ferrari's suite of junior academy drivers – occupying the top three positions in the Formula 2 Championship.
Callum Illot is leading the way, but he is thought to be behind Mick Schumacher (on a run of five successive podiums including a win) and Robert Shwartzman in Ferrari's pecking order.
Regardless of what happens with Giovinazzi - himself a Ferrari driver - I understand that a Ferrari junior could also be slotted in to drive at Haas next season, thanks to the relationship the American team enjoys with the Scuderia.
Giovinazzi still has time to save his job, though, with nine races remaining. And he knows what he has to do – increase his pace, improve his consistency – and start scoring points again.
In an Alfa Romeo that is struggling – and an experienced team mate in Raikkonen who is turning a corner in form in 2020 – he has his work cut out.