Feature
As it happened: Day 1 of 2017 testing from Spain
Finally the wait is over. The opening Grand Prix of 2017 may still be a month away, but this week we get to see this year's cars driven in anger for the first time - and already we know they are lower, wider, faster and noisier!
This page - updated throughout the day, with newest posts at the top - brings you the key news and information from the first test session of the year at the Circuit de Barcelona-Catalunya...
RECAP
Hamilton ends first day on top for Mercedes
Vettel puts Ferrari second, having topped morning session
Red Bull and McLaren hit issues, Magnussen tags the barriers
Lap times already quicker than in 2016
Quick in every sense
So the first day of testing has come to an end, but the discussions amongst the teams will go on long into the evening as they prepare for another full-on day tomorrow. For the record, Hamilton's fastest time from today was exactly a second faster than the best time from last year's tests at Barcelona - and there's undoubtedly plenty more performance to come. But the cars aren't just quick on paper - they look quick too. But don't just take our word for it - click here for a selection of the finest images from day one.
Mercedes end first day on top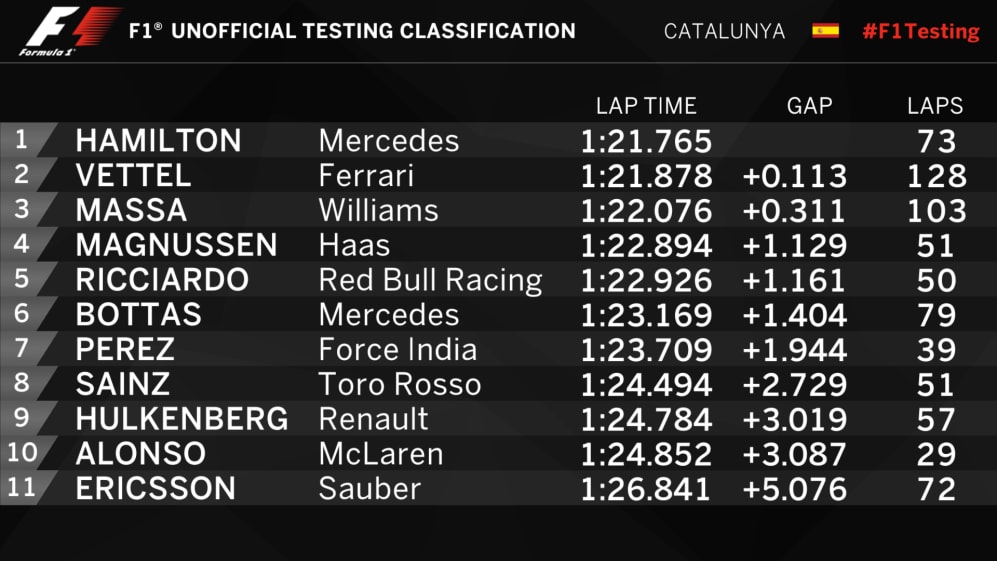 As the chequered flag flies in Barcelona, the teams are beginning to take stock of the first day of action in their new cars. There's no doubt that reigning champions Mercedes have had the best day of all, completing the most laps and setting the fastest time. But Ferrari's Sebastian Vettel was right on Hamilton's tail as the Prancing Horse completed a similarly uninterrupted first day of running - and the German set his best times on harder tyres than the Briton. At the other end of the scale, McLaren did well to claw their way back to 29 laps after early issues struck Fernando Alonso's car, while Red Bull recovered from their own woes to top 50 laps with Daniel Ricciardo.
Back in the saddle
Oops! Error retrieving Twitter post
Felipe Massa was supposed to have sat in an F1 car for the last time at last November's Abu Dhabi Grand Prix. What a difference a few months make - a triple figure lap count for the newly unretired Brazilian on his first day in Williams' new FW40.
2017 in slow motion
Oops! Error retrieving Instagram post
How do 2017's wider, faster cars look in slow motion? Allow Toro Rosso's Carlos Sainz to demonstrate...
Mercedes set the standard
Oops! Error retrieving Twitter post
Lewis Hamilton did 156 laps on the first day of pre-season testing last year. This year the three-time world champion and new team mate Valtteri Bottas have combined for over 130 and there's still a good chunk of time to go. Mark that down as another impressive day for the reigning champions then, who also top the timesheets. No wonder Bottas couldn't stop smiling when we spoke to him earlier…
No worries for Red Bull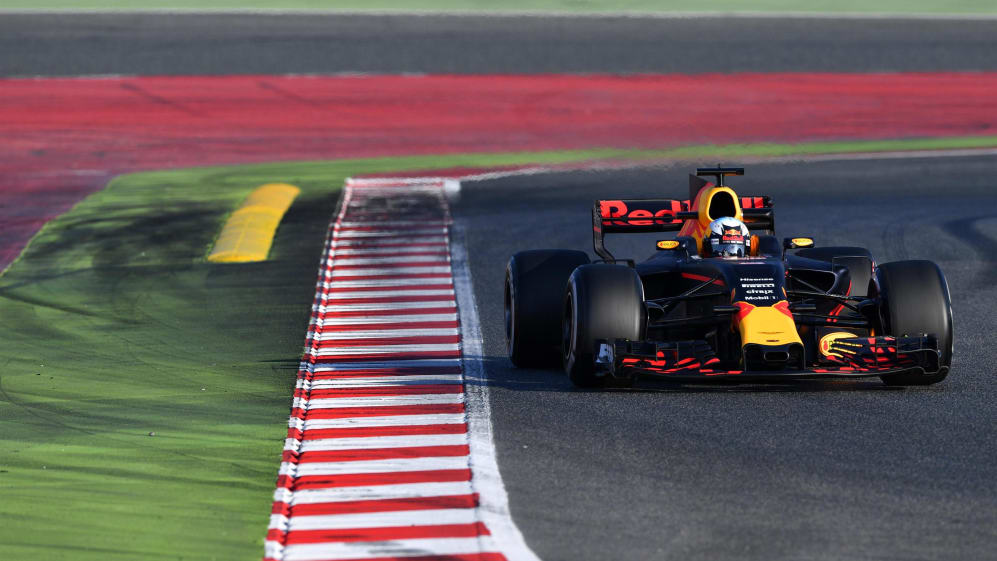 It's not been the greatest opening day of testing for Red Bull today, with a sensor issue on Daniel Riccardo's car this morning and a battery problem this afternoon. However, the Australian has now broken through the 20 lap barrier. "I'd far rather have the problems here than at the first race," said a distinctly unflustered team boss Christian Horner earlier this afternoon. "And the good news is they don't appear to be major problems. Both other cars powered by the same power unit are running reasonably ok. One can only assume that Daniel has just been unlucky to have two issues on his car today."
Alonso back in action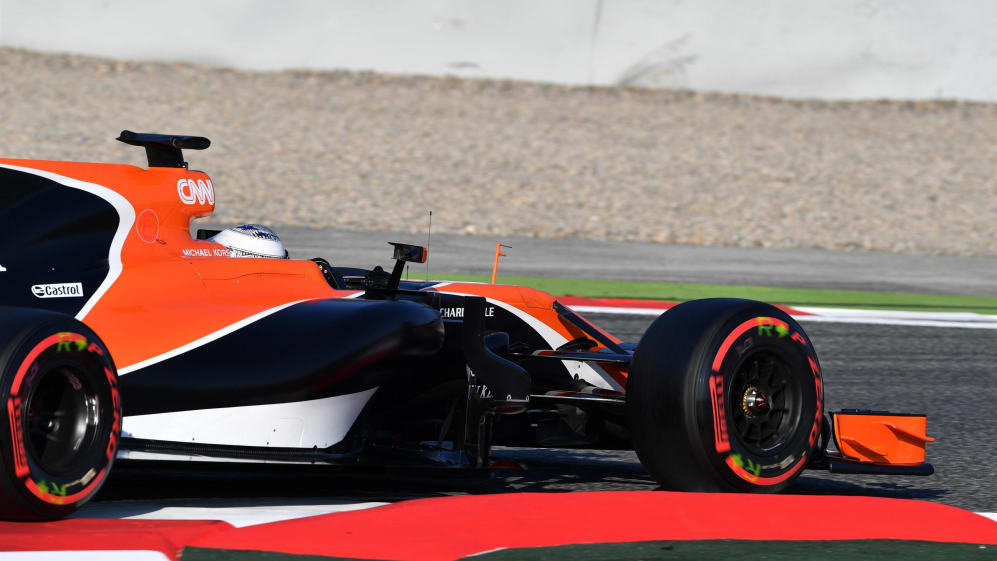 According to McLaren's racing director Eric Boullier, who has been speaking with reporters this afternoon, Fernando Alonso was 'not very happy' to have been sidelined by an oil system issue this morning, but the Spaniard now has a new power unit in his car and is making up for lost time. Boullier says it is too early to give further details on the earlier problem, saying Honda are still conducting investigations.
Setting new standards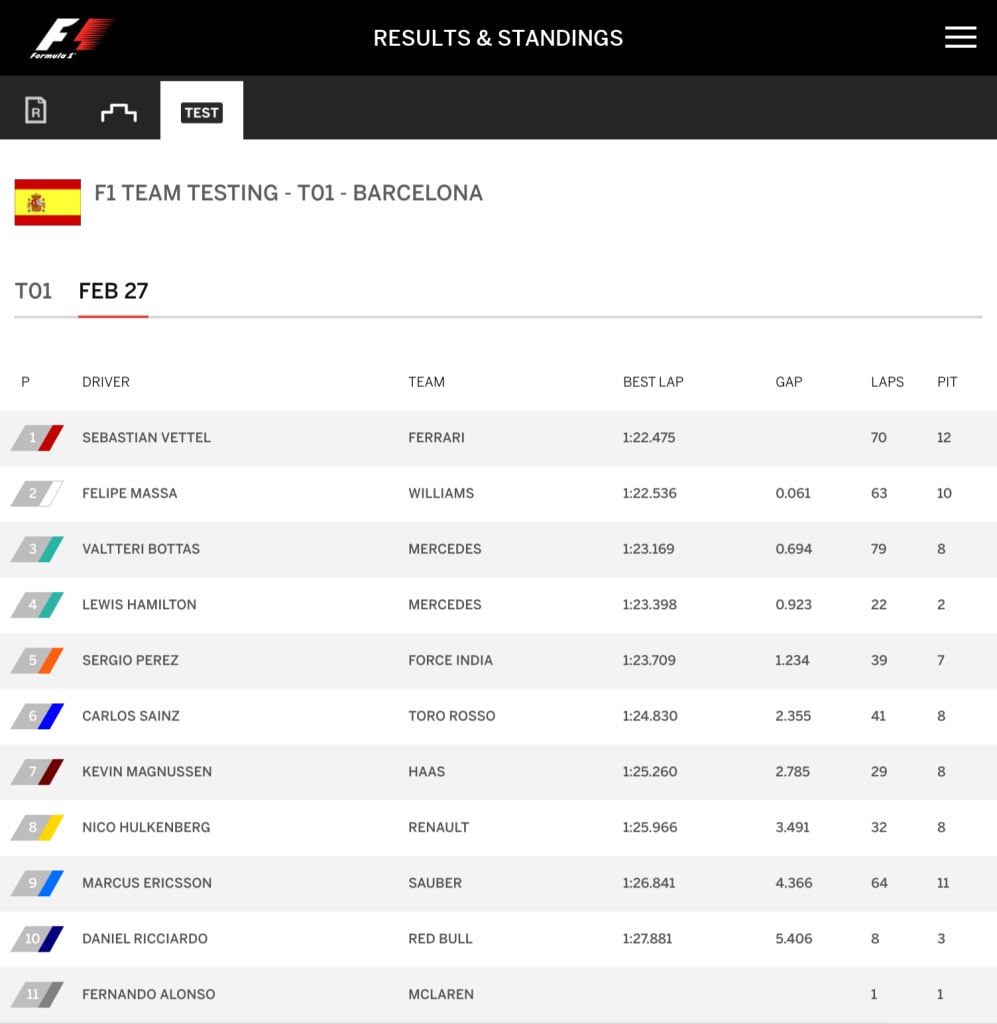 With around two hours of running remaining, this is how the time sheet looks, with both Vettel and Massa having now clocked times faster not only than those seen in last year's opening test, but quicker than anything seen throughout 2016's pre-season testing here in Barcelona.
Back then the benchmark was a 1m 22.765s from Raikkonen. Looks like those regulation changes are working - even on soft tyres. We have yet to see how much faster they can go on supersoft or ultrasoft rubber!
For minute-by-minute timesheet updates, download the Official F1® App and go to Results & Standings > TEST. For more information, click here.
The latest trend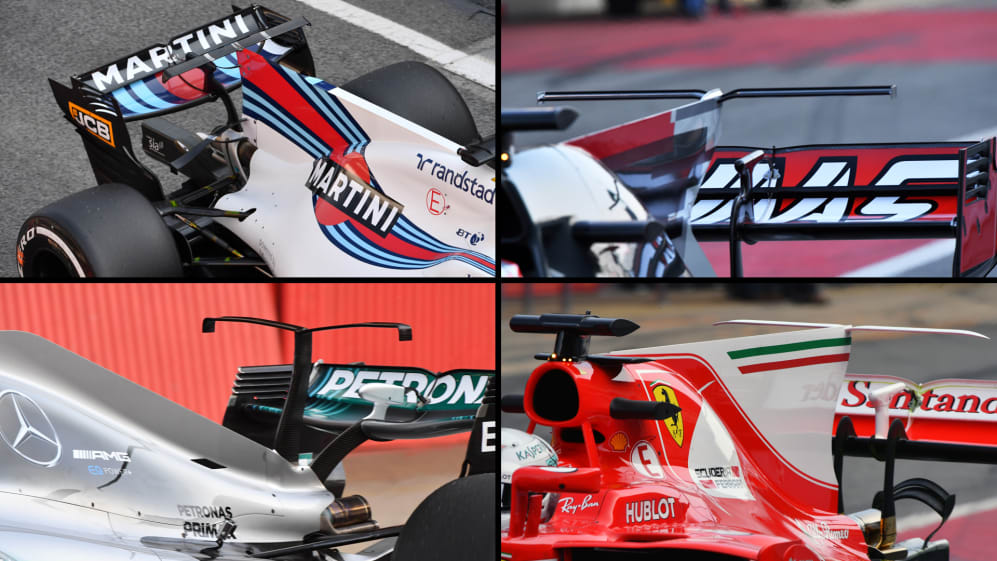 Speaking of T-wings, here are a few of the examples on display so far. Whether mounted to a shark fin or free standing, this aero device seems to be all the rage this year. You can enjoy more pictures from testing in our regularly updated gallery.
Hamilton's Silver Arrow grows a shark fin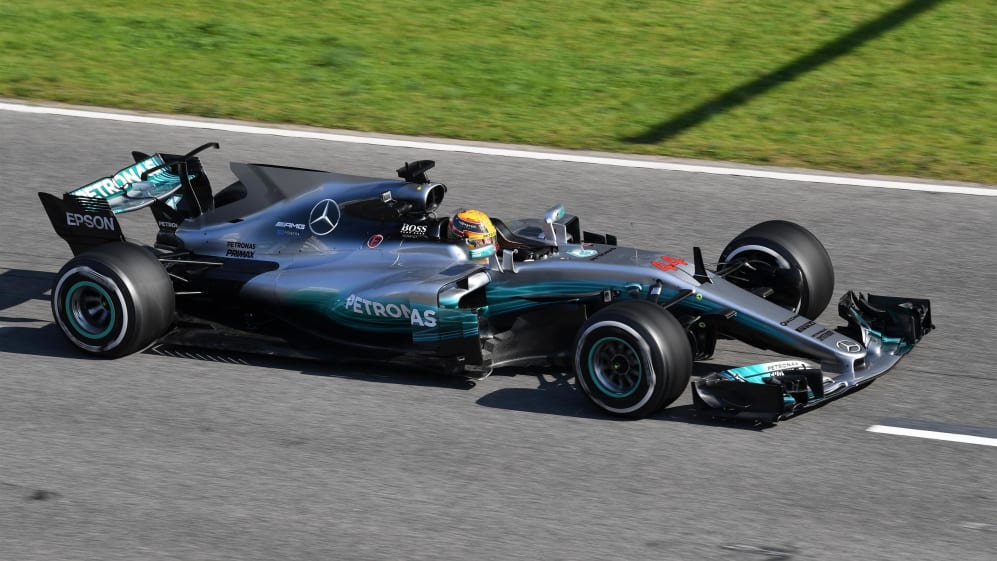 After Valtteri Bottas' opening 79-lap stint in the W08 this morning, three-time world champion Lewis Hamilton has taken over driving duties for Mercedes for the afternoon session. And what's more, the Silver Arrow is now sporting a proper shark fin. The 'T-wing' still remains however...
McLaren set to return to action
Oops! Error retrieving Twitter post
After being limited to a single lap this morning, McLaren are set to resume running this afternoon. It is understood that the MCL32 has been fitted with a new engine following the oil system issue that Fernando Alonso encountered.
An interesting innovation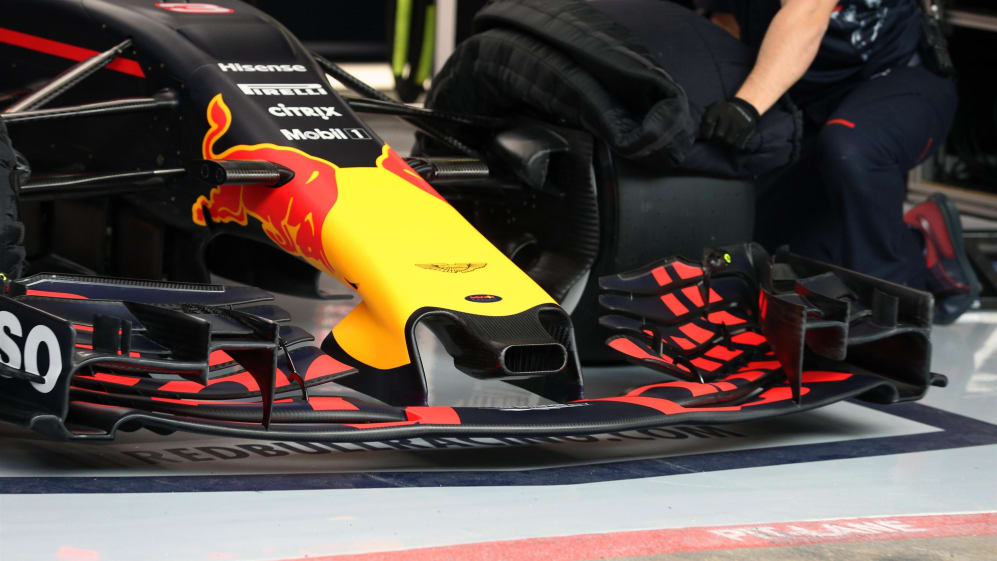 Speaking of Red Bull, they may not have managed too many laps so far today, but the unique 'open' nose on the RB13 has certainly caught the eye. The F1 technical regulations allow teams to have a single-inlet aperture in the nose, provided it is for the purpose of 'driver cooling'. This may well be the primary purpose of Red Bull's design, but knowing Adrian Newey and his team, it'll likely have aerodynamic benefits too.
Back underway
Oops! Error retrieving Twitter post
The afternoon session gets underway - and Daniel Ricciardo is quick to head out, the Australian keen to make amends for missing so much time this morning.
Vettel and Ferrari the lunchtime leaders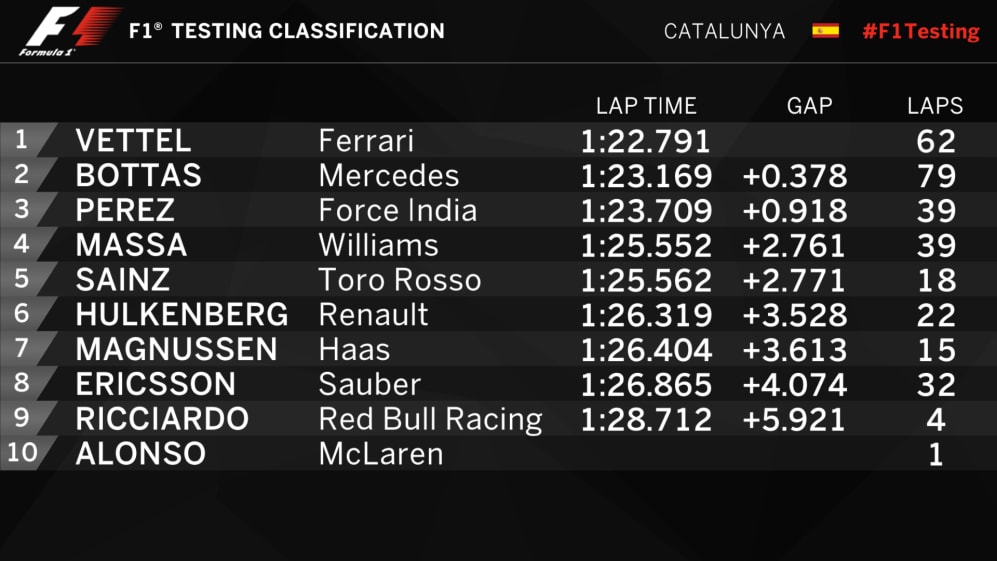 We've reached the lunch break on the opening day of running at Barcelona, and what a morning it's been. Ferrari and Mercedes have both raced out of the blocks, racking up a combined 141 laps and trading times at the top of the leaderboard. Sebastian Vettel's 1m 22.791s effort (on medium tyres no less) is already faster than the overall best during the first four days of last year's first pre-season test – proof that 2017's new rules have led to quicker cars.
But while most have enjoyed a decent start to testing, there have been problems elsewhere, noticeably at Red Bull and McLaren, both of whom stopped running early on with technical issues. Haas too have had an eventful morning, with Magnussen the first driver to tag the barriers this year.
What will the afternoon bring?
Pluses and minuses
Oops! Error retrieving Twitter post
Magnussen recently returned to the track after his earlier delays, but he was soon back in the pit lane - and with a damaged front wing no less. According to Haas, the Dane locked his rear wheels entering Turn 10, spun and hit the barriers. It's certainly been an eventful opening morning for the new Haas recruit...
Attention grabber
Oops! Error retrieving Twitter post
There's been a lot of talk across social media, and indeed here in Barcelona, as to which 2017 car looks the best. Opinion seems to be widely varied, but one team scoring high with a lot of fans and media is the Toro Rosso, sporting a bold new livery for the forthcoming season...
Bottas and Vettel trade blows...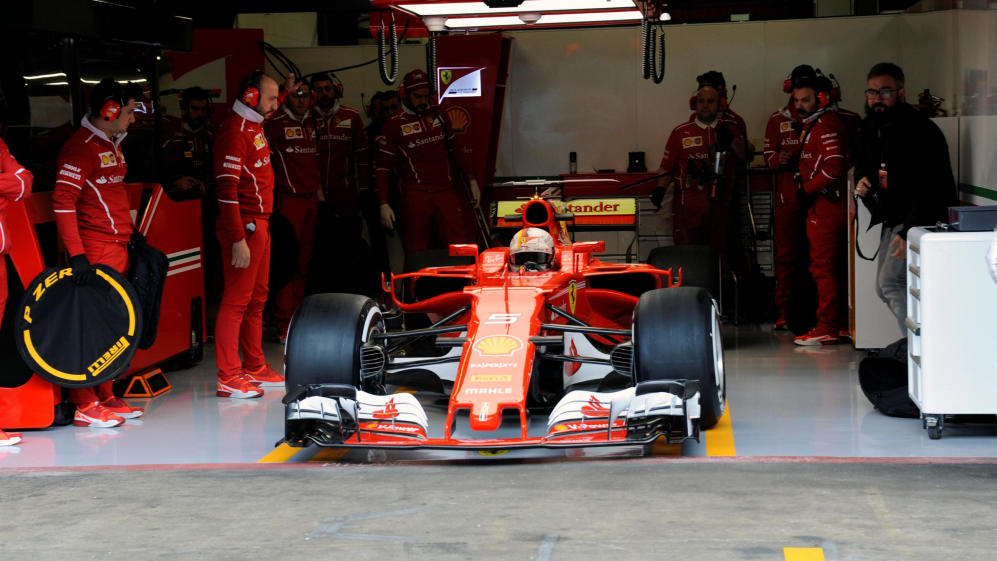 Vettel and Bottas have been trading fastest laps on the opening morning - and with just over half an hour remaining, it is the four-time world champion who is on top. The benchmark has been trimmed to a 1m 22.791s - which is already faster than the overall best during the first four days of last year's first pre-season test.
Ferrari and Mercedes have also enjoyed impressive reliability this morning, clocking up more than 100 laps combined. The same isn't so true at McLaren - who still have completed just one lap - or Red Bull, who apparently have a sensor issue that requires a lengthy fix. Haas also hit issues earlier, but Magnussen has since come back out.
Haas investigates...
Oops! Error retrieving Twitter post
Haas only officially rolled their 2017 car out this morning - and it hasn't exactly gone to plan. New recruit Kevin Magnussen managed seven installation laps before hitting issues at the pit entry - and he hasn't been back out since. Alonso and McLaren (below) are the only others yet to set a time so far on the opening morning.
Early issues for McLaren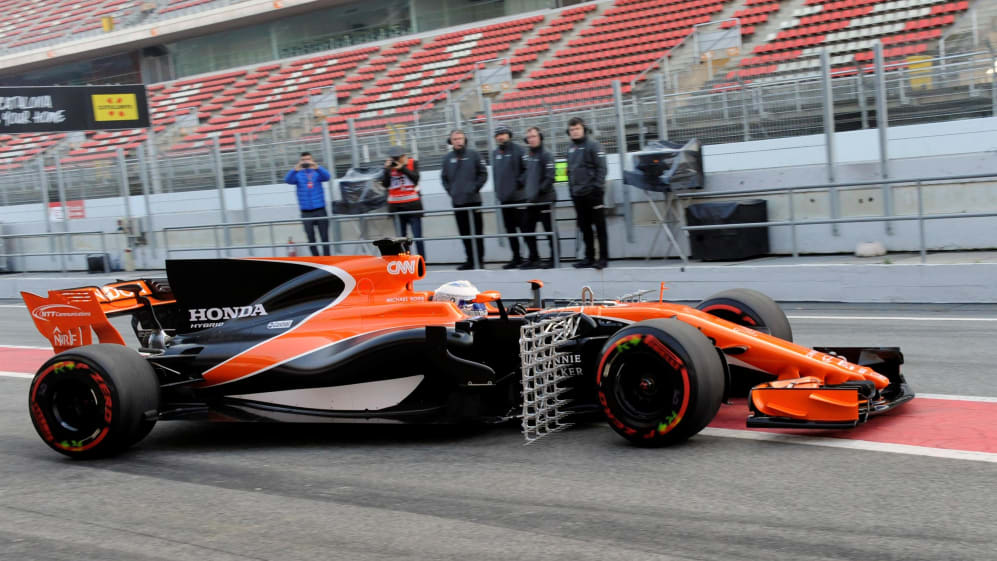 Fernando Alonso's vibrant McLaren looked resplendent in the Barcelona sunshine as it headed out this morning, but the Honda-powered machine has since been confined to the garage with an apparent oil system issue.
Off to a flyer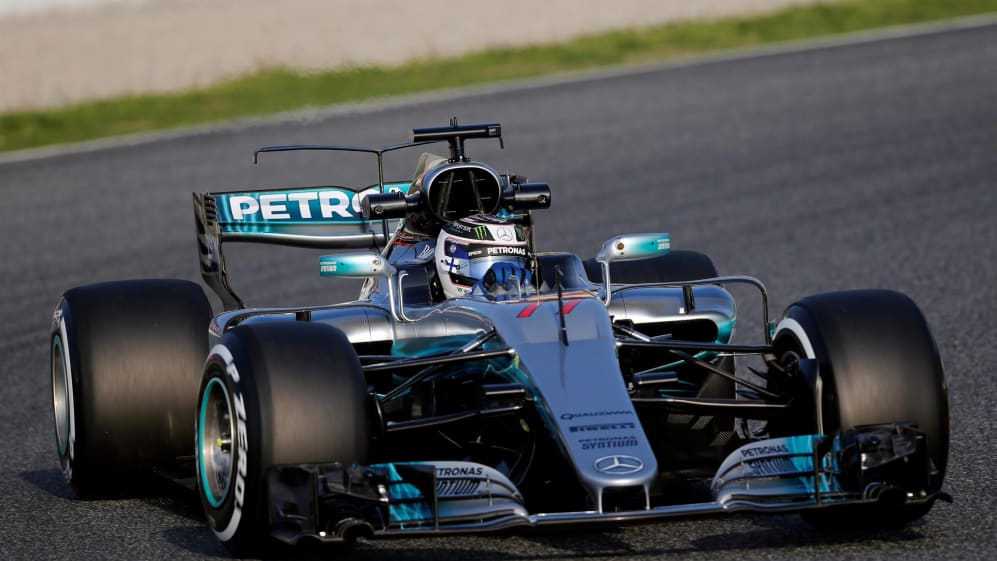 The quickest time on day one of last year's opening pre-season test? Sebastian Vettel's 1m 24.939s. The quickest time after two hours of this year's first test? 1m 23.370s for Mercedes' Valtteri Bottas...
2017's heavily revised cars already looking mighty quick then. To watch a video explaining the technical changes that have slashed lap times, click here.
Unlucky for some?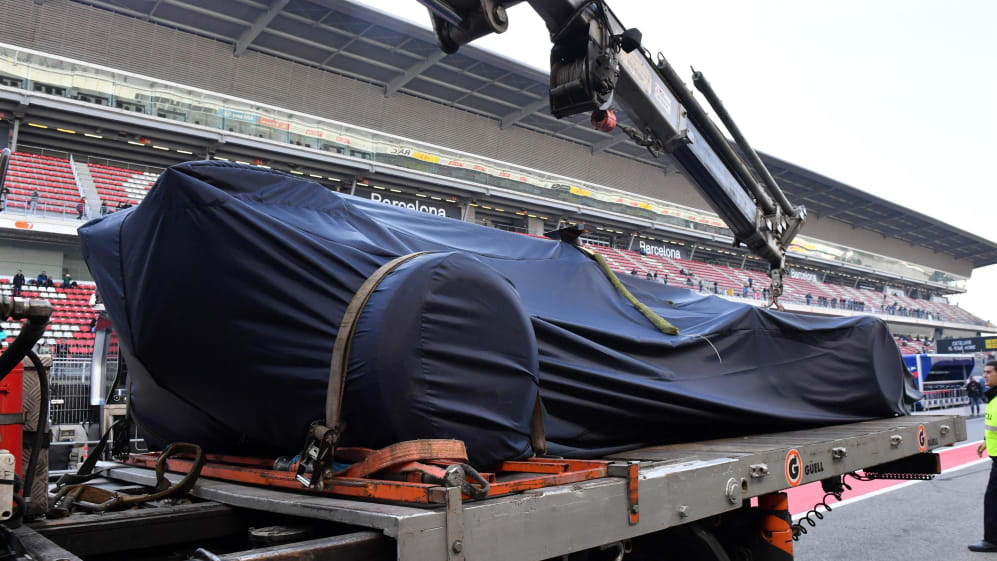 Red Bull have been using the hashtag #breaksuperstition in reference to their new car, the RB13. However, rather ominously, Daniel Ricciardo became the first driver to bring out the red flags this year when he brought his machine to a standstill after four laps with a sensor issue. For more images, click here.
Testing times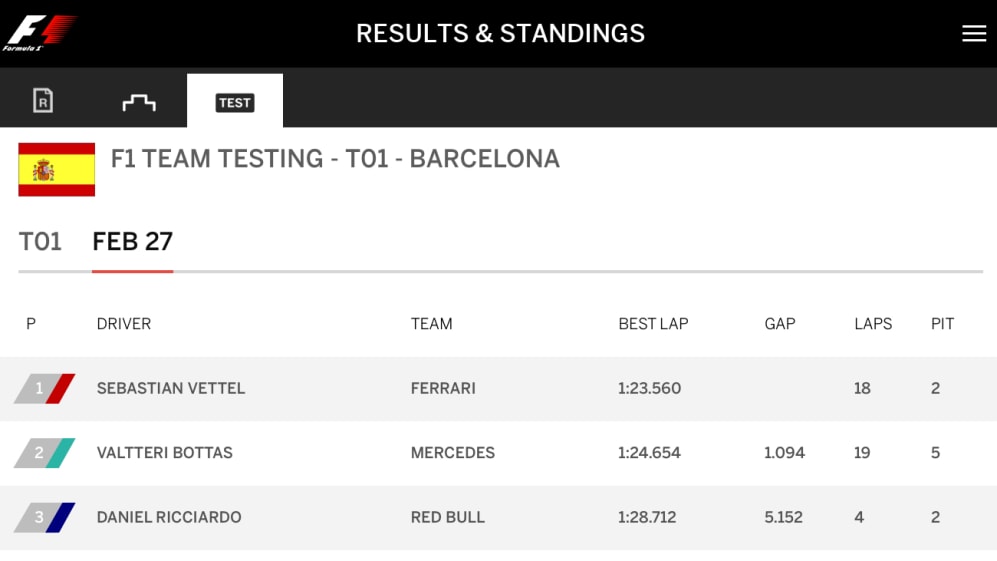 An hour and a half gone and the top of the leaderboard looks like this. For minute-by-minute timesheet updates, download the Official F1® App and go to Results & Standings > TEST. For more information, click here.
And they're off!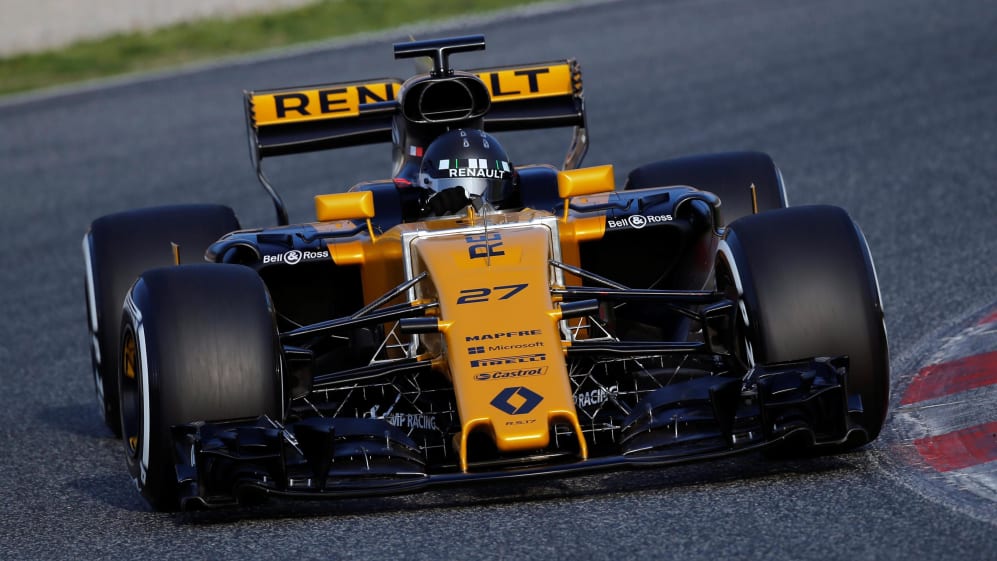 Renault's Nico Hulkenberg (above) was the first driver out of the pit lane this morning, and there's been a steady stream of cars on track ever since. For the latest images from Barcelona, click here.
What is testing?
New to testing? Want an overview of what it's all about? Allow us to explain…
Driving on Monday
Want to know who is on track today? Here's the provisional line-up in full.
| TEAM | DRIVER |
| --- | --- |
| Mercedes | Valtteri Bottas (am) / Lewis Hamilton (pm) |
| Red Bull | Daniel Ricciardo |
| Ferrari | Sebastian Vettel |
| Force India | Sergio Perez |
| Williams | Felipe Massa |
| McLaren | Fernando Alonso |
| Toro Rosso | Carlos Sainz |
| Haas | Kevin Magnussen |
| Renault | Nico Hulkenberg |
| Sauber | Marcus Ericsson |