Feature
As it happened: Day 2 of second test from Spain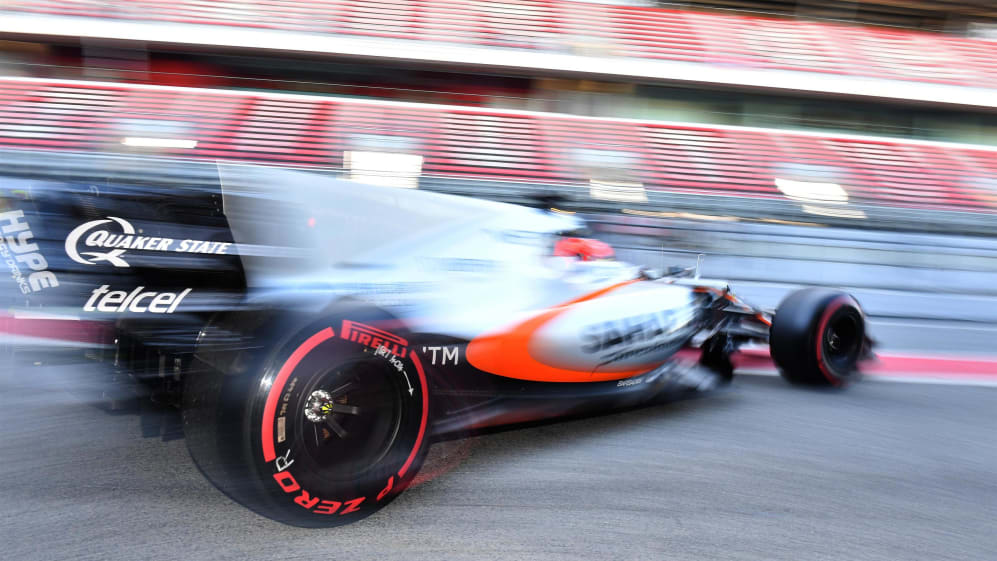 Last week's opening test gave us our first glimpse of 2017's faster F1 cars running in anger. This week we get our final chance to assess the pecking order before the teams head to the season-opening 2017 Formula 1 Rolex Australian Grand Prix on March 26.
This page - updated throughout the day, with newest posts at the top - brings you the key news and information from the second test session of the year at the Circuit de Barcelona-Catalunya...
RECAP
The final pre-season test runs for four days
Teams on track 0900-1300, 1400-1800 local (GMT+1)
Verstappen, Raikkonen and Alonso all in action
Bottas sets blistering new benchmark in morning
Raikkonen spins in the afternoon, Verstappen also brings out reds
WATCH: Ride onboard with Bottas as he records the quickest lap of the winter so far
As the sun sets in Barcelona, we present a little treat for your viewing pleasure. Here's the full onboard of Valtteri Bottas' scorching supersoft lap from this morning. Proof, if it were needed, of both the incredible capabilities of 2017's F1 machinery - and the inherant pace of Mercedes' new Silver Arrow.
Mercedes top dogs once more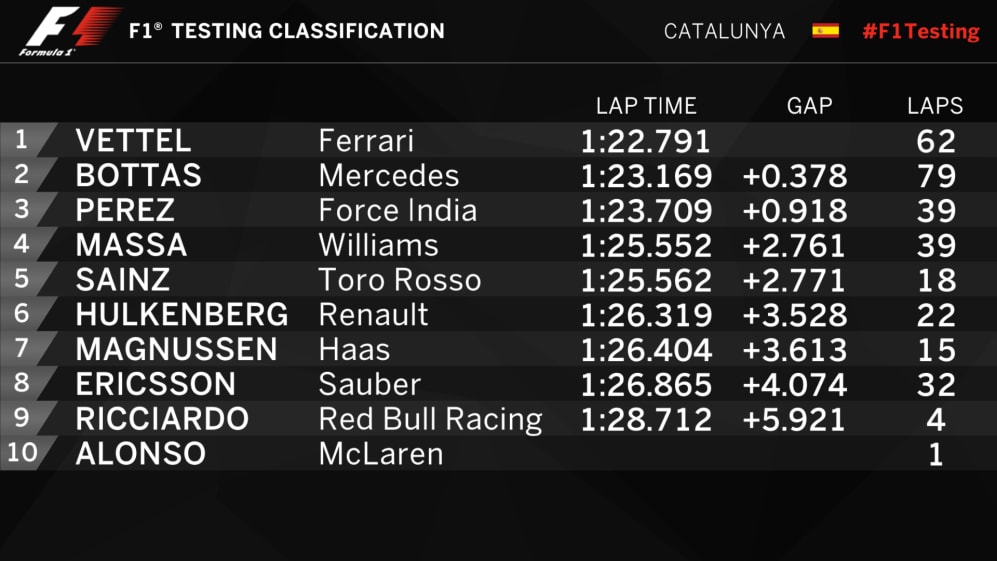 A slightly disrupted end to the day then, but Mercedes won't mind a jot - once again they've set the pace and logged the most laps of any team. Formidable would be a good way to describe the world champions right now - can they go even faster tomorrow?
Felipe Massa ends the day as Valtteri Bottas' closest challenger, with Raikkonen nearly a second back on what has been Ferrari's most troubled day of testing so far.
Red Bull will be pleased to have banked 100 laps, as will Force India, but it has been another day of minimal mileage for McLaren.
For our full round-up of the today's action, click here.
Another member of the 100 club - and another stoppage
Oops! Error retrieving Twitter post
The session is extended by five minutes to make amends for Verstappen's stoppage, but no sooner has the action resumed then Marcus Ericsson's Sauber stops and brings out the red flags again. Speculation suggests that might have been a 'fuel run' by the Swiss team - a process by which teams deliberately let their cars run out of fuel to help check the accuracy of their readings. These usually take place late in the day to minimise disruption to others.
Thankfully for Sergio Perez, the reds fell just as he'd completed his 100th lap, but Romain Grosjean falls four laps short of triple digits.
A centurion - and then a stopper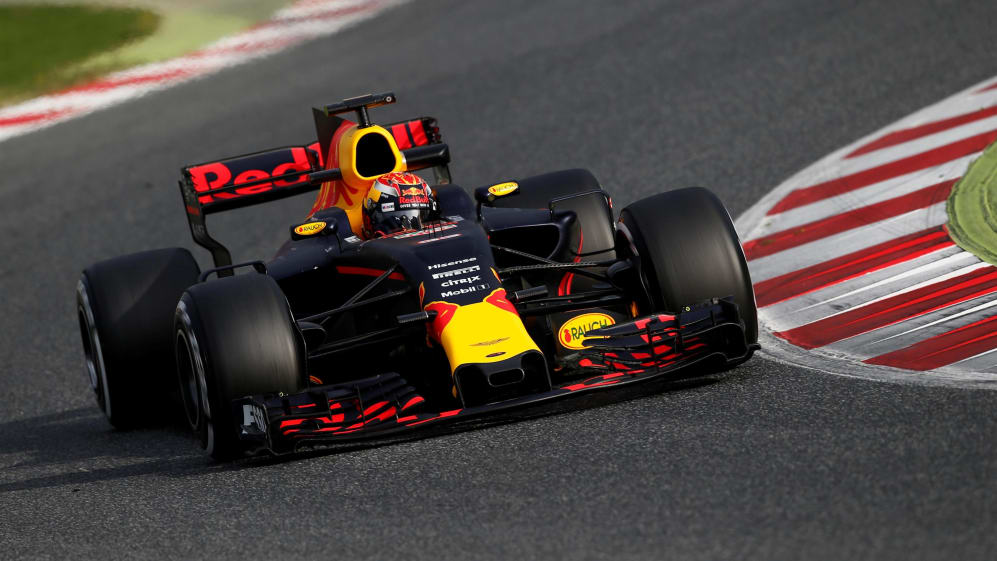 Max Verstappen becomes the first driver to break into triple digits on the lap count, but moments later he's responsible for the day's second red flag as his RB13 grinds to a halt at Turn 12. Looks like that's it for the Red Bull star today, and Ferrari have confirmed Raikkonen won't run again either after that earlier spin. It appears the front of the SF70H was damaged in the off.
Oops! Error retrieving Twitter post
Race prep
Oops! Error retrieving Twitter post
An impressive display of tyre management from Lewis Hamilton - or a sign of how much more durable Pirelli's 2017 rubber is (or a bit of both)? Either way, that's an impressive stint from the triple world champ.
Pounding around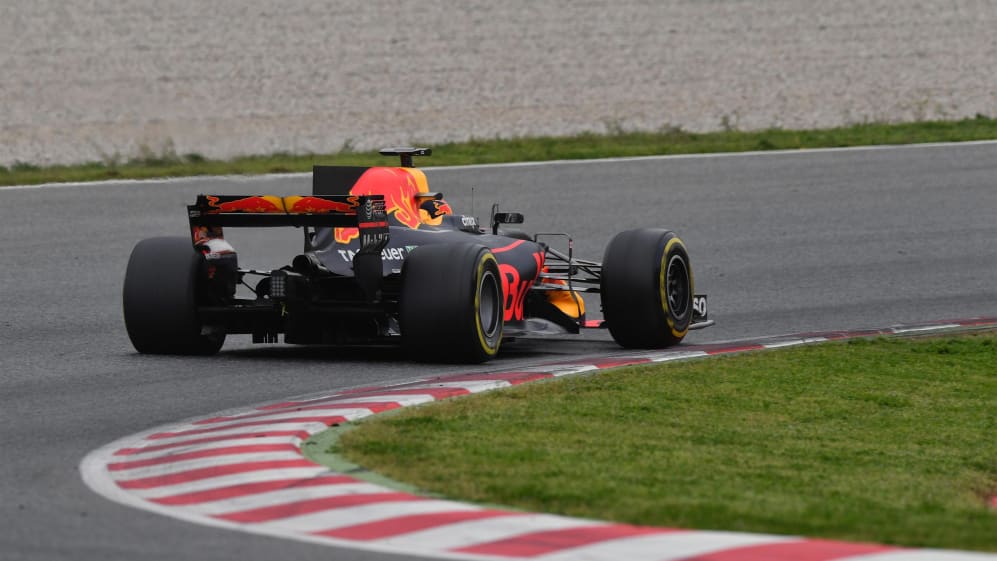 Plenty of teams have focused on long runs this afternoon, including Red Bull who have a full crew watching on from the pit wall as Max Verstappen (above) racks up the miles. The Dutchman has now taken his tally past 80 laps - as have Force India's Sergio Perez, Toro Rosso's Carlos Sainz and Haas' Romain Grosjean.
Lewis Hamilton's afternoon haul has passed 70 laps, while Williams rookie Lance Stroll has steadily upped his tally to a half century - and he's moved up to an impressive sixth place in the standings in the process.
McLaren meanwhile have just passed the 40-lap mark as Fernando Alonso continues his afternoon programme of short runs.
For a full selection of the finest images from today's running, click here.
No changes at the top

As we move towards the final hour the top of the leaderboard is looking static, with Bottas' pre-lunch supersoft lap still the benchmark, not just for today but for the winter as a whole.
For minute by minute timing updates, download the revised and updated Official F1® App. For more information, click here.
Unlucky Palmer back in action
Oops! Error retrieving Twitter post
In his last stint in the R.S.17 yesterday morning, Jolyon Palmer was restricted to just 15 laps because of technical issues. Team mate Nico Hulkenberg then went out in the afternoon and logged 58 laps. Today? Hulkenberg banked 61 laps in the morning before handing the Renault over to Palmer for the afternoon. Cue another issue...
The good news for the Briton is that his car has since been fettled and he's returned to the action. But how many laps will he muster before the day is through?
Raikkonen in the gravel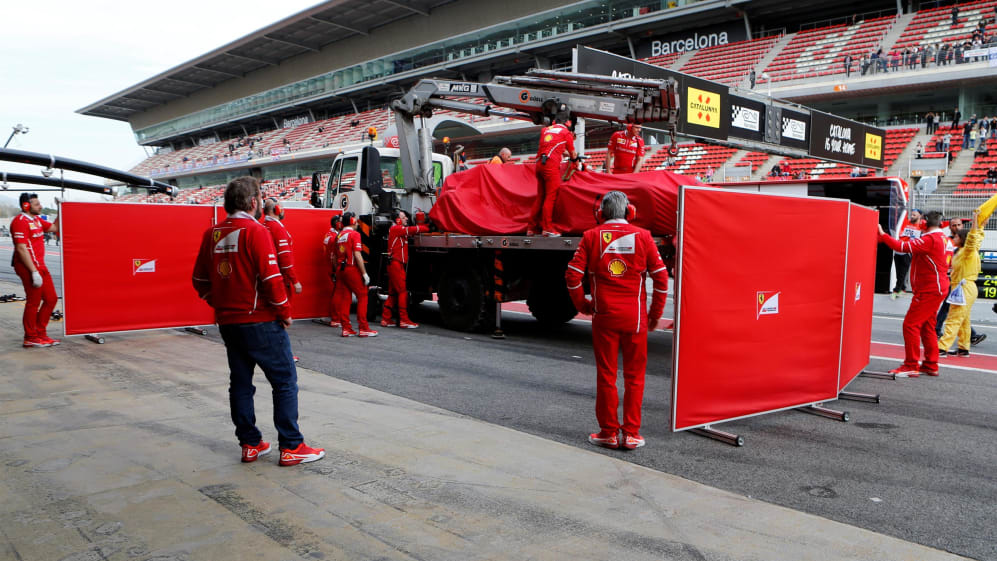 The red flags fly for the first time today - and they're for Raikkonen. The Finn gets beached deep in the gravel on the exit of Turn 3, the impression being that he'd spun mid corner. Quick work from the circuit officials - and from the onrushing Ferrari crew - means the SF70H is quickly up on a low loader, wrapped in a protective sheet and retuned to the pits.
Softly does it for Stroll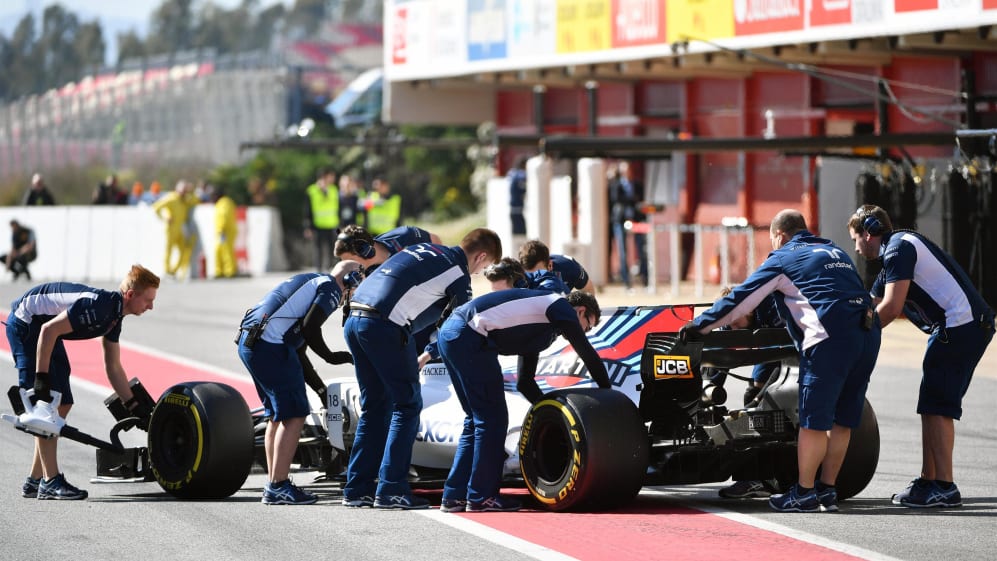 A solid stint on soft tyres lifts Lance Stroll to 33 laps already this afternoon - and ninth overall on the timesheet. He's still more than 2.7s off team mate Felipe Massa, who piloted the FW40 this morning, but Williams are once again banking some serious mileage.
Stroll of course has a chance to make history this year - if he were to triumph in any of the first seven races, he'd break Max Verstappen's record to become the youngest ever F1 winner. The bookmakers don't seem to think that's altogether likely - he's priced at 250/1 for the 2017 championship crown...
Rosberg in demand
Oops! Error retrieving Twitter post
Last week 2016 world champion Nico Rosberg paid a flying visit to the F1 paddock - and today is the turn of his father and 1982 champion Keke. F1's original flying Finn is still very much a man in demand in F1 circles, as demonstrated by a throng of autograph and selfie hunters.
There's more to testing than just... testing...
Oops! Error retrieving Twitter post
We have a slight lull out on circuit, with Hamilton the only man circulating at present. The Briton is up to 23 laps, and fifth in the standings - but no one seems in a hurry to join him out on circuit.
That's not to say drivers are having a quiet time of it - in fact a day off from driving duties is merely an opportunity to do more media and promotional work. Kevin Magnussen is the latest to head over to Codemasters, producers of the official F1 game, where digital scans of each driver's face are being taken in order to make the forthcoming 2017 game as realistic as possible. That's not the only treat in store with the new game, incidentally - watch this space...
Very superstitious (but the writing isn't on the wall)
We knew someone walked under that ladder! Lunch was cancelled due to an engine change. 😉 Back on track soon. 👊 #BreakSuperstition pic.twitter.com/1RcAN62obb
— Red Bull Racing (@redbullracing) March 8, 2017 Red Bull have been happy to play up the unlucky associations connected with their RB13 moniker - but they have had a slice of genuine bad fortune after being forced into an engine change over the lunch break. They've completed just 34 laps today, the lowest of any team - but they remain confident that Verstappen will be able to get back underway shortly.
Alonso in a spin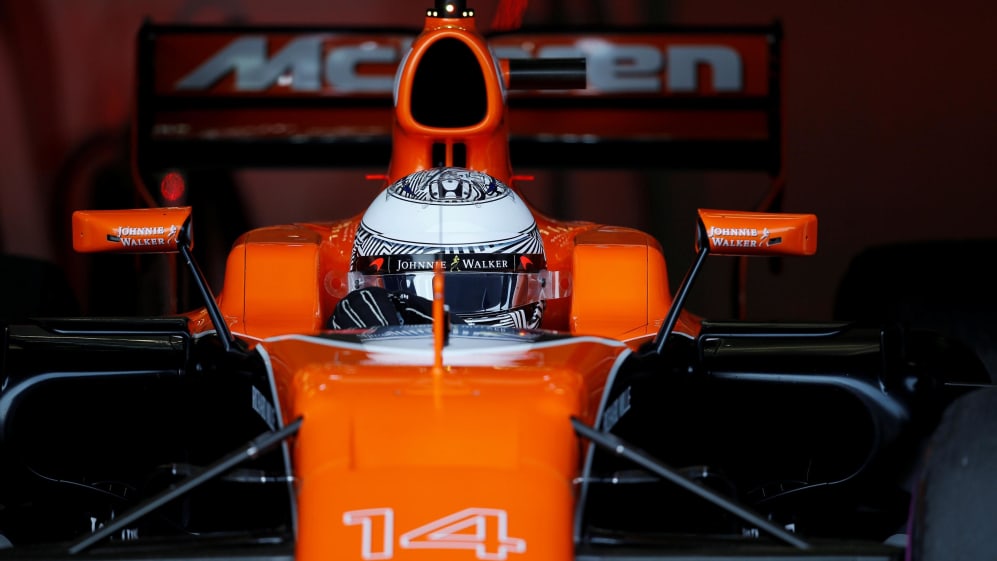 The cameras didn't pick it up earlier, but some eagle-eyed fans did - Alonso had a slight mishap shortly before lunch when he span exiting Turn 1. A quick 360 and he was back underway, although he pitted the next time round.
The Spaniard isn't the only one to have lost their car during the pre-season: Massa, Hamilton, Bottas and Stroll are among those to have also swapped ends unexpectedly.
One for the fans
Oops! Error retrieving Twitter post
Stroll among the driver swaps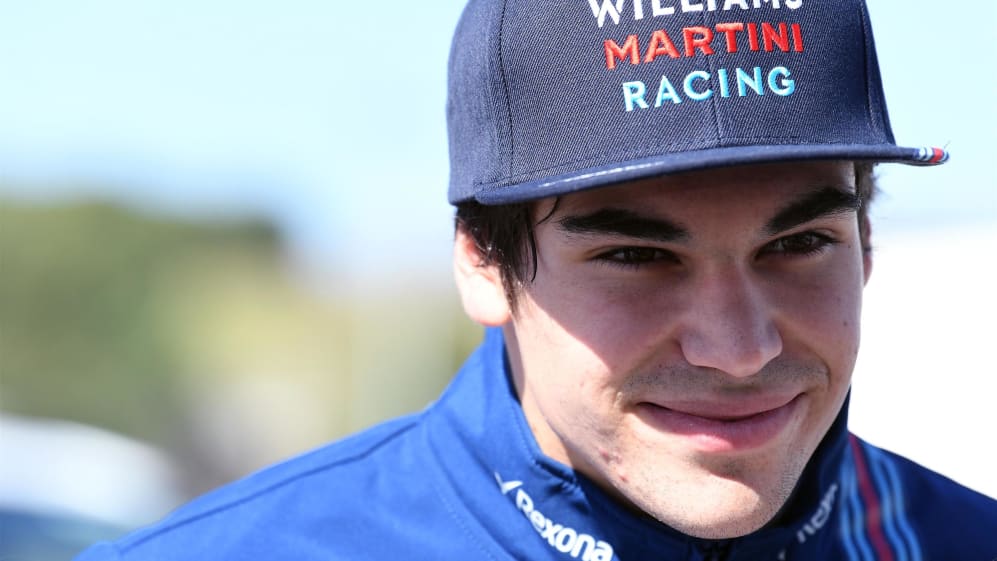 With the track open again after lunch, several teams are making scheduled driver changes for this afternoon's running. Hamilton takes over from Bottas at Mercedes, Ericsson replaces Wehrlein at Sauber, and Hulkenberg makes way for Palmer in the Renault. And at Williams, Lance Stroll makes his first appearance of the second test, after his troubled debut last week. Has the Canadian rookie put that behind him? Find out in our exclusive interview.
Mercedes on top once more at the lunch break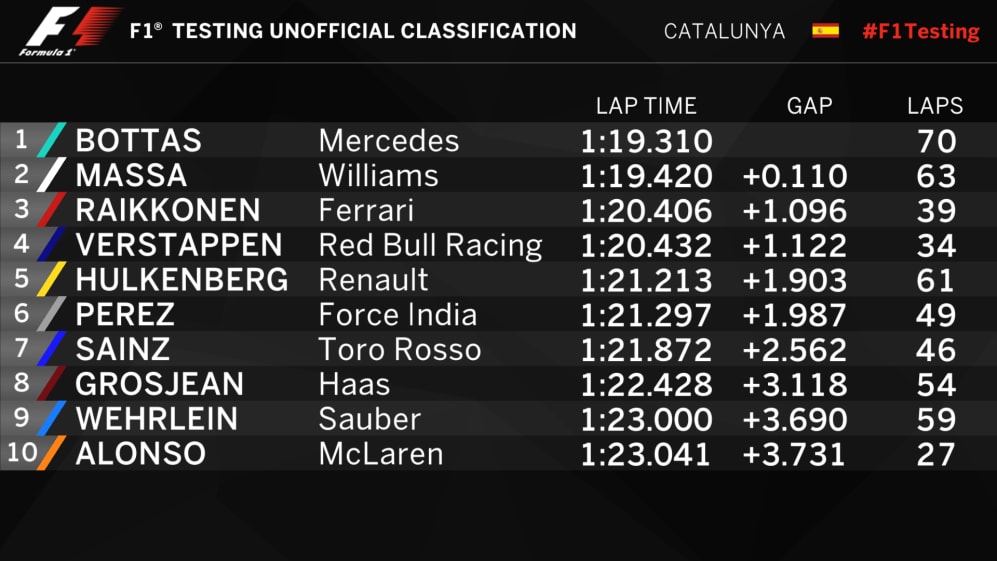 Bottas, Hulkenberg, Raikkonen, Sainz and Grosjean are all on track as the morning session draws to a close, but there are no late improvements before the chequered flag falls.
There's just enough time for a few practice starts on the starting grid before the drivers head off for a break, but who will be happiest as they sit down to lunch?
Valtteri Bottas and Mercedes should definitely be pleased with their morning's work, having established a scorching new winter benchmark and clocked the most laps.
Williams too can look back on another encouraging session, with Felipe Massa taking his lap total for the past day and half to a mind-boggling 231 laps, while at the same time dipping below the 1m 20s barrier again.
Three other drivers joined Bottas and Massa in clocking 50-plus laps - Hulkenberg, Grosjean and Wehrlein - but at the other end of the scale Fernando Alonso managed just 27 for McLaren and Max Verstappen only seven more than that for Red Bull. Both teams clearly have plenty to think about over the hour-long break...
Ferrari's first hiccup
Oops! Error retrieving Twitter post
After a trouble-free start to pre-season testing, Ferrari have experienced their first bump in the road today. Fortunately for the Italian team, it wasn't a big one, and after a short stay in the garage Kimi Raikkonen returns to the track.
In Raikkonen's absence Felipe Massa sliced his way down to 1m 19.487s on ultrasofts - the second quickest time of the winter. The Finn's response? 1m 20.472s on the softs - good enough for P4 for the time being.
Massa on the move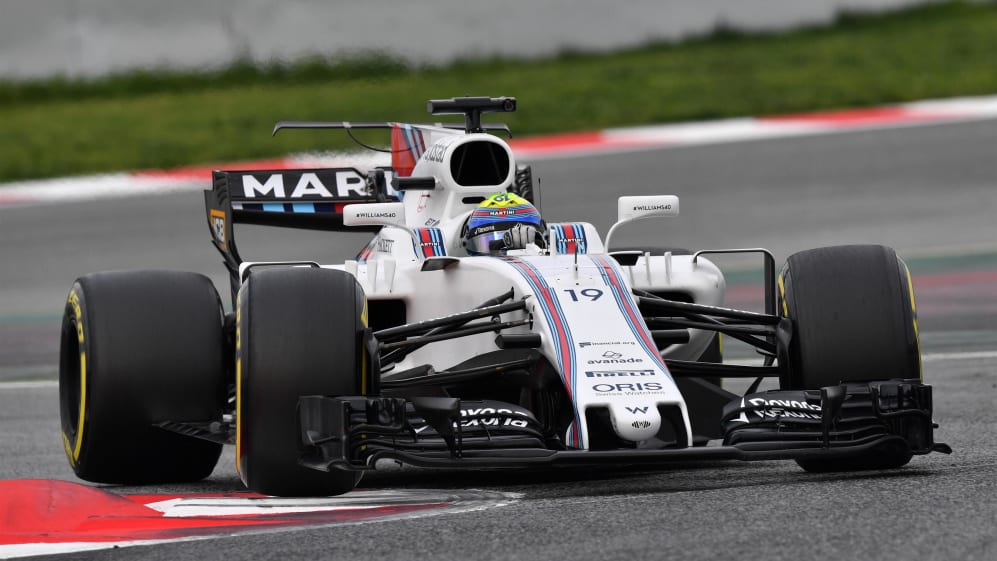 Yesterday Lewis Hamilton said that he'd love to see Williams competing at the front again, and on the evidence we're seeing this week, he might just get his wish. For the second day in a row Felipe Massa takes his FW40 round in under 1m 20s - this time on soft tyres. It's not quite as quick as he went yesterday, but it's impressive nonetheless.
A blistering new benchmark for Bottas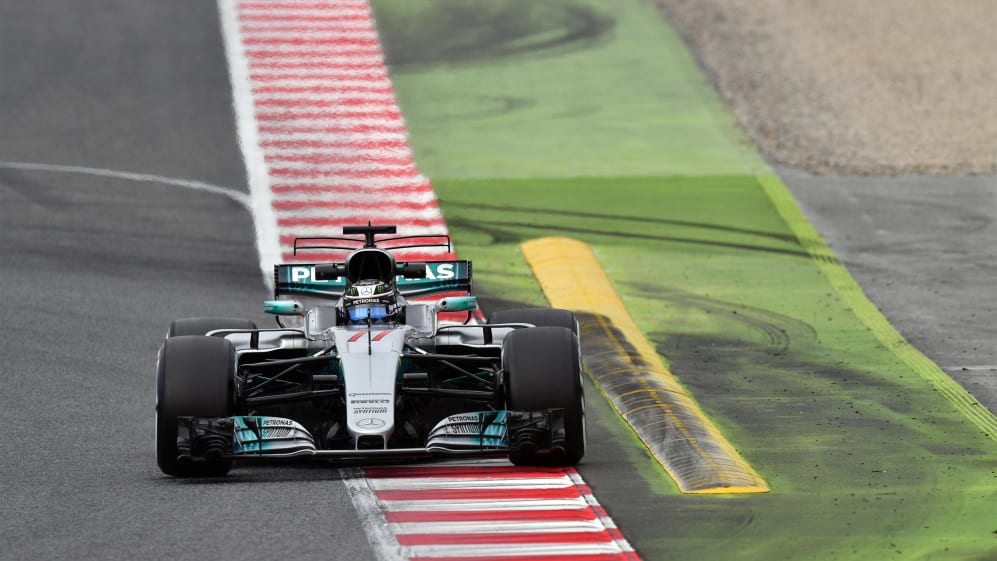 He set the fastest time at the first test and now Valtteri Bottas has bagged himself the fastest time at the second - and what's more it's the quickest lap we've seen all winter. With supersoft tyres bolted to his W08, the Finn stops the clocks at 1m 19.310s - four tenths faster than he went last week on ultrasofts. That's some marker for the rest to follow...
Bottas' former team mate Felipe Massa, meanwhile, has moved into second, backing up the solid form Williams showed yesterday. The Brazilian has so far added another 43 laps to the record 168 he managed on Tuesday.
Verstappen ups the pace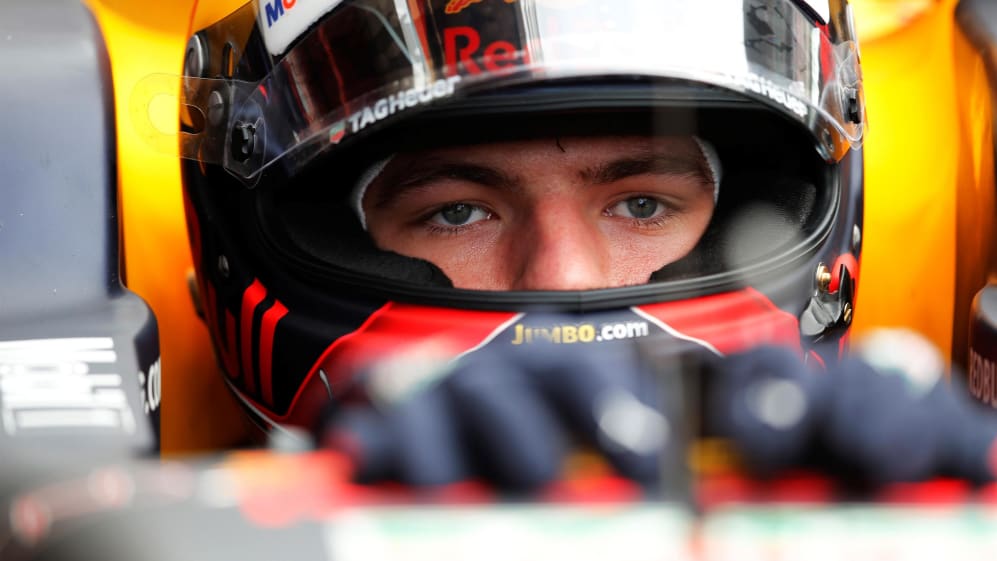 Daniel Ricciardo said yesterday that he was starting to feel the RB13 'come alive', and it looks like Max Verstappen might be getting a similar sensation today. With soft tyres bolted to his car - the same rubber that Ricciardo spoke highly of - the Dutchman goes around in 1m 20.516s, which is his quickest time of testing so far.
Will we see Verstappen break through the 1m 20s barrier like his team mate? You can check out more pictures of the Red Bull ace in action in our regularly updated gallery.
Another slow start for McLaren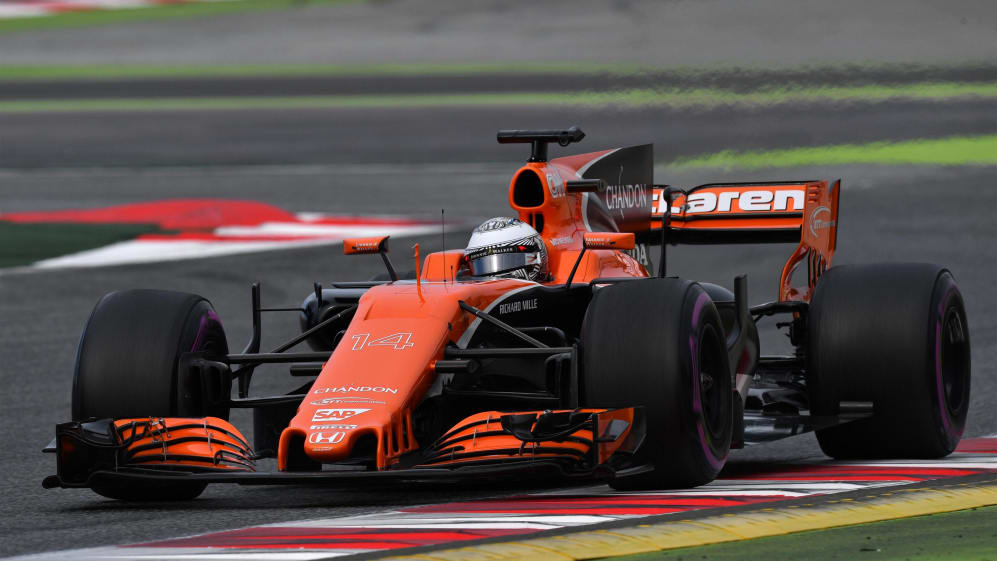 Fernando Alonso's presence means there's another decent crowd in the part of the grandstand immediately facing the McLaren garage, but the locals haven't seen their man out on track much today. Approaching the two-hour mark Alonso has managed just 11 laps in the Honda-powered MCL32, which is substantially fewer than current lap leader Valtteri Bottas, who has more than 30 laps under his belt.
Yesterday the team's Racing Director Eric Boullier said the McLaren-Honda relationship was under 'maximum pressure', but that he's not yet overly concerned with the team's predicament. If Alonso has another interrupted day, he might change his mind...
More teething trouble at Toro Rosso?
Oops! Error retrieving Twitter post
Toro Rosso did well to capture this video of Carlos Sainz leaving the pit lane - so far the Spaniard has managed just one lap today. It hasn't been the smoothest of pre-seasons in general for the team, who also racked up just 183 laps - the fewest of all the teams - in the first four days.
Ferrari the early favourites?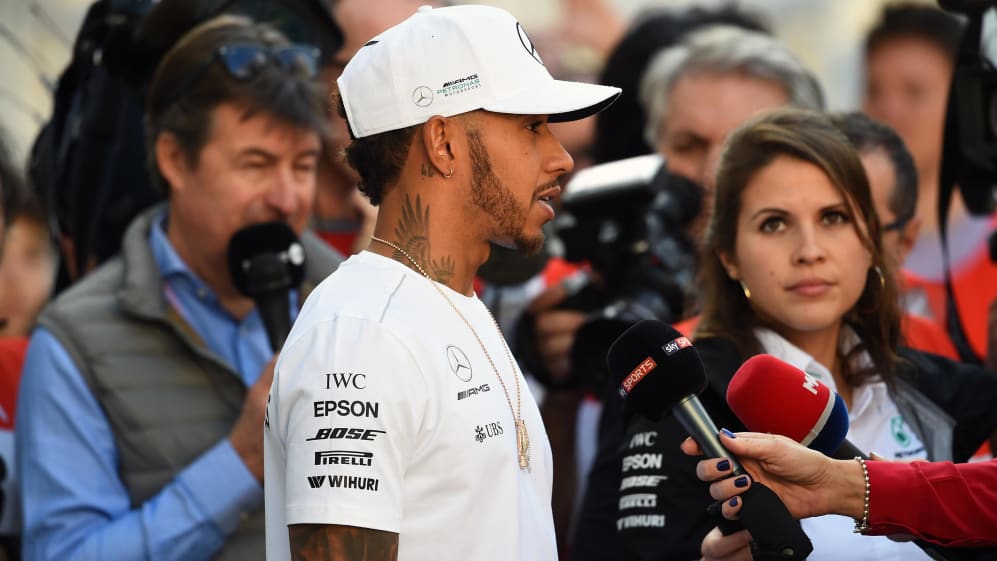 Lewis Hamilton caused a stir in the Barcelona paddock yesterday when he told reporters he believed Ferrari may be ahead of Mercedes at this stage of the season. The Silver Arrows haven't been beaten in Australia since 2013 - but do Hamilton's words suggest they are more than a little wary of the Prancing Horse this year?
Hamilton also warned that Red Bull were looking quick - and while Daniel Ricciardo insists they aren't holding back huge chunks of performance, he does think Melbourne's season-opener will be "interesting... a nice little story..."
Marathon man
"For an old boy, it's okay!" was Massa's wry assessment of his physical state following a mammoth 168-lap total on the opening day.
The 35-year-old doesn't seem to be feeling any ill-effects today either - he's already climbed to eight laps and has just slotted into third, 1.5s down on early pacesetter Bottas.
Massa, remember, hands over the wheel of the FW40 this afternoon to rookie Lance Stroll, whose first few days in the car last week weren't exactly the smoothest.
Sensory overload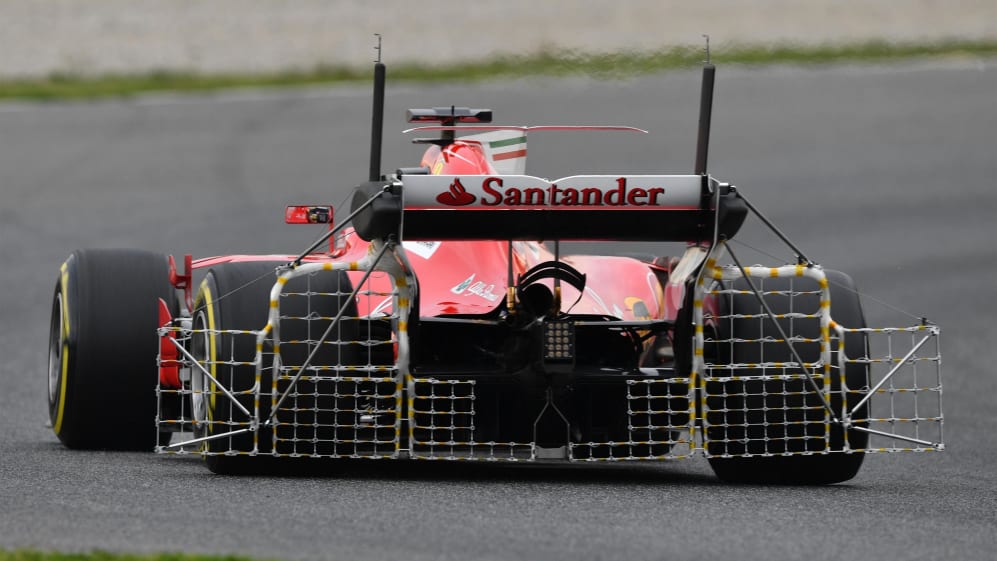 Plenty of aero work going on throughout the pit lane this morning - including at Ferrari, where Kimi Raikkonen is sporting a plethora of sensors at the rear of his SF70H.
Times have, therefore, been taking a back seat so far - nine drivers have been out, for example, but only two have set a time. Of those, Bottas leads the way on 1m 21.229s, a second ahead of Max Verstappen.
Ever wanted to know why aero rakes are so important during testing? Check out our handy video guide...
The sector times to beat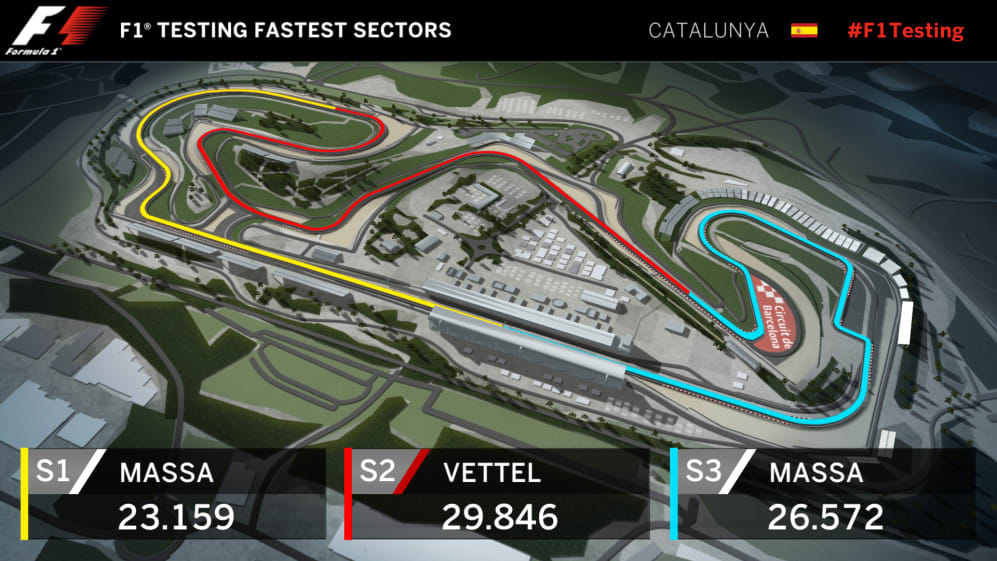 Williams' Felipe Massa - who ended the day quickest of all - and Ferrari's Sebastian Vettel shared the fastest sector times yesterday. Will they be bettered today?
Catch up on yesterday's action
Two drivers clocking 168 laps, three drivers dipping below 1m 20s, problems for McLaren and Renault, and a new name at the top of the leaderboard - there was plenty to digest on the opening day of the final test...
At the wheel on Wednesday
Welcome to our coverage of the sixth day of pre-season testing from Barcelona. Here is today's provisional driver line-up - as always, it's subject to change...
| TEAM | DRIVER |
| --- | --- |
| Mercedes | Valtteri Bottas (am) / Lewis Hamilton (pm) |
| Red Bull | Max Verstappen |
| Ferrari | Kimi Raikkonen |
| Force India | Sergio Perez |
| Williams | Felipe Massa (am) / Lance Stroll (pm) |
| McLaren | Fernando Alonso |
| Toro Rosso | Carlos Sainz |
| Haas | Romain Grosjean |
| Renault | Nico Hulkenberg (am) / Jolyon Palmer (pm) |
| Sauber | Pascal Wehrlein (am) / Marcus Ericsson (pm) |