Feature
Austria preview quotes - Williams, Mercedes, Toro Rosso, McLaren & more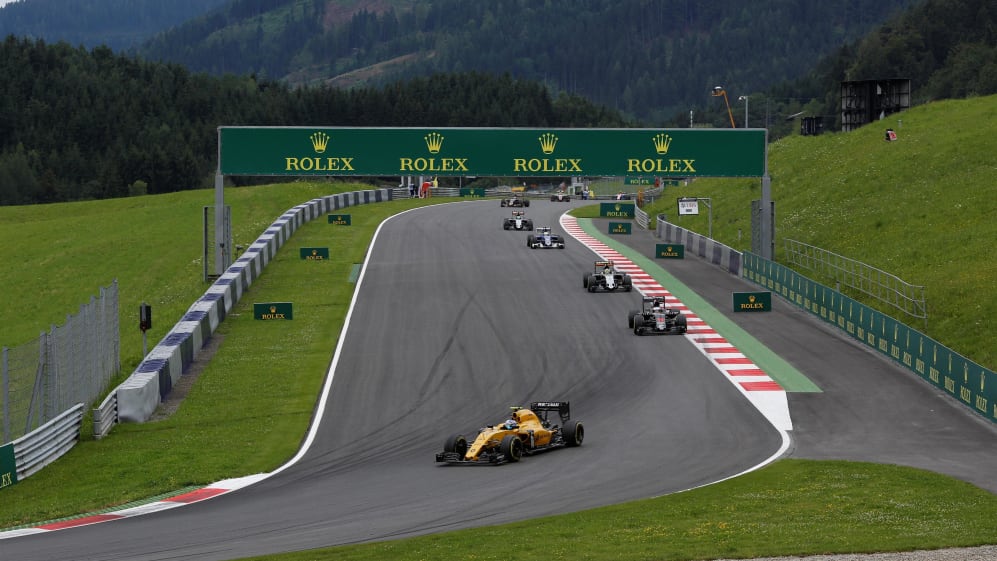 From the inner-city setting of Baku, the teams head to the rural idyll of the Red Bull Ring for next weekend's Formula 1 Grosser Preis von Osterreich 2017. Those involved look ahead to the action…
Williams
Felipe Massa
"Austria is a really fun track to drive. There are some nice high-speed corners and a couple of really good straights. We are normally quite competitive there. In the past I've had some good races where I've finished on the podium, and I had my pole position in 2014, so I also really enjoy spending time in Austria. The fans are always enthusiastic about Formula One. So I hope that we can have a good weekend and that I can bounce back from the disappointment in Baku."
Lance Stroll
"Austria will be a completely new experience for me, as this is the first track of the year where I have already raced. I just love that track. It is so cool and a place I have enjoyed racing. There are not that many corners but it has a great flow and it is easy to get a good rhythm. It is always great going back to a track where you have been successful, and that is definitely the case here as last year in Formula 3 I had two wins and a second! The area is very beautiful and it reminds me of back home in Canada – one of those northern tracks with pine trees."
Paddy Lowe, chief technical officer
"We head to the Austrian GP this weekend in the picturesque Styrian mountains. The track itself is dramatic with a lot of elevation and some interesting corners which tend to produce some great racing. It is very short which makes racing quite dynamic, as the cars come round pretty quickly for a fresh lap. That keeps us on our toes on the pit wall! We got a front-row lockout in 2014, so we hope the car should be quick once again so we can see how far towards the front we can get in Qualifying. After Lance's podium and Felipe's strong but ultimately frustrated race in Azerbaijan, we have in our sights a double points finish this weekend. We will do our very best to achieve that."
Mercedes
Toto Wolff, Head of Mercedes-Benz Motorsport
"It is always special to return to Spielberg and my racing roots. As a young racing driver, I did my first laps at the old Oesterreichring, so the circuit will always be close to my heart. Since those days, Dietrich Mateschitz has invested impressively into the facility and the region and it's a source of pride for Austria to have this world class circuit in our country.
"Happily, it has been positive ground for Mercedes over the last three years. But we cannot rely on our historic success rate in Spielberg because the regulations are brand new. We start again from the ground up on Friday morning and will aim to come out of the blocks well in FP1. In a season as close as this, we have to if we are going to be on the top step at the end of the year."
Toro Rosso
Daniil Kvyat
"Statistics don't interest me that much, it's not something I look into. For example, I've never scored any points in Austria, but this isn't something that makes me be obsessed every time this race weekend arrives. It doesn't change my approach to racing. I like this track and I know I can be fast – this is what really matters to me.
"Austria is an interesting track, with corners I enjoy. It's quite a short layout, but all the turns are very challenging and quite unique. The final sector is my favourite part, as it has many high-speed corners which are very cool.
"It's good to have so many race weekends throughout the year, and it's even better when they're one after the other – it's cool to sometimes get a lot of good racing together! It's also challenging for the teams and drivers to maintain high concentration and a good training level during weeks like these.
"As this track is Red Bull's home, we have a lot of support and attention throughout the whole weekend, which is always nice. The atmosphere there is always great too; I enjoy racing here.
"The nature that surrounds this track also makes it special. The views you can see while racing are fantastic!"
Carlos Sainz
"I don't mind having back-to-back races when in Europe, because you still get to go back home for a few days in between races and get some training done, as well as seeing friends and family. When it's overseas, you always stay out or go directly to the next race, which means being away from home for two weeks.
"Racing at the Red Bull Ring, Red Bull's home, changes my race weekend a bit because we have a few more events and things to do with Red Bull – a few more interviews, meeting guests, etc. but I don't mind it, it's good to race there!
"I think it's quite a particular track and I'd say it's one with the highest grip of the year. The new tarmac used for the first time last year gave us a lot of lap time and it's so smooth, it's like driving in the simulator. The views are also pretty amazing and it's a really cool venue to go racing.
"When racing in Austria last year, I was expecting the rain but it never came! Let's see what happens this year – I always enjoy a wet race!"
McLaren
Fernando Alonso
"I really enjoyed my race in Baku. Our performance in the race not only showed that the foundations of our car package are strong, but also that our operational team – our mechanics, engineers and strategists – are all racers, poised and waiting to take advantage of any situation. Two points may have been a small consolation after an extremely tough weekend, but, as I said at the time, we'll take it and use it to drive us forwards.
"And there are reasons to feel more optimistic about our weekend in Austria. It's a circuit that's not as dependent on power as some of the recent races, and I think our car will be better suited to the twists and turns of the Spielberg circuit. I think we'll be able to push hard.
"We've also got a couple of useful steps coming on the car, including – hopefully – Honda's revised Spec Three power unit, which I tried during Friday practice in Azerbaijan. Every step is important, so I'm looking forward to a positive weekend where we can once again get everything out of the car."
Stoffel Vandoorne
"I'm looking forward to Austria – it's a great little circuit that usually produces good overtaking, close racing and unexpected results. It should also suit our package a little better than Canada and Baku, where the long straights really don't play to our strengths.
"Scoring points in the last race was very good for the whole team's motivation and morale, and I'm hopeful that we'll be able to make further progress in Austria. We've been bringing upgrades to every race, so a problem-free weekend, at a circuit that doesn't disadvantage us, would really allow us to gain some momentum.
"Of course, we're still some way off where we want to be, but a respectable result in Austria would really give the team an added boost."
Eric Boullier, Racing director
"After a couple of flyaway races, it'll be good to get back to Europe and push on with developing our 2017 package. After the excitement and incident of Azerbaijan, I hope that Austria will once again deliver a thrilling race for Formula 1. The circuit itself seems to produce good, close racing, and its configuration should certainly suit our car better than the high speeds and long straights of both Montreal, Baku and the forthcoming race at Silverstone.
"In fact, we had one of our strongest showings in Austria last year, when Jenson was third in a rain-affected qualifying session, and went on to finish a very competitive sixth. There's been no let-up in our development push all season, and, while the result in Azerbaijan was nothing to truly celebrate, it was a sign that we are working well and able to capitalise whenever an opportunity presents itself.
"With a number of improvements planned for the Austrian weekend, not least the proposed new Spec Three power unit upgrade from Honda, I'm hopeful that we'll be in a position to get amid the other midfield runners and take a useful step forwards."
Yusuke Hasegawa, Honda R&D Co. Ltd Head of F1 project & executive chief engineer
"The Red Bull Ring is a beautiful, unique circuit surrounded by the Styrian mountains."
"It is the track with the shortest lap time on the Formula 1 calendar, and with only nine corners. However, contrary to appearances, it is a demanding track for the drivers with high speed corners and you have to be very careful not to make a single mistake for 71 laps.
"One of the biggest challenges for us is the high altitude. The circuit is around 700m (2,297 ft) above sea level, and the turbo will therefore have to spin at a much higher rate to produce the same amount of power. The efficiency of deployment will also be affected. Our strategy for the energy management will be key for the race.
"At the previous round in Azerbaijan, we were able to bank our first points of the year and I think it brought some brightness into our team. We also tested the updated PU, the Spec Three, with Fernando on Friday and we were able to confirm some progress in terms of the power output. We have proceeded with the mapping back at the factory utilising the data we collected, and we are going to bring the Spec Three for both drivers this weekend.
"I think we have some improvements in our competitiveness and I am looking forward to seeing our performance in Austria.
"We will not stop our preparation until the last minutes, and I hope we have a good race to reflect our progress."
Pirelli
Mario Isola, Head of Car Racing
"The natural selection for this type of circuit is the three softest compounds in the range. Having said that, we've seen in the past that Austria also has the capability to spring a few surprises. When we get there we'll see if one stops or two are more likely, but it will be important for teams to build some flexibility into the strategies as well. Longitudinal forces – so traction and braking – are the key aspects in Austria, rather than cornering. In spite of that, there's still a good chance of the lap record coming down, as we saw in Baku."
Force India
Sergio Perez
"I'm still feeling disappointed about the lost opportunity in Baku, but at the same time I'm feeling positive about the performance level we showed. We were fighting at the front and the car was working well. It's just a shame my race ended early because there was a great chance of finishing on the podium. I think we can be just as competitive in Austria and pick up some good points this weekend.
"The circuit in Austria is in a really beautiful place. You feel like you are racing with nature. When you look at a map of the track it looks like a simple lap, but it's not as easy as you think. There are lots of elevation changes and some difficult sections. It's really important to carry the speed through the corners so you don't lose time down the long straights. The final corner is off-camber so it's easy to run wide and lose time there."
Esteban Ocon
"Austria is a track I know much better than the previous ones on which we have raced so far this season. I drove there a lot in the junior categories and I tested for Sahara Force India there in 2015. It's a great place and the altitude makes it a challenge for the engine and the brakes.
"The circuit doesn't have many corners, but it's still difficult to get a perfect lap: in particular, the last two corners are the most enjoyable in the track because they're quite tricky and even a small mistake can ruin a good lap right at the end. There is no real secret to finding time around the lap; you just have to get the details right and make it stick all weekend.
"The town of Spielberg is very quiet and it's nice to go there at this busy moment in the season. In general, it's a very relaxing place to be and there are a lot of opportunities to do sports, enjoy the fresh air and all the country can offer."
Vijay Mallya, team principal
"I can't remember a Grand Prix creating such a buzz and so many talking points as the race we saw in Baku. We certainly played our part in a dramatic race and it's still frustrating to ponder what might have been had things played out differently. Since Baku we've had some conversations internally and reminded our drivers that the team must always come first. It's never acceptable for team mates to make contact with each other and it certainly cost us points in Baku.
"However, the events of Azerbaijan won't change our approach. Our drivers can race freely and I'm sure they have learned some valuable lessons. We've given them a competitive car and I know they are mature enough to work together for the good of the team.
"This weekend in Austria will be another opportunity to show the speed of the VJM10 and continue our run of points finishes. We need to keep up our momentum and scoring points consistently to maintain our fourth place in the championship. There is no room for complacency and we will keep pushing and trying to maximise every race."
Haas
Romain Grosjean
"It's a funny place to race being in the middle of the mountains. The circuit is very short. The lap time is almost like Monaco. There are some overtaking opportunities. I like going there, and the surrounding area looks a lot like Switzerland.
"The first time I raced the Red Bull Ring was in Formula One in 2014. I have no moments there from my time in the junior categories. It's a track I quite like and I'm very much looking forward to it.
"I quite like the middle sector. There are medium- to high-speed corners. The track, in general, has two very different parts. You've got turn one and turn two, which are very similar. Both are 90-degree turns with big braking and long, straight lines. You've then got the second part, which is more flowing."
Kevin Magnussen
"It's a little bit unique. It's a very small area. It kind of reminds me of a go-kart track in that you can basically see the whole track from the grandstands. It's quite nice and compact, but still with some fast corners and long straights, giving some opportunities to overtake. When I've raced there it's been entertaining.
"It's like a short rollercoaster ride. The last corner is pretty cool. There's short, hard braking just after a fast corner. You're kind of on the edge there. There's a bit of a dip in the middle of the apex, so it feels cool going through it."
Renault
Nico Hulkenberg
"Austria definitely has a familiarity about it and it's a very welcoming event. The atmosphere is very relaxed and lots of German fans make the short trip over the border so yes, it almost feels like a home race for me. I love racing in Spielberg especially with the backdrop to the track, with the Alps; it's spectacular, and there is an old-school vibe to the circuit which I enjoy.
"It's mandatory to eat a schnitzel that is for sure! They come from Austria and I absolutely love schnitzels. I also recommend kaiserschmarrn; it's a fantastic, Austrian dessert, I love it! Spielberg is in the middle of nowhere, there isn't much around, just lots of fields and cows but also a lot of green which is very pretty and picturesque to see.
"It's a short track with not too many corners. It's important not to get a false impression as it's still very challenging and technical. It has a lot of elevation – up and down – and some tricky corners to match. On paper, it looks easy but actually to get a good lap time it isn't so simple. It's about balance, there are some medium speed corners so it will be important to find that and get a decent lap time. Last year was fantastic to be on the front row – I managed to string a good lap together in Q3. It was just a shame not to follow that up in the race!"
Jolyon Palmer
"The Red Bull Ring is quite a simple track with just nine corners. Putting a good lap together is very important as the lap times are very close and any mistake can really hurt. I like that, though, as the driver can make more of a difference. There are some bumpy zones and some overtaking possibilities, such as turn one and turn two and the long straight joining them. There are some fast corners as well, including the penultimate corner which is pretty quick. Then the last corner has a bit of camber and you need to carry the speed through. It's a fun circuit in an F1 car as there are some good straights and the tyre deg is very low so we can be flat out the whole race.
"We started on the penultimate row last year but I managed to work my way up to twelfth, beating my team-mate. I was quite happy with the race, we just needed a little bit of extra luck and I think we could have been in the points. It is a circuit I enjoy having raced there in GP2 in 2014 and then a Free Practice session in 2015. It was definitely one of my strongest races of last season, so it is important to build on the knowledge we have and my confidence at the track and work towards a positive result. We need to change our luck. I hope we can make it all stick heading into the final few rounds before the summer break – beginning here."
Remi Taffin, Engine Technical Director
"It is quite a power sensitive track and it probably will be in line with Baku in terms of performance expectations. We will consolidate the power improvement made for Baku and aim to deliver more. There is no big plan with brand new upgrades, just continual improvement of the entire package. The altitude of the track will be a challenge as the turbo will spin faster to generate the required induction, so that's something we'll monitor. Experiencing a trouble-free weekend will bring points."
Cyril Abiteboul, Renault Sport Racing Managing Director
"The Austrian Grand Prix comes at a critical point of our season and it's important that we go there in determined fashion. We need to be resolute to put aside the disappointment of Baku, be in a position to strive for a points haul in Spielberg and eager to meet our targets for the season by getting back on the right track.
"Looking to Austria, we are confident. We will start to see further improvements on the car and we aim to make a fresh and positive turnaround in Spielberg. We are fully committed to ensuring we get to the right milestones and to catch-up on lost points from Baku.
"Austria and Silverstone are the first European back to back races of the season. They are exciting circuits with passionate and energetic supporters to match. The fans witnessed a great show in Baku and we hope it will be the same in Spielberg and that Renault Sport Formula One Team gets back in the points."
Red Bull
Max Verstappen
"I had a really good result in Austria last year coming second. Before the race it was a bit unknown how the tyres would play out so I just tried to feel my way in and keep life in them. This allowed me to complete a one stop strategy, which was always going to be a gamble, but in the end worked out really well. This year we have to make sure the car is working well in the corners in order to be up with the front runners and then just try and be as competitive as possible on the straights, it's always a bit of a compromise. The fans at the Red Bull Ring are always extremely passionate and of course there was a big Dutch turn out last year which is always special for me to see, plenty of caravans and orange around the area. I already tried my hand at caravanning at the track earlier this year, that was such good fun to be able to tow a caravan in an Aston Martin, and drift it."
Daniel Ricciardo
"We get the full Red Bull hospitality when we're at the Austrian Grand Prix and you definitely feel part of a big family as a Red Bull athlete. We have done some pretty crazy things at the track, wearing the lederhosen race suit is something different and a few weeks ago Max and I raced caravans there. To be honest I'm not sure they would have let us do that anywhere else as the caravans were destroyed, but we loved it!
"At any kind of power circuit like Austria you want to be smooth and get good exits in order to give yourself the best chance on the long straights. The compromise is always the aero package. In the middle to the end of the lap you want more downforce because the corners are quite fast but more downforce means you are slower on the straights, so the key is to find a good balance throughout the lap. I really enjoy the track and the only downside is that I wish it was a bit longer. I wish it had a few more corners, but the corners that do exist are great fun.
"I know we always get on to food (laughs) but I really do look forward to a good Schnitzel, ooh, I love schnitzel with fresh lemon and cranberry jam, it's so good."
More to follow.