Report
Supreme Leclerc takes pole in Austria as mechanical issue rules out Vettel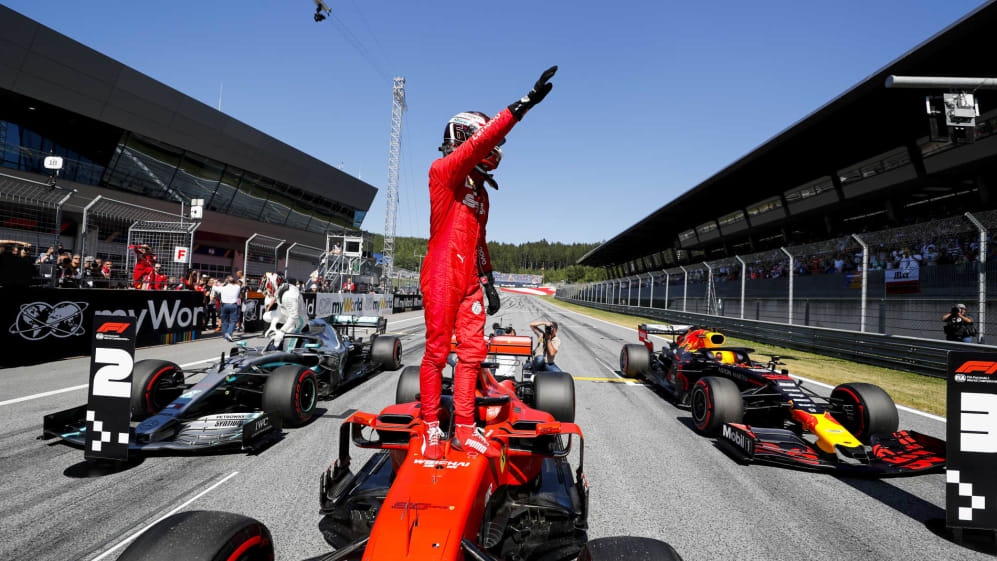 Charles Leclerc gave Ferrari something to cheer about at the Red Bull Ring, with the Monegasque driver claiming his second career pole after a dominant qualifying display – although the Scuderia's pleasure was kept in check by a mechanical issue that saw Sebastian Vettel fail to set a time in Q3.
Leclerc lapped the Austrian circuit in an incredible 1m 03.003s to establish a new track record, ending up 0.259s clear of Mercedes' Lewis Hamilton, who'll start Sunday's race from fourth on the grid following a penalty for blocking Kimi Raikkonen in Q1.
That penalty promoted the Red Bull of Max Verstappen from third to second, the Dutchman having lapped 0.436s off Leclerc's pace in the session, while Valtteri Bottas will now start third in the second Mercedes to make it three different teams in the top three positions for the first time in 2019.
An impressive showing from Haas' Kevin Magnussen saw him go P5 – although the Dane is set to take a five-place grid drop for a new gearbox fitted ahead of qualifying, while Lando Norris enjoyed his third consecutive Q3 appearance and finished sixth for McLaren - set to become P5 on Sunday - ahead of the two Alfa Romeos of Raikkonen and Antonio Giovinazzi.
Red Bull's Pierre Gasly, meanwhile, ended up P9, ahead in Q3 only of the non-time setting Vettel, whose misfortune was confirmed by Ferrari as being linked to an issue with an air pressure line to the engine.
FORMULA 1 MYWORLD GROSSER PREIS VON ÖSTERREICH 2019
Austria
2019
Qualifying results
POSITION
TIME

1

Charles

Leclerc LEC

Ferrari

1:03.003

2

Lewis

Hamilton HAM

Mercedes

1:03.262

3

Max

Verstappen VER

Red Bull Racing

1:03.439

4

Valtteri

Bottas BOT

Mercedes

1:03.537

5

Kevin

Magnussen MAG

Haas F1 Team

1:04.072
AS IT HAPPENED
Q1 – Verstappen heads the segment and Stroll extends Q1 exit streak as Kvyat and Russell escape nasty accident
With the sun beating down on the Red Bull Ring and the temperatures up at 28C, the cars headed out for Q1. Ferrari raised eyebrows when Leclerc and Vettel led the session early doors, setting some rapid lap times despite being shod on the medium tyres.
They'd eventually finish P4 and P5, having contentedly parked their cars after their first flying efforts, while the Red Bull of Max Verstappen, and the two Mercedes of Lewis Hamilton and Valtteri Bottas were all forced to run again, eventually ending up P1, P2 and P3 – Verstappen delighting the strong Dutch contingent in the crowd.
Down at the other end of the timesheets, it was a disastrous session for Racing Point with both Sergio Perez and Lance Stroll dropping out in 16th and 17th, with Stroll extending his Q1 exit streak to a very unlucky 13.
George Russell and Robert Kubica were, as expected, the slowest qualifiers, while Daniil Kvyat was 18th, the Russian encountering a horrible moment on his final push lap as he came around Turn 9 to find a very slow-moving George Russell on the apex. "I could have killed him," screamed a shaken Kvyat to his Toro Rosso team.
The net result was that he was out, however, with the stewards planning to look at the incident after the session – while they were also set to examine a near-miss between Alfa Romeo's Kimi Raikkonen and Hamilton up at Turn 3, which angered Raikkonen enough to make him flick Hamilton the bird!
Respite for those five in the drop zone, however, was that they would move up the order when Carlos Sainz and Alexander Albon took up their back-of-the-grid positions after taking new power unit elements.
Knocked out:
Perez
Stroll
Kvyat
Russell
Kubica
Q2 – Hard times for Renault as Hulkenberg and Ricciardo fall out
Tyre strategy was at the forefront of everyone's minds as the second segment of qualifying began, with the question of who could – or would – try and get out of Q2 on medium tyres.
Ferrari, quite simply, didn't bother, nailing their colours to the mast by heading out for both of their Q2 runs on the softs, while Mercedes made it through on mediums, along with the Red Bull of Max Verstappen, to establish an interesting strategic make-up for tomorrow's race.
More pressing, for the midfield runners at least, was who would make it through to the final segment of qualifying. Two drivers who wouldn't were the Renault pairing of Nico Hulkenberg and Daniel Ricciardo, ending P12 and P14 respectively (before Hulkenberg's five-place grid drop for taking on Renault's Spec B internal combustion engine) to continue the team's tricky weekend.
Joining them in the drop zone was the Haas of Romain Grosjean, who damaged a front wing on the exit of Turn 10 before ending P11, while Albon was 13th and Sainz 15th ahead of their grid drops.
Good news, then for the likes of McLaren's Lando Norris, the two Alfa Romeos of Raikkonen and Antonio Giovinazzi and the Haas of Kevin Magnussen – although the Dane would take a five-place penalty for a new gearbox fitted ahead of the session.
Knocked out:
Grosjean
Hulkenberg
Albon
Ricciardo
Sainz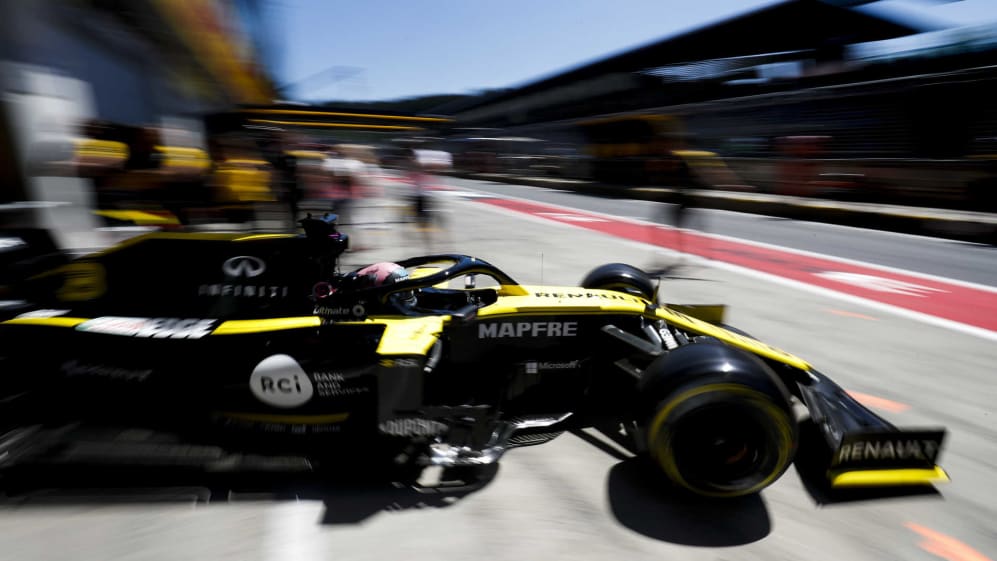 Q3 – Leclerc takes pole as mechanical issue rules out Vettel
The lights went green for the final segment of qualifying and nine cars headed out on track – with the one, very notable exception being the #5 Ferrari of Sebastian Vettel. Television cameras had picked up an FIA and a Ferrari representative in heated conversation between Q2 and the start of Q3 – and as Vettel plopped his steering wheel onto the SF90's chassis and climbed out, it became clear that the problem – later revealed to be an air pressure line to the engine – was terminal.
That robbed Ferrari of a potential rear-gunner should Leclerc claim pole – but did Mercedes have something in hand to counter the Ferraris' impressive Saturday pace up till now? The answer was, quite simply, no, with Leclerc heading the times after the first set of Q3 runs, only for the Monegasque to channel his love of the Red Bull Ring into an even better final effort to leave him over two and a half tenths clear of Hamilton and establish a new track record – while Hamilton would eventually fall to fourth following the results of the Raikkonen investigation.
Verstappen delighted his travelling fans by closing out a front row start following the Hamilton penalty, while Bottas would have been less happy to wind up over half a second off the leading pace at a track where he's been on pole for the previous two years.
Star of Q3 outside of the top three teams, however, was Kevin Magnussen, who narrowly led a similarly impressive Lando Norris, those two again just ahead of Raikkonen, Giovinazzi and, more surprisingly, Pierre Gasly in the second Red Bull - with Sebastian Vettel, obviously, failing to set a time.
So Ferrari secure their second pole in three races, while Lewis Hamilton, the driver who's inherited both of their most likely chances for victory this year, is hobbled down the order. But with potentially big issues to sort out for Vettel overnight, the Scuderia would doubtless be keeping their excitement over besting Mercedes under control for the moment – with a fascinating contest between the two squads and the fast-in-race-trim Red Bull lying in wait.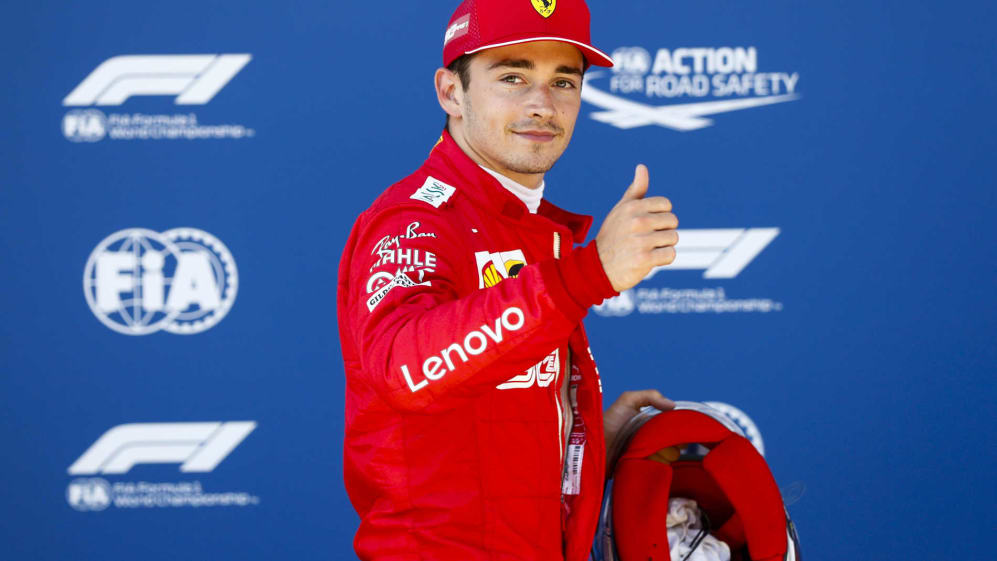 THE KEY QUOTE
"The car felt amazing actually. In FP1, I struggled a little bit then we did some changes and then from FP2 it was quite good and a big pleasure to drive this car on the limit, it just felt great and very happy to bring the pole position back home but tomorrow we need to finish the job.
"It's going to be very difficult physically first because in the car it's very, very warm, but also for the car, so it'll all be about management of everything and hopefully a good race tomorrow." – Charles Leclerc
WHAT'S NEXT?
Lights go out at 1510 local time tomorrow at the Red Bull Ring, which is 1310 UTC, with the 2019 Austrian Grand Prix set to be run under a fierce heat, with the temperatures expected to be at the 28 degree Celsius mark. And the action should be just as hot on the track as well, with a soft-shod Ferrari and a medium-shod Red Bull and Mercedes set to wage battle. Exciting…