The F1 paddock heads back across the Atlantic to its third street track in a row for this weekend's 2017 Formula 1 Azerbaijan Grand Prix. Those involved look ahead to competing around the spectacular Baku City Circuit…
Force India
Sergio Perez
"There were a lot of things said after Montreal and lots of different opinions, but I'm pleased the team decided to let us race without team orders. I will always fight for the best result for the team and I'm proud of our race. There were discussions on the radio about switching positions with Esteban, but my pace was good and I was running close to Daniel [Ricciardo] for almost 50 laps. I knew my best chance to overtake was during the lapped traffic and I got very close, but we didn't have the pace advantage to make the move.
"I feel positive after Montreal. The car was quick and we were competitive. It was always going to be one of our best circuits of the year, but we still had to deliver. It's a good sign for Baku – another track with long straights and big braking zones. I always enjoy street tracks and the team has done a fantastic job to develop the car during the last few races. I think we will be in good shape this weekend too.
"The memories from last year's race in Baku are still very strong. We had great pace and I loved the track layout. To recover from a gearbox penalty and still finish on the podium was a very special feeling. It was definitely one of my best weekends in Formula One. If we can find the sweet spot again this year I think we can fight for some big points."
Esteban Ocon
"I really enjoyed my first experience of driving in Montreal. When I got out of the car it felt as though I had only been racing for 15 minutes because everything went by so quickly – that's when you know you're having fun! It was another weekend where the team did a fantastic job improving the cars. Every time we went out in practice and qualifying, we took a step forward and that's been one of our strengths this year.
"It felt great to be in the battle for a podium and to see how competitive we are as a team. It makes me feel excited about going to Baku and what we can achieve there. It feels like we've got a really good understanding of how to get the most from this car. It's another new track for me, but I'll keep trying to learn as fast as possible and I'm sure I can get on the pace quickly. I've been playing some computer games to learn the track so I've done my homework.
"Baku is a great destination for Formula One. Street races always generate a special atmosphere and the city is really cool. I was able to explore a bit last year so I know my way around the place and I've walked the track, but I've yet to drive there."
Tom McCullough, Chief Race Engineer
"At 6.003km, Baku is the second longest circuit of the year, making the race just 51 laps long. It's also the first anti-clockwise track on which we run this season and another big test for the brakes, with plenty of big stops. We know much more about this street circuit than we did one year ago, when we came here for the very first time, so the learning curve won't be as steep once we start practice on Friday. However, it is a new track for Esteban, so giving him track time will be a priority. Set-up wise, there are significant long straights which will require lower drag level wings. The majority of grip-limited corners are low speed so the car needs to be strong there. It can be very hot in Azerbaijan at this time of the year and we will need to prepare to handle those conditions, if required. Most importantly, we will need to set up a car in which our drivers can be confident: like in Monaco and Montreal, many of the corners are lined with walls so precision is an absolutely key element."
Vijay Mallya, team principal
"There is a lot of optimism ahead of this weekend. Last year Baku turned out to be a good race for the team and we believe we can deliver another strong performance this year. The progress we've made with the VJM10 since the start of the season has been considerable and we have brought developments to the car at every race so far. All the hard work is paying off and I'm proud of our results."
Williams
Felipe Massa
"I'm really looking forward to returning to such a nice country, and to a unique race track, which is in the heart of the city. There's a lot of 90-degree corners and a flat out section from Turn 16 all the way down the long straight to Turn 1, where we reach some really high speeds. We had a double points finish there last year, and after my early retirement in Canada I hope we can come away with another strong result and some good points."
Lance Stroll
"Going to Baku will be a totally new experience as not only have I never been there before, but last year when the race was on I missed it on TV as I was competing somewhere else. I don't know what it is like yet as I haven't done any simulator work and usually do this just before I fly to the race. The stories I have heard are of a really cool place and so I am really looking forward to seeing it for myself. It is yet another new experience and new country for me which is something else that I find exciting about Formula One. However, this will be my last 'new' experience for a while as I have already raced at the next handful of tracks."
Paddy Lowe, Chief Technical Officer
"It was an exciting first race in Azerbaijan last year and now we understand the circuit we can return more prepared for a second Grand Prix. Baku City Circuit is a 6km anticlockwise street circuit with some similarities to Canada in terms of set-up and characteristic, so we would hope to see a similar performance level for the FW40. It's one of the hottest races of the year, with the record highest average temperature for this month being 39C, so it will require endurance from both the drivers and the team to stay at peak performance. Overall, it's a great city which we all enjoyed exploring last year. Felipe is familiar with the track and is currently on top form, so will put the disappointment of the unfortunate accident in Canada out of his mind to aim for a result he deserves. We also look forward to a positive weekend for Lance, building on his first Formula One points finish in Canada two weeks ago."
Renault
Nico Hulkenberg
"It is still a new venue to Formula 1 which is exciting, we are still getting used to it. Going through the old town is cool with the narrow walls, but it takes time to learn the track. I am usually good at adapting quickly and learning new tracks and new lines. It is exotic and a bit different here. There are some cool looking, vintage houses around. The old castle brick wall has a blind entry which is unique, Monaco is spacious in comparison!
"There are some walls waiting for you so it is important to be quite brave. The viewing is good for fans and the speed is cool to watch. It is the fastest street circuit on the calendar. Overtaking will be possible with the long, DRS straights. There are a lot of tight, 90-degree turns matched with flat-out kinks, so I am looking forward to racing it. The castle complex of turns 8 to 10 will be especially close with the wider cars.
"It was obviously unfamiliar surroundings last year as we were all new to the track. But I had a positive weekend, qualifying in twelfth place before making up a couple of places in the race to come home in ninth with two points. I remember the first practice session last year and really enjoying the track as it was different and had a bit of everything. The weekend was pleasing so hopefully we can build on that this year, especially with our recent form.
Jolyon Palmer
"I think it is a cool track, there are some high-speed sections - especially for a street circuit - and overtaking is a possibility. The middle sector is busy and difficult with its undulation and the sector is extremely tight. Any mistakes on a street circuit tend to mean you are into the wall, so you have to be alert. It is wider than Monaco, apart from through the castle section. You've got to get as close to the walls as you can to open up the line and carry the speed through.
"I've loved street circuits ever since I drove Marrakesh in F2 and then Monaco in GP2. I've always got on well with them. I'm looking forward to getting back out on another city circuit and approaching it very differently to Monaco and building up a little bit more. It's great when you're so dialled in and you get close to the walls; that's the best buzz for us. That is two eleventh place finishes in a row. I think in Baku we can at least be in the top ten, maybe top eight. We are doing well at the moment, we will keep going and I am feeling strong, I need to work on qualifying pace and being higher on the grid.
"It is going to be very hot and it is very windy in the city, so that could affect us as well. The wind affects the airflow over the car. We've had cars crash in the past because of a sudden, big gust of wind and these F1 cars are very sensitive. Race day in Canada was like that, it was very windy especially across the back straight! Baku is by the coast as well so you could get a bit of coastal wind coming in, according to my GCSE geography…
"It is always tricky getting to grips with a new circuit, it is very high speed and it brought a lot of challenges (last year). We now know where the bumps are and which gears to use. I qualified on the final row last year and managed to work my way up to fifteenth in the race. I think I put in the eighth fastest lap of the race which is very positive, I am looking forward to getting out there and building on that knowledge."
Nick Chester, Technical Director
"It was a pretty tricky place last year on the circuit's Formula 1 debut. It has a bit of a Monaco styled section but with some long straights down the back. It is a bit bumpy and a very difficult place for both set-up and driving. We will need good braking stability as it is hard braking with hard and tight corner entries. It has a tricky mix and we probably need three different cars; one for each section!
"We have got a few updates, including bodywork. We have some things to try on suspension to improve the handling and also an update to the cooling system to improve the performance a little bit. What we learned from Canada will be useful for Baku especially in terms of hard braking."
Cyril Abiteboul, Renault Sport Racing Managing Director
"Baku will mark the inaugural Azerbaijan Grand Prix after the circuit made its debut in the European Grand Prix last year. It's an event we're looking forward to as it's another opportunity for us to improve and develop, which are the keywords for our season.
"Baku is an especially exciting and testing circuit on the Formula 1 calendar and it is important that we add to our success from Canada with another points haul. Baku presents a fairly similar task to the Circuit Gilles Villeneuve with some long straights finishing in hard-braking zones. Everything we learned in Montréal should be very useful for building towards a clearer picture for Azerbaijan. Last year was a step into the unknown but there is a positive feeling this time around as we have the know-how on what to expect."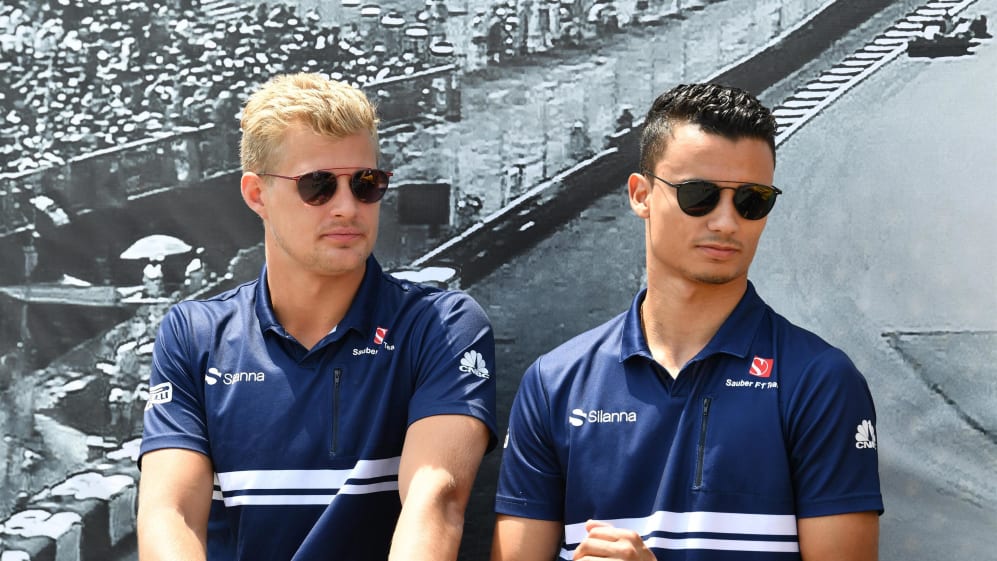 Sauber
Marcus Ericsson
"This will be our second trip to Baku – definitely an interesting location. It is a city track with long straights and interesting corner combinations, making it quite special. Last season, relatively high track temperatures had an impact on our tyre management. I expect that we will have similar conditions this year. As a team, our goal remains to make further progress in improving the performance of our car."
Pascal Wehrlein
"I am really looking forward to getting back into the car in Baku. Last year′s race weekend in Azerbaijan was quite interesting for all of us, because it was the first time that a Formula 1 GP took place there. Finding the suitable car set-up for this track was a challenge to all of the teams. Due to the layout of the track, top speed and traction are the key factors for success."
Toro Rosso
Carlos Sainz
"You can't compare the Baku track layout to Monaco, even if it's a street circuit… It's not better or worse, just different. It's a very tough circuit to race at – I wouldn't say it's tougher than Monaco, but it gets quite close to it and any small mistake can be critical, so you have to stay concentrated and focused at all times.
"I enjoyed it there last year, I think it was quite a special race… It was just a shame I couldn't get to finish it, because I was enjoying it a lot out there. I remember having very good battles with the McLarens and Red Bulls and there was no rest.
"We don't get to enjoy the views while we drive at 300kph, but one of the things I like the most of Baku is the medieval castle that becomes part of the backdrop while racing there – some of the photos of this race are unique!
"One of the things I like the most is that our hotel is very close to the track… Literally just outside the Paddock entrance! This is perfect, as you get to sleep a bit more and feel much more comfortable as you have all your stuff only a couple of minutes away from the garage. If you want to, you can even go to the toilet in your room during the day!
"It was great to be able to meet Enrique Iglesias in Baku last year. He's a great guy and not only I enjoyed it – my sisters are great fans and they were extremely happy to be able to spend some time with him. I remember them being quite nervous and it made me laugh. They also got to go to his concert that weekend, and again this year in Bahrain! I listen to his music a lot in the summer!"
Daniil Kvyat
"The track is unique, which makes it a very cool venue to go racing at. It's an impressive layout: the straight is unbelievably long and then suddenly you get to a very narrow section, where you're just kissing the walls. Only one car at a time can pass here, which makes racing a challenge. There's a 'Monaco' section but, at the same time, there's also a 'Monza' section, so it's a particular track and I like it.
"Last year we had a very good qualifying session in Baku – I was P7 and our pace was good. I even started the race P6… It's just a shame that we were not able to finish the race. Hopefully this year we will have a better ending to the weekend.
"Scoring points at a race where we haven't been able to do so yet is always a target – to score points for the first time at any track is always a good feeling and hopefully we can have a good race there this year and score some! "Even if I wanted to, I didn't have much time to walk around Baku last year, but this year I'd really like to, as it seems to offer an interesting combination of old and modern architecture. One of the things I'd like to do is visit the Heydar Aliyev Centre…that building is really cool!"
Mercedes
Toto Wolff, Head of Mercedes-Benz Motorsport
"It's always interesting to discover new places and I really didn't know what to expect going to Azerbaijan for the first time last year. They've done a great job with the circuit, the city centre is beautiful, the infrastructure works well and our hosts look after us well, so I'm looking forward to going back again."
McLaren
Fernando Alonso
"Baku is a great city, and after the success of last year's inaugural grand prix I'm really looking forward to going racing again in Azerbaijan. As a Baku Ambassador, I've spent more time there than a lot of my peers and colleagues, and it's a really cool location to host a Formula 1 race. We literally drive straight through the centre of the historical old town and the old city walls make the perfect setting for this race in a new territory for the sport.
"After getting so close to scoring our first point in Canada and suffering another retirement, we go to Baku with even more determination, but it's no secret that we expect to find this weekend tricky. After the power unit issues it's likely we'll need to take penalties, and the nature of the narrow, fast straights and tight corners means overtaking is generally tough. However, it's certainly not impossible, and we'll keep fighting as we always do.
"Baku City Circuit is the fastest street track on the calendar, so from a driver's perspective it's really exciting to be racing at such high speeds with the walls closing in on you either side. As usual, the starts are always one of the most crucial points of the race for us, so getting the set-up just right on Friday in time for qualifying on Saturday will be the most important thing."
Stoffel Vandoorne
"I'm excited about racing in Baku for the first time. I've spent quite a lot of time in the simulator driving the track already – and I did last year too, to help the engineers prepare for a new circuit – so it doesn't actually feel too unfamiliar.
"The circuit is a real mix of great characteristics from other tracks – high speeds and long straights but also close racing and heavy braking for the tight corners on the infield section of this street circuit layout. It has a bit of everything so there's a lot for our engineers to work on. It's heavy on fuel consumption and puts high loads on the ERS, so we'll need to try to optimise our package to adapt to the demands that the weekend will throw at us.
"Canada was a disappointing race for the whole team, and we don't expect Baku to offer us any particular surprises in terms of performance, but we're learning all the time and working hard to get on top of our issues. We've already regrouped and we continue to look forward, and we'll approach next weekend the same way we do every race weekend – fighting hard and trying to extract everything we can from the package beneath us."
Eric Boullier, Racing Director
"After the frustrations we felt in Montreal, we move to what is another fascinating city in Baku, for the second race in the city's history at the newly renamed Azerbaijan Grand Prix. In Canada we were unable to fulfil any potential we showed during the weekend, and we anticipate that in Baku we will face a similar challenge due to the demands this circuit's characteristics place on the car.
"Nevertheless, in the midst of our current struggles, we aren't standing still. Quite the opposite, in fact, and the team's hunger and determination are stronger than ever to move us forward and into the hunt for more positive results. Rather than focus on the negatives, we need to turn our attention to solutions and work together to get the best out of our situation.
"Although we know this weekend won't be easy, the backdrop of the stunning old town and medieval walls of Baku offer a dramatic arena for more great racing. The atmosphere during our first visit there last year was incredible and the support we received from the fans was fantastic. In terms of location, it couldn't be better: the team stays at the Hilton situated downtown – indeed precisely overlooking the start-finish line – and places us on the doorstep of the stunning city centre, where we hope we will be able to make the most of an enjoyable weekend."
Yusuke Hasegawa, Honda R&D Co. Ltd Head of F1 Project & Executive Chief Engineer
"This season will mark just our second visit to Baku, and after a disappointing end to our Canadian Grand Prix weekend we're looking forward to moving on to the Azerbaijan capital.
"The race is not back-to-back this year so we're fortunate to have extra time back at the factory to analyse and understand the data collected in Canada. However, we're under no illusions that this weekend will be straightforward for us – Baku City Circuit has one of the longest straights of any Formula 1 track at over 2km (1.243 miles) and is a notoriously power-hungry circuit. I think we can expect another tough challenge for the team.
"We're going through a difficult time at the moment, but we're doing all that we can to rectify the situation. We must continue to concentrate on development as one team with McLaren and turn things around as soon as we can."
Haas
Romain Grosjean
"It's going to be pretty exciting. I think some parts of the circuit are going to be very tight for the wider cars, but some other corners are going to be really nice to drive. Straight-line speed is going to be a bit down. I think it's going to be a really cool track to drive with these cars – braking late and carrying a lot of speed in the corners, and playing around with some pretty fast corners through the walls.
"I believe there's always a lot of things you can bring from the past, even when the cars are different. We'll look at what we did last year, what our setup was like, and what we could've done better in the race. I think we've got some ideas and we'll apply that with the deltas of this year. There are always things we can learn and improve.
"It was a really good race (last year). It's a beautiful city and a beautiful track. The only downside we noticed was the plastic bags flying around – they actually cost us points in the race as one got caught in the radiator intake. Hopefully, that's improved. For me, that was the only downside of what was a really good weekend.
"I would say (the track's most challenging part) was the back end – going around the castle, up the hills, then going back down and the two last corners, which were actually pretty tricky. It's the most challenging one. It's pretty high speed and you've got to get the right balance in those corners as well as the braking. It's pretty exciting when you get it right."
Kevin Magnussen
"I never tried the Baku City Circuit in a simulator before actually racing there. It was a cool experience to just go on a track you don't even have 100 percent idea which way the corners are going. I really had to learn the circuit from scratch. It was a cool experience and the track was really cool. I'm looking forward to going back again.
"It's going to be fun. The corners are going to be faster this year because of the increased downforce. We're going to be a bit slower on the straights, so I suspect Baku might be one of the tracks where we're not going to be that much faster than the old cars, but it's still going to be massively fun and challenging in the corners.
"Now I know the track, and I learned which way the corners are going, coming back this year will be easier to adjust to the track. A couple of corners might be easy flat now, maybe even turn 13 will be flat now, which it wasn't last year. That will be a cool experience.
"It was a pretty cool race (last year). Baku offers good opportunities to overtake. There's a lot of action in the race – that's always good. The most challenging part was sector two. It's very low speed, very narrow. It's easy to make a mistake.
"I guess (the Baku City Circuit is) a mixture of Monza and Monaco – which is pretty unusual. I'm looking forward to it."
Guenther Steiner, team principal
"Like all the circuits, we have to see where our time will be. The times improve more on a slower circuit with the new car than on the fast circuits because the top speeds are not much higher than last year. So, I don't know how the surface looks this year in Baku. Last year it was pretty slippery, and I don't know if the asphalt is still slippery. We'll really only know until after FP1.
"You can use all the (2016 Baku) data again because now, having done seven races, we can translate the data from last year's car to this year's car pretty easily. It all helps, and we're able to come in to this race as well prepared as we can.
"It's a fantastic place. Everybody did a good job there last year. The organizers were good and the race track was good. They knew what to do and they were well prepared."
Red Bull
Max Verstappen
"Baku in my opinion is quite a special street circuit, it's really unique in terms of having quite wide sections but also some of the tightest parts of track on the calendar. Sector 2 is tighter than parts of Monaco which has always been regarded as really narrow and challenging. When you drive up into the old town and past the castle it is fun and tricky but also amazing to watch as a spectator. That section of the track is my favourite, the straight is quick but seems to go on for a long time and gives you a chance to relax a bit.
"As the hotel is really nice and new as well as being situated right next to the paddock I didn't manage to get out and have a look around last year. The old town is fun to drive so I think I should try and get up there one evening this year and see what else it has in store."
Daniel Ricciardo
"This year I want to try and see the city more and get out to explore. Our hotel is so convenient being basically on the circuit but it means you don't go out of that area too much and become a bit complacent. The view from the top of our hotel was awesome, from the gym you could see the entire city and track which is pretty unique.
"The track was fun so I'm looking forward to having another go on it. Another street circuit is exciting for me as I really enjoy those types of tracks, it doesn't suit our car that much but there are a lot of opportunities for things to happen. I think the circuit is definitely as tight as it looks and has a lot of corners unlike any others on the calendar. There are a few interesting lines past the castle which adds to the toughness and is definitely a section of track like no other. The straight is so long that it gives you time to think, which is nice as the corners are technical and you really need to concentrate."
More to follow.