Azerbaijan preview quotes - the teams and drivers on Baku
After a thrilling Grand Prix in China the F1 calendar moves west for the fourth round of the season at the spectacular Baku City Circuit...
Williams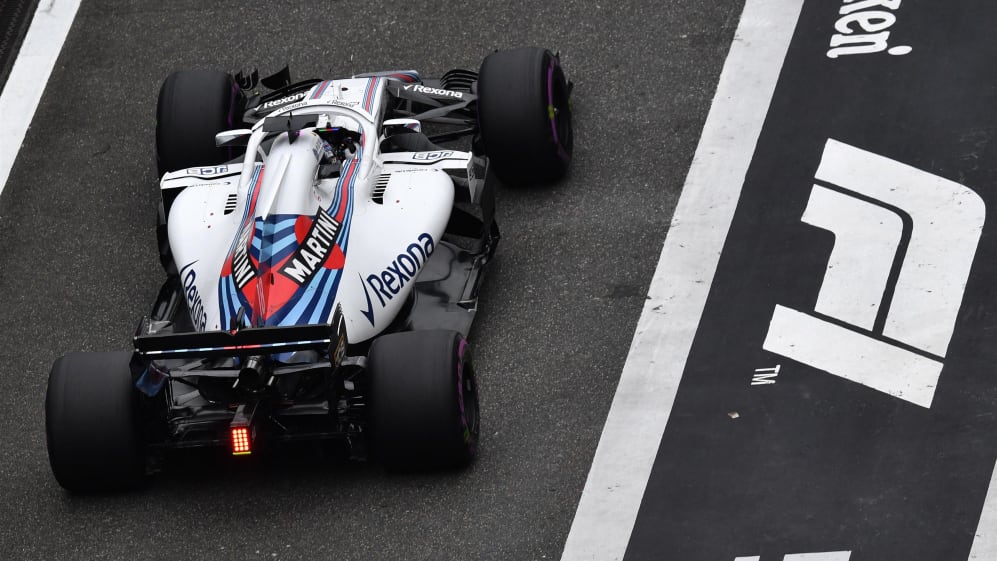 Lance Stroll
"I have some great memories of Baku. It was my first podium in Formula One, so I shall never forget that, and the whole experience was amazing. Not only is it a great circuit, but Baku itself is a nice place. I had never been before, so it was all new to me last year but there was definitely a lot to see in the city.
"The track is pretty spectacular to drive. It is a long lap and is a technical track with a bit of everything. Since it is a street circuit and there are walls all round it, there is no room for errors."
Sergey Sirotkin
"I think Baku is quite a difficult track with a combination of very long, high-speed straights and tricky, hard braking zones. There's no room for mistake which makes it quite a good race and it gives you good overtaking opportunities.
"It was a good track for the team last year as they had good success so I'm looking forward to getting there and going racing."
Paddy Lowe, Chief Technical Officer
"It is an exciting circuit with an incredible range of character from the slow track through the old city to the very long straight at the start-finish line. Last year produced a very eventful race and memorable one for Williams, with Lance securing his first Formula 1 podium and indeed the only podium last year from a team not in the top three. It is earlier in the calendar year this season which should make for some cooler conditions than we have seen previously.
"We look forward to returning to Baku and making the best of this race to put on a good show for our new Azerbaijani fans. Russia is also a close neighbour of Azerbaijan and so we expect some great support for Sergey in his first Formula One race there. For Lance it would be bold to expect another podium but he should perform well given his significant achievements in Baku last year."
McLaren
Fernando Alonso
"Last year's race in Baku was certainly a memorable one for us. It was a crazy grand prix and we scored our first points of the season there, so we'll naturally be looking to repeat that this weekend.
"Even though it's only been on the calendar for a short time, this circuit is already known among the drivers as a great racer's track. It's the fastest street track of the year and also one of the longest, so it's pretty tough on the car and the driver, but that's definitely part of the appeal.
"We know our limitations and where we need to improve our package, and, although we bring parts to test to every race weekend, we aren't anticipating a radical change in our performance in Baku.
"However, we're learning more and more about the behaviour of our car each time we step into the cockpit, and in Azerbaijan we'll be maximising everything we have as usual to score as many points as possible."
Stoffel Vandoorne
"Baku City Circuit is a pretty tough but also enjoyable track, and it's quite challenging for the drivers. You literally drive through the historic centre of the old town which was a really cool experience last year, and overtaking is tricky on the narrow streets.
"Saying that, we saw anything but a processional race last year and hopefully we can take advantage of any drama that this track throws at us next weekend. Last year was tough as the only real overtaking opportunity is at the end of the long straight, and it'll be tricky for us again, but we'll see what's possible with the MCL33.
"As well as making sure we set ourselves up on the right strategy, for me the start will be crucial on Sunday. I've not had the best starts over the last couple of races and with overtaking tough here we need to try to maximise our starting position.
"In China, we fought hard but I picked up some floor damage which made pushing ahead very difficult, so I'm looking forward to a tight battle in the midfield and progressing as much as we can in the race."
Eric Boullier, Racing Director
"On a track where drama and action seem to have become almost par for the course in Baku given last year's events, strategy will be a key factor in next weekend's race. We know our package tends to deliver more on Sundays, so the important thing will be to react quickly to anything that happens.
"We must keep our heads down, push hard and take any and every opportunity that comes our way. Both of our drivers have raced brilliantly in the first grands prix of the season and I know they'll be relishing the opportunity to maximise what they have underneath them in Baku.
"This fast, challenging street circuit has already become a welcome and exciting location on the calendar and we've witnessed some great battles. Overtaking is at a premium, so, while we don't underestimate the importance of our starting grid slots for Sunday's race, we're also looking forward to the challenge that racing through these historic city streets brings."
Mercedes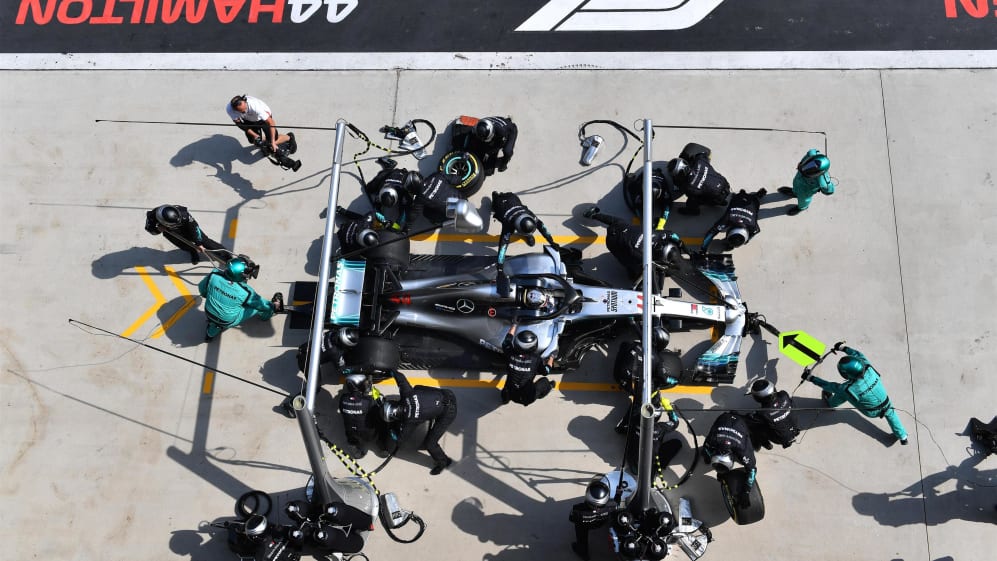 Toto Wolff, Team Principal
"The 2018 Formula 1 season is set to be a celebration of everything we love about motor racing. Three teams are fighting fiercely for race wins. We've witnessed exciting races with nail-biting overtakes. The fastest F1 cars in history, driven by some of the best drivers this sport has seen. So far, this year has all the ingredients for one of those legendary F1 seasons - a season that fans will look back on with smiles on their faces in years to come.
"And it's not just the fans at home or at the race track who are excited - we feel the same. And we know that we have a massive challenge on our hands. Last year, we were in a tough fight with Ferrari. However, it was nothing compared to the intensity of this year's battle. Both Red Bull and Ferrari will do everything they can to beat us.
"Their cars, their teams, their drivers - all of them operate at a high level and will continue to put us under pressure. Not everyone likes this kind of challenge - but we love it. Each member of our team joined this sport for these moments. We're all together in an amazing battle in which every detail counts and with an outcome no-one can predict.
"We're going into the race weekend in Baku feeling excited about that unpredictability. It will be the first time the Azerbaijan Grand Prix takes place in April, with completely different conditions to the previous years when we went to the Caspian Sea in June.
"This is a demanding circuit where the drivers need confidence in the car to find the right rhythm - and you want to hit the ground running on Friday morning. Last year's race threw up a podium that nobody could have predicted and, as is the way with street courses, we can once again expect the unexpected."
Red Bull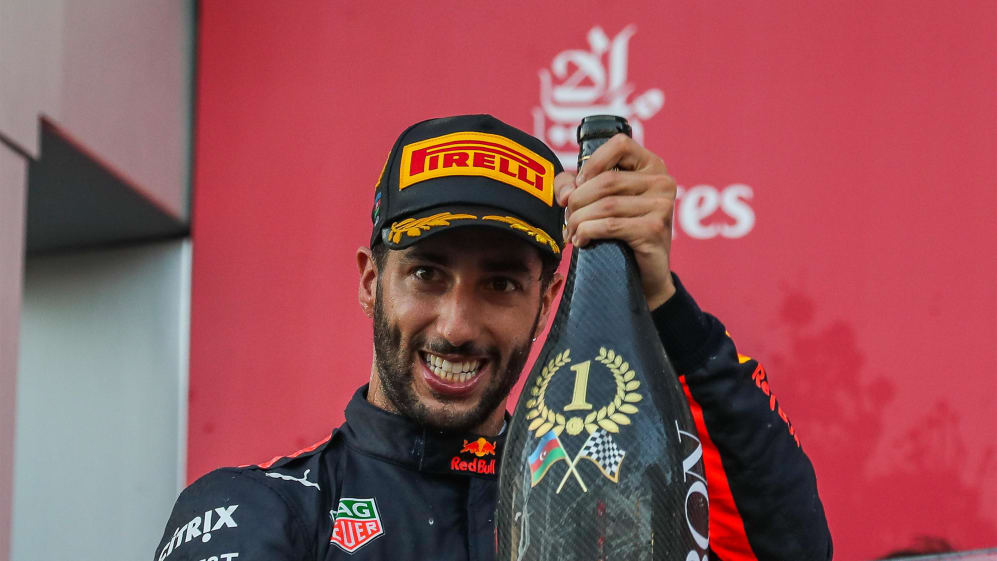 Daniel Ricciardo
"Baku is different to other street circuits – because there are places where you can pass. Actually, lots of places where you can pass. As opposed to Monaco and Singapore where there's not many places to overtake really.
"The trickiest thing in Baku is braking. There's so many braking points where you have to commit and you have to brake as late as you can – but there's no room for error. Once you've committed to that braking point, if you've locked a wheel, you're in the wall. I'd say the hardest part about Baku is finding the limit with braking, and just having that confidence.
"You have Turn One, Turn Two and then the DRS straight. We're honking down there, and then you see the wall coming, coming, coming and your instinct is to brake, brake, brake, brake. You need a lot of confidence to leave it late. That's the biggest challenge with Baku, being able to really attack the braking, it's such a high-speed circuit. Monaco is not that high-speed, it's more about cornering, and Baku is more braking.
"With a street circuit you have to love it – but you also have to respect it and understand it. I understand that, to be fast, you have to be on the limit – but put yourself there and it can bite you.
"Last year Baku was crazy in so many ways for so many people. Just like last week in Shanghai the team had an awesome strategy and made some great calls in the race. Did I think we would carve our way all the way up to first, no way, but everyone in front was dropping like flies, I was making some good overtakes and there was just all this momentum keeping me going. Crossing the line I was a bit confused, thinking how did we just win that race but also ecstatic. It was crazy, fun race and definitely one to remember."
Max Verstappen
"Last year was a very unfortunate weekend for me. It was a shame because the car felt really good but I encountered a lot of problems which ultimately meant I missed out on a potential podium, perhaps even a win. I'm hoping this year I can make up for that lost opportunity. "Baku is a cool place so I enjoy going there and driving the track. It's a nice circuit even though it isn't ideally suited to our car. The straight is so long which means we miss out on some valuable time there. Last year I think we managed to drive around our problems really well and therefore be competitive come the race day.
"The castle section looks great on TV and is also a lot of fun to drive. It is really tight so you have to be precise turning in as there is no room for error, especially with the wider cars we have now.
"I still haven't managed to get out and see a lot of Baku. The hotel is right next to the paddock, so as well as being really convenient it also limits what you see of the city over a busy race weekend. I have heard the local food is really tasty so I'll do my best this year to get out and find some delicacies."
Sauber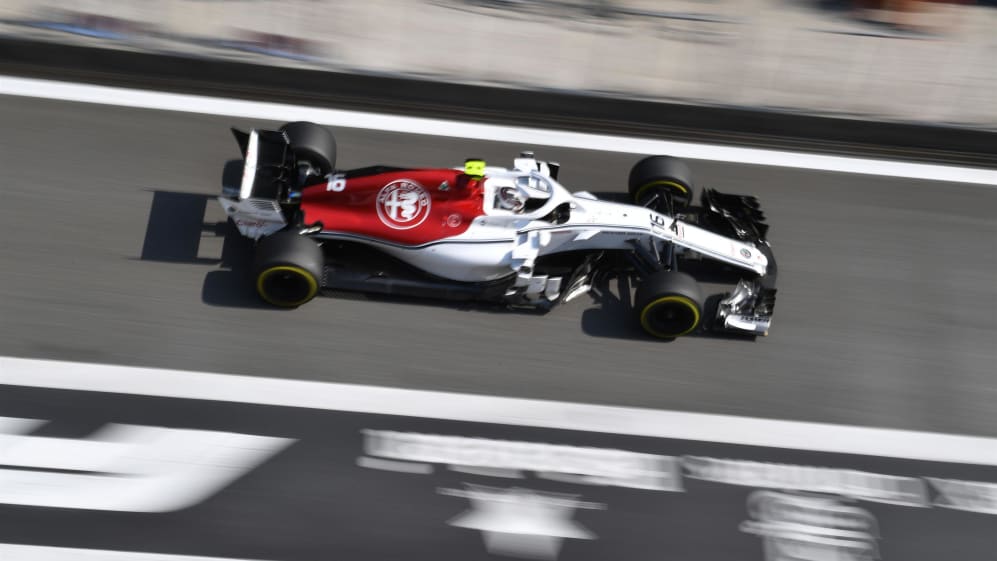 Marcus Ericsson
"The race in Baku will be our first street race of the season. It is quite a cool track, with a good mix of high-speed sectors and challenging corners. What is special about the track is that it features some twisty parts, mainly around the castle. The track is very narrow there, and you must be very precise as a driver.
"Another challenge will be to set up the car to suit the demands of the circuit. Tyre management will be a key factor, as the degradation of the tyres is quite high during the race. I look forward to going to Baku, and continuing our strong performance from the first three races of the year."
Charles Leclerc
"I look forward to going back to Baku. I had a strong race there last year, when I was competing in Formula 2, and feel quite comfortable on the Baku City Circuit. I particularly like city tracks. They are challenging for drivers, as you cannot afford to make any errors. The atmosphere there is great, and the view of the old town and castle is spectacular.
"It will be interesting to learn about the tyre management during the practice sessions. This will prepare us for the challenges of this circuit, and allow us to work on finding the right set-up and perform well in the race. I'm excited to be back in the car."
Haas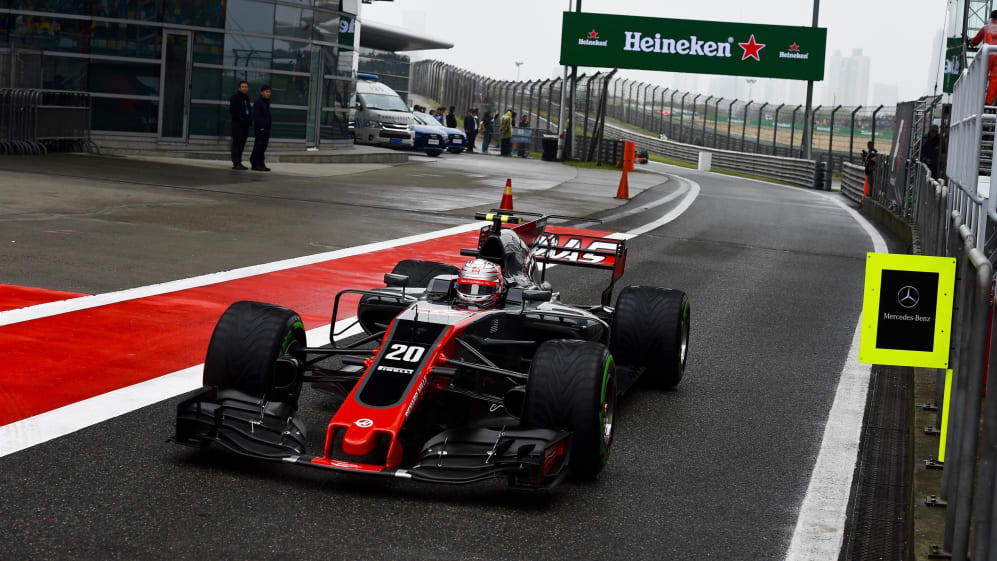 Romain Grosjean
"The car is really good, and the team has done a good job. We haven't had much luck yet. We've had three races where we were looking at points, and three times where we haven't scored. Knowing that we've got a good baseline and a good car is very exciting. I know it's going to come our way at some point. Hopefully, that's going to be in Baku.
"Baku is definitely a different circuit from the rest. There's that massive long straight line – where top speed plays a key role – and then you've got the very twisty part around the castle, where the balance needs to be good. It's going to be a good challenge. It's not a race where we were very competitive last year.
"It'll be interesting to see how much progress we've made. It's a really exciting grand prix – a lot can happen. There are always good opportunities, so we'll try to get them there.
"There's a nice battle at the front, then there's quite a significant gap, then there's the midfield battle, where one race it's the Renault that's the fastest, the next one it's a Toro Rosso, another race it's the Haas or maybe the McLaren. That makes it super exciting.
"We need to get everything super right – down to the last tenths of a second – to be qualifying in front of the others and race from there. It's pretty exciting. Obviously, the front is a different situation, where Mercedes hasn't won yet, but they're still up there fighting really hard."
Kevin Magnussen
"Our car balance should be fine in Baku. It's true that we do have a very good car this year – it's very well balanced. But it's going to be very difficult to predict how we're going to be in Baku, as we don't know what other people are going to bring in terms of special packages for that circuit.
"We're going to try and get the most out of the car, but it's going to be interesting to see what other people do.
"At the moment, I think we are very even with Renault and perhaps a little faster than McLaren, at least in qualifying. The rest of the midfield, perhaps, seems a little more inconsistent, but they can definitely be up there with the rest of us on occasions. Renault is probably the strongest competitor in the midfield, but I think we have a car that can easily match them, and when we do well, beat them also.
"That should be our aim at the moment – to be fighting those guys. Obviously, we want to improve on last year's result, which was eighth, and I think that's a feasible target. We're doing well at the moment, in terms of performance, but if we find ourselves in a good position halfway through the season, then maybe we have to reset our goals."
Guenther Steiner, Team Principal
"We showed in the first three races that we can be competitive at the high end of the midfield, and we're very confident we can be there in Baku, as well.
"We need to keep on doing what we're doing. Every race we learn more about the tires and we build up our knowledge base of the tires from this year, and we have planned for upgrades on the car. Our whole plan this year is different from last year.
"Last year, we knew we wouldn't have many upgrades because we decided early in the season that we wouldn't bring that many updates as we turned our focus to next year's car. But this year, we made the decision early in the season that we will bring more updates.
"So, it's down to how good are our updates, but also how good are the updates of the opposition?"
Force India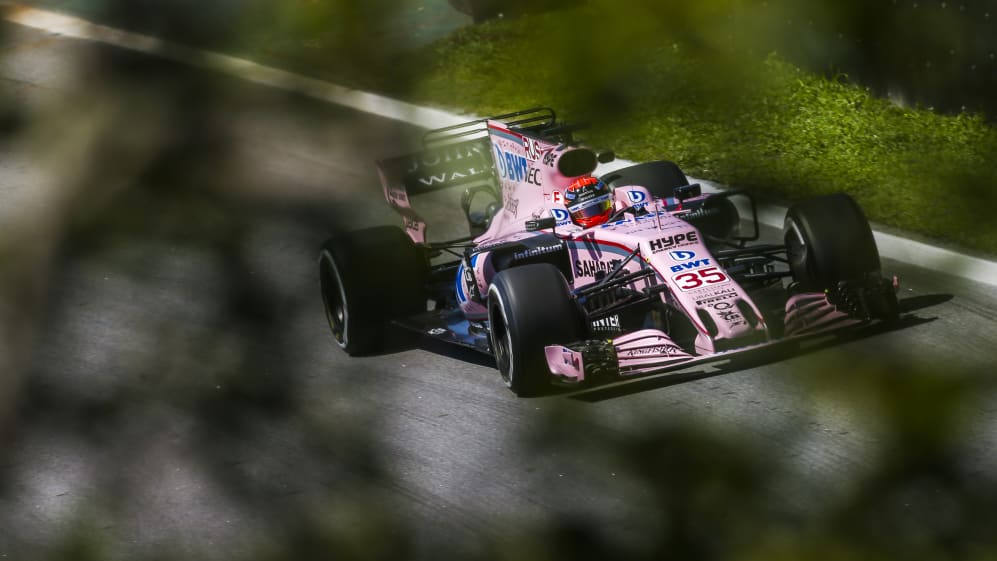 Sergio Perez
"It only feels like yesterday we were racing in Baku, but I guess it's a bit earlier in the calendar this year. It's already a track with a big reputation and I have special memories from 2016 and our podium. It's a track where we have always been competitive so I want to go there this year and score points.
"The first few races haven't gone very smoothly for me. I think I've been unlucky, especially in Bahrain, but I know it sometimes happens in racing. The last race in China was really disappointing because I lost out on lap one and there was no way to recover to the points. Our pace was competitive and we took another step forward with the car performance, but things just didn't work out on race day.
"The progress we have made since Melbourne was visible in Shanghai and I'm feeling happier with the balance of the car now. We are catching up and getting back to our normal position. I think Baku will be interesting because it's all about good top speed and being confident on the brakes. I love the challenge of street tracks and I really enjoy driving in Baku."
Esteban Ocon
"Baku is a cool event. It's so fast with the longest straight of the year, which is quite unusual for a street circuit. It produced probably the best race for fans last year. I love the atmosphere of city races and it's a really interesting place to explore. I also enjoy the delayed schedule because we wake up later in the day and there is more chance to have a good night's sleep.
"My first race in Baku last year was pretty eventful. So much happened in the race and it was definitely a missed opportunity for us. We were competitive so I hope we can be quick again this year. The racing down the main straight was really cool and if you pick up a tow you can find a huge speed advantage.
"It is a place where you can go three or four cars wide, which is insane. It's not the sort of racing you often see in Formula One so it's quite exciting when it happens. There are good overtaking opportunities so you can make up a lot of ground even if you're at the back.
"Baku is definitely a great chance for us to score points. The car is improving with each race and I can see how hard everybody is working to find more performance. At every race this year we've had new items to test and it's the same this weekend. It's still early days in the season and if we can unlock the potential in the car I think we can be up there fighting consistently at the front of the midfield."
Vijay Mallya, Team Principal
"Baku will be an important weekend for us and we're determined to get back into the points. The first few races haven't delivered the results we were expecting, but this was mostly due to circumstances that worked against us.
"We were involved in first lap incidents that dropped us down the order in Bahrain and in China, and we didn't show our true potential. With such a closely matched midfield, it's very difficult to recover if you lose so much ground at the start of a race.
"On the positive side we've shown good progress with our car performance since Melbourne. We have made Q3 in the last two races and we understand the car more. It's time for our luck to turn and the results to follow."
Renault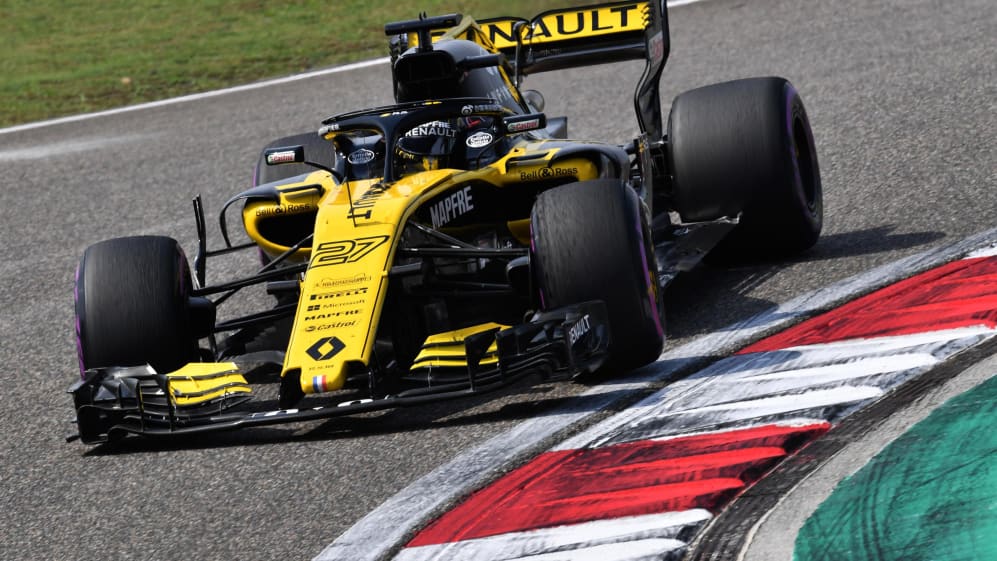 Nico Hulkenberg
"It's a positive start to the season, and it's good to be at the front end of the midfield. It's important to keep picking up a good number of points to make sure we are in the hunt. It's about continuing on this upward trajectory and putting the work in to make sure we are ahead of our rivals."
Carlos Sainz
"In general, I think these three first races have been quite positive and the whole team is showing great commitment to achieve our objectives. On my side, I have had the chance to try different set ups in the car and I'm confident we're heading in the right direction. We have to keep up the good work and always try to improve to bring as many points home as possible."
Cyril Abiteboul, Managing Director, Renault Sport Racing
"Baku will mark the start of the next phase of our season push. We will debut some new chassis upgrades, specifically on the wings and bargeboards, which will be followed on the engine side in Barcelona. We are confident that the combination of these developments can allow us to maintain our performance. We need to remain focussed on making every single element work."
Toro Rosso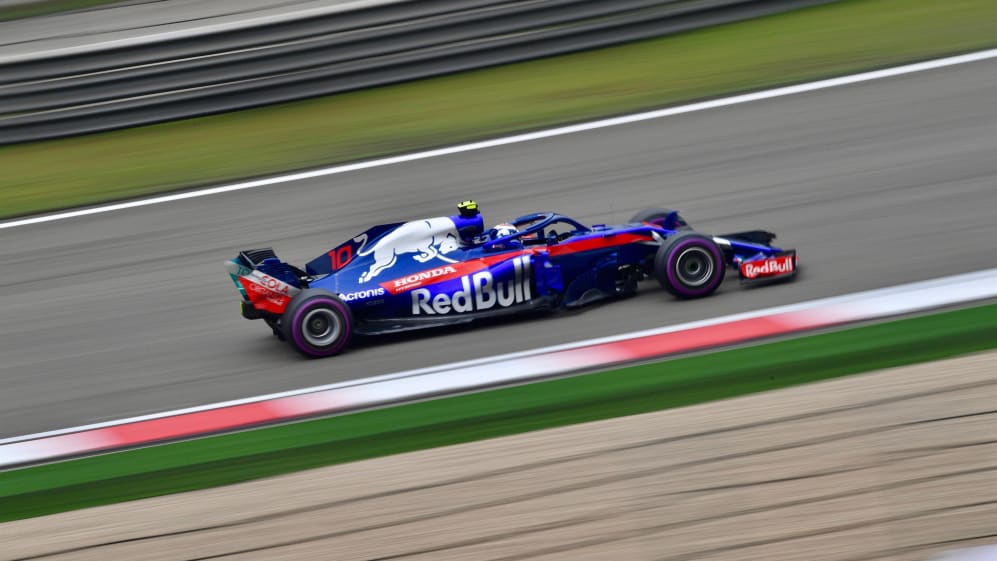 Brendon Hartley
"I'm looking forward to going to another new circuit. I don't know how many different circuits I've driven in my career but I'm always excited to drive a new one. I think it's very unique, being a street track, some really interesting corners with no room for error, which is always something I enjoy - probably most of the other drivers do too so we're all in the same boat.
"From driving it on the simulator, the bit by the castle almost reminds me of Macau, which is one of my favourite tracks. I think I'm going to enjoy it and I'm really looking forward to the fourth race of the season. Apart from all the sim work, plus looking at videos of past races, I'll be doing as much study as I can, so that I'd like to think that within 10 laps, you're pretty much up to speed.
"Obviously experience counts for a lot when you're learning a new track. You certainly expect that the sim is modelled as close to the real thing as possible but it's always hard to know - is that kerb exactly the same? Does it get the same amount of grip? Are there other factors? Are there marbles?
"Therefore, it's also useful to look at video of past races to see what lines the drivers take and you can also learn from that…and I can't wait to have our track walk on Thursday."
Pierre Gasly
"Baku is a really exciting track because, first of all, it's a street track so the risk is doubled or higher due to the walls everywhere, but I also think just the characteristics of the track with that long straight make it interesting. It's super-fast! I think last year the top speed in Formula 1 was really crazy, so as a driver it's super exciting but it's also super risky. I'm excited to go there.
"I remember watching the race last year as a reserve driver and it was one of the most exciting Formula 1 races of the season so I'm happy to be part of it this year and hopefully, it's going to turn out well for us. The narrow bit near the castle? I think it's the tightest corner of the championship. In a way, it's a corner where you can make a lot of time but you can lose everything as well because it's a low speed corner.
"In the low speed corners, a few kilometres minimum speed can make quite a lot of time. Every time you go there it's interesting, because you are a few centimetres every lap from the barrier so in terms of focus it's really intense…it's not a track where you can go a bit wider on the outside kerb and then maybe you just touch a bit of grass and you have some dust coming out of the tyres. No, if you are just a few centimetres too wide then you go straight in the wall and that's it!
"The straight feels very fast because the walls feel close and it definitely feels even faster when you come to brake for Turn 1! I finished second in the end of my GP2 race here, so it was a good race fighting for the victory until the last lap. I started 18th and finished 2nd… it was a crazy race but certainly one to remember!"
Pirelli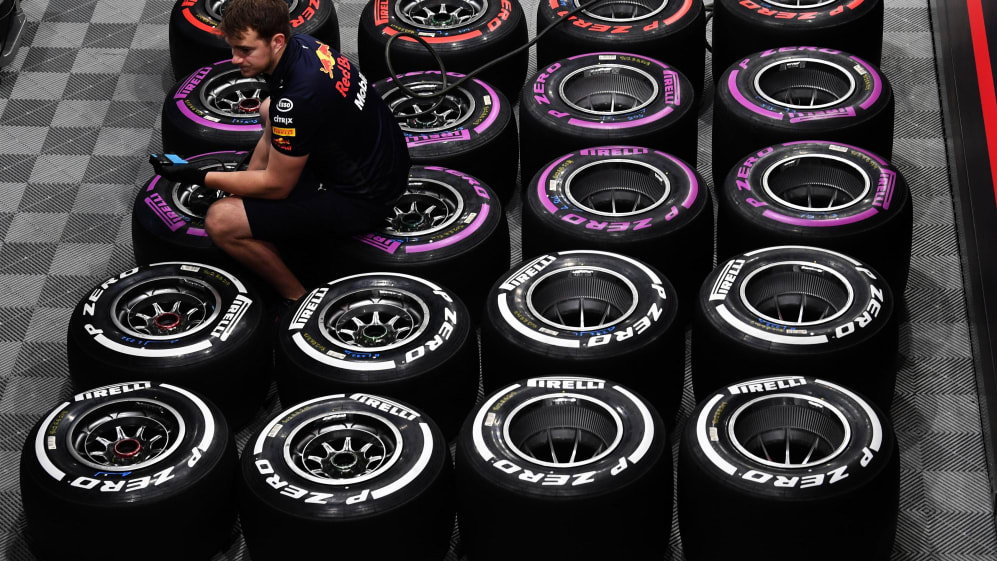 Mario Isola, Head of Car Racing
"The Azerbaijan Grand Prix should have quite a different look to it this time, being held two months earlier and presumably presenting a contrast to last year in terms of weather conditions, when track temperatures peaked at more than 50C.
"Last year, we felt that we were a little too conservative with the tyre nomination in Azerbaijan, in the first year of the new tyre regulations, as the medium wasn't really used. So, we felt that this year we had scope to be a little more aggressive with the nominations.
"This should lead to all three compounds being used as realistic race options, and some inventive race strategies, as we saw at the last two grands prix in Bahrain and China."