Feature
As it happened: Day 2 of 2017 testing from Spain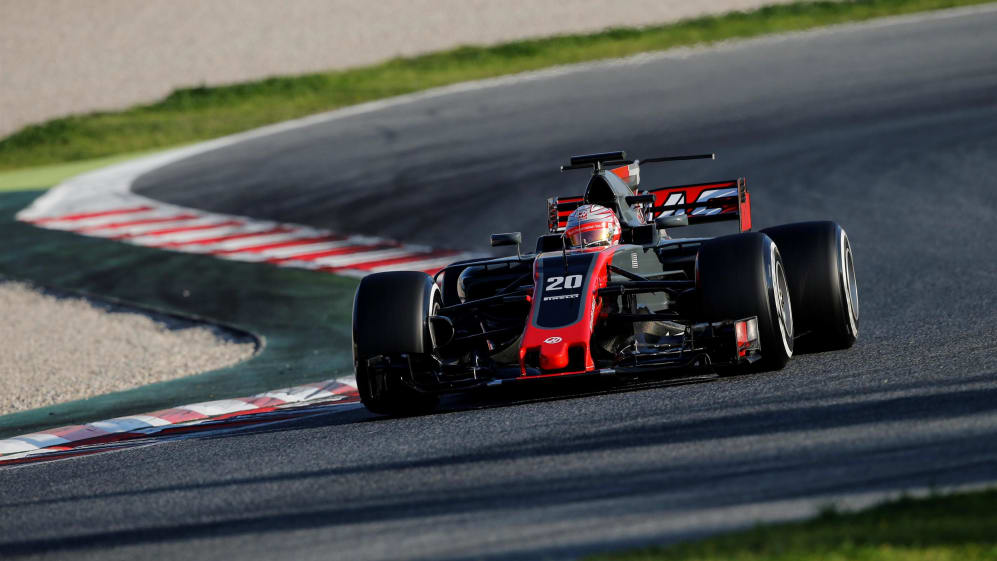 Finally the wait is over. The opening Grand Prix of 2017 may still be a month away, but this week we get to see this year's cars driven in anger for the first time - and already we know they are lower, wider, faster and noisier!
This page - updated throughout the day, with newest posts at the top - brings you the key news and information from the first test session of the year at the Circuit de Barcelona-Catalunya...
RECAP
- Raikkonen fastest for Ferrari, 0.023s ahead of Hamilton
- Haas join Ferrari and Mercedes in completing more than 100 laps
- More problems for McLaren, Sauber and Force India also hit issues
- Lance Stroll spin brings Williams' day to an early halt
The Prancing Horse hits its stride
Oops! Error retrieving Twitter post
Kimi Raikkonen ensures Ferrari end the day at the top of the timesheets then, albeit just 0.023s ahead of Mercedes' Lewis Hamilton. Both teams enjoyed plenty of running as their impressive starts to the 2017 season continue - Raikkonen eventually ended on 108 laps, while Hamilton managed 66 and Valtteri Bottas - taking over for the afternoon - completed 102.
There will undoubtedly be more twists and turns as teams begin to explore the performance limits of their new machines - and we'll be back tomorrow to keep you up to date with all the latest. See you then...
Day two leaderboard - at a glance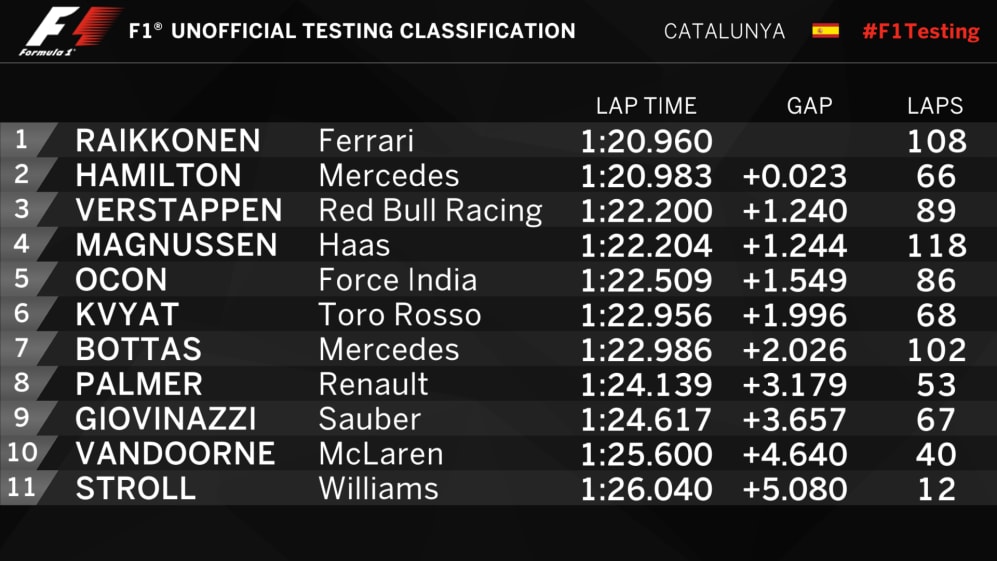 Besides the front pair, Red Bull and Haas impressed in third and fourth - and for the latter team, Kevin Magnussen wound up the day's busiest man with a bruising 118 laps on the board.
It wasn't quite as smooth for McLaren, who had to perform another engine change, while Williams suffered an early halt following a spin for new recruit Lance Stroll.
For the full report on day two, click here.
The chequered flag flies...
...which means Ferrari do indeed top the second day, courtesy of Kimi Raikkonen.
Late movement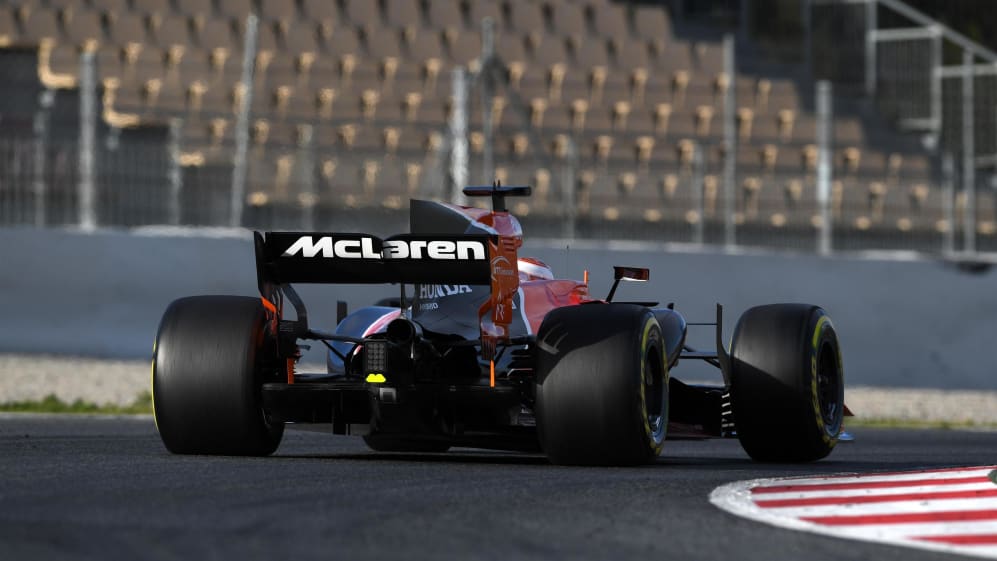 Some late movement on the leaderboard as Magnussen jumps up to P4 and Vandoorne (above) lifts himself off the bottom. For minute-by-minute timesheet updates, download the Official F1® App and go to Results & Standings > TEST. For more information, click here.
A flying (Finn) visit
Oops! Error retrieving Twitter post
Former McLaren driver meets current McLaren driver. We wonder what Mika Hakkinen and Fernando Alonso were discussing...
A century of laps for Ferrari and Haas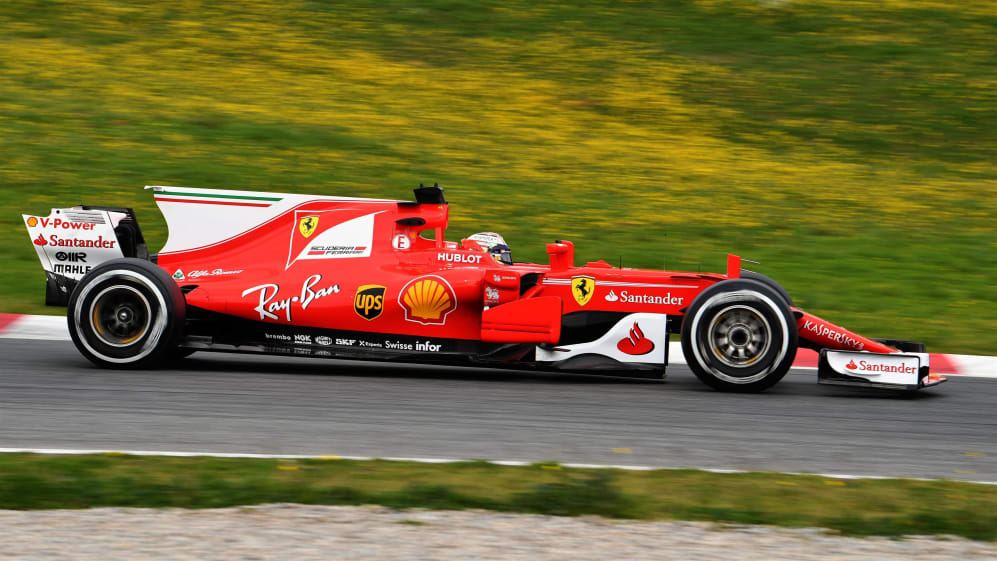 Kevin Magnussen becomes the first driver to break through the 100-lap barrier on day two, and a few minutes later Kimi Raikkonen (above) joins the Haas man in the centurian club. Bottas looks to be the only other driver in with a realistic chance of reaching triple digits today.
The only blot on Mercedes' day
Oops! Error retrieving Twitter post
As promised, here's the footage of Bottas going off-track during his race simulation run. It's perhaps a sign of how things are going for the Silver Arrows at the moment that not only did Bottas escape without damage, he was able to complete his stint without problem.
Into the final hour of the day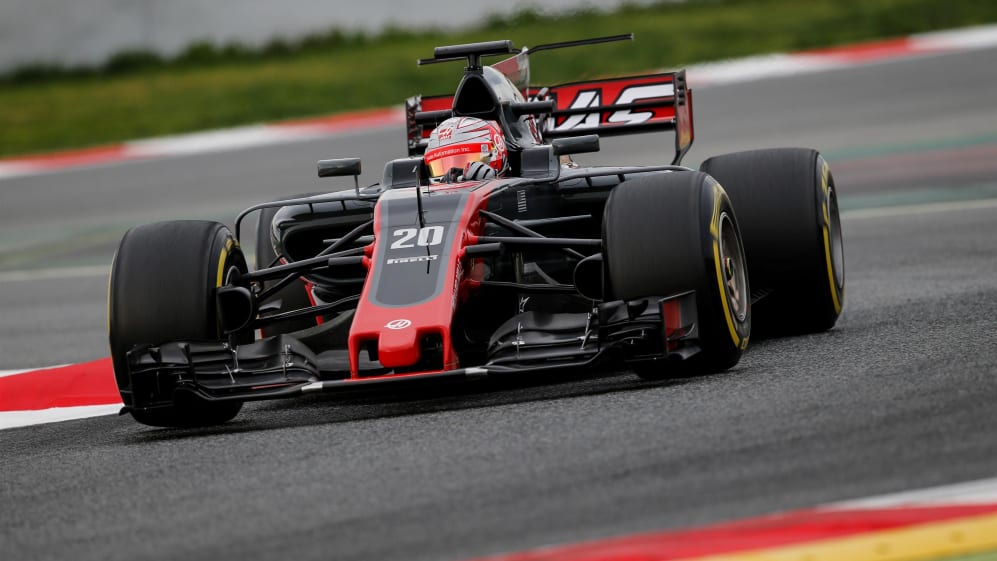 As the session ticks into its final 60 minutes, two drivers are tied for the most laps tallied today: current pacesetter Kimi Raikkonen in the Ferrari, and Haas's Kevin Magnussen (pictured above). Stoffel Vandoorne, meanwhile, is on 30, having managed just one exploratory lap since his McLaren was fitted with a new Honda power unit.
Job done
Oops! Error retrieving Twitter post
146 laps on the board for Mercedes, including a full race simulation - and there's still over an hour of testing to go. It's been another extremely impressive day for the reigning world champions, though it hasn't been all plain sailing. Stay tuned to our channels for some footage of Bottas going off and tagging the wall during that last run...
Vandoorne set to return to the fray
Oops! Error retrieving Twitter post
Some good news for McLaren fans - the team have completed their second power unit change in two days, and that means Vandoorne will have the chance to add to the 29 laps he clocked up this morning.
Stroll speaks
Oops! Error retrieving Twitter post
Lance Stroll has been speaking to us about the mistake that brought an early end to Williams' running on day two. For more information, click here.
Verstappen surpasses Ricciardo's day one tally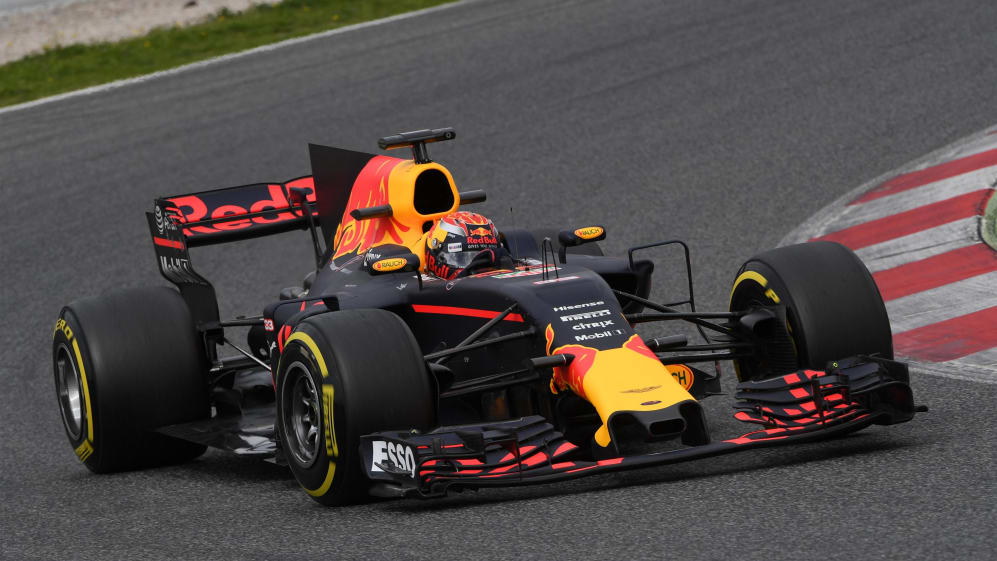 They've not clocked as many laps as their main rivals, but Red Bull have at least exceeded their day one lap tally, with Max Verstappen surpassing 50 laps and moving himself up to third on the leaderboard in the process.
Ocon strengthens grip on third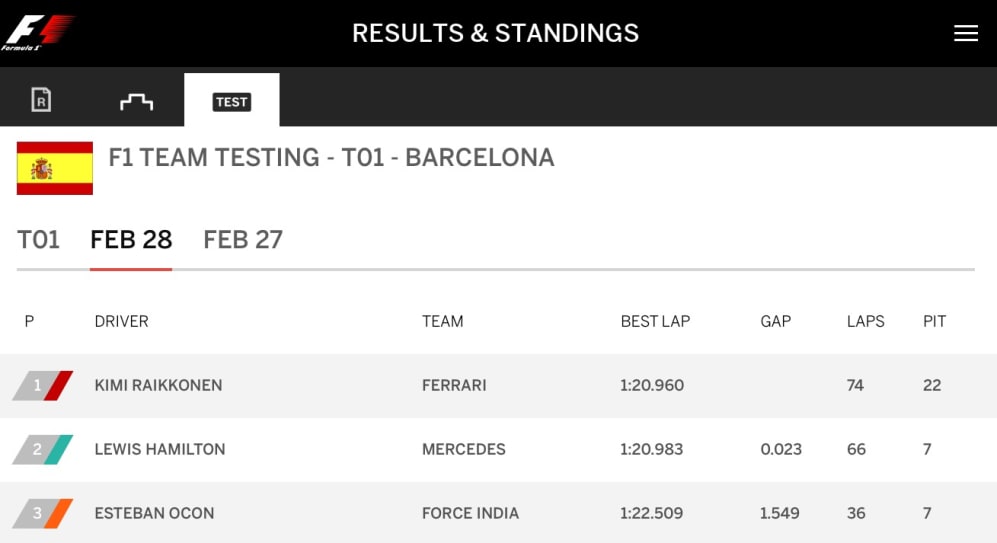 His car repaired following technical issues before lunch, Esteban Ocon has been back out on track with supersoft tyres fitted to his Force India this afternoon. The result? A new personal best lap of 1m 22.509s, which has solidified his grip on third place in the standings. Don't forget, if you want to follow minute-by-minute timesheet updates, download the Official F1® App and go to Results & Standings > TEST. For more information, click here.
The loneliness of the long-distance driver
Oops! Error retrieving Twitter post
Having taken over from Lewis Hamilton at lunchtime, Valtteri Bottas has jumped straight into a race simulation run for Mercedes. A few years ago it was extremely rare for a team to attempt such a feat so early on in testing, which is an indication of how much the Silver Arrows have raised the bar. What must their rivals think?
Ferrari go soft - and go fastest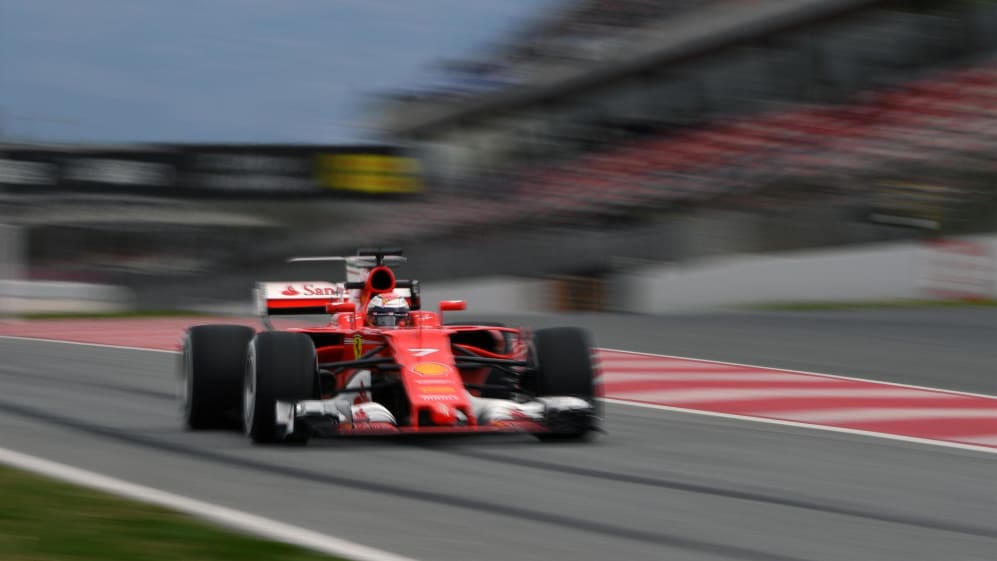 Having sat in second for most of the day, Kimi Raikkonen moves to the top of the leaderboard after Ferrari bolt on the soft tyres for the first time this week. The Finn, who has clocked more than 60 laps in the SF70H, laps 0.023s quicker than Hamilton managed on supersofts this morning - though from the sector times it seems clear that the Mercedes man didn't get the most out of his red-marked rubber.
Palmer makes up for lost time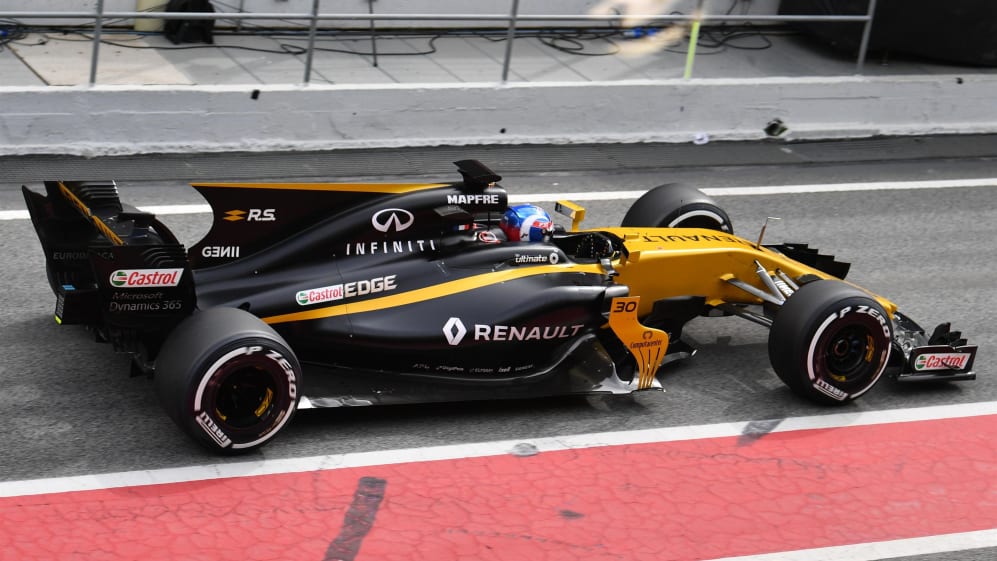 Having not turned a wheel this morning, Jolyon Palmer is now in the process of racking up mileage in his R.S.17. The Briton has put 20 laps on the board this afternoon, which is 20 more than McLaren's Stoffel Vandoorne or Force India's Esteban Ocon have managed, both being confined to the garage with technical issues.
An early bath for Williams and Stroll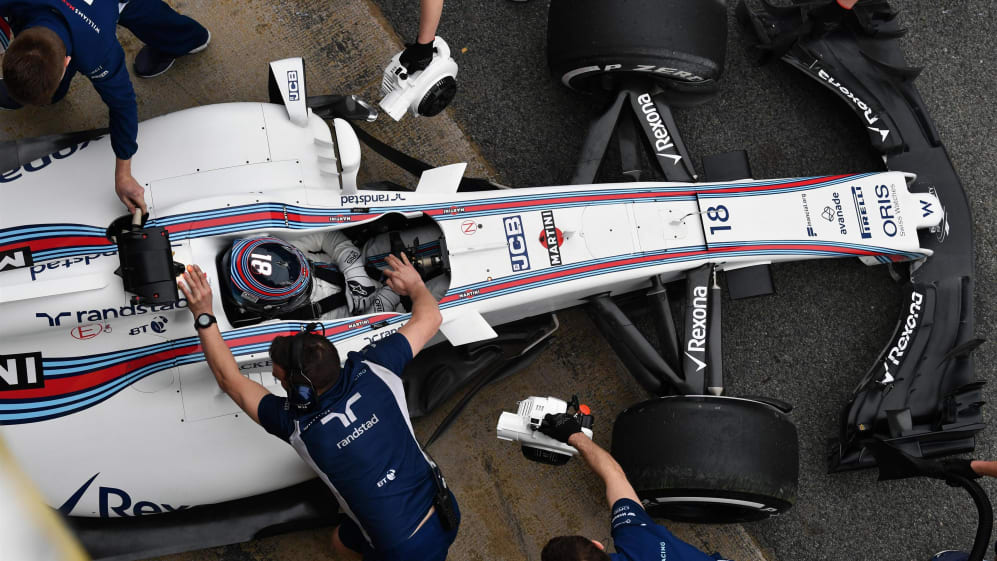 Unwelcome news for Williams and their new rookie Lance Stroll - car damage sustained in the Canadian's innocuous-looking spin this morning means the team will not be in action this afternoon.
Hamilton and Mercedes set the lunchtime pace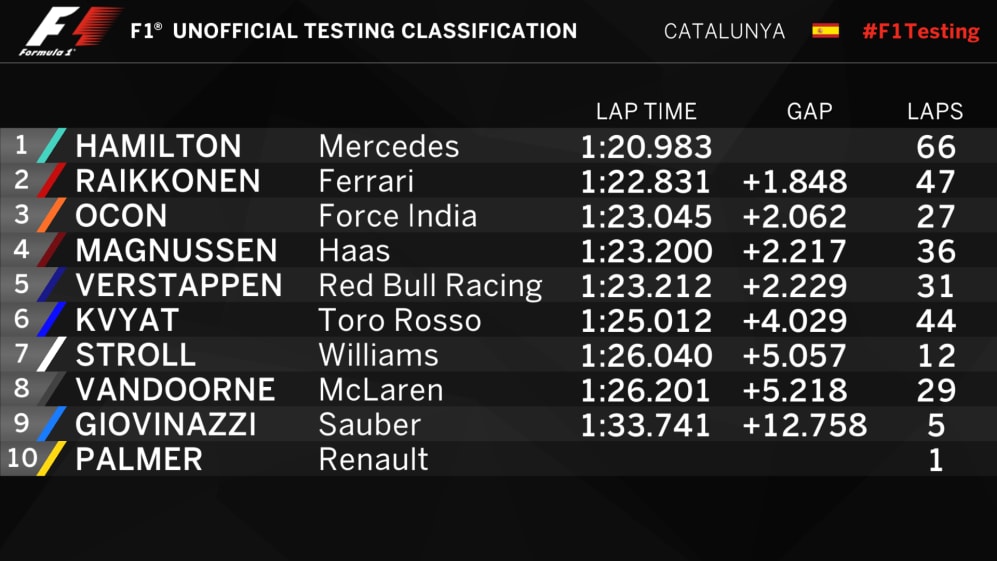 Mercedes, Haas, Sauber and Red Bull take advantage of the five-minute extension to bang in a last few laps before the hour-long lunch break.
It is the Silver Arrows who end the morning on top, Hamilton the first man in four years to dip under the 1m 21s barrier at Barcelona. He also managed 66 laps in total, nearly 20 more than any other driver, to continue Mercedes' imperious start to the 2017 season.
Kimi Raikkonen, meanwhile, continued Ferrari's own impressive start by snatching second, and also racing to 47 laps completed - second only to Hamilton.
There was less happy news for Sauber and new stand-in Antonio Giovinazzi, who completed just 5 laps in total and wound up 12s off the pace after a morning dogged by technical bugs. Renault had it even worse, however: Jolyon Palmer completed just one installation lap, and therefore ended the morning without a time.
Williams' rookie Lance Stroll suffered a spin, as did Giovinazzi, while Ocon also triggered the red flags late on when he stopped at Turn 10.
Hamilton breaks new ground, Ocon hits trouble
Oops! Error retrieving Twitter post
Lewis Hamilton and Mercedes are well into their stride now - the Briton has just dropped down to a 1m 20.983s, the fastest lap F1 has set at the Circuit de Barcelona-Catalunya in four years (Nico Rosberg took pole in 2013 with a 1m 20.718s).
As Hamilton pulls 1.8s clear of the field, Force India's new recruit Esteban Ocon has hit trouble, coming to a halt at Turn 10. His crew are already on scene and pulling the covers over the car, but we have red flags out and potentially an early end to the second morning's running.
Ocon has been in fine form prior to the stoppage - he's third overall, splitting Ferrari's Kimi Raikkonen and Red Bull's Max Verstappen.
Wind in their sails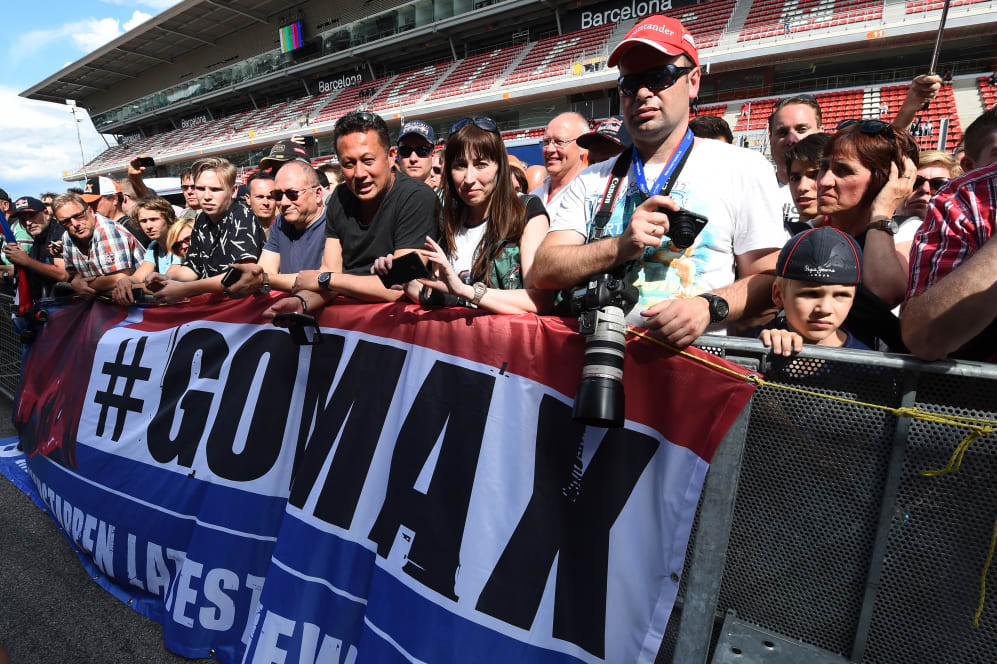 Max Verstappen's travelling fan club (pictured above last year) is out in force once more in Barcelona - but the wind has picked up to such a degree that they've had to take their plethora of banners down from the main grandstand!
The wind hasn't derailed the Dutchman's run-plan however - he's up to 29 laps for the day, and is fourth overall, 1.4s off Hamilton's benchmark.
McLaren hit their stride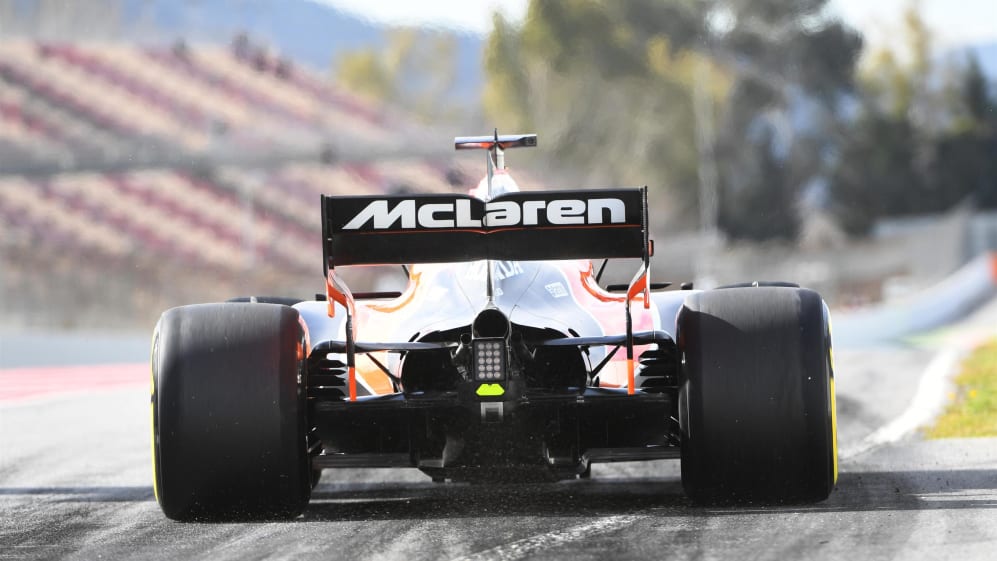 After their earlier scare, it's taken Stoffel Vandoorne and McLaren less than three hours to match their day one lap tally. For more photos of the Belgian driver on track, click here.
PU issues for Sauber
Oops! Error retrieving Twitter post
Ferrari third driver Antonio Giovinazzi is sitting in for Pascal Wehrlein today, but the Italian hasn't had much by way of track action - and we now know why.
Slow start for Renault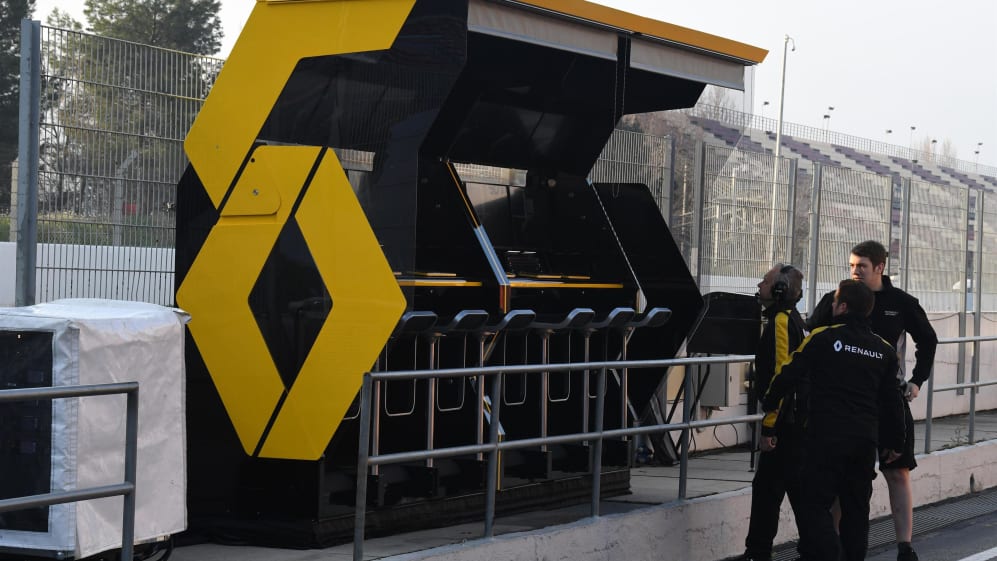 Two and a half hours in and still no sign of Jolyon Palmer's Renault as the team finish up some overnight changes to the R.S.17. The Briton is the only driver yet to turn a wheel in anger today, so there's not been a lot of action at the team's stylish new pit wall gantry either.
The mid-morning leaderboard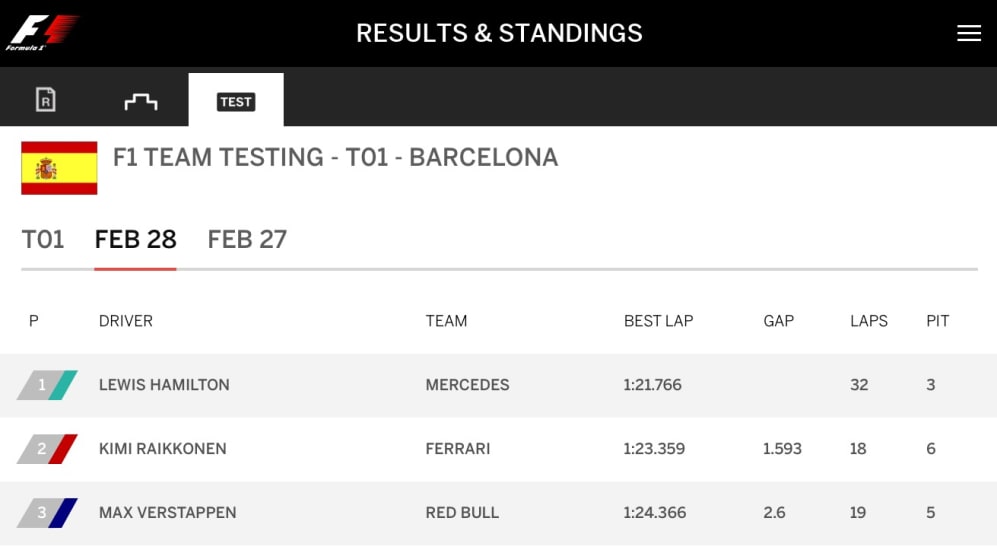 Speaking of Verstappen, the Dutchman is currently third on the timesheet having enjoyed a far more productive morning than team mate Daniel Ricciardo did yesterday. Hamilton remains the standard setter, however, both in lap time and lap count. Don't forget, if you want to follow minute-by-minute timesheet updates, download the Official F1® App and go to Results & Standings > TEST. For more information, click here.
Sensors on display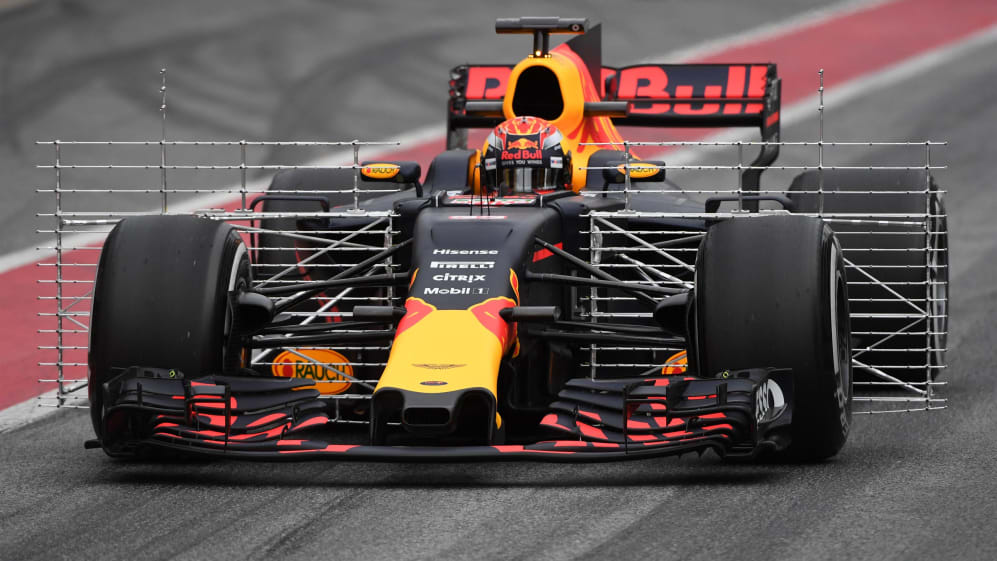 There have been plenty of 'aero rakes' on view this morning. These devices use an array of probes to map airflow, and are commonly fitted behind the front tyres to measure tyre wake. The information gleaned is very useful for understanding airflow along the full length of the car. Red Bull were one of the teams making use of an aero rake this morning, with Max Verstappen (above) running a device on his RB13. You can read what Red Bull's tech chief Adrian Newey has to say on the team's new car by clicking here.
Ocon gets his test programme underway
Oops! Error retrieving Twitter post
It's been a delayed start to the second day for Force India, but the team have now completed the overnight work they were conducting on the VJM10 and Esteban Ocon has taken to the track. The Frenchman has assumed driving duties today after Sergio Perez gave the new car its initial outing.
Another aero update for Mercedes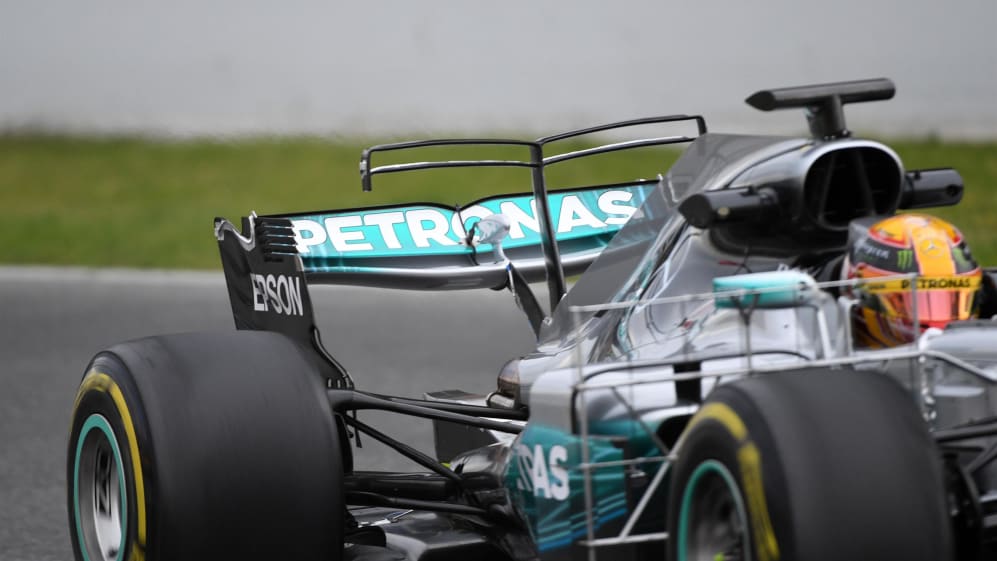 First came the T-wing, then the sharkfin-mounted T-wing - and now Mercedes have unveiled the 'double T-wing' (pictured above). Lewis Hamilton has been running the device on his W08 this morning, and is currently atop the standings.
Red Bull yesterday's speed trap kings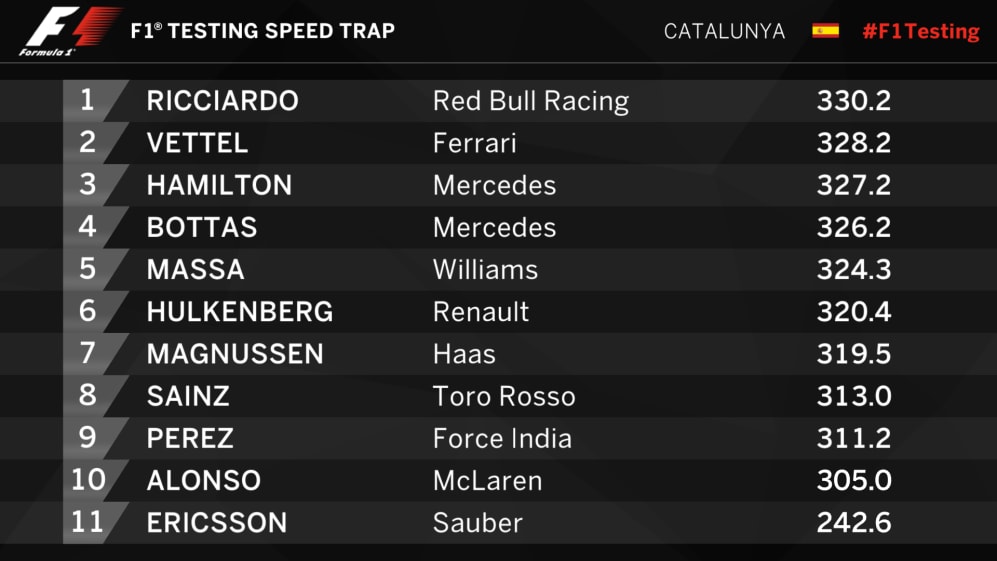 Red Bull may have had a stop-start opening day, but they were the fastest through the speed trap at the end of Barcelona's long pit straight.
Stroll in a spin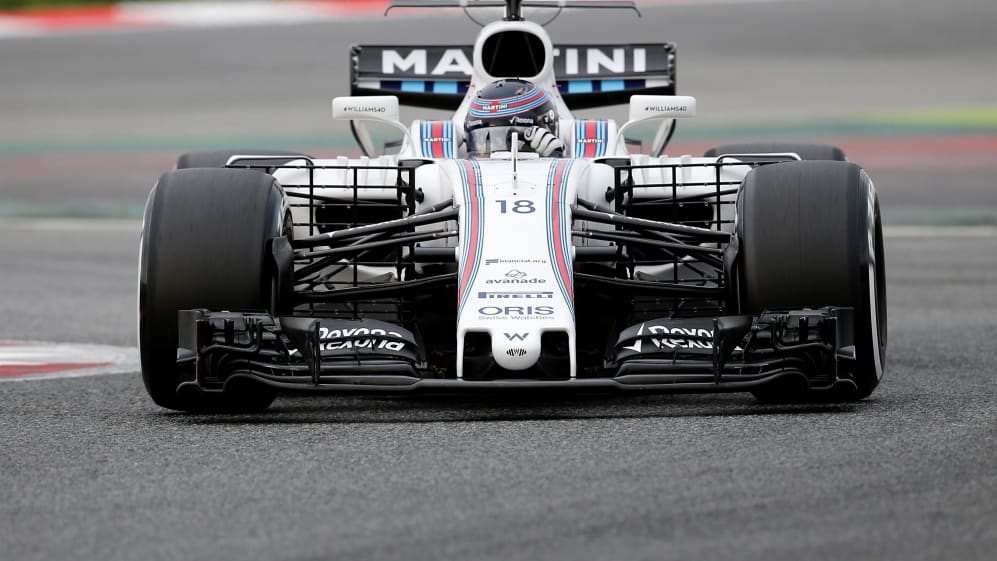 Lance Stroll - the only rookie set to line up on the grid in Australia - has been the busiest man so far today... but on his 12th lap he gets it wrong exiting the high-speed Turn 8 and spins across the track. The red flags fly, and - after a brief delay getting his Williams pointed in the right direction - Stroll returns to the pits, the T-Wing on his Williams looking decidedly unsteady.
Stroll isn't the only rookie in action today of course. Down at Sauber Antonio Giovinazzi is on duty for the injured Pascal Wehrlein, who is at the circuit and keen to reassure people that his back is almost at 100 percent. The Italian has also been for a spin today - and you can see the picture in our regularly updated gallery.
An early scare for McLaren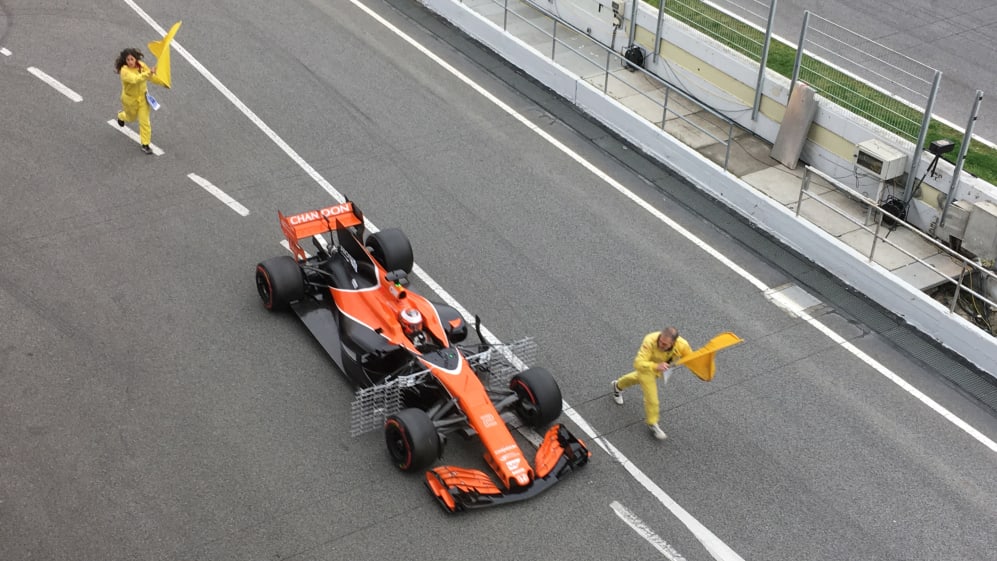 After what Fernando Alonso described as a 'far from ideal' opening day, McLaren have faced a challenging start to day two with Stoffel Vandoorne stopping at the pit entry early on. Retrieved by his mechanics, the Belgian was swiftly ushered back into his garage, but the Honda-powered MCL32 has since returned to the track.
Hamilton straight back to work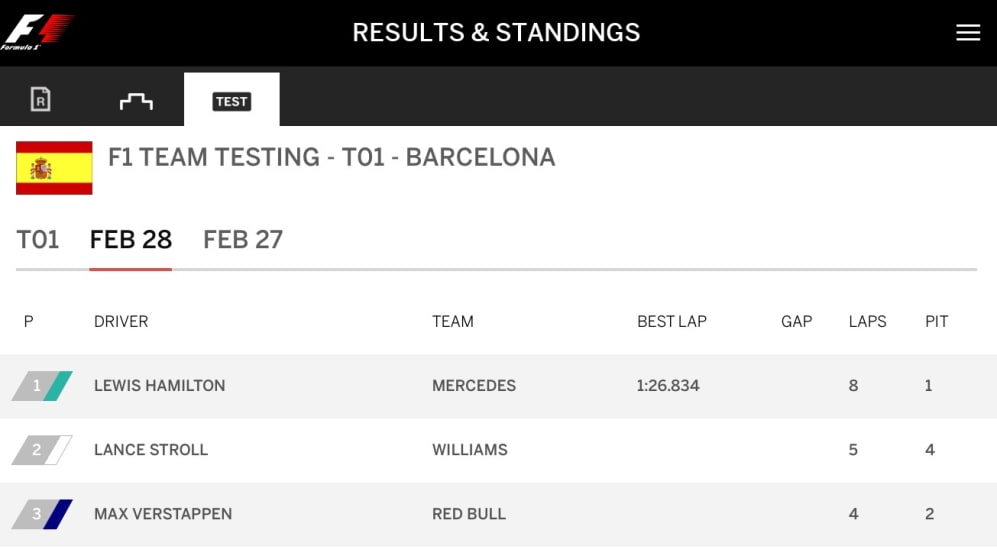 Lewis Hamilton gets Tuesday's first time on the board, and there are early laps for Red Bull's Max Verstappen and Williams rookie Lance Stroll too. For minute-by-minute timesheet updates, download the Official F1® App and go to Results & Standings > TEST. For more information, click here.
Miss any of yesterday's action? Allow us to bring you up to speed…
On a busy opening day, Lewis Hamilton topped the timesheets for world champions Mercedes, his best lap - set on Pirelli's soft-compound tyre - was a 1m 21.765s, already a second faster than the quickest time seen throughout pre-season testing at the same venue last year. But Ferrari's Sebastian Vettel was right on his tail...
At the wheel
Tuesday's provisional driver line-up includes rookie Lance Stroll making his Williams debut, and Ferrari tester Antonio Giovinazzi standing in for the injured Pascal Wehrlein at Sauber.
| TEAM | DRIVER |
| --- | --- |
| Mercedes | Lewis Hamilton (am) / Valtteri Bottas (pm) |
| Red Bull | Max Verstappen |
| Ferrari | Kimi Raikkonen |
| Force India | Esteban Ocon |
| Williams | Lance Stroll |
| McLaren | Stoffel Vandoorne |
| Toro Rosso | Daniil Kvyat |
| Haas | Kevin Magnussen |
| Renault | Jolyon Palmer |
| Sauber | Antonio Giovinazzi |