Barcelona testing - the vital statistics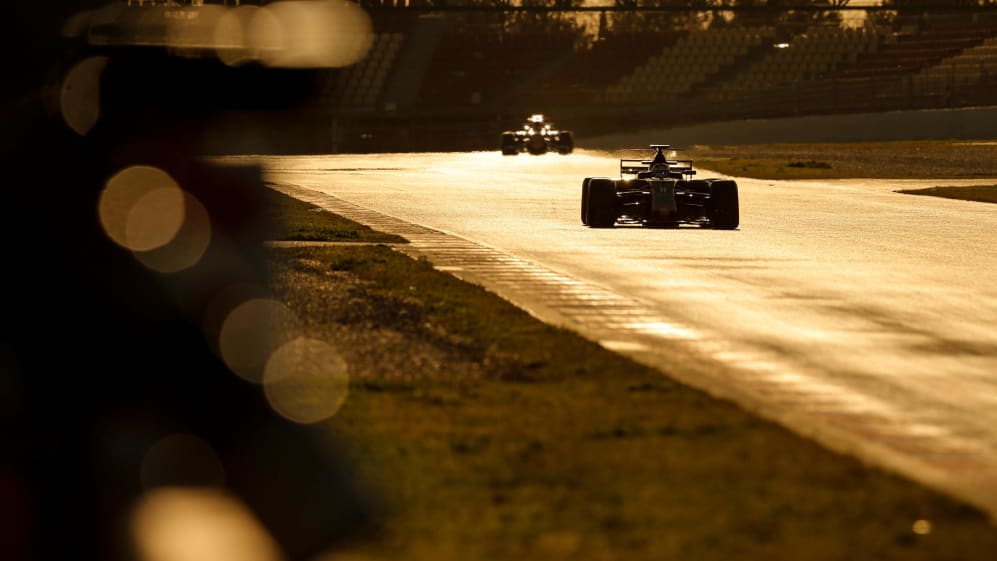 The first pre-season test of 2017 is complete, with four days of running done at Spain's Circuit de Barcelona-Catalunya. Here's the numbers you need to know...
Who went fastest?
In terms of outright lap time, there was no denying that Mercedes and Ferrari were top of the class, with Red Bull and Renault not far behind. Then things got very tight, with less than two seconds covering the rest of the field...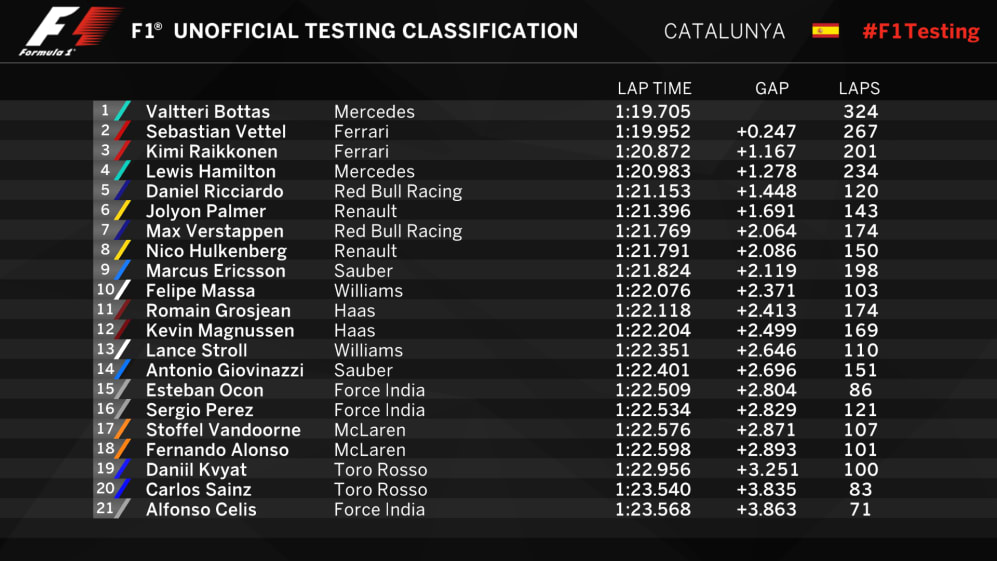 Who went furthest?
No surprise, but ominous nonetheless, was the way Mercedes just piled on the miles, even completing a race simulation on only the W08's second day on track. Reassuringly, though, Ferrari were not far behind, while Sauber and Haas also had a very productive week. At the other end of the scale were Williams, McLaren and Toro Rosso, all of whom failed to break the 1,000km mark.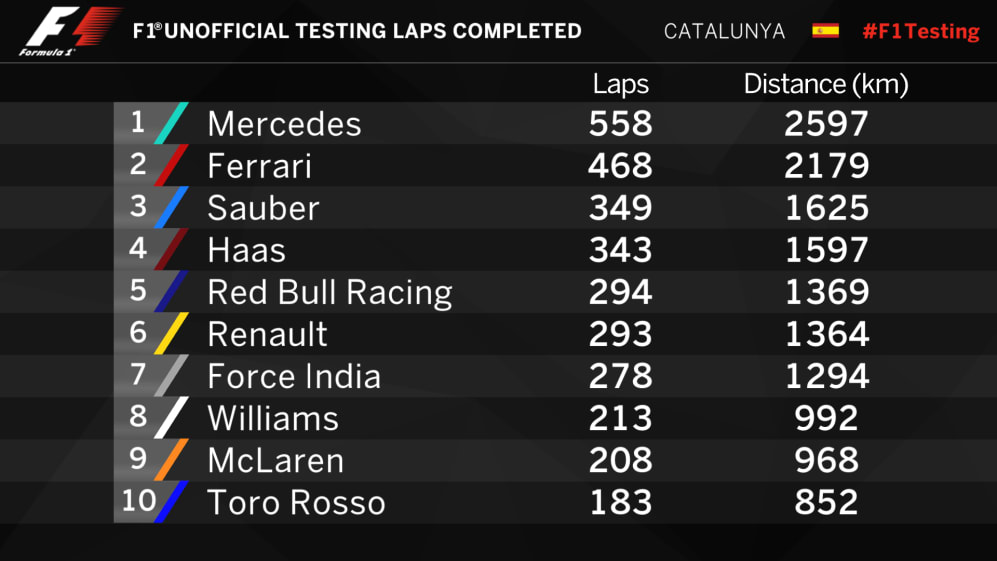 Straight-line speed
Lap times obviously give a fuller picture of overall performance, but it's always interesting to see who is quickest through the speed trap. Sauber led the way in Spain, with Ferrari-powered teams filling three of the top four places...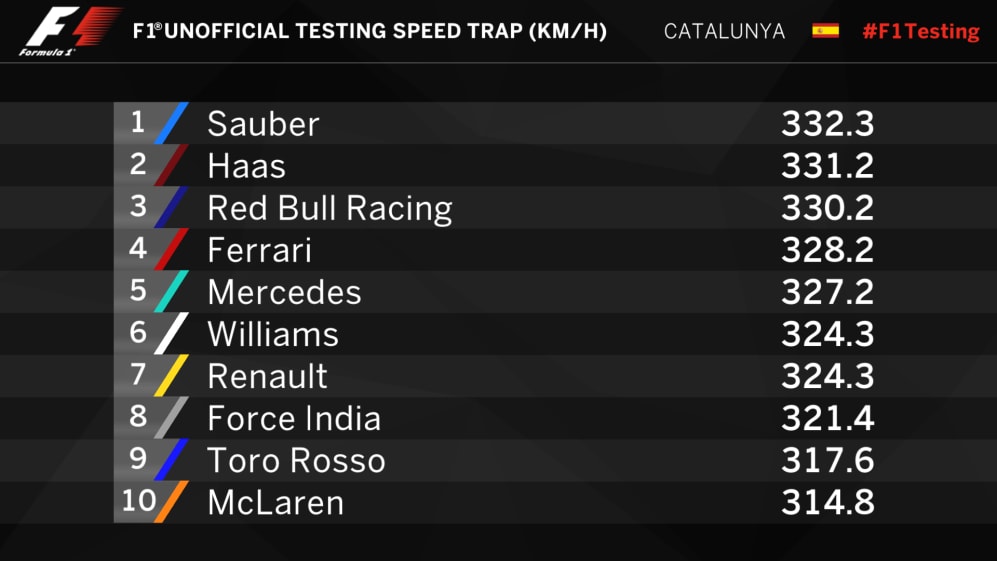 Power unit prowess
Ferrari engines - in the back of Sauber and Haas's cars as well as the Scuderia's own - clocked up the biggest mileage in Barcelona, followed by Mercedes, whose units also power Force India and Williams. Renault, also used by Red Bull and Toro Rosso, were third, with Honda - in the McLaren - completing the order...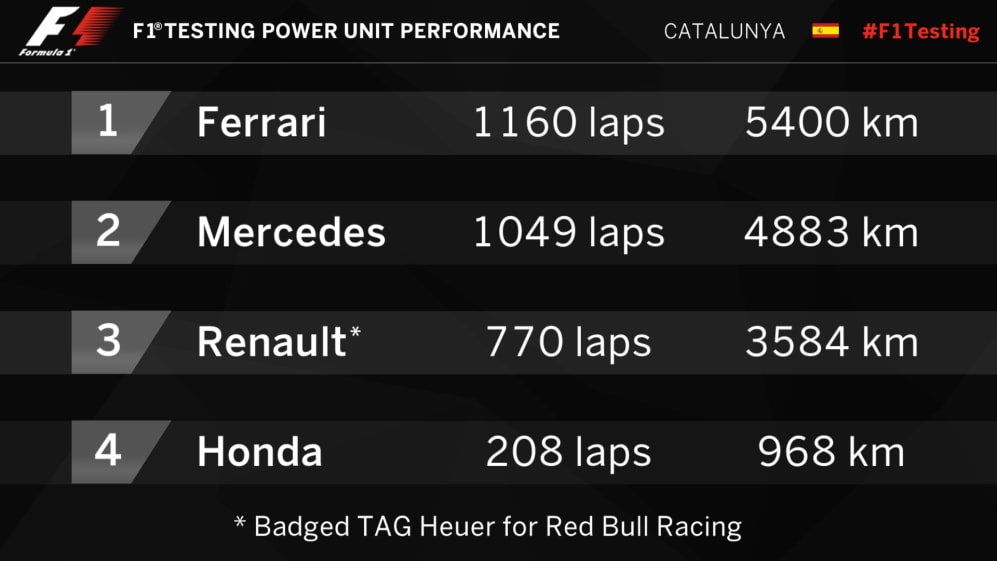 Compound interest
It's a bit early to draw concrete conclusions about the relative pace of Pirelli's 2017 tyre compounds, especially as the hard and ultrasoft got only minimal running in Spain, but first indications suggest a potentially smaller differential between the three quickest rubber types...