Feature
Behind the scenes with Carlos Sainz: Fifa, archery and that radio message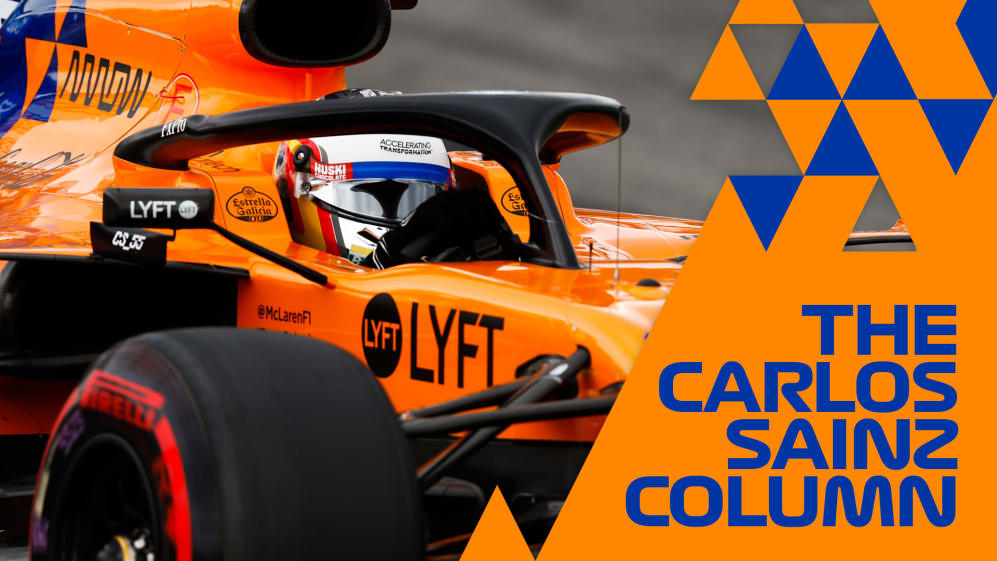 Hi everyone, after one of my favourite – but most hectic – Grands Prix of the year and a day of testing in Barcelona, I bring you a very special column today. I really enjoy racing on home soil and I'm so pleased for the team and for maintaining my record of having scored points every time I've competed in the Spanish Grand Prix…
It was one of my shorter commutes to work this weekend, hopping over to Barcelona after some days of sponsor activities and family time in Madrid. The weekend started off nicely as we found a good baseline with the car. We got the upgrades working, I was comfortable on track and was quite quick during the whole of Friday practice.
But ahead of Saturday, we did a few set-up changes, the track conditions changed a bit, and we found ourselves on the backfoot. I didn't find the same feeling with the car and I struggled a bit in FP3 and qualifying. I hoped I would get the pace of Friday back on the car for the race but, unfortunately, we struggled a bit too much.
I did a really good start off the line, but didn't manage to hold the advantage into Turn 1 as I was boxed in on the inside and had to brake early. I was struggling with the rear of the car in the last sector for the first stint of the race, and I had to defend from Daniel Ricciardo. I just didn't have the same feeling I had on Friday. He jumped me just before the first stop, but after we pitted, I managed to get him back into Turn 1. It was a good fight, it's always good fun racing with Daniel.
When the Safety Car came out, the race spiced up a bit, I was able to jump Alexander Albon on the Toro Rosso at my second stop and that meant I was into the top 10. It was a great execution of strategy – we had the fastest pit stops this weekend, which is a phenomenal effort from the team.
At the restart, I then passed Daniil Kvyat around the outside of Turn 1. That put me into P9. I could see the two Haas drivers having some good fights ahead of me so I tried to keep pushing in a bid to capitalise on that. I caught Romain Grosjean and passed him at my second attempt for P8. Considering the circumstances, scoring these points is a very good result for the team which strengthens our position in fourth in the constructors' championship.
Testing, Fifa and New Kit
I stayed on in Barcelona as I was running at the test on Tuesday morning. So, on Monday, we went back to the track to have lunch and a meeting with the engineers. The target was to prepare for my test run and to try and understand better the change of balance in the car from Friday to Saturday. We spent a lot of time going through the data – and it was really productive. We found interesting explanations!
Then around 6pm, I found some time to spend with my team mate Lando Norris playing Fifa on the Playstation we have in the motorhome. He managed to beat me in the first match but I won the next matches we played that afternoon. I will not reveal the scores to preserve our honour intact! It was great fun after so much data analysis as you can see from the video above. We get quite competitive and the games were really intense!
After my run on Tuesday, which was really useful as we could not only try a few things but also help us get an understanding of what went wrong at the weekend, I headed home.
I chose to bring not only a new helmet design but also some new boots that matched it to the Spanish GP. I really enjoyed getting involved in the design and coming up with a mirror-effect look. I'm going to do a final tweak and then I think I'll keep this design for the rest of the season. I think it suits the car a lot better. It's just such a cool design and it gave me good luck also, so happy days!
The calm before the storm
Ahead of the weekend, I tried archery at a cool media event with my sponsor Estrella Galicia 0,0. I thought I was doing great because I managed to beat pretty much everyone I was up against. But I knew my cousin and manager Caco was particularly good at it so we went head to head. He likes hunting and he is used to doing archery, so he basically kicked my ass in the playoff. I wasn´t the happiest man that afternoon because we hate losing to each other! But we do all type of competitions throughout the year, so I'll come back stronger next time!
The whole weekend in Spain is hectic. I have my family there to support me but I hardly saw them apart from Saturday night at dinner. The race weekend is packed with events, interviews, fan appearances, media commitments, which fit around when I'm not in the car. I finished the weekend completely shattered but the effort is totally worth it!
When I had dinner with my family, they could see I was a bit drained mentally so they didn´t mind the fact that I skipped dessert and went straight to bed. I slept more than eight hours every day this week, which is not normal for me during a race weekend. Normally with seven hours I'm fine, but during the Spanish Grand Prix I needed more because it was full-on since the very beginning.
Meeting the fans and hanging with family
One of the cool events I did was heading out to meet the fans on my CS55 Grandstand after qualifying on Saturday. Thanks to the Circuit de Barcelona-Catalunya and to the support of teams and sponsors, I´ve been organising this grandstand since 2016 and it just gets better. The target is to make F1 more affordable for the fans.
It was great to see it completely full with fans dressed in our papaya colours. Some even dressed up as chillies – a nod to one of my nicknames! I'm so grateful for their support so it was cool to meet them, sign autographs, take pictures and give out some hats. As you can see from the video below, it was pandemonium out there!
You may have heard it over the race weekend, but there was a funny moment on Friday in a radio transmission. My engineer Tom was trying to contact Daren, spelt with only one 'r', our strategist back at the factory in Mission Control.
I was doing a long run and I knew he had pressed the wrong button, so I tried to joke around and sound like Daren, but it was too obvious! It was a funny moment but it also demonstrates the level of engagement of the people back in the factory during a race weekend. There a lot of people in Woking following the sessions and providing their feedback and it's a tough job communicating with the engineers on track!
As I mentioned earlier, it was great to have my family – my parents and sisters - around in Spain, even if I didn't get to see them much. Around 15 minutes after I finished the race, we all met up in my hospitality room. It's cool to hang out with them in that moment and hear what they thought of the race and how they viewed it from the outside. They told me how excited they got during the last part of the race and how the people around all cheered – I'm so grateful for the support. I then had to make another important decision – what colour pants I would change into! I went for the black ones. Was it the correct choice?
Now to recharge my batteries ahead of one of the highlights of the year – the Monaco Grand Prix. It is a great track for the drivers and for sure one of my favourites. I´ve always qualified in the top 10 and finished in the points there, so I look forward to fighting for maintaining the stats on my side! Thank you for stopping by and reading – I really appreciate it and all your comments - and I'll speak to you in a couple weeks! If there's anything you want to know or see more of, let me know @CarlosSainz55 and I´ll try to show you in the upcoming columns.