Feature
Behind the scenes with Carlos Sainz: Podiums, boxing and hair clippers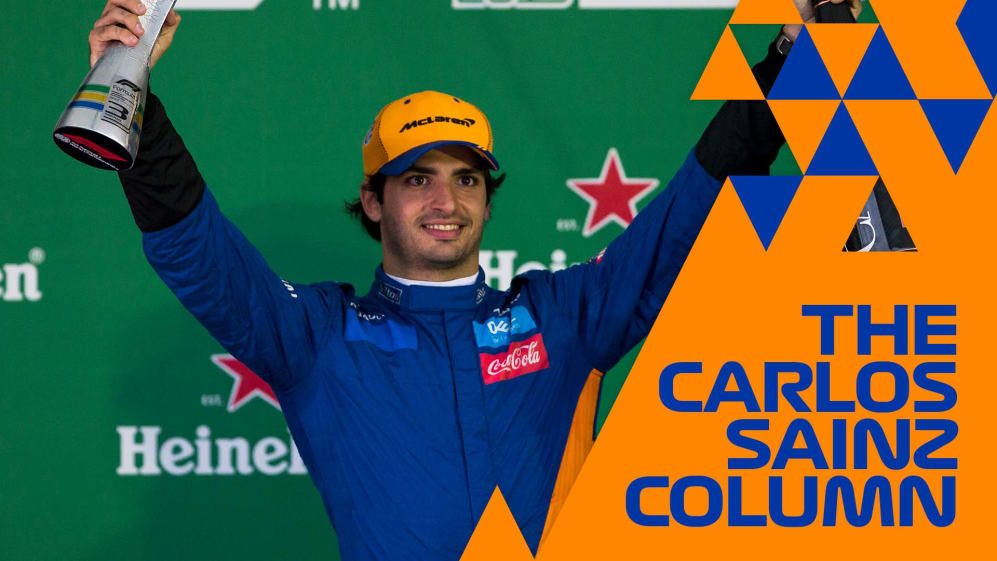 Hi everybody, I'm back in the UK and still digesting what was an incredible weekend in Brazil, where I scored my first-ever Formula 1 podium!
A crazy race
Interlagos is a cracking circuit and it's always great to head back there. The weekend started off OK, but qualifying turned out to be a disaster when we had the engine issue and I couldn't even set a time.
You could probably see the disappointment in my face. I had worked hard with my engineers to improve the car from Friday and it was frustrating not to complete even one lap around Interlagos in qualifying mode. I initially felt quite down but already by the end of the afternoon, I started to change my mindset knowing Sunday was going to be difficult and I needed positive vibes to try to recover. My team of engineers and mechanics also helped creating a positive environment straight after qualifying and into Sunday, with the "Send it!" jokes and messages written everywhere and firing me up ahead of the race.
The race was so much fun – if you've not seen the action you can watch the video above. Much has been said already about my race, the best of my career for sure, and I don't want to go over it too much in this column, so I will only highlight what I consider the two key things of Sunday - tyre management together with overtaking and defence!
Tyre management was key because starting at the back of the grid meant I had to be aggressive on the overtakes to lose as little time as possible coming through the field, but at the same time I had to look after my tyres to make the one-stop strategy work. By lap 21 of the race I was already running P11, the cars ahead of me hadn't pitted either, so I knew I was in a good position to score points.
Defence was important because being the only driver on a one-stop strategy meant I arrived in the last ten laps of the race with my tyres nearly gone and very little grip. I did the longest first stint of the race (29 laps) and then stayed out until the chequered flag on my medium set for 42 laps. After my stop, I came out 15th. Minutes later five of the cars ahead of me came into the pits for their second stop, I was P10.
I overtook Lando, Bottas then retired and I got Grosjean (who at that point was on my same strategy) after an intense restart. By lap 60 I was P7 and I already had Raikkonen piling on the pressure with the fresher tyre. Then came all the drama ahead! Having to hold Kimi until the end was a real challenge, but even with the used and colder tyres after the restarts, I managed to bring it home in front of him and crossed the line P4. The rest, as they say, is history!
I'm extremely happy with my first Formula 1 podium, as you can all imagine. Starting P20, never giving up and finishing P3 makes it very special. When you fight in the midfield the chances of stepping on to the podium are very rare, maybe once a year. In Germany I felt we had missed that opportunity, as I was close to finishing third there, so to get the podium in Brazil means the world to me after a very consistent year.
I'm obviously very conscious that this podium is something difficult to repeat under the current circumstances. However, I feel I have done a big step personally this season and we have been the team with the biggest improvement of the recent years. This result is a great boost for everyone at McLaren, both racing team and factory-based colleagues. I'm very grateful for the incredible effort they have put into this car and the best way to thank them is to bring good results back home!
The post-race chaos
The wait until the podium was confirmed was very tense. It was certainly different – and even made it special. Looking on the bright side, it allowed me to take the most amazing pictures with the whole racing team on top of the podium. Mechanics, engineers, hospitality crew, marketing team, everyone joined me on the podium and that is something I will never forget. Then the phone calls and messages started.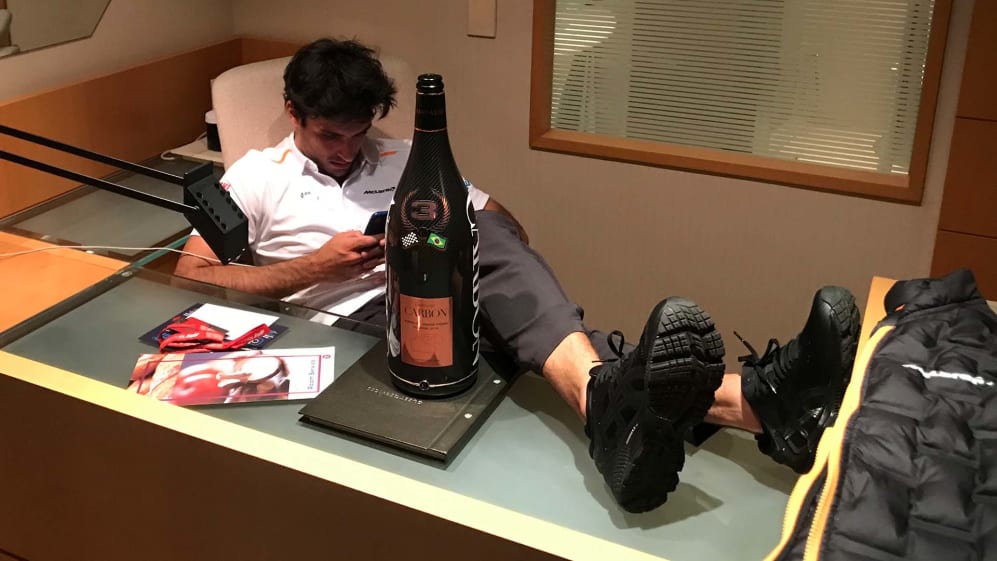 In the car back to the hotel I called my family first. My parents, sisters and girlfriend all watched the race together in Madrid and I was eager to speak to them. It was an emotional Facetime call! My second name on the list was obviously Zak, who unfortunately was not there in Brazil. We had a great chat. Back in the hotel room, I spoke to other family members, friends and my godfather (and former manager of my dad), Juanjo Lacalle, who told me he was getting a 55 tattoo to celebrate my first podium!
Back in the UK
On Monday, as soon as I landed in London, I had a big surprise waiting for me. My mum and girlfriend had jumped onto a plane from Madrid and landed at Heathrow one hour ahead of me. Rupert, my trainer, knew all about it and filmed the video below. After the whole flight sleeping and the unexpected surprise I didn't even react much at the beginning. After a nice shower at home we spent a great day together before they left that same night back to Madrid.
On Tuesday morning I started off the day with an intense boxing session. In Mexico, we bought some new boxing gloves (I had to go for the McLaren papaya colour, of course!) and I was looking forward to trying them on. I have included quite a lot of boxing in my training program this year and I really enjoy it. In December, when the season is over, Rupert and I might have to fight each other to release some tension after such a long season!
That night, we had dinner at Rupert's house. At the beginning of the year he said that if I got my first podium in 2019, he would shave his head. He was a good sport, and let me get the clippers out and do the shaving. I posted a very funny live video on social media – and you can see a clip of it below. He actually looks OK with his new hairstyle! There were some other bets in Team55 regarding my first podium, so we'll see what happens in the upcoming days.
On Wednesday, we had a celebration with the whole team at the factory. We have secured P4 in the Constructors Championship and it was a pleasure to celebrate my first podium with everyone in Woking. It was great to see so many smiles and motivation in the people that have worked so hard to build this car. It was a great boost for next year. There is still a long way ahead of us but I'm sure we'll keep up the good work.
On Wednesday afternoon and Thursday, it was back to work with the engineers and in the simulator. We have to stay focused because there is still one more race to go and Abu Dhabi is a very important weekend for me. I'm battling with Pierre and Alex for sixth in the Drivers' Championship. Both drivers have driven half of this season with Red Bull, so to be fighting with them at the last race of the year is a very positive sign. It's not going to be easy, but we'll give it our best shot. Also, after the team meeting, my friends at McLaren Automotive gave me the keys to a McLaren 600LT that I had configured at the beginning of the year. What a piece of art! And I can't wait to get back from Abu Dhabi to give it a proper spin.
That's all for this week. Thanks for all your messages these last few days and for reading this column. Get in touch via @CarlosSainz55. I'll talk to you when I'm back!