Feature
Behind the scenes with Carlos Sainz: Sushi, FIFA and Suzuka's Super Sunday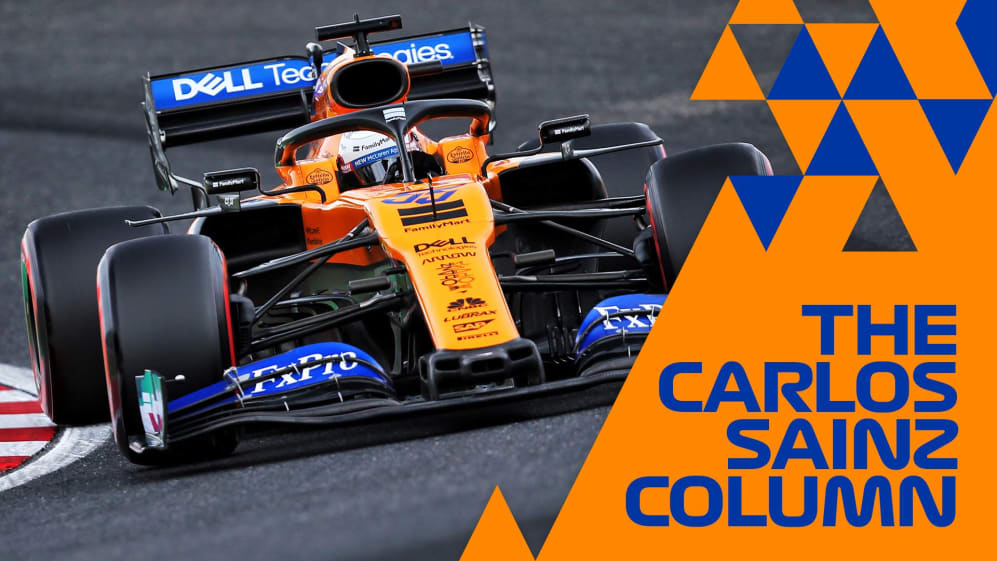 Hi everybody, after a strong result in Russia, it was great to follow that race weekend up with one of our strongest performances of our season in Japan…
Strong out of the box
Suzuka is one of Formula 1's historic tracks – and one of my personal favourites. The Japanese fans are among the most passionate in the world and deliver a sensational atmosphere. Thanks to everyone who gave me amazing gifts over the weekend.
On Friday, even though we started on the wrong foot in FP1 having to stop on track straight out of the pits, we very quickly got on the pace. I felt immediately at home in the car, I could push flat-out in all the fast corners, which requires good confidence for a driver, and that is good news around a demanding track like Suzuka.
FP2 was a little different, as everyone was trying to set quick lap times in case qualifying was cancelled because of Typhoon Hagibis and they used the times of that session to decide the grid. We were in the groove and very fast in that session, finishing P7 behind the usual suspects!
Extracting the maximum in qualifying
With the circuit closed on Saturday, as the typhoon approached, final practice was cancelled and qualifying moved to Sunday. It was a special feeling to pull out of the garage on Sunday morning knowing you had to immediately be on the pace without having had FP3 to get a few laps to warm up the body and the brain.
It was pretty windy, which made conditions challenging and, due to the heavy rain on Saturday, the track was really green so it was difficult to know where the limit of the car would be.
In Q1 I managed to set a lap which was as fast as the time I set in FP2. Straight out of the box I was quicker than some of the cars in the top teams, proving that the confidence was high and I could have a very strong session.
My feeling in the car got better through qualifying and a very strong lap in the last run meant I finished P7 – best of the rest. It wasn't all smooth, though, as we had a problem with the batteries. The older they are, the less energy they are able to recover from the MGU-K, so the data showed it had cost me a bit of time, around a couple of tenths.
In the race it is not such a big problem but in qualifying, where a tenth can make a great difference, it becomes a bigger challenge. In Japan, I compensated with a very good lap.
The strongest weekend of the year
I got a decent start, not the perfect one, but I chose the right lines for Turn 1 and Turn 2 and that gave me the chance to fight with Lewis into T3. He was in my blind spot and by the time I saw him it was already very tight there. He had better traction and came really fast, so I couldn't complete the overtake. But from there on, I settled into my pace in P4.
My good pace and the strength of our package became clear when Albon couldn't pass us on track, he had to do it by strategy. I could have pitted to cover from his undercut but we decided to go long on our first stint with the softs. That meant we could make our one-stop strategy work and have fresher medium tyres to push at the end of the race.
At that point the race was quite lonely, until the team let me know Charles had cleared the traffic and was coming up fast, so I picked up the pace and managed the gap to the Ferrari, forcing him to damage his tyres and eventually pit. It was our third P5 of the season, which is a very strong result.
It was probably the strongest weekend of the season for McLaren as a team in terms of pace and for me in terms of execution. I'm really pleased. It's not easy to finish best of the rest consistently as the midfield is tighter than it looks. The only downside was that Lando couldn't finish in the points due to an unlucky situation. The team definitely deserved a double point finish in Japan!
A strange day off on Saturday
With Saturday's running cancelled, Friday night was more relaxed than usual. Normally you go to bed very early and try to focus on qualifying. But as we didn't have to go in on Saturday, we went bowling that night. As you can see from the video, in our costumes, Pin Norris and Mario Sainz had some good fun!
As you all saw on social media, on Saturday we mostly played FIFA. It was a rare relaxed day chilling with a few of us drivers in the hotel as we were advised not to leave because of the conditions. Checo and I dominated the team championship, which was two against two. In the individual competition, I have to admit Max and Checo are a step ahead of me so I probably need to play a bit more! But it was good fun!
Local cuisine
I love how good the food is in Japan. I went for Sushi on Wednesday with our engineers. Thanks to Hiroshi, our chief engineer, we went to this very special and authentic restaurant where we ate the best sushi I have ever eaten.
There were some interesting pieces, like guts of fish. It was not as bad as I thought, but it had a very strong flavour of sea salt. It was a very weird taste, which was nice, but a bit overpowering!
On Sunday night we went to Matoba, one of my favourite restaurants ever, with Lando and his team and my team. We go to visit this place every year. They do an incredible Japanese and Korean beef with a special sauce on the grill. We always have fun trying to speak Japanese with them. It's such a fun experience and they are super friendly. Food in Japan is the best of the season!
Less practice would be good
There was a lot of talk about Super Sunday, with qualifying and the race taking place on the same day. Amid discussions about the race weekend format for the future, a consequence of the typhoon meant F1 was able to experiment with a different weekend format and see how it impacts the spectacle.
I fully support having shorter grand prix weekends. We have too much practice and the Formula 1 weekend is a bit too long, especially with this many races.
However, I don't agree with putting qualifying on Sunday as it takes away from the spectacle. By doing qualifying in the morning and then the race a few hours later, there isn't really time to digest how good and intense a qualifying session is.
Normally on Saturday night, there is a lot of talk about qualifying and a lot of hype for the race. Then on Sunday, as you don't get in car till 2pm, there's a lot of build-up and tension. I believe we need to keep this.
I'm in favour of reducing the amount of free practice. I enjoyed doing qualifying without having done FP3 just a few hours before. It was fun having to experiment and go flat out in Q1 without really knowing what the car was going to do. I think it benefits the show and a shorter weekend would bring down a bit the huge amount of work that is done by the team crews, especially mechanics.
And that's it for this week. Thanks for reading, I appreciate your support. As ever, stay in touch with me via @CarlosSainz55. I can't wait for the Mexico-United States double header. I'll speak to you when I'm back!