Feature F1 Unlocked
Behind the scenes with Logan Sargeant: Williams' rookie on his home race in Miami, and why he can't wait for Imola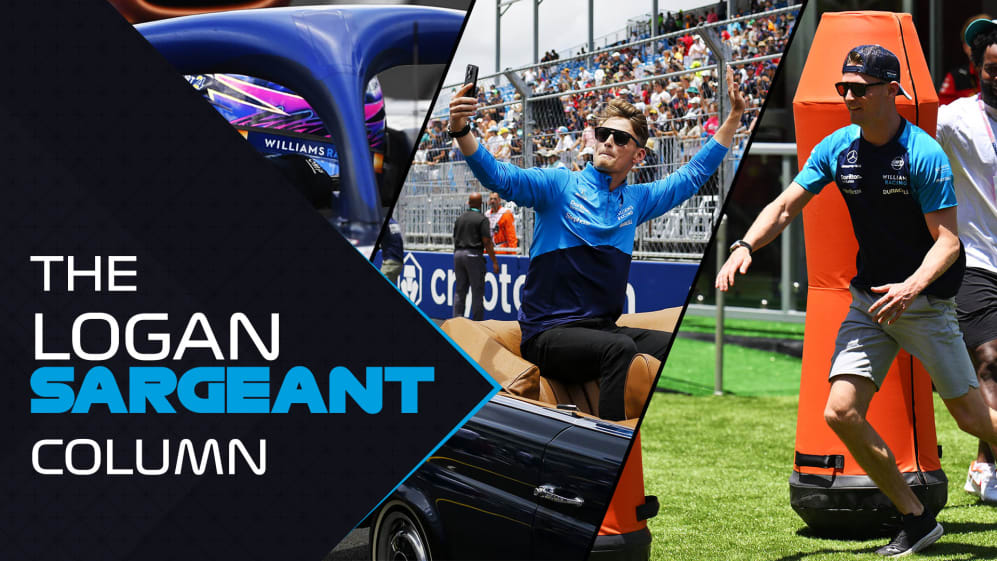 Hi all, I'm back with my second column for F1.com. My rookie year has been up and down - but I'm absolutely relishing the challenge and wanted to catch you up on how things have gone so far…
The first five races
There have been positives, there have been negatives but that's to be expected at this point in my Formula 1 career. I started the first two rounds strong. In round two in Jeddah, it was going to be a really good qualifying but I had a time good enough to progress deleted and then I didn't make it happen on the other two laps. But it was still an encouraging start.
Then I had two circuits I've never driven before – Melbourne's Albert Park and Miami's street track – (with Baku in between) and that made things quite a bit more difficult. Nonetheless, I learned a lot and enjoyed them a lot.
Baku was getting better and better through each session, but the crash in the Sprint Shootout overshadowed the weekend, even if there were positives to take with me making it into Q2 in both qualifying sessions that weekend.
READ MORE: Sargeant admits he 'put the car in a place I shouldn't have' as Lap 1 damage wrecks his home race
My home race in Miami was an incredible experience. I was born just 30 minutes away from the track in Fort Lauderdale, so it was pretty cool to be there racing a Formula 1 car in front of an incredible crowd. The drivers' parade was one of the coolest moments so far of the year. I loved interacting with the American fans on a weekend which was busy from start to finish.
On track, it was more difficult in terms of trying to get up to speed with the track, especially sector one. It wasn't until qualifying that I felt it was coming together, but it was a bit too late by that point.
When the field is so tight the margins are so small and even the smallest of mistakes can cost you. It was disappointing to start 20th and then make contact on the first lap which forced an early pit stop, but I felt like I managed the tyres well to make for a good learning experience.
BEYOND THE GRID: Mario Theissen on heading up BMW's F1 efforts, working with a young Vettel, and Sauber's Montreal 1-2
Williams are giving me their full support, which is a great feeling. We all know it's there to be done - that's why the support is there. It's about trying to execute a cleaner weekend, not worry too much about pure lap time or pace, and then take it from there. We are trying, though that is easier said than done.
Keeping busy off track
Back in Melbourne, my trainer Ben Jacobs, an ex-rugby player, and I had the chance to throw a ball around with a couple of rugby pros Reece Hodge and Andrew Kellaway. I played rugby a bit at school, so I was sharpening up on my passing! My trainer kicked a conversion on his first attempt, which was pretty cool!
We flew straight from Australia to New York for three days with Williams. We did media activities from 9am-4pm every day. My brother came out to see me and we had from 4pm until after dinner to hang out and see the city. I loved it from the second I landed.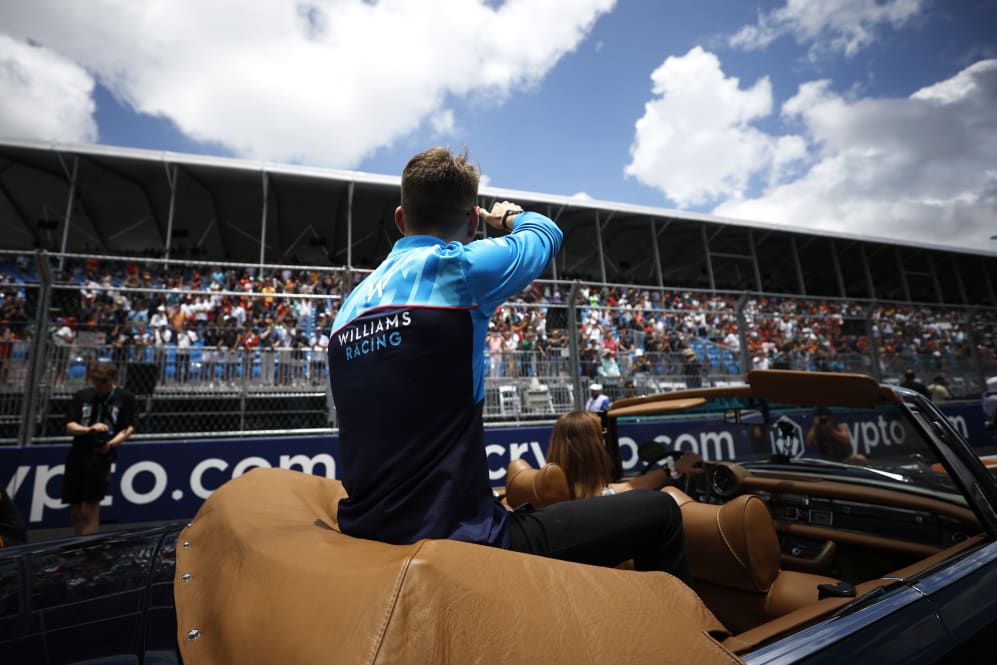 I went once when I was a kid, but I couldn't remember that experience. It's one of those cities that when you visit, you can feel an energy – that there's something special. I don't know if that's me being biased as an American! Maybe I don't get it so much anymore in London because I live here and I'm used to it. But I loved New York and I can't wait to go back.
The best thing we did work-wise there was some media at the top of the Empire State Building. We were lucky enough to go to the private viewing area. It had 360-degree uninterrupted views of the city and you could lean over and see just how steep the drop was!
WATCH: Laughs, an epic penalty shootout and targeting the host as Tsunoda and De Vries take on 'Goggle Games'
My favourite non-work activity was heading to a famous restaurant in Brooklyn called Peter Luger. It's one of New York's oldest steakhouses and has been there since the 1880s. The quality of the steak was unbelievable, as was their own steak sauce.
Oops! Error retrieving Twitter post
In Miami, Alex and I took a convertible for a spin downtown. I was behind the wheel, as Alex will get his shot when we do a similar cruise around Monaco later this month.
We got recognised quite a few times along the way, which is always nice. It was great to spend a bit more time with Alex. During the drive, we had a bit of a chat about how we thought the first part of the season was going for us, but more in particular as a team.
THIS WEEK IN F1: 10 quiz questions on the latest F1 news after the Miami Grand Prix
A highlight of the drive was making a stop at Walt Grace Vintage in Wynwood. The place was packed with vintage guitars and vintage cars. It was a very cool spot.
Bring on the European leg
Nothing has come together yet for me this year but coming to Europe, starting with Imola in Italy, I think everything should be a bit easier. Arriving at a track that I've raced at before makes a huge difference. You don't have to build up into the weekend as much and you are able to attack FP1 much more. That allows you to get closer to the limit, which means you have more time to do less than what I'm having to do at new tracks.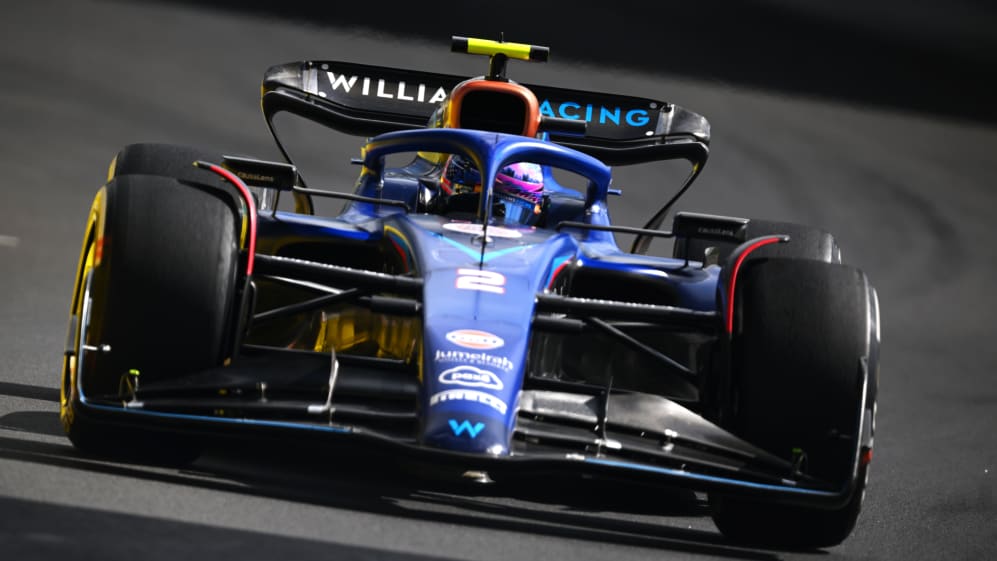 That's been the biggest challenge – going somewhere new and not being able to get to where I need to be quick enough and leaving myself with too much to do come qualifying.
READ MORE: 'I loved every second of my F1 debut' – Logan Sargeant takes you behind the scenes in his exclusive new F1.com column
When you have driven a track many times, you know how it must be driven, what you can ask of the car, how each corner needs to be driven. At a new track, you're learning that as you go on the fly. Those little differences make a big difference.
I can't wait for this European triple header. I'm giving it everything – I just need to string it all together.
Thanks for all the support and speak to you soon.
Logan

To read on, sign up to F1 Unlocked for free
You'll unlock this article and get access to:
Live leaderboard data
Epic experiences and rewards
Money-can't-buy competitions