Feature F1 Unlocked
Behind the scenes with Pierre Gasly: The Alpine racer on that Zandvoort P3 and hanging with football stars at Monza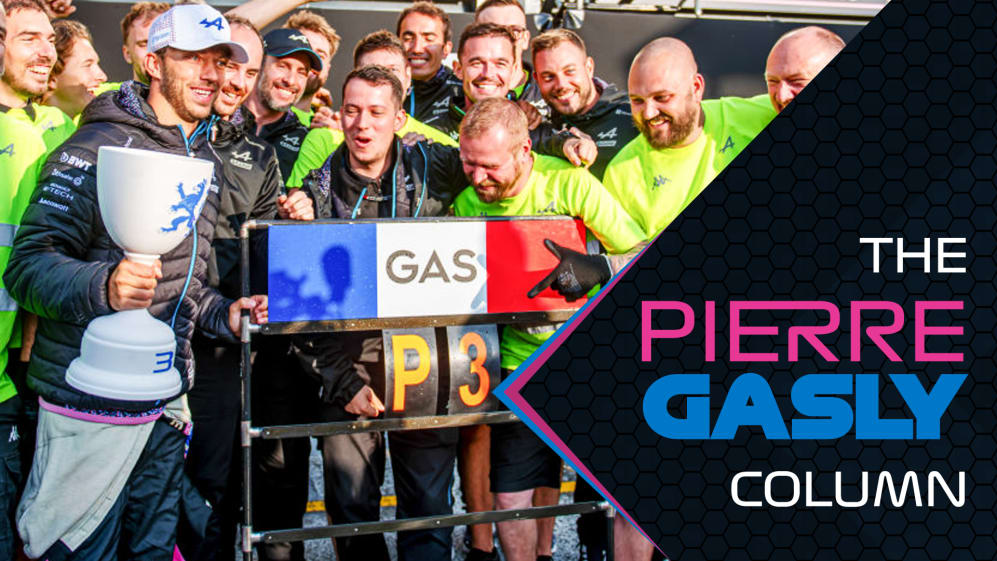 Hey everyone, it's safe to say the past few weeks have had their fair share of ups and downs. There has been so much going on, highlighted by the podium in Zandvoort and then a difficult weekend in Monza. In my latest column, I'm excited to share with you my thoughts and feelings from the past month or so…
Ch-ch-ch-ch changes
It's been a while since I've put my thoughts onto paper. And, in that time, we've had plenty going on. Just before the summer break in Spa, we went through a real rollercoaster of emotions. As clichéd as that sounds, it's true. It was an honour to bring the paddock together on Thursday in Spa to remember my friend Anthoine with a track run. Looking back, that was an incredibly special moment and I was really thankful for those who braved the quite awful conditions to take part.
And then the team went through some changes.
We have big ambitions as a team and, as a racing driver, all I want is to drive the fastest car possible. I'm certainly grateful for the support and service of Laurent, Otmar, Alan and Pat, but as a team, we've moved on and we are focusing solely on those at the team as of now.
READ MORE: Alpine confirm Team Principal Otmar Szafnauer and Sporting Director Alan Permane to leave team after Belgian GP
There is a positive buzz in the garage, everyone is pulling in the same direction led by Bruno Famin, and by Julian Rouse, who I actually used to race for back in my Formula Renault 3.5 days at Arden. That was in 2014 and we finished second in the championship as a rookie behind Carlos Sainz! I have a great relationship with Julian and I've enjoyed having him around again in Formula 1 now.
Silverware
It was great to take home some silverware into the summer break with third place in the Spa Sprint race. It was certainly a satisfying feeling and a great motivation boost for the team going into the holidays.
We aimed to begin well in Zandvoort, but I don't think any of us expected the result we achieved there… What a race that was! I think we entered the race weekend with humble expectations. It was a track where our competitive level would be fairly reasonable and in and around the top 10 as we have been regularly this season.
Qualifying was probably a little short of where we wanted to be, but we turned things around on Sunday. It was a long, strange race. When you have rain hitting your visor on the grid you know the cards might shuffle and that's exactly what happened.
READ MORE: Gasly hails 'massive motivation boost' for overhauled Alpine after 'insane' run to P3 at Zandvoort
I made a bold call at Turn 12 to box on the opening lap. "Box now! Box now!" I yelled, and I really did not care what the pit wall said back, I was coming in that lap for Intermediates. It turned out to be the right call as we saw.
Honestly, from there, I knew I had a big chance for a top result, whether it was to be top five, top three or whatever, we were in the mix and well in the race, competing on merit with the Ferraris, Mercedes and Astons. I probably had some unfinished business in the back of my mind from moments like Australia, which slipped through our hands in a similar scenario with the red flag restart and short sprint to the line.
We were fortunate with Checo's penalty but even so, I had one earlier in the race for a similar infringement in the pit lane, so I believe we got there on merit. Also, we had a great on-track fight with Carlos, who I passed around the outside of Turn 1, which effectively was the move to take the podium.
It's such an incredible feeling to be on the Formula 1 rostrum. I've experienced it four times now and honestly it means so much. The team really deserved this result and I know everyone at Enstone and Viry have had some time to see the trophies as this is for them. We just want to experience these moments more and more and that is what each and every one of us is working towards on a daily basis.
WATCH: 'It's a massive boost, I must say it feels good' – Gasly beaming after scoring first podium with Alpine
Reality check
If Zandvoort was an immense high, then Monza was certainly a bitter low. It was a pretty painful weekend for us in Monza and one I intend to move on quickly from. We did expect it to be a tough one as we know where the strengths of our package are and the characteristics of Monza simply do not play into our hands.
That said, it was a weekend filled with learning and that is always a good thing going forwards. There will be tracks of similar nature to follow this year and it means we can be better prepared for those.
Khaby, Vini, Oli
Away from the racing, I did enjoy my time in Monza, mainly because it means I stay at home in Milan for the race weekend! I spent some time with family and friends and that is always nice and a rare opportunity.
I had Yuki over to my flat for a long-awaited dinner. I knew my place as sous chef to Yuki who cooked what I will call 'Yuki fried rice'; a combination of chicken, eggs, onions and very specific Yuki-selected rice! I must say it was pretty good and it was great to spend some time with him away from the track.
READ MORE: 'I just want to say thanks' – Gasly pays tribute to departing Alpine bosses as he lets news 'sink in'
As a team, we welcomed Khaby Lame and Vinicius Jr to the race and I love it when different worlds cross paths. Khaby is great, a real star of social media and it was good to catch up with him before the race. Vini and Olivier Giroud too. I'm a big fan of football, it's a topic I could talk about all day, so when people of that status – international stars at the top of their game – come to visit, it's a real pleasure!
All eyes East
I stayed at home in Milan for a few days after the race. Right now, I'm into Quarterback on Netflix. I love watching other athletes in their sports and seeing how their mindset is and how they prepare for action. I quite like watching Patrick Mahomes and having an insight from him into what it takes to be a top level athlete in such an intense sport like American Football.
I'm sure other athletes watch Drive to Survive for example and maybe say the same thing. Drawing comparisons between sports, for me, is fascinating.
Oops! Error retrieving Twitter post
I squeezed in some padel and some golf with my brother Paul to keep ticking along, which is always fun. I'm really getting into golf at the moment. While it can be frustrating quite a lot of the time actually – but it does have its moments of joy!
I actually had my first ever eagle over the summer on a Par 5. Strange – I never got the Captain's Pick call from Luke Donald for the European Ryder Cup Team. There's always next time, I guess… I will have to see if Lando or Carlos want a round at some point and find out who is No.1 out of us F1 drivers! Watch this space…
READ MORE: Gasly and Ocon reflect on 'very painful afternoon' at Italian Grand Prix
Finally, we had the Pirelli 2024 tyre test in Monza on Wednesday before I was back at Enstone preparing for Singapore and Japan. It will not be an easy two weeks out in Asia. It's an extremely challenging part of the calendar with humidity and jet lag to contend with but that's all part of the game.
I'm determined to bounce back at Marina Bay next weekend and secure a good team result and have the #10 car back in the points. Until then, thank you for reading and hopefully by the time of the next one we'll have even more success to talk about!
Thank you all for your support!
Pierre

To read on, sign up to F1 Unlocked for free
You'll unlock this article and get access to:
Live leaderboard data
Epic experiences and rewards
Money-can't-buy competitions