Belgium preview quotes - Sauber, Williams, Mercedes, Renault & more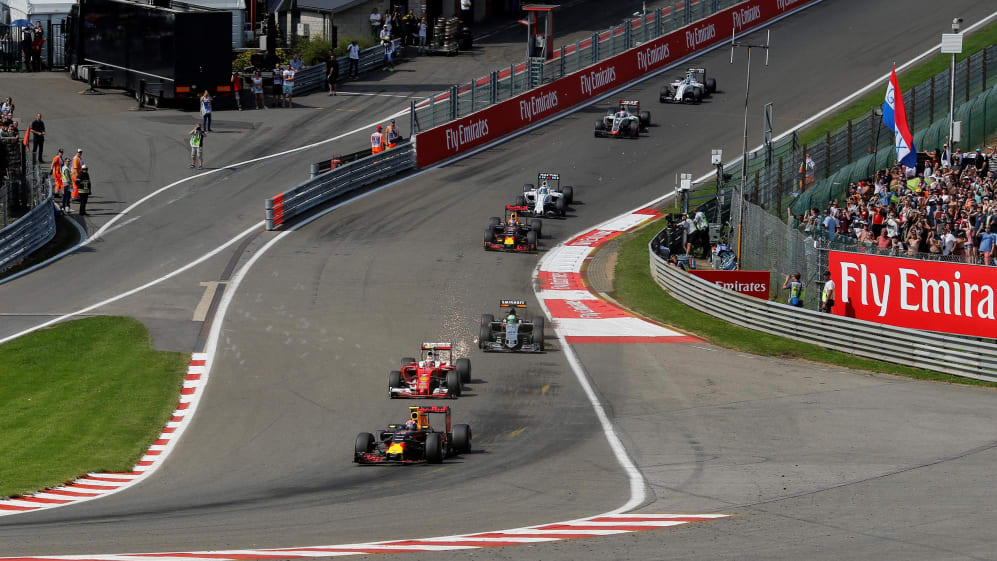 Fresh from the summer break, the Formula 1 paddock reconvenes next weekend at one of the calendar's most historic venues, the famous Spa-Francorchamps circuit. Those involved look ahead to the 2017 Formula 1 Pirelli Belgian Grand Prix…
Sauber
Marcus Ericsson
"It is good to be back in motion after having had some time to rest during my holidays. We are off to Spa this weekend, which is definitely one of the highlights of the year. It is a good challenge because of all of the high-speed corners, especially the famous Eau Rouge corner. The weather usually plays a big role there, so that should add an extra spark to the weekend. As for Monza – it is one of the most historic races on the calendar, and always a pleasure to come back and meet the enthusiastic Italian fans there. Since Monza is a low-downforce track, it will be essential for us to find the highest possible top-speed in the straights."
Pascal Wehrlein
"It's great to get in the car again after the summer break. I took some time to reflect on the first part of the season and feel confident returning to the track with a boost of energy. Our first stop will be Spa-Francorchamps – the track is famous for its interesting corners and it is both fun and demanding to drive there. The atmosphere is always great and the fans are incredibly passionate. After that, we will travel to Monza, which is one of the most traditional tracks on the calendar. I can't wait to start racing again."
Williams
Felipe Massa
"Spa is one of the best tracks in Formula One. I think it will be incredible to drive there with this new car, with more downforce. Eau Rouge will feel like a straight but so many other corners will also be amazing to drive. I am also going to be wearing a special 'Joy of Racing' helmet designed by a great Spanish artist called Kenor. It will look great, and a lucky fan will also get the chance to win it thanks to Martini. I'm really looking forward to a great race at Spa."
Lance Stroll
"In Spa, I am heading to my second home race of the year. I am half Belgian, as this is where my mother was born, so I do have an affinity with the country. However, I have to admit that, unlike most Formula One drivers, Spa is not my absolute favourite. Having said that, I did win there last year in Formula 3, so I can't complain about it too much. It is a very interesting track with some amazing sections and also there is always that air of uncertainty regarding the weather. You can have it raining in sector three and dry in sector one."
Paddy Lowe
"Spa is one of the greatest tracks on earth, in my opinion. It is one of the longest standing venues on the Formula One calendar and has been the setting of many dramatic races in the past. It has a fast characteristic, with a lot of changes in elevation, rewarding power and downforce. The most famous Eau Rouge corner is now generally taken flat, so actually not really a limiting corner. Eau Rouge leads onto a long uphill straight. The combination makes overtaking relatively frequent, with cars able to trade corner exit speed, slipstream effects and, with the current hybrid power units, the remaining energy in the battery. The weather in the Ardennes is notoriously tricky and can change from sun to rain and back again in a matter of minutes. The very long lap makes the timing of tyre changes from wet to dry, or back again, either look particularly heroic or disastrous. For Williams, this track should play to the strengths of the FW40 car. Felipe is very experienced at Spa and Lance has also won the race here in F3, so we look forward to getting the very best from this weekend."
Mercedes
Toto Wolff, Head of Mercedes-Benz Motorsport
"The summer shutdown came at the perfect time for us to make a step back and take stock of our season so far. It has been a good one - and has shown a lot of the qualities of our team.
"On paper, people will assume that Spa should suit our car because it is a circuit where aerodynamic efficiency is extremely important. But assumptions are dangerous - we have seen too many times already this season that the form book can be rewritten from one weekend to the next. So we will be making no assumptions; we have to tick off the items on our work list and make sure we do the best job to maximise our potential points score.
"The motivation and determination in the factory are greater than ever. Hungary showed the strength of our team - and we intend to use the second half of this season to prove that strength."
Renault
Nico Hulkenberg
"It's one of my favourite tracks and certainly up there with the best in the world. The forest there is amazing and the track itself sits in some outstanding scenery. It features a lot of elevation and of course, it has Eau Rouge. When you see these bends in real life it's special but when you drive them, especially in a Formula 1 car, it's super special. Eau Rouge is going to be flat which is exciting and Pouhon too will be good and extremely fast.
"There are many corners and it's the longest lap on the calendar which makes a good balance very important. It's about putting those sectors together and being on top in every corner, that will give you a good lap time and that's the key challenge of Spa. I like the middle-sector in particular. It's quite busy, flows quite well and is just fun to drive. Spa is known for its strange and random weather, so we have to make it count whether it's wet or dry."
Jolyon Palmer
"The first thing that hits you is Eau Rouge, it's just incredible. You see it on TV, or on the on-boards, and it looks awesome but to drive it is simply immense. Nothing prepares you for heading flat out down the hill and then coming up the other side and down that straight. Pouhon will be an exciting corner this year, it brings a real challenge as it's a very quick double apex left. Blanchimont is flat and leads into the Bus Stop chicane, which is a great overtaking place.
"I won a race in Spa back in 2008 in the Formula Palmer Audi series. I remember it was wet – which is fairly typical for Spa! I've been on the podium in GP2 there but missed the win in that class. I was on the front row in 2014 in GP2 and had a decent F1 qualifying last year. I've had some good memories but I'm driven to make some more."
Remi Taffin, Engine Technical Director
"We have the potential for a good result. Over the last few races our cars have been performing well and I can't see any reason why Spa can't continue that trend. Spa has high speed corners as well as a few straights which can be a real test. We have to deal with the challenging section between La Source through to Les Combes. Drivers are full throttle for almost 2km and encounter the notorious Eau Rouge which will be fully loaded in this year's cars with a lateral force of -3g. Spa will be strenuous on the power unit given around 67 percent of the lap is spent at full throttle. But we have drivers driving well, a chassis that is performing well and an engine which is on track - Spa and Monza will see new software and hardware updates; it's all pointing in the right direction."
Cyril Abiteboul, Renault Sport Racing Managing Director
"The Belgian Grand Prix marks the beginning of the home stretch of the season and it's vital that we hit the ground running by making a return to the points.
"Clear steps are being made and we are heading in the right direction in terms of pace and reliability. The summer break came at a welcome time as we had the opportunity to reflect on these past few months and take a recharging period.
"We are excited to get out to Belgium and restart the season on a bright note, but in order to do that we need to stay focused and work hard together as a team. Finishing the season in fifth is our objective, but it will take resilience and determination from everyone at Renault Sport Formula One Team."
McLaren
Fernando Alonso
"I love the first race after the summer break! It's a great feeling to come back feeling rested, relaxed and recharged, and ready to go again for the second half of the season. I've enjoyed time away with family and friends, worked hard on my training and now I'm really looking forward to getting back in the car.
"Spa is incredible – for many of us it's one of our favourite tracks. It's got a legendary reputation and it's totally deserved. The feeling when you drive Eau Rouge is completely different to any other corner on the calendar. You're so low in the car and the gradient is so steep that as you go up it you can only see the sky – it's completely surreal.
"As the season goes on we're getting stronger and stronger, and I hope the second half of the year will bring us some more points-earning finishes. This race is a difficult challenge for the whole team – the engineers and the mechanics – as you're on the throttle for almost three-quarters of the lap, which makes it's a tough circuit for both the car and the driver. We know we'll have to work hard to get any kind of result there, but it's a long lap and there are plenty of overtaking opportunities, so we'll keep pushing to get everything we can from the weekend."
Stoffel Vandoorne
"I've been looking forward to driving in my first Belgian Grand Prix as a Formula 1 driver for so long. It's exciting for any driver at their home Grand Prix because it's always a special weekend. It'll be great to have the backing of my home crowd, and there'll be a lot of fans out there, as well as family and friends coming to support.
"After a busy first half of the year you always look forward to a holiday, but after a few days I already wanted to be back in the car! But it's been good to have a bit of a break, reflect on what's happened in the last few months, analyse the good things and the bad things, train hard and then come back even stronger in Spa for the second half of the season.
"The start of the season has definitely been challenging – not only from my side but for the team as a whole. We've suffered a few problems which have hampered our running, and I think maybe from my side it took a bit more time to really understand what I needed from the car because of those problems. However, more recently we've been seeing the results of a lot of hard work I've been putting in with the engineers and with the team back at the factory. Everything we've been working on has been a good step, and from that we've seen positive progress. The margin for improvement is still significant and there's more good things to come, so I'm hopeful the next few races will be promising for us."
Eric Boullier, Racing Director
"Going racing after the summer break is always a good feeling. We've all had the chance to recharge our batteries and spend valuable time with loved ones, and now we're raring to go racing again. The Spa-Francorchamps circuit is always a special race for the team, and this year's Belgian Grand Prix will be even more poignant.
"Firstly, it's the home race for our very own Belgian driver Stoffel, who will be tackling his favourite circuit as a Formula 1 driver for the very first time. Secondly, Spa is the venue at which our founder, Bruce McLaren, won his first-ever grand prix for his team in 1968. What's more, this year we'll be celebrating another very special milestone: Bruce would have celebrated his 80th birthday on 30th August, so on Sunday we'll be honouring his incredible legacy with a fitting tribute.
"We've certainly endured our fair share of ups and downs in the first half of the year, but we still have our sights fixed firmly on our goals for the end of the season and there are nine more races to demonstrate the fruits of the incredibly hard work we're putting in behind the scenes. It's a long season, and there are plenty more opportunities for us to push hard and score valuable points. Our reward will be continued progress, and I hope we can show the enthusiastic Belgian fans an enjoyable weekend of racing."
Yusuke Hasegawa, Honda R&D Co. Ltd Head of F1 Project & Executive Chief Engineer
"After having a short but refreshing summer break, we're now heading to Belgium to start the second half of the season.
"Spa-Francorchamps, one of the most popular and historical tracks on the calendar, is a tough circuit for the car with the long straights and various high-speed corners.
"It's also said to be one of the most difficult but favourable tracks for drivers, as they are able to prove their own skills and courage through some difficult sections such as Eau Rouge, one of the toughest corners on the calendar.
"McLaren Honda had a positive wrap-up of the first half of the season in Hungary with a double points finish in the race and also collected some precious data for improvement at the in-season test.
"Now on to the second half, we see Spa-Francorchamps as a challenging circuit for us with its power-hungry features, however we will try our best to have a good race and maintain the momentum we acquired in Hungary."
Toro Rosso
Daniil Kvyat
"Spa-Francorchamps is a legendary track and one I really look forward to racing at every year! It's definitely one of my favourites and I think every driver likes it a lot… It's just impossible not to!
"It's a great circuit with big history. The first thing that comes to mind when you think of this track is the legendary corner of Eau Rouge but I have to say that, in a way, every single corner there is special and unique.
"It's also the longest circuit on the F1 calendar and a very flowing one, which makes it a very enjoyable experience. This is the only circuit where we do the track walk on a scooter, because it's too long to walk a lap of it!
"Another interesting thing about this circuit is that it's so big that it can be raining in one part but dry at another, so it can make racing very interesting and you need to be ready for everything!
"It's also interesting and fun to race there because of the slipstream – it's easy to find a tow at some point during the lap and this can become very useful at times, especially during qualifying."
Carlos Sainz
"I really like racing in Spa because it's a track that has a bit of everything. It has very long straights where good overtaking can take place, but also very nice corners – Sector 2 in particular is very nice and flowing. It's tough to find a compromise regarding the balance of the car and the set-up for the long straights and Sector 2, but I enjoy the challenge.
"There's a corner there that's maybe not as famous as some of the others, but that I like a lot and it's one of the toughest. When you say Spa, everyone always thinks of Eau Rouge, but actually one of the most difficult corners in the world is Pouhon – we drive there at around 260km/h, in seventh gear, and it's a turn to always keep in mind!
"Spa is one of my favourite tracks but, strangely enough, I've never finished an F1 race there…! I think the race in 2016 was even more frustrating than the one in 2015 because I had done one of my best first laps of my life – I started from P15 and I was P7 after lap 1 – but I suddenly got a puncture in the middle of the straight due to carbon fibre pieces… So unlucky! I remember being so motivated and suddenly all the highs of that first lap disappeared… I was quite annoyed. Third time lucky, they say…
"I remember that last year it was very warm during the race weekend, warmer than in Spain, so it was quite a special weekend, difficult to sleep at night because of the heat! We were in Belgium but it suddenly felt that we were somewhere in Spain, enjoying the summer!
"On the way to the track we drive past many bars and restaurants where you always see people enjoying some moules, waffles or fried chips… It makes you want to join them, but during the race weekend I can't ever do that… Maybe this year I can try and get away with it and have a cheat meal there!"
Pirelli
Mario Isola, Head of Car Racing
"Pirelli was racing at Spa for the 24 Hours last month, which showcased everything this circuit is famous for: changeable weather, unpredictable competition, and heavy demands on the tyres. Now that we are bringing the ultrasoft tyre there for Formula 1, we would expect those demands to increase further with the latest generation of cars: two stops would appear to be a likely strategy but we will know more after the first free practice sessions. Working out the optimal race strategy is especially tricky at Spa as it has to be flexible: the possibility of rain, safety cars, or even a red flag – as we saw last year – means that teams often have to react to changing circumstances rather than follow a fixed plan."
Force India
Sergio Perez
"I'm feeling fresh and relaxed after the summer break and really looking forward to getting back to racing. I had a very nice break with my family, but now I can't wait to be back on track.
"Belgium is the one of the best circuits to experience an F1 car. I love the high-speed layout, the history of the place and you get to meet some very passionate fans there. It's just a great weekend and there is also the question mark over the weather. It nearly always rains at least one of the days.
"Pouhon is one of my favourite corners of the year. It's so quick and satisfying when you get it just right. The 2017 cars will feel extra special through this part of the lap, as well as through Eau Rouge.
"As we begin the second part of the season, I want to improve on what we have done so far. We have been competitive, but we also lost a few chances to score more points than we did. Hopefully we will make up for those lost points in the races to come."
Esteban Ocon
"I had a great summer holiday in the south of Spain. My batteries are fully recharged and I'm looking forward to getting back in the car. It's now a year for me as a Formula 1 driver and the time has gone by really quickly. So I'm no longer a rookie!
"Spa is where I made my debut last year. It's a great track, but it's not necessarily one of my favourites. There are some special corners, especially through sector two, which has a nice rhythm. It's a circuit where you have to be totally at one with the car because you need to be really committed through the high-speed corners.
"Spa is usually a good track for racing because it's easier to overtake there compared to some other tracks. There's also the famous Spa weather which brings unpredictability. I don't mind if it rains because it could bring some more opportunities our way.
"I think we can be competitive this weekend regardless of whether it's dry or wet. The layout of the track should suit our car quite well. Everybody loves driving through Eau Rouge and it's certainly the most famous part of the lap. In these cars it will be an amazing experience. Maybe the first lap of the race will be a bit of a challenge, but after that I think we should be able to take it easily flat."
Tom McCullough, chief race engineer
"Spa is an iconic circuit and a great test for Formula One machinery, even more so this season. It's the longest lap of the season with a mix of slow and quick corners, long straights and elevation changes: finding the right setup is always a challenge. There are some unique corners, like the Eau Rouge/Raidillon complex with its rapid compression and decompression, which will be asking a lot from the driver, the car and the tyres. There are also many long and fast corners putting big loads through the tyres: it will be important to understand how the compounds on offer, the three softest of the range, work in these conditions. Usually, races in Spa are very entertaining: there are many overtaking opportunities, mistakes are easily punished and the weather can play a big part. It often rains and the extended nature of the circuit means you could be driving on a completely soaked track in one sector and on bone dry tarmac in another. Choosing the right strategy and being ready to adapt to the changing circumstances is crucial."
Vijay Mallya, team principal
"Spa is always a special weekend for Formula 1. It's one of the greatest circuits in the world and a marvellous venue to appreciate the best drivers in the fastest cars. It's been a happy hunting ground for this team too and I'd like to think we have a good chance of adding some more memories this weekend.
"We're over the half-way point of the season now and feeling upbeat about the remaining nine races. Along with Spa, there are some other tracks coming up that should allow us to show the speed of the VJM10. We are pushing hard with the development of this car and there are some further steps we will introduce over the next few events.
"Our consistency has been our strength this year. We've scored points in ten of the 11 races so far and had double points finishes in nine of those races. I'm proud of the team for this achievement and it shows that all our hard work is paying off. We've still got our sights on the podium for this year and if the opportunity arises I believe we are ready to take it."
Haas
Romain Grosjean
"It's just a great track. There are very high-speed corners and there are a lot of turns, different types, some high speed, some low – just a good variety overall. It gives you a good feeling to drive.
"You always see different approaches at Spa. Either you're fast in sector one and sector three, which are the high-speed sectors, or you're fast in sector two, which has more of the corners. Both work pretty well, so it's a matter of how you want to approach the race.
"The first lap you go through (Eau Rouge and Raidillon) flat out, you feel sick, like you're on a rollercoaster because it goes up and down. You're thinking, will I make that for the race? But, once you've done it once, it's all ok and you just enjoy the g-forces.
"Eau Rouge is certainly a corner where you don't want to have a mistake. Qualifying in clean air is certainly quite good. On the other hand, if you get a big tow, you can have a massive advantage going into turn five. There's a bit of an argument for both philosophies there."
Kevin Magnussen
"I've won in every category I've raced there with the exception of Formula 1. I have many good memories from competing at Spa. Eau Rouge and Pouhon are probably the best sections, but the whole track is just amazing. It's fast, challenging and fun."
Guenther Steiner, team principal
"We are bringing some items for low downforce or low drag for Spa and Monza, and we are as confident as we can be that it works, but everybody else will be doing the same. It will be, as always, a tight pack in the midfield. It is nice to have two similar races one after the other. If you're good in Spa, you normally should be good in Monza as well, but it can go the other way, too. So, let's hope we are good in Spa.
"Everything is possible here. In Austria, we had the fourth-fastest car. And in Hungary, Renault had the fourth-fastest car. It's such an up and down in the midfield. Right now, it seems teams like Renault and McLaren have made gains, but maybe it is track specific. Nobody really knows. Everyone is speculating and I don't want to make a speculation. We will do the best job we can in all of these circumstances and try to keep our heads in front of the people behind us and try to catch up to some in front. Everybody is trying to do the best they can and we will do the same. To speculate about what others are doing doesn't help you. We just need to work hard and try to make the best out of it."
Red Bull
Max Verstappen
"I can't wait to get to Spa this year. I just love the track and it'll be nice seeing so many orange fans in the grandstands.
"Spa is my favourite track of the year. You have to get everything right but when you get a good lap it's very rewarding. There is a good flow with the fast corners and of course the best moment is Eau Rouge where you go up the hill, even though it's easy full throttle in modern F1 cars it's still very nice when the underneath of the car touches the tarmac and then gets very light at the top of the hill. This year it's going to be a bit faster everywhere with the new cars which will be more challenging and more fun for sure.
"It definitely feels like a home Grand Prix for me because it's so close to the border and as there isn't a Dutch race at the moment a lot of Dutch fans are coming over. Already last year there were a lot of orange T-shirts and flags around the track which was very cool to see and makes it even more special."
Daniel Ricciardo
"When I think of Spa I always think of my win there in 2014. Of course it's more enjoyable when you win in dramatic fashion but at the same time winning is winning and even though I had a comfortable lead that year I could still feel the pressure. It's never as easy as it seems.
"I really enjoy Pouhon. It's a fast, downhill and left-hand turn. That's probably my favourite corner. The Les Combes area you have to get right too as it's pretty important. Then the last corner is not very pretty at all but crucial for a good lap."
More to follow.