Podcast
BEYOND THE GRID: Dan Fallows on directing Aston Martin's rise from midfield battlers to podium finishers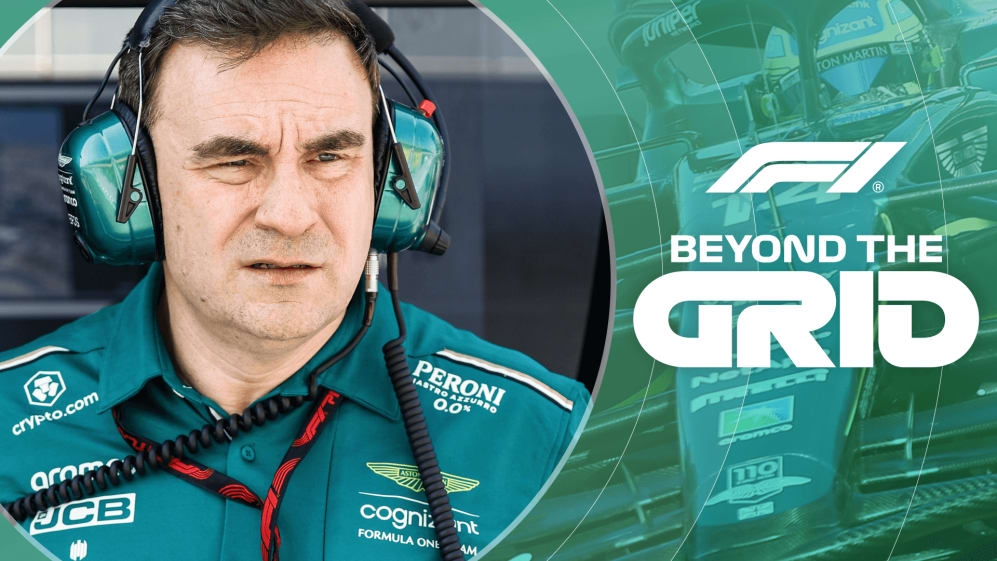 On this week's episode of Formula 1's Beyond The Grid podcast, host Tom Clarkson is joined by Aston Martin Technical Director Dan Fallows – with the team enjoying a remarkable surge of fortunes in 2023...
This season, Aston Martin have taken a leap to the front of the Formula 1 field, going from midfield battlers to regular podium finishers, ahead of the likes of Mercedes and Ferrari. But how have they managed the feat?
F1 NATION: A new Sprint format, Mercedes make changes, and Alpine look to bounce back – it's our Azerbaijan GP preview
As the engineer who led the creation of the team's AMR23 car, Fallows is one of many possible answers to that question. He began his F1 career back in 2002 as an aerodynamic engineer for Jaguar before, four years later, joining Red Bull.
There, Fallows learnt from one of the sport's greatest car designers, in the form of Adrian Newey, and played a part in the team's most successful period, as they claimed every drivers' and constructors' title from 2010 to 2013.
While Fallows' first two seasons with Aston Martin were challenging, it certainly now feels like third time lucky for him and the team.
In this episode of Beyond The Grid, Fallows explains why the 2023 car is far superior to its predecessor, and also how the talent of the team's workforce surpassed his expectations. He also explains where his passion for aerodynamics comes from and also how playing guitar keeps him occupied outside the world of F1.
EXPLAINED: Everything you need to know about the 2023 F1 Sprint format
There's also the small matter of Fernando Alonso's arrival at Aston Martin, and he explains just how much of an impact the double world champion has had on those around him.
To hear Fallows' Beyond The Grid interview, hit go in the player above, or head here to catch it on your preferred platform.