Binotto admits he was too 'nervous' to watch last laps in Austria, as he backs Ferrari to find solution to reliability woes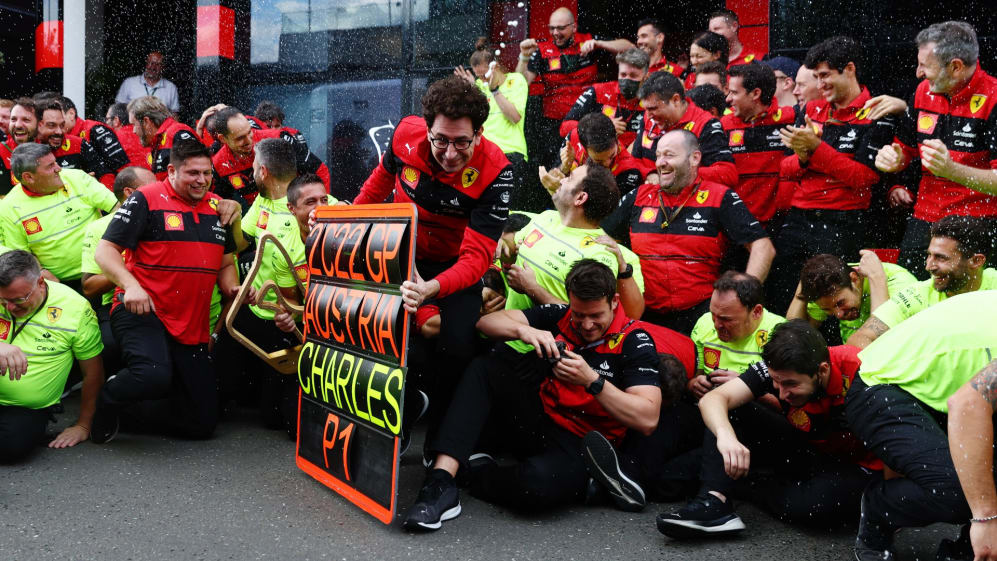 Ferrari Team Principal Mattia Binotto revealed he struggled to watch the final few laps of the Austrian Grand Prix, as his driver Charles Leclerc battled with a throttle issue on his way to victory – with the team boss also opening up about the extent of Carlos Sainz's engine damage.
Leclerc overtook Max Verstappen for the third and final time for the lead of the race on Lap 52 of 71 and looked to be coasting to an easy victory when he began to complain of an issue with his throttle. The Monegasque racer had to manage the issue until the end, as Verstappen closed in fast – with Binotto admitting it had made for tough viewing.
"I have to admit I was very nervous, disappointed as well for what happened to Carlos [Sainz], but so nervous I stopped watching the race the last few laps!" said Binotto. "I think we need to confirm [what happened to Leclerc's throttle]; from what I heard, the only initial feedback is more a mechanical one, but I cannot give you more details than that."
F1 NATION: The gang discuss whether Leclerc is back in the title fight after his comfortable Austria win
Carlos Sainz's engine catching on fire in Austria was the latest in a run of reliability issues that have affected Ferrari in recent races – including power unit issues for Leclerc in Barcelona and Baku – but Binotto backed his team to find a solution to their issues "as soon as possible."
"I think we've got only two engine failures so far; the others were power unit more than internal combustion engine," said Binotto. "We need to look at today and see if it is the same issue as the one in Baku with Charles ... Very likely, but the people back at Maranello are working very hard to try and fix that, obviously we cannot tell what happened to Carlos yet.
"We have new elements, and I know how strong they are and how hard [the team] are working, how good they are, and I can count on them that it will be addressed very soon – hopefully as soon as possible."
Austria marked Ferrari's second win since the Australian Grand Prix in April, with Red Bull winning the other six since Melbourne. But Binotto said that, while the two teams are very similar on pace, their ability to put Verstappen under pressure in the race on Sunday was the catalyst behind the Red Bull driver's tyre degradation issues.
WATCH: Relive the key moments from the duel between Charles Leclerc and Max Verstappen at the Austrian GP
"I think in terms of pure speed, [we are] very similar, and qualifying is proving it. I don't think there is much difference between the two cars," said Binotto. "If any, it was tyre degradation and maybe in the Sprint, I think we had a bit more, let me say, advantage in tyre deg.
"[This] was even more evident today because we started putting pressure on Max since the very start, pushing him, more pace causing him more degradation on the tyres, so I think what we saw in the Sprint has been more obvious today because we put more pressure on him."