Binotto praises Ferrari team spirit after Sainz and Leclerc position swap in Austrian GP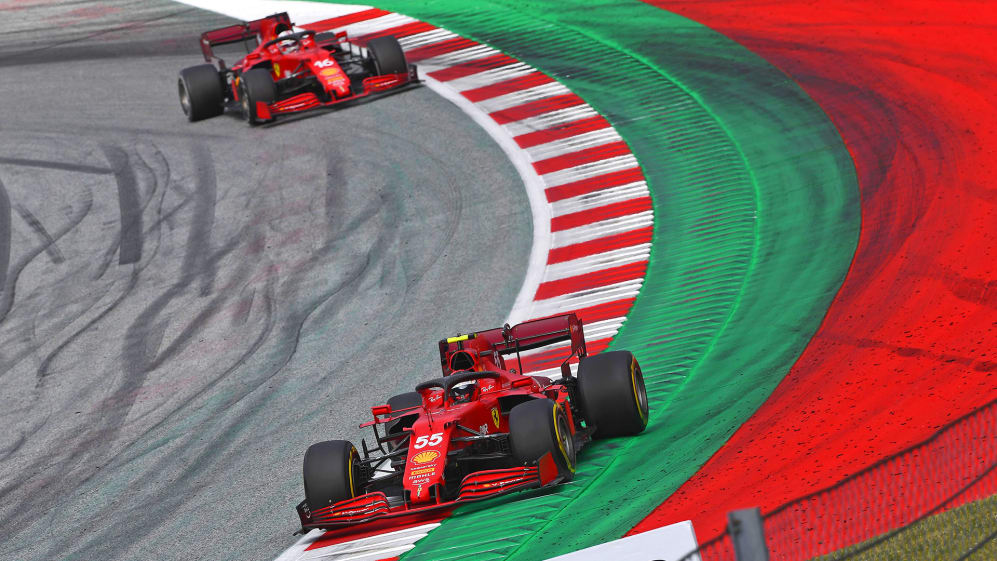 Some were predicting fireworks between Ferrari's new pairing of Charles Leclerc and Carlos Sainz ahead of the 2021 season, but harmony appears to be reigning at the team currently, with chief Mattia Binotto praising the "team spirit" shown by Leclerc after he made way for Sainz at the end of the Austrian GP.
With both Ferraris having failed to make Q3 for the Austrian Grand Prix, the team opted for split strategies for the two drivers, with Leclerc running mediums for 34 laps before swapping to hards for the remaining 37 – while Sainz took his hard starting tyres all the way to Lap 48 before a flat-out 23-lap blast to the finish on mediums.
READ MORE: 'I'm showing the Carlos I want to be at Ferrari' – Sainz pleased with P10 to P5 drive after bold tyre choice
That meant that Sainz was running significantly faster than Leclerc in the final part of the race – and with Leclerc having graciously allowed his team mate through on Lap 65 to allow him to get after the McLaren of Daniel Ricciardo, Binotto said he was delighted by the cooperation seen between his two drivers, as Sainz eventually claimed P5, with Leclerc taking P8.
"What I would highlight today is the spirit shown by our drivers, as Charles did not hesitate to make way for Carlos, who was on fresher and faster tyres," said Binotto. "That meant we were able to get the best possible result for the team. It's the right spirit and it's the way to go as we continue to make progress.
"When we asked Charles to swap with Carlos at the end, he did it immediately, no discussion, as he understands the importance of the team and how much it's important to the team to score the maximum points."
The "maximum points" in Ferrari's case was 14 at the Austrian Grand Prix, as rivals McLaren gained yet more ground in the constructors' fight after Lando Norris finished on the podium in P3, as Ricciardo took P7.
But with Leclerc's race having been compromised by not one but two incidents with Sergio Perez – at Turns 4 and 6, and for which the Mexican received a 10-second penalty that ultimately lifted Sainz to P5 – Binotto was unequivocal that Ferrari's team result could have been even better at the Red Bull Ring without Perez's intervention.
READ MORE: Leclerc says he wants to move on after clearing air with Perez over two on-track clashes in Austria
"I think that Charles could have done better if he had not had his difficulties in overtaking Perez, but that's part of the racing," said Binotto. "I see [the incidents] as the stewards saw them, they've been penalised.
"I think it's a shame for Charles because those two accidents penalised his final result," added Binotto. "I'm sure that if he would have been able to overtake Perez and had the ability to do so, his final race result would have been a lot better."
Ferrari now sit 19 points adrift of McLaren in fourth place in the constructors', having scored 28 points to McLaren's 49 across the first triple header of the season.