Bottas and Hulkenberg set to start from back of Belgian grid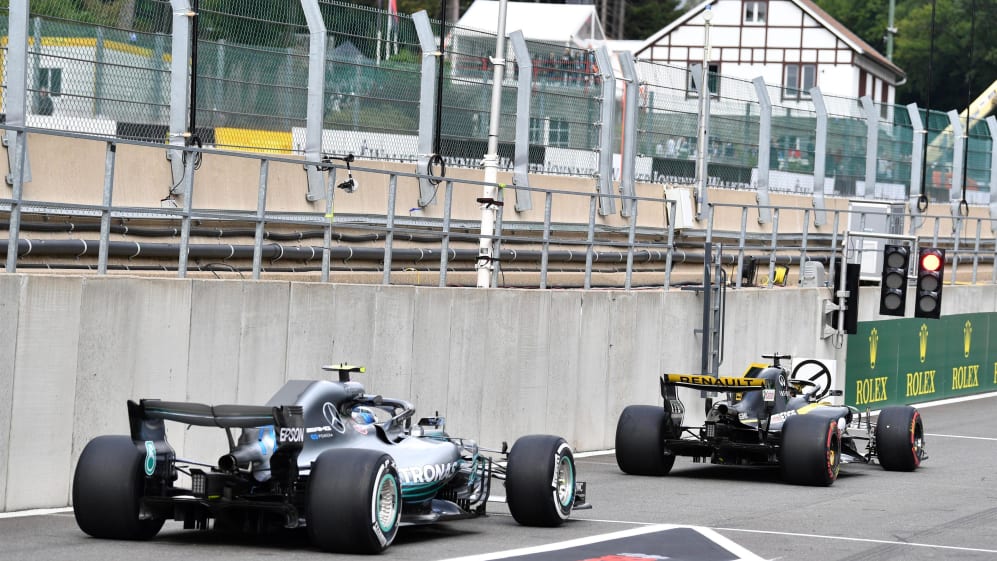 Valtteri Bottas may have an upgraded Mercedes engine for this weekend's Belgian Grand Prix, but it comes at a cost. He'll start the race from the back after exceeding his allocation of power unit components. And the Finn will have Nico Hulkenberg for company after the Renault driver also took a fresh unit…
With a new engine available, Mercedes opted to change all six engine elements in Bottas' power unit, incurring penalties for each change that will ultimately confine him to the back row of the grid.
Speaking before the engine change was confirmed, Bottas was upbeat about the prospects given the track characteristics of Spa.
"If I do need to take a new engine there is going to be a penalty but in any case, Spa is one of the best places to take it because you can overtake," he said.
Renault have carried a complete change for Hulkenberg, too, giving him the same penalties as Bottas. The German is out of sync with team mate Carlos Sainz after suffering a turbo failure earlier this year in Austria.
Ahead of the penalty being handed out, Hulkenberg said: "I think then it's very hard [to get back into the top six or seven starting from the back], especially a track I think here and Monza are two challenging weekends for us.
"If you start from the back of the grid, it makes it harder. I don't know. I don't want to sound negative, but let's see what happens and how it unfolds. Always try our best and our hardest.
"If you start out of position, then you try and recover as much as you can and still do a good race, and climb up as high as possible and do what you can.
"The starting point makes it much harder, but I think from an approach and a mindset, it's not too different."
Sainz gets a fresh ICE while Renault customer McLaren have given Stoffel Vandoorne a new ICE, turbo, MGU-H for his home race. Both will avoid penalties.
Renault, of course, are bidding to maintain their grip on fourth in the constructors' standings, with Haas breathing down their necks.