Bottas both 'lucky and unlucky' to finish third after Verstappen pit tangle
Having fended off a stern attack from Max Verstappen at the start in Monaco, Valtteri Bottas looked in good shape to convert second and follow his Mercedes team mate Lewis Hamilton home for the team's sixth successive one-two. But then it all went wrong…
When race control deployed the Safety Car to clear debris from Charles Leclerc's puncture, race leader Hamilton, Bottas, Max Verstappen and Sebastian Vettel, who were running in close formation, all pitted for fresh rubber.
Verstappen's Red Bull and Bottas's Silver Arrow - which had been deliberately slow in so that Mercedes could double stack, and was then a little tardy in the box - left their boxes at almost exactly the same time, and as they jostled wheel-to-wheel in the pit lane, contact was made and Bottas was nudged into the wall.
The stewards ultimately deemed Red Bull to have carried out an unsafe release, with Verstappen hit with a five-second time penalty that would drop him from second to fourth at the flag. For Bottas, meanwhile, the contact resulted in an extra pit stop with Mercedes confirming he'd suffered a front-right puncture and front wing damage.
The good news - if there was any - was that as the Safety Car was out, it meant Bottas only dropped to fourth, rather than out of the points.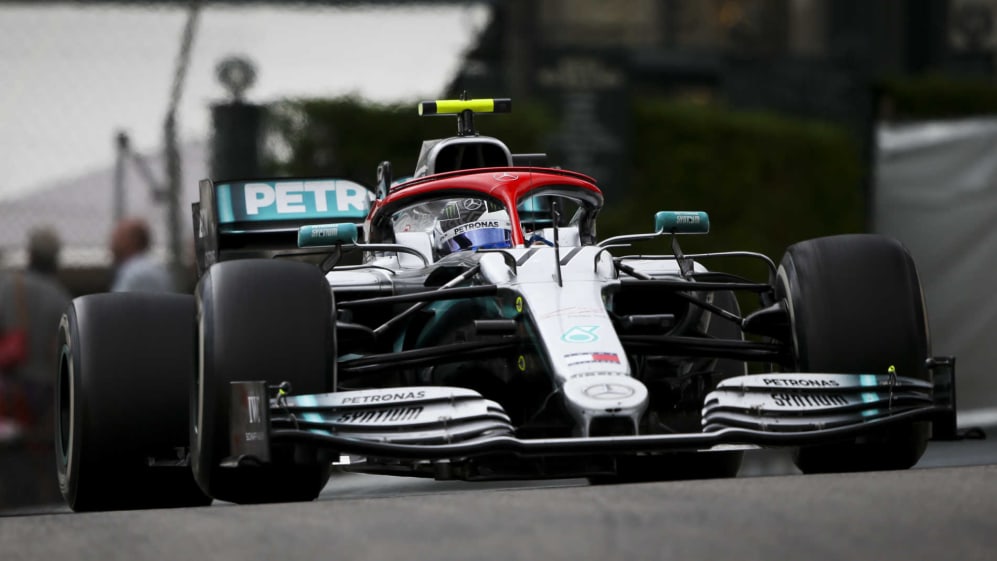 "I don't know the reason why the [initial] stop was slow and then Max was sort of alongside me in the pit lane," said Bottas. "He had been behind before, but in the pit lane he was slightly ahead. We were side by side but he kept coming to the right, so we touched and I also touched the wall because there was no space and got a puncture for that.
"I thought that having to stop again I would be down at the back of the queue but ended up just losing out to Seb. So, I was unlucky but also a bit lucky. It could have ended up worse, these are still important points. But it's disappointing, going backwards from your starting position."
At one stage Bottas, who was promoted one place to third when Verstappen's time penalty was applied at the chequered flag, dropped back "to see if I could get close to the fastest lap".
He got it but later in the race was usurped by Pierre Gasly, who pitted and fitted a set of soft tyres and comfortably went quickest, scoring the bonus point for the second time this season.
Bottas' third place means Mercedes' streak of one-twos ends at five consecutive races, but the team extended their lead over Ferrari in the constructors' championship to 118 points. Meanwhile, the Finn is now 17 points behind championship leader Lewis Hamilton – but there are still 15 races to go.