Bottas calls Spain pole the best of his career
Valtteri Bottas looks to be going from strength to strength in 2019, after a qualifying session for the Spanish Grand Prix that saw him finish over six-tenths quicker than his illustrious Mercedes team mate Lewis Hamilton. And following an exhilarating Saturday for the Finn in Barcelona, he was already hailing his performance as "one of my best, if not the best".
With Mercedes having dominated all weekend, Bottas' first timed lap of the final part of qualifying saw him clock a lap of 1m 15.406s to establish a new track record. Hamilton's own first timed lap of Q3 was also his best of the session, but only good enough for a 1m 16.040s, 0.634s adrift – Hamilton looking flustered as he ran off the road at Turns 7-8, meaning he finished behind his team mate in qualifying for the third race in a row.
"I really enjoyed that," said Bottas, whose Saturday had initially begun on the back foot after he beached his Mercedes in the gravel at Turn 5 during Free Practice 3. "I enjoy the adrenaline rush we get from those laps. I'm very pleased. Practice 3 was difficult obviously with the spin, so I just forgot that and moved on.
"It was a great qualifying," he added. "One of my best, if not the best. It's such a nice feeling when you succeed with a lap like that… The car was so good and I could really 100% trust it and really do with it whatever I wanted to and it's a good feeling."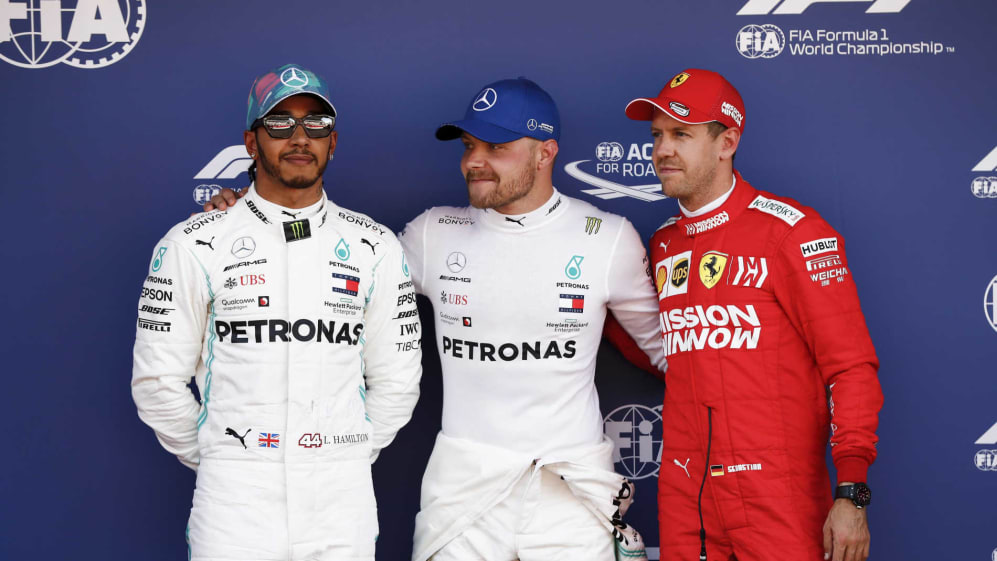 In the #44 Mercedes, Hamilton looked understandably downcast as he faced the media following the session, having now failed to appear on pole since the season-opener in Australia.
"Obviously I was not able to utilise the performance of the car or extract the performance of the car so I'll just continue to work on that," he said. "[My Q3 laps] just weren't very good laps, simple as that. Valtteri was just quicker today and Valtteri deserved the pole."
With a long, tow-friendly drag down to Turn 1 at the Circuit de Barcelona-Catalunya, Bottas highlighted the importance of getting a good start in Spain, with the Finn having lost out to Hamilton in Shanghai's similarly long run to Turn 1 back in April. But while the fight is sure to be hot between the Mercedes rivals, less clear is where Ferrari will figure in Sunday's race, after Sebastian Vettel in P3 qualified a significant 0.833s adrift of Bottas.
"When I saw the times, definitely, we thought Ferrari would be closer," admitted Bottas. "But since the practice, yesterday, we saw we were in good form. Obviously we've been doing a good job as a team with the direction we've been taking the car to in terms of where to find performance and how and so on. So we've done a really good job on that and I think we're all impressed."