Report
Bottas eases to Sochi win over Verstappen as penalty leaves Hamilton P3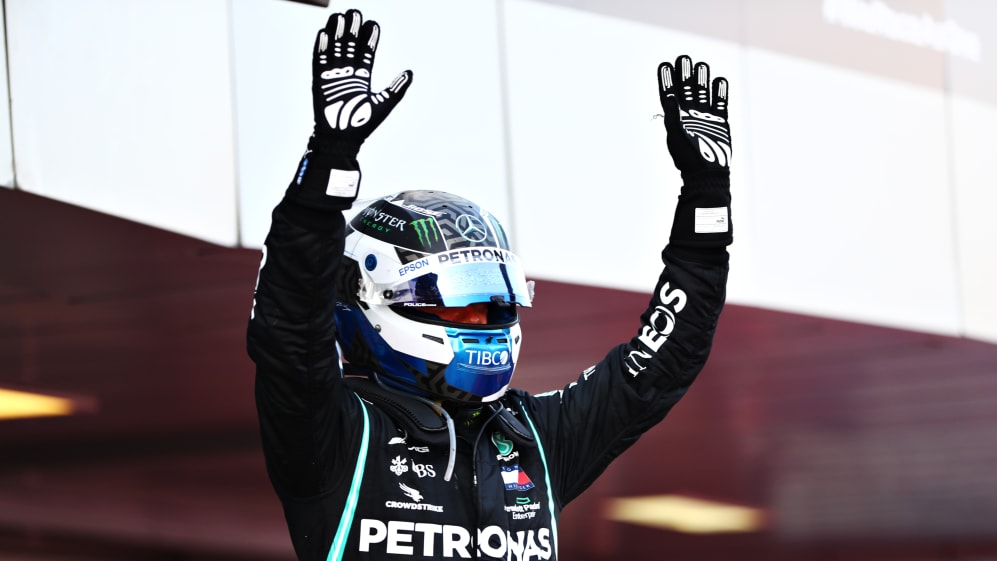 Mercedes' Valtteri Bottas scored his second win of 2020 at the Russian Grand Prix, benefitting from a penalty for his polesitting team mate Lewis Hamilton that left the six-time champion third at the flag, as Max Verstappen claimed Red Bull's first ever podium at Sochi in P2.
Hamilton began the race on the back foot, after a pair of practice start infringements on his laps to the grid led to him being handed a 10s penalty mid-race, ruling him out of contention for the win, as he came home in P3.
Bottas, meanwhile, had passed Verstappen for second at the race start, before benefitting from Hamilton's penalty to enjoy an untroubled run to the chequered flag for the ninth win of his career, at the venue where he scored his first back in 2017. It would have been an important confidence booster for Bottas, too, with the Finn's previous victory having come at the season-opening Austrian Grand Prix back in July.
FORMULA 1 VTB RUSSIAN GRAND PRIX 2020
Russia
2020
Race results
POSITION
TIME
POINTS

1

Valtteri

Bottas BOT

Mercedes

1:34:00.364

26

2

Max

Verstappen VER

Red Bull Racing

+7.729s

18

3

Lewis

Hamilton HAM

Mercedes

+22.729s

15

4

Sergio

Perez PER

Racing Point

+30.558s

12

5

Daniel

Ricciardo RIC

Renault

+52.065s

10
Behind the podium positions, a quiet but effective race for Racing Point's Sergio Perez saw him come home fourth, while despite having a five-second penalty hanging over him for not running through the Turn 3 rejoining bollards after going off the track, Renault's Daniel Ricciardo had enough pace in hand to maintain P5 at the flag, ahead of the Ferrari of Charles Leclerc in sixth.
Esteban Ocon passed his Renault team mate at the start for P4, but eventually fell back to the seventh place he started the race in at the chequered flag, ahead of home hero Daniil Kvyat.
Rounding out the top 10, a late stop from the second AlphaTauri of Pierre Gasly allowed him to battle through to P9, the Frenchman passing the Red Bull of Alex Albon, who came home P10, having started P15 after receiving a five-race penalty for changing his gearbox.
Meanwhile, a chaotic race start saw Carlos Sainz hit the wall when trying to rejoin the track at Turn 3, the Spaniard ripping the front right corner off his car – while Lance Stroll was tagged by Charles Leclerc at Turn 4 and spun into the wall, bringing out an early Safety Car.
AS IT HAPPENED
Lewis Hamilton already had a few things going against him at the race start, with the red flag in Q2 in qualifying on Saturday having forced him to set his fastest lap in that segment on a set of soft tyres – meaning he started on the less-favoured rubber, compared to Verstappen and Bottas behind on the mediums – while he also knew full-well that the run down to Turn 2 is a slipstreamer's haven.
But there were more worries for Hamilton when he discovered ahead of the race that he was being investigated for doing a practice start outside of the designated area. He put those worries to the back of his mind at the race start proper, though, using the bite of the softs to help him launch strongly off the line.
Bottas nipped passed Verstappen from P3 on the grid, dived into his team mate's slipstream and had his nose ahead into Turn 2, but got a bad exit that allowed Hamilton to get back in front and hold the lead – Bottas having apparently been distracted by a large bee that hit his visor (no, seriously).
Behind, as the pack piled into Turn 2, a number of runners were forced to run off the track and through the bollard designed to funnel them safely back onto the circuit. Verstappen was through first, but as Carlos Sainz tried to follow, he misjudged the angle and whacked the front left off his McLaren MCL35, taking him out of the race. Lance Stroll lasted just two corners longer, before a tap from behind from the Ferrari of Charles Leclerc at Turn 4 spun him into the wall and out of the race.
READ MORE: 'Ridiculous he didn't get a penalty' – Stroll furious with 'sloppy' Leclerc after Lap 1 clash
The Safety Car was called, but not before Daniel Ricciardo, who'd briefly jumped to third ahead of Verstappen was re-passed by the Dutchman at Turn 5, before his team mate Esteban Ocon, who'd started P7, slipped through at Turn 7 to take fourth.
Meanwhile, the big gainers at the start were the two Haas cars of Kevin Magnussen and Romain Grosjean, who jumped to P9 and P10 from 16th and 18th on the grid – while the Safety Car allowed Lando Norris, George Russell and Alex Albon a 'free' pit stop, good for Albon who'd had to start in P15 on the soft tyres, after taking a five-place grid drop for a gearbox change (as had Williams' Nicholas Latifi).
WATCH: Sainz blames 'misjudgement' for race-ending opening lap crash in Russia
Racing resumed on Lap 6, with Hamilton cleverly dropping the hammer when Bottas was negotiating the bump in Turn 15, meaning the Finn couldn't accelerate cleanly. That allowed Hamilton enough space to lead the field unchallenged into Turn 2, with Bottas, Verstappen, Ocon, Ricciardo, Perez, Gasly and Leclerc the seven cars behind him.
Hamilton quickly opened a gap of 1.5s over Bottas – but he needed it, with the stewards' ruling coming on Lap 7 that Hamilton would need to serve a 10s time penalty for two practice start infringements – at 5s a pop. "Where's that in the rule book?" demanded an angry Hamilton when he was told by race engineer Pete Bonnington. Unfortunately for him, it was Article 19.2 of the Race Director's Event Notes…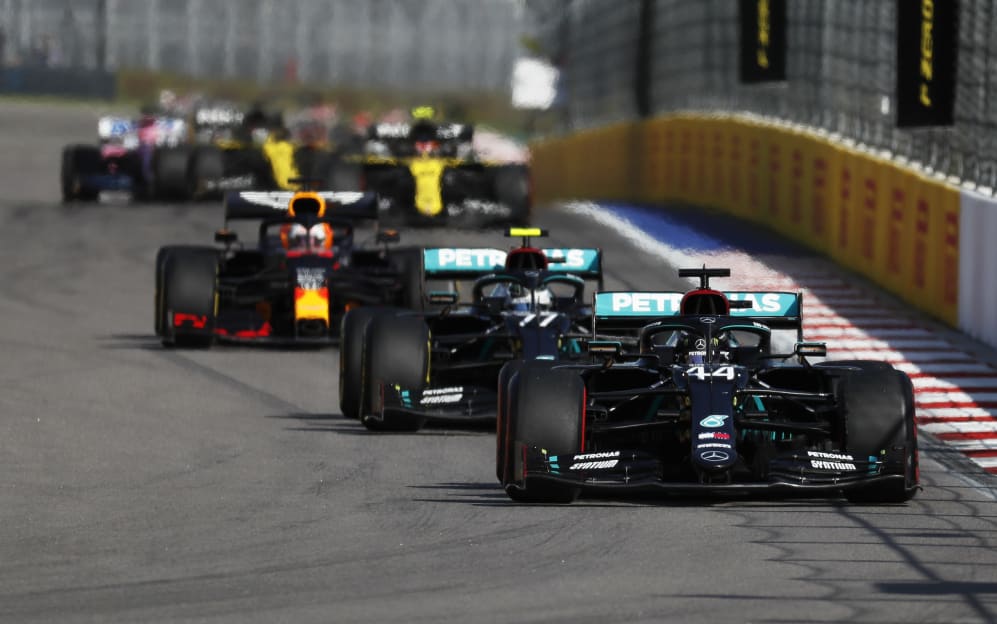 Lap 11 witnessed a nice sight as George Russell, Albon and Norris, having all pitted under that Safety Car, battled for position at the back of the pack, the first time the three friends had scrapped together on track – with Albon eventually getting past Russell for P16 when the Williams locked up into Turn 13, Norris then passing into Turn 2 on the next lap, with Russell forced to pit after flat-spotting his hard tyres on Lap 15.
Mercedes gave the second-placed Bottas the hurry-up on Lap 12 of the race, telling him to close up to the about-to-be-penalised Hamilton in front, with Hamilton responding to his team mate's pressure by upping his own pace. Hamilton's soft tyres didn't look great, though, but he vehemently told his team, "Do not stop me early!" before setting a string of fastest laps.
He was eventually called in on Lap 16, serving his penalty before taking on hard tyres and emerging P11, as Bottas took over the lead, around 35 seconds up the road from Hamilton when the Briton rejoined.
Hamilton was driving disgruntled, though, annoyed by the penalty and the team having brought him in early, as he saw it. As Bonnington tried to give him the lap time status of Verstappen up ahead, Hamilton snapped back: "I don't want any info any more Bono. It doesn't make any difference."
Ricciardo was passed for P5 by Perez on Lap 15, the Mexican going down the inside around the long Turn 3, with Ricciardo then pitting for hards, Ocon following his team mate in three laps later for the same tyre. The Frenchman in P8 then spent several laps bottled up behind the yet-to-stop Sebastian Vettel, with Renault eventually switching Ocon and Ricciardo around to give the Australian a chance to attack.
Ricciardo got the move done on Vettel with a brilliant dive into Turn 13. But with the Australian having locked up and run off the track as he'd passed his team mate into Turn 2 earlier in the lap, the stewards handed Ricciardo a 5s time penalty for failing to go through the bollards when he rejoined. "Okay," he said when he found out, "I'll drive faster..."
Verstappen pitted from second on Lap 25, emerging P4 and ahead of Hamilton in P5 on the hard tyres, the Red Bull driver then quickly jumping past the AlphaTauri of Daniil Kvyat for P3, before Charles Leclerc pitted from P2 to give Verstappen that position again. Bottas pitted on Lap 26, meanwhile, easily retaining the lead.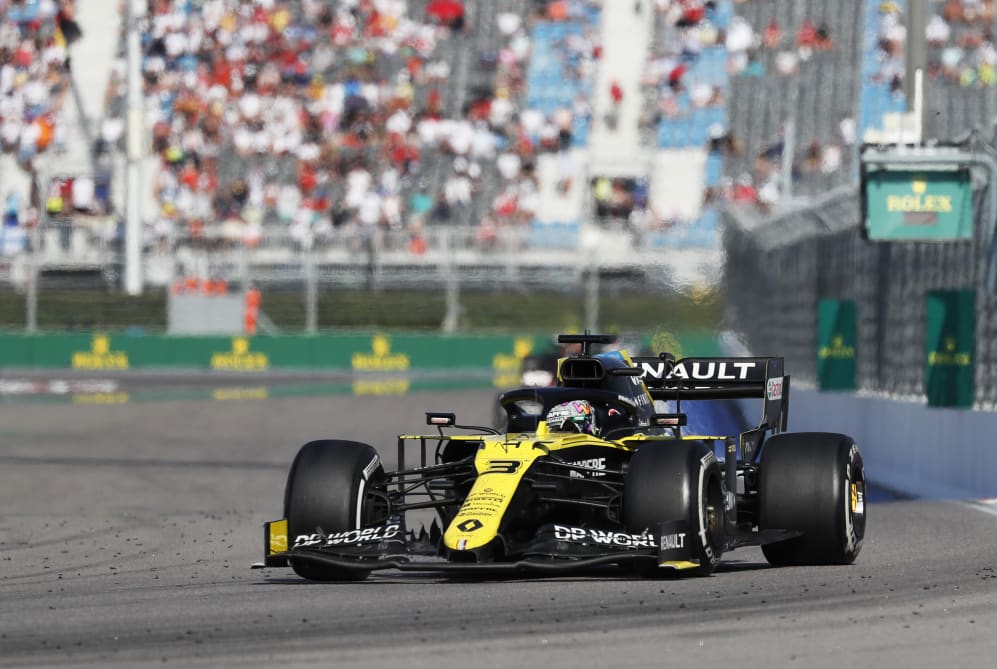 By Lap 32 of 53, then, it was Bottas with a 12s lead over Verstappen, himself 9s clear of Hamilton, with Perez, Ricciardo, Leclerc, Ocon, Kvyat, Raikkonen and Gasly rounding out the top 10 – Gasly then passing Raikkonen for ninth after several attempts on Lap 34.
Bottas was looking serene at the front, banging in fastest laps seemingly for fun at a track that he's always gone well at. "We're losing six-tenths in a straight line to Bottas," race engineer Gianpiero Lambiase told Verstappen with 18 laps of the race left to go. "Yeah," replied Verstappen, "I'm just trying to do my own race."
It was all he could do. Although Verstappen ground Bottas' lead down to less than 8s, no one could stop the Finn, with Bottas ultimately easing to his second win at the Sochi Autodrom, and his ninth with Mercedes – surpassing the great Juan Manuel Fangio's tally with the Silver Arrows.
It also ended an eight-race win-less run for Bottas, as he clawed back some valuable points in the championship race – taking the fastest lap bonus point to leave Russia with 11 points more than Hamilton.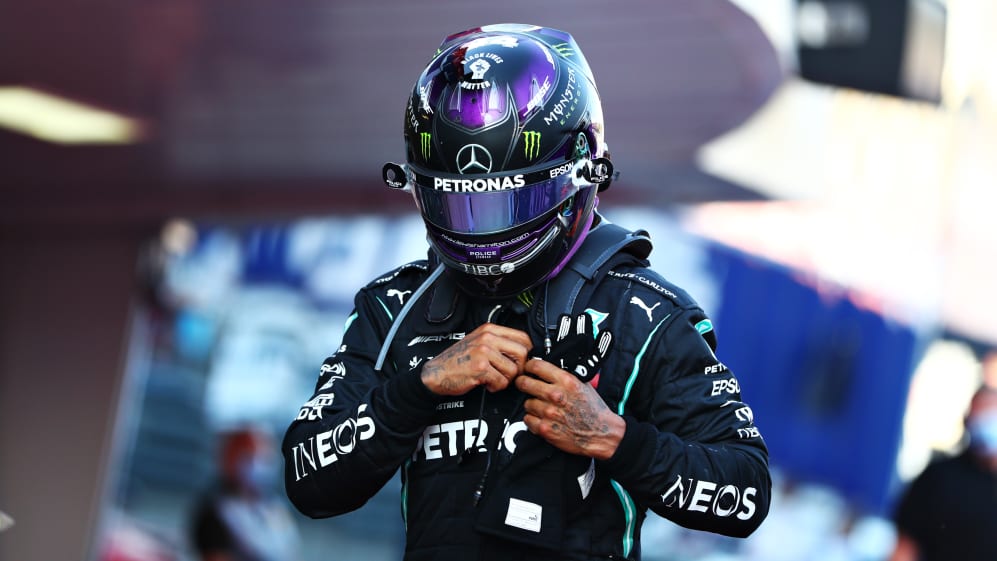 Verstappen, though, was pleased to split the Mercedes and take second, as opposed to Hamilton, who was visibly frustrated with third, having called his penalty "ridiculous" during the race. Nonetheless, he still heads Bottas by 44 points in the drivers' standings.
DRIVER OF THE DAY: Second-place Verstappen goes one better in fan vote
Behind the top three, after his move to claim a net P4 from Ricciardo earlier in the Grand Prix, Perez was barely conspicuous in the sole remaining Racing Point for the rest of the race, as he kept his head down for a stealthy fourth, his best classification of the season – while Ricciardo honoured his promise to drive faster, finishing well clear of Leclerc in fifth despite his penalty, Leclerc taking his best finish since the 70th Anniversary Grand Prix in Silverstone.
After his immense start, Ocon didn't appear to have the race pace of his team mate, as he narrowly held off a last-lap attack from Daniil Kvyat to come home seventh ahead of the Russian.
Haas' Romain Grosjean, who'd ultimately finish 17th of 18 after his strong start, had collided with the run-off bollards at Turn 3 after being passed by Vettel on Lap 42, bringing out a brief Virtual Safety Car as the polystyrene mess was cleared up. AlphaTauri brought Gasly into the pits under that VSC, perhaps misjudging how long the race would be neutralised for (it was just 26s).
The stop dropped Gasly out of the top 10, but a brilliant recovery saw him pass Norris and Albon on track to make it back to P9 at the flag – with Albon claiming the final points-paying position, despite his own 5s penalty for missing the bollards after running off at Turn 2.
Vettel, meanwhile couldn't match the heroics of his team mate, as he ended up 13th, behind the Alfa Romeo of Antonio Giovinazzi and the Haas of Kevin Magnussen, both of those being Ferrari customer cars.
For Bottas, though, Sochi felt like a race that he had to win, not only for his championship hopes but just to restore his faith in his ability to beat Hamilton. "A nice moment to thank my critics," he declared defiantly over team radio on his slowing down lap, before uttering his now famous catchphrase: "To whom it may concern, f*** you."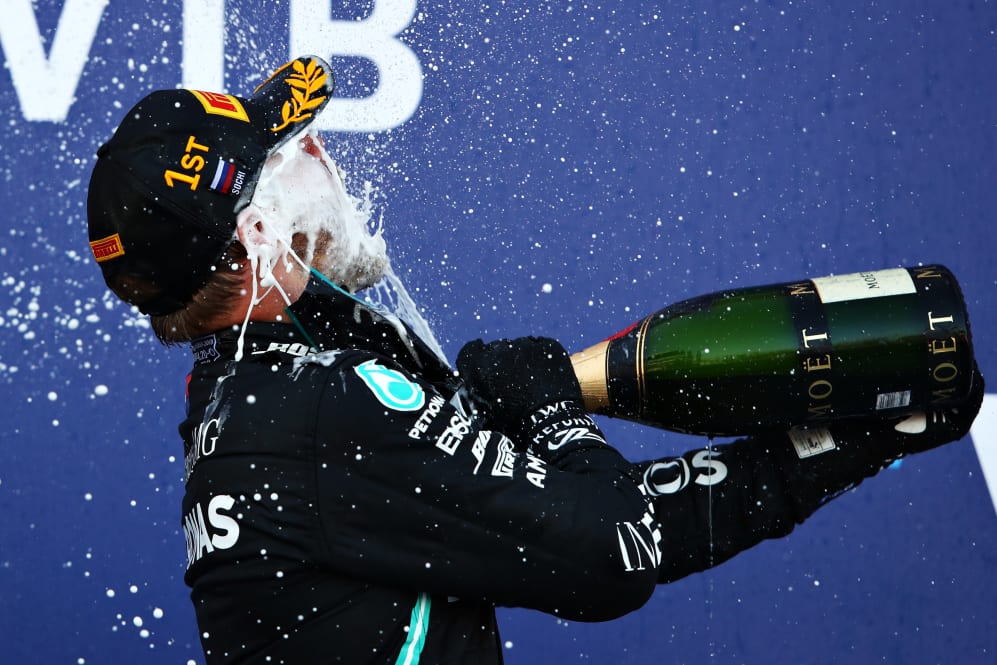 The key quote
"I knew it was going to be a long race… and with the medium tyre there would to be opportunities. But Lewis had the penalty, so once I was in clean air I felt the pace was pretty awesome and I could really control everything.
"For sure, it's nice to get a win again, it's been a while and yeah, definitely good. I need to try and keep the momentum again to squeeze a bit of points against Lewis. It's still quite a few races to go – it's just never enough. I'll keep pushing and never give up and we'll see how it ends up." – Valtteri Bottas, Mercedes
What's next?
It's another two-week gap until we head to the Nurburgring for the first time since 2013, for the 2020 Eifel Grand Prix. The last time we raced at the track, it was Sebastian Vettel and Red Bull who triumphed at the iconic venue – but who will take the honours when we arrive there on October 9-11? We'll see you then to find out.