Bottas fights back for last-gasp podium in 'intense' penultimate race for Mercedes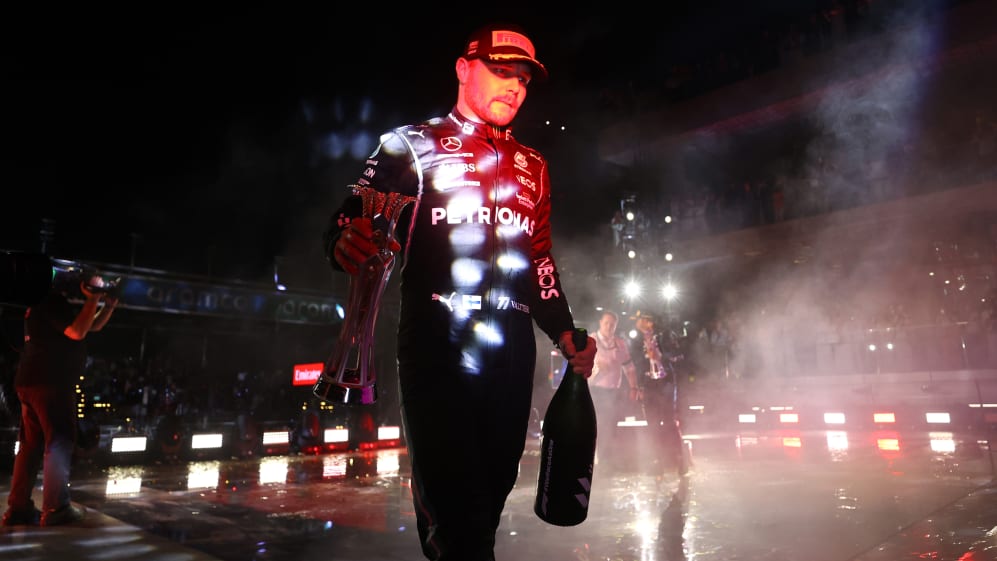 It may not have been his last Mercedes appearance – that comes in Abu Dhabi next weekend – but Sunday's Saudi Arabian Grand Prix was certainly a memorable one for Valtteri Bottas, after he passed Esteban Ocon for a podium spot just metres from the chequered flag.
Bottas and team mate Lewis Hamilton had made the perfect getaway from the front row at the original start in Jeddah, taking control of the race. However, he was unable to repeat that at the first of two race restarts, with Ocon's Alpine among the cars on fresher tyres to get ahead of the Finn.
READ MORE: Ocon distraught after Bottas denies him Saudi podium – but warns that Alpine becoming 'dangerous' for rivals
"Obviously everything started with the first red flag: it was a bit unlucky for us – very unlucky for us as a team" explained Bottas. "And then on the restart with the hard tyres we were on the back foot and lost some places."
That left Bottas in a prolonged struggle to find a way past first Daniel Ricciardo's McLaren, which he eventually did on Lap 39 of 50, and then Ocon – whom he only managed to overtake in the dash to the line on the very last tour, ensuring him of third place on his 100th Mercedes outing.
"It was a tough race, there was no time to race – it was pretty intense," continued Bottas. "Esteban had a good race – they were actually surprisingly quick and we could not easily get him. But yeah, got him just at the end – just kept pushing and it was worth it today not to give up."
RACE REPORT: Hamilton beats Verstappen in controversy-filled first ever Saudi Arabian Grand Prix as title rivals draw equal on points
With his Red Bull counterpart Sergio Perez failing to finish, Bottas's podium helped Mercedes put one hand firmly on this year's constructors' crown, as they now head into the final round of 2021 with a commanding 18-point lead over their rivals.
"Yeah, a good day for that, and obviously with Lewis and Max [Verstappen] now on equal points, it's going to be a pretty exciting race in Abu Dhabi," added Bottas, who didn't rule out the prospect of shedding a tear at next weekend's season finale.
"I feel good. One more to go with the team. I think it's going to be emotional, even for a Finn, so looking forward to it," he concluded.