Report
Hamilton beats Verstappen in controversy-filled first ever Saudi Arabian Grand Prix as title rivals draw equal on points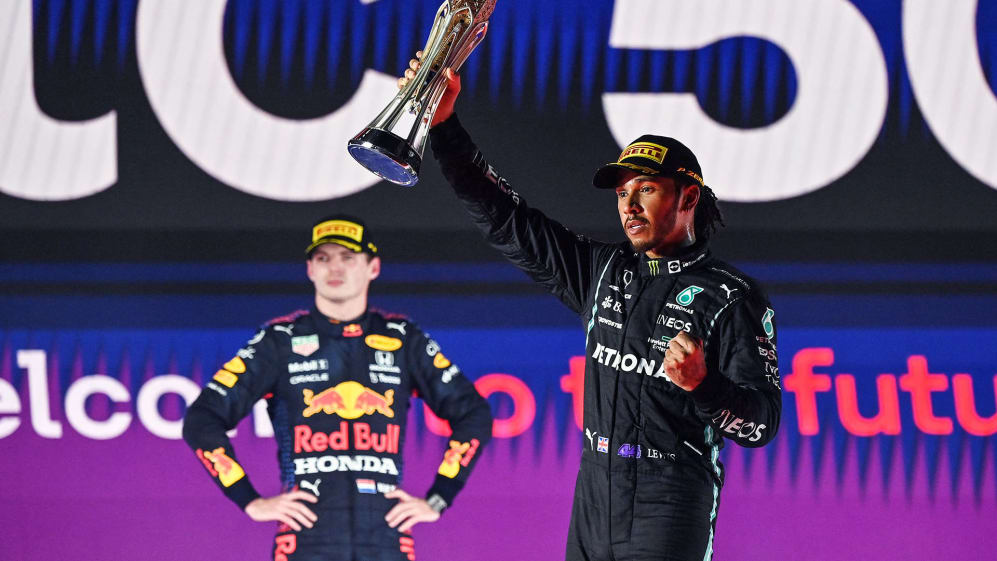 Lewis Hamilton won a controversial debut Saudi Arabian Grand Prix from pole position ahead of Max Verstappen and Valtteri Bottas amid two red-flag stoppages. The result means the two championship protagonists go to the Abu Dhabi finale level on points.
Hamilton led Bottas and Verstappen – who shrugged off his qualifying crash – at the start but on Lap 10, Mick Schumacher spun and hit the Turn 23 barriers. The Safety Car soon turned into a red flag, crucially giving Verstappen a free stop in the pits, while the Mercedes had stopped under yellows.
The Lap 15 standing start saw Hamilton lead, but Verstappen went wide and off-track at the first chicane, cutting back across Hamilton, who dropped to P3 behind Alpine's Esteban Ocon (who also enjoyed a red flag tyre change and the subsequent advantage). However, there were two separate incidents behind in which Sergio Perez was collected by Charles Leclerc and Nikita Mazepin collided with George Russell – so another red flag was called.
A cacophony of bargaining calls by the Red Bull and Mercedes pitwalls followed but the Lap 17 restart would see Ocon start ahead of Hamilton then Verstappen in P3. In that restart, the Dutchman made a terrific move using his brand-new medium compounds down the inside of the opening chicane for the lead while Hamilton found himself impeded by Ocon, who like Verstappen missed the Turn 2 apex, passing the Alpine a lap later.
Three Virtual Safety Car periods followed from Lap 28 to Lap 36 after which Hamilton was in DRS range of Verstappen. The Mercedes driver attempted a move on Lap 36 on the main straight but the Dutchman braked too late for comfort, running wide at Turn 2 and retaining the lead. He was instructed to give P1 back and on Lap 37 the Red Bull driver slowed – only for Hamilton to get caught off guard and clip the rear of his rival, taking front-right wing damage.
Cue more calls to race control from Red Bull and Mercedes. Meanwhile Hamilton closed in and looked to get past the Red Bull on Lap 42 but Verstappen pushed him wide and continued on. This time, the stewards stepped in and put a five-second time penalty on the championship leader.
FORMULA 1 STC SAUDI ARABIAN GRAND PRIX 2021
Saudi Arabia
2021
Race results
POSITION
TIME
POINTS

1

Lewis

Hamilton HAM

Mercedes

2:06:15.118

26

2

Max

Verstappen VER

Red Bull Racing

+21.825s

18

3

Valtteri

Bottas BOT

Mercedes

+27.531s

15

4

Esteban

Ocon OCO

Alpine

+27.633s

12

5

Daniel

Ricciardo RIC

McLaren

+40.121s

10
Hamilton came across Verstappen at the final corner on Lap 43 and pushed him wide at Turn 27, taking the lead and putting in fastest laps to boot for an eventual winning margin of 10s over his rival – equalling the championship points tally.
Ocon, who had benefitted from a stop during the first red flag, missed out on a podium by just a tenth of a second having lost P3 right on the line at the chequered flag. That put the Alpine driver fourth ahead of Daniel Ricciardo of McLaren, who started 11th but enjoyed a rapid start and a red-flag pit stop for P5.
In sixth was Pierre Gasly, who lost places at the start but made them back in the second race restart for AlphaTauri – keeping the Ferraris of Charles Leclerc and Carlos Sainz in P7 and P8 respectively.
Antonio Giovinazzi started 10th but ended up ninth ahead of Lando Norris, who started on softs but pitted during the first Safety Car to end the race on hard tyres.
Abu Dhabi hosts the season finale, and with Hamilton having taken 26 points to Verstappen's 18 here, the championship protagonists are now equal on 369.5 points. But the fallout from Jeddah may well continue through the night, with the stewards set to investigate Hamilton and Verstappen's Turn 27 tussle after the race.
As it happened
The spotlight was centred on Verstappen before this race, the championship leader having hit the wall in qualifying to trigger doubts over the integrity of his gearbox – but he started from third on the grid, as was the plan. There was also concern over Theo Pourchaire and Enzo Fittpaldi, who were admitted to hospital after a heavy crash in the preceding F2 Feature Race on Sunday, and a moment of reflection before the Grand Prix as teams united to pay their respects to Williams co-founder Sir Frank Williams, who last week died at the age of 79.
But there could be no greater tribute to Sir Frank than a high-speed, no-holds-barred, Formula 1 Grand Prix. Saudi Arabia, however, provided more than a Sunday's worth of high drama.
The front would line up so: Hamilton leading team mate Bottas away on the front row while Verstappen shared row two with Ferrari's Charles Leclerc – his Red Bull team mate Sergio Perez leading AlphaTauri's Pierre Gasly off the third row. Mediums were the compound of choice and the only soft-tyred starter was McLaren's Lando Norris from P7; McLaren team mate Daniel Ricciardo, Ferrari's Carlos Sainz and Aston Martin's Sebastian Vettel on hards.
After much colourful fanfare, it was time for the main event.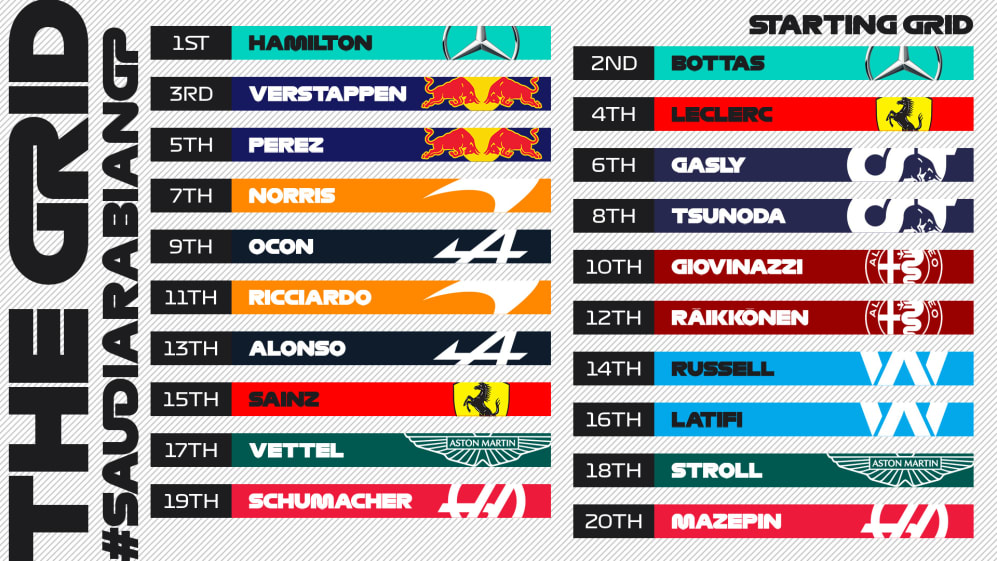 And Hamilton enjoyed a rapid start, his team mate blocking Verstappen, who was nearly collected by Perez behind – the Mexican locking up to avoid contact. Leclerc held station in P4 while Gasly fell two places to P8 with overheating brakes, promoting Norris one place and Esteban Ocon two, to P6 and P7 respectively.
Hamilton's mediums were five laps older than Verstappen's, so Bottas's job was to keep Verstappen at bay and the Finn soon said: "I could do with a bit more gap in front" as he began to feel the effects of Hamilton's turbulent wake. But the field would soon bunch together when Mick Schumacher spun and crashed at Turn 23 on Lap 10, triggering a Safety Car.
WATCH: Big Schumacher crash leads to red flag in Saudi Arabia
The leader pitted for hards along with team mate Bottas and Red Bull's Perez – for mediums – while Verstappen stayed out for track position. The Dutchman was left furious, however, as during the caution Bottas appeared to slow considerably in front of him to ensure a sublime double-stacked pit stop for the Silver Arrows. But the ball soon fell into Verstappen's court, the race red-flagged on Lap 13 for barrier repairs – giving Verstappen a free tyre change in the pits.
After the 18-minute stoppage, Verstappen would therefore lead a title-defining standing restart alongside Hamilton in P2, Bottas in third and Ocon fourth – having swapped tyres during the red flag along with Ricciardo in P5.
On Lap 15 of 50, the lights once again went out.
Hamilton got the best of Verstappen, squeezing his rival wide. The Dutchman ran back onto the track and cut back across Turn 2 into the lead – making slight contact with the Mercedes – with the Briton dropping to third behind Ocon. Meanwhile, Bottas locked up and dropped to fifth behind Ricciardo.
Chaos reigned behind: Perez was squeezed then tagged by Leclerc, while Mazepin hit a slow-going Russell, ending the races of both the Williams and the Haas. As for Perez, he waved away the marshals in an attempt to get going but those efforts proved arbitrary. He was out on Lap 15, as were the red flags once again.
While the spectators caught their breath, the teams attempted to bargain their way up the grid in the pits. Race Director Michael Masi chimed into the Red Bull pitwall, and said: "I'm going to give you the opportunity to start the race from grid position two".
They retorted: "We will accept P2 on the basis that Ocon is on pole."
Mercedes' pit wall on the other hand lobbied Masi to put Ocon on pole, Hamilton second and Verstappen third for the restart.
The order would indeed be Ocon in first, Hamilton second and Verstappen third – on brand-new medium compounds – for a standing start on Lap 17.
Ocon led away but Hamilton attempted to edge in front, the two making contact while Verstappen sliced down the inside of Turn 1 with a terrific move. Ocon cut across the Turn 2 run-off but instantly yielded to Verstappen who was now in the lead. On Lap 18, Hamilton swept by the Alpine for P2 and was now back on the charge.
Hamilton was within a second of his championship rival by Lap 22 and one lap later he would have DRS. A Virtual Safety Car was soon called on Lap 24 as Yuki Tsunoda – up to P9 in the second restart – tagged and spun Sebastian Vettel and lost his front wing at Turn 1, the AlphaTauri driver taking a five-second penalty for his troubles. Soon after, Kimi Raikkonen tried to pass Vettel but made contact with him, leaving the track showered in carbon fibre – with another VSC coming out on Lap 30 as a result.
That VSC period, during which Verstappen's medium tyres enjoyed a welcome break, lasted until Lap 33, after which the Red Bull once again led away. But soon Hamilton was within DRS range. And then on Lap 36 another VSC was called to retrieve another piece of Vettel's car. That was brief, and resumption followed seconds after with Hamilton just seven-tenths off the leader.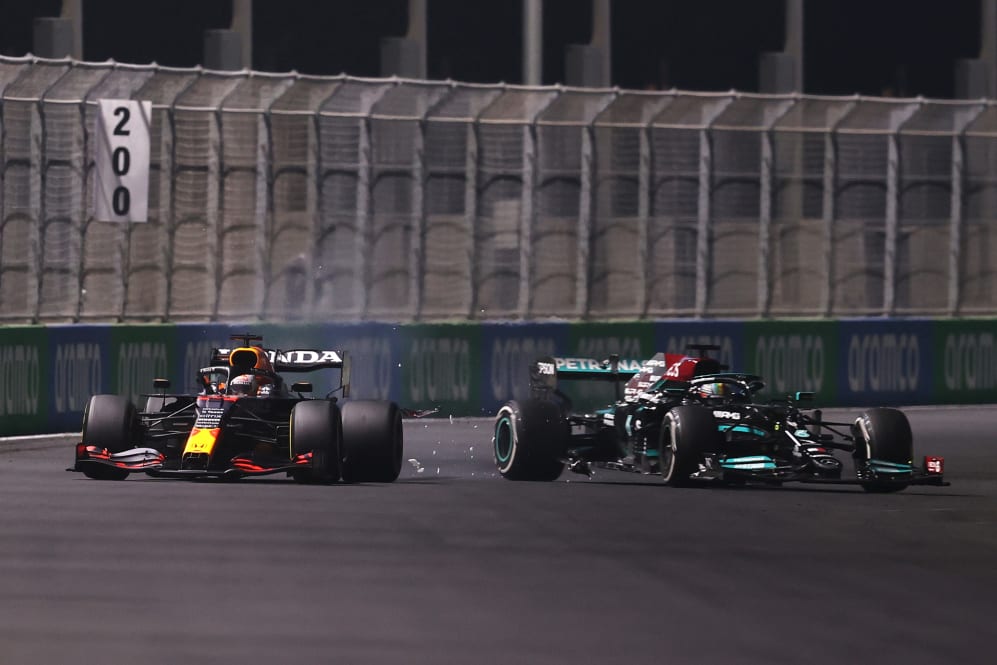 The Briton attempted a move on the Dutchman with DRS down the main straight on Lap 37 and had his nose ahead, but Verstappen braked late and prevented his rival from leading. The Red Bull ran off track and retained the lead but was soon instructed to give it back. So he slowed on the back part of the circuit – only for Hamilton to get caught off guard and clip the rear of his car, taking wing damage too. Team Principal Toto Wolff's headphones took the brunt of his anger; Race Control's switchboard lit up once again.
On Lap 42 Hamilton closed in once again and, again, seemed to have the best of Verstappen at Turn 1. But the Red Bull driver afforded him little space, Hamilton going off track at Turn 2, and Verstappen continued in the lead. However, this time, the stewards stepped in and gave the championship leader a five-second time penalty. Two laps later, Hamilton attempted another pass at the final corner – but this time shoved Verstappen wide and took the lead.
Hamilton lit the sectors purple for fastest lap and eventually won by 11.8 seconds to level the championship standings, his rival finishing runner-up in perhaps the most intense battle of the season.
Bottas finished third having passed Ricciardo at Turn 1 for P4 on Lap 40, then Ocon for P3 on the final lap at the line. Ocon therefore missed out on the final podium place by just 0.102s.
In fifth was Daniel Ricciardo, who benefitted from pitting (along with Ocon) during the first red-flag stoppage. The McLaren driver also enjoyed a terrific start, making up two places from P11 and blasting past Pierre Gasly, who finished sixth having lost places early on before making them back up on the first race restart.
Charles Leclerc started fourth but took seventh – after contact with Perez on the first restart – having duelled with Ferrari team mate Carlos Sainz for much of the race, even going wheel-to-wheel with the Spaniard on Lap 23.
Antonio Giovinazzi made up one place from P10 to P9 while Norris, who dropped to 14th at the first restart having pitted early from soft to hard tyres, took the final point.
Neither Aston Martin emerged from Q1 on Saturday and neither left Saudi Arabia with points, as Vettel retired on Lap 44 having taken damage from earlier contact with Tsunoda and a further run-in with Raikkonen, while Lance Stroll made contact with Russell early in the race and had to settle for 11th ahead of Williams' Nicholas Latifi, in P12.
Fernando Alonso did well to avoid the walls as he spun on Lap 26, but dropped to P15, picking up positions as Tsunoda was penalised five-seconds for hitting Vettel and Raikkonen was relegated to the back having made contact with the four-time champion battling for P12 on Lap 28.
Five drivers – Vettel, Perez, Mazepin, Russell and Schumacher – retired from the Saudi Arabian Grand Prix.
Key quote
"I mean, I don't know. I've been racing a long time but that was definitely, that was incredibly tough, and I tried to be as sensible and as tough as I could be out there, but also sensible and with all my race experience over the years, just keeping the car on track and staying clean," said race winner Lewis Hamilton.
"It was difficult. But we persevered as a team, we've had all sorts of things thrown at us particularly in the second half of the season, so I'm just really proud of everyone and also I'm really grateful for the crowd we've had this weekend; it's been nice to be here."
What's next?
We're set for a historic 2021 season finale at a new look Yas Marina Circuit with Max Verstappen equal with Lewis Hamilton on 369.5 points. Stay tuned to F1.com to catch all of the build-up – and Saudi Arabian Grand Prix fallout – as we approach the end of this incredible campaign.