Report
Bottas holds off Vettel for superb Spielberg win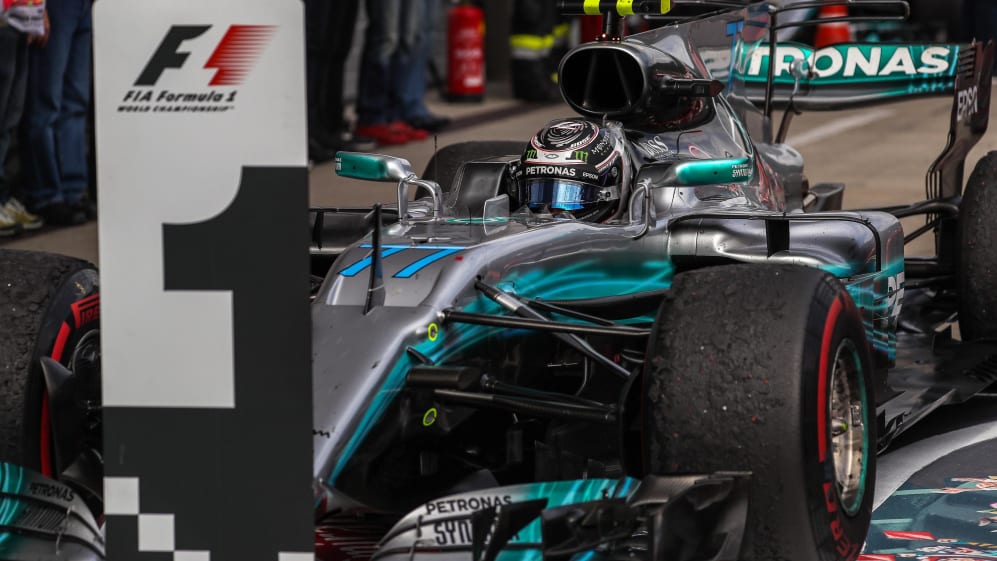 Mercedes' Valtteri Bottas drove a masterly race to secure victory - his second of the season - in Sunday's Austrian Grand Prix, finishing just 0.6s ahead of world championship leader Sebastian Vettel for Ferrari. Red Bull's Daniel Ricciardo was third after fending off Mercedes' Lewis Hamilton in the closing stages.
Kimi Raikkonen took a distant fifth in the second Ferrari, with Romain Grosjean an excellent sixth for Haas. The Force Indias of Sergio Perez and Esteban Ocon were seventh and eighth, while Williams staged an impressive recovery with Felipe Massa and Lance Stroll – who started 17th and 18th respectively – completing the top ten.
It was a dramatic beginning to the race. As Bottas made a getaway so good the stewards' investigated a potential jump start, Toro Rosso's Daniil Kvyat braked too late into Turn 1 and ran into the fast-starting Fernando Alonso.
Much to the chagrin of Red Bull's Max Verstappen and his legion of orange-clad fans who sat watching in horror, Alonso's McLaren inadvertently collided with Verstappen, who spun. Verstappen and Alonso had sufficient damage that they were forced to retire. Kvyat continued, receiving a drive-through for his trouble.
From there on, in many ways it was a rear-loaded race, with most of the action at the end. But if you asked Bottas if it was 'a Sunday afternoon drive' to the second win of his career he would likely disagree strongly. The Finn led easily from pole and dominated the first half of the race when the leaders were running Pirelli's ultrasoft tyres – but once the switch to supersofts came it was a whole different story. Then Vettel's Ferrari came alive, and so did the race.
From lap 47 onward, the German was on fire, steadily hunting down the Mercedes driver as the latter's tyres started fading. The final laps were nail-biting as Vettel closed remorselessly, until they crossed the start/finish line with one lap left just six-tenths of a second apart. Despite the state of his rubber, Bottas clung on to take a hugely well-earned victory, and a possibly crucial one for Mercedes, for Hamilton's fight from eighth ultimately only yielded fourth place.
On his supersofts the Englishman ought to have been on the best strategy, according to Pirelli, but after he had disposed of Ocon, Perez and Grosjean and closed in on Raikkonen's Ferrari, his tyres were actually finished before his rivals' softer compounds, so he was the first major runner to pit, on lap 31.
Thereafter he should have flown with ultrasofts on a lighter fuel load, but his Mercedes was carrying too much front wing, and though he would later battle strongly enough to set fastest laps, he could only close on third placed Ricciardo without ever truly presenting a challenge. On lap 70 they were side-by-side in Turn 4, but Ricciardo had the inside line and held firm. Over the course of the final lap Hamilton's challenge faded, so where his team mate won by those six-tenths, he was 1.4s down.
Raikkonen was a long way back in fifth for Ferrari, as Grosjean upheld Haas' qualifying promise with a strong sixth ahead of the duelling Force Indias of Perez and Ocon, the Frenchman facing a race-long challenge from fast-starting Massa in his Williams. The Brazilian and his Canadian partner Stroll made the most of first-corner mayhem to take the final points. Jolyon Palmer's best drive of the season saw him see off Renault partner Nico Hulkenberg, and just fail to beat Stroll to the final point by half a second.
Stoffel Vandoorne was 12th in the other McLaren, penalised for ignoring blue flags, ahead of Hulkenberg, the Saubers of Pascal Wehrlein and Marcus Ericsson, and Kvyat. Carlos Sainz had to retire the sister Toro Rosso after falling dramatically from points contention early on with mechanical woes.
The other retiree was Kevin Magnussen, who was hounding Palmer when he suffered hydraulic failure on his Haas.
Vettel now has a 20-point lead heading into the British Grand Prix weekend, with 171 points to Hamilton's 151, the closing Bottas on 136 and 107 for Ricciardo.