Bottas - I'll need 'fighting spirit' after qualifying crash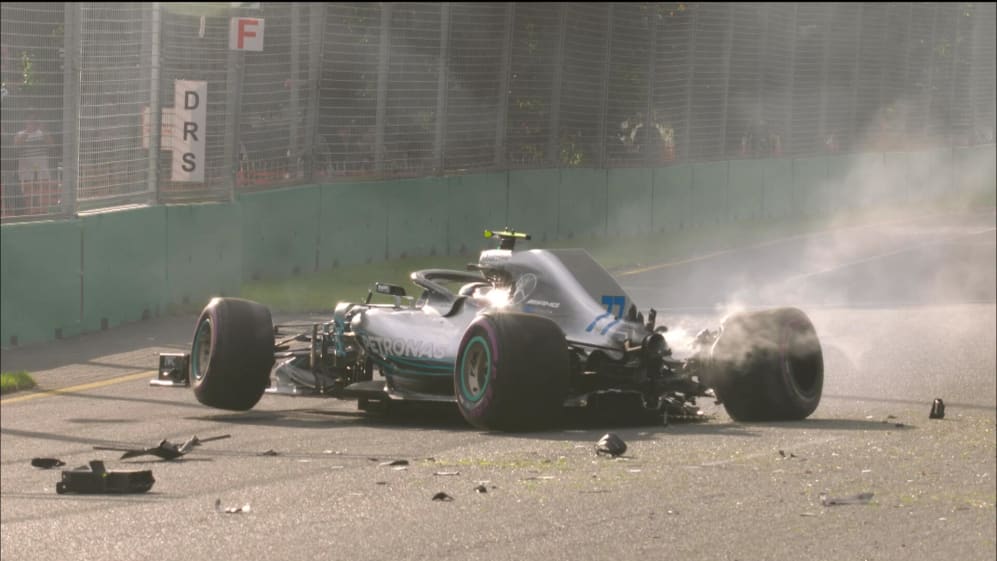 Mercedes' Valtteri Bottas knows he must be in maximum-attack mode for Sunday's Australian Grand Prix after a qualifying mistake put him into the wall and out of the fight for pole at Albert Park.
Bottas, who saw team mate Lewis Hamilton storm to pole, threw away a potential front-row start with a rare driving error at the beginning of his first timed lap in Q3.
"I used a bit more of the track in the exit of Turn 1 – went a bit too wide actually – and was just surprised that I think it was still a bit damp from the rain previously," said the Finn, who was unhurt in the incident.
"I lost the rear of the car and tried to correct it, but it happened so quick that there was nothing I could do really and I hit the wall at the exit of Turn 2."
The mistake, which brought out the red flags, consigned Bottas to tenth place in the qualifying order. But with his car having sustained substantial damage, repairs - including a penalty-incurring gearbox change - will see him drop to 15th on the grid.
"We were lucky because it was a big shunt – it looks like it was 27G," said Mercedes chief Toto Wolff. "The chassis is OK, the gearbox not."
After the Finn hit the barriers, Wolff was caught on camera visibly upset.
"My reaction with [swearing] was probably about the psychological effect it could have on Valtteri. Because Lewis was fastest throughout the session and in the last run before that he put sector two and especially sector three together, he had a purple sector three, but lacked in sector one. You know where you lack time, but then you carry too much speed into Turn 1, the grip is not there and you shunt it into the wall.
"This is a moment when you could start to question yourself and this in race one is not good for the psychology of the driver. We are trying to give him all the support we can and obviously it's very early days for our team championship, but starting P15 in Melbourne is obviously not an easy starting position."
For his part, Bottas said there was little he could do but give it his all in the race.
"We approach tomorrow with a fighting spirit," he said. "It's still no points from Saturday – points are given on Sunday – so go for the race and try to come up as high as we can. We're going to give it all as a team and me as well – we'll see."
Wherever he starts, it will remain Bottas's worst qualifying result to date for Mercedes – in his first season with the team last year he was never lower than sixth on a Saturday.
In the 2017 Melbourne race he finished third – the same position from which he started.