Bottas reflects on early lap collisions in Japan that forced him to retire 'undriveable' car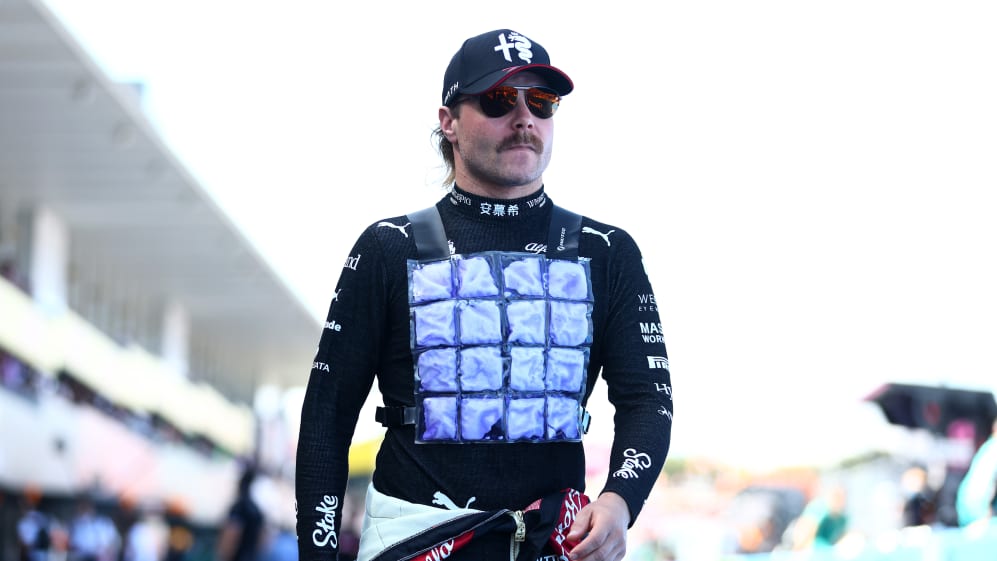 Valtteri Bottas and Zhou Guanyu were left to lament a chaotic and eventful first few laps at this weekend's Japanese Grand Prix. While the former was forced to retire due to damage, the latter was able to continue on to finish 13th.
Bottas had a solid getaway from 16th and went three-wide with Esteban Ocon and Alex Albon on the run down to Turn 1. Unfortunately, he collided with both drivers, with Bottas sandwiched between the pair, forcing him to pit for a new front wing.
READ MORE: SAY WHAT?! Intra-team squabbles, crashes galore and Verstappen's joy all feature in the best team radio from Japan
While trying to make his way back through the field, he looked to go around the outside of Logan Sargeant at the hairpin. However, the Williams driver locked up, sending him straight into Bottas, and he subsequently knocked the Finn into the gravel and later out of the race.
Reflecting on the Lap 1 incident, Bottas said: "Yeah, pretty eventful short race. But, I mean, I had a great start actually off the line, I was between two cars going into Turn 1.
"And the car on the right started squeezing to the left so then, in the end, there was not space, so there was a collision, and I had a puncture on the front right."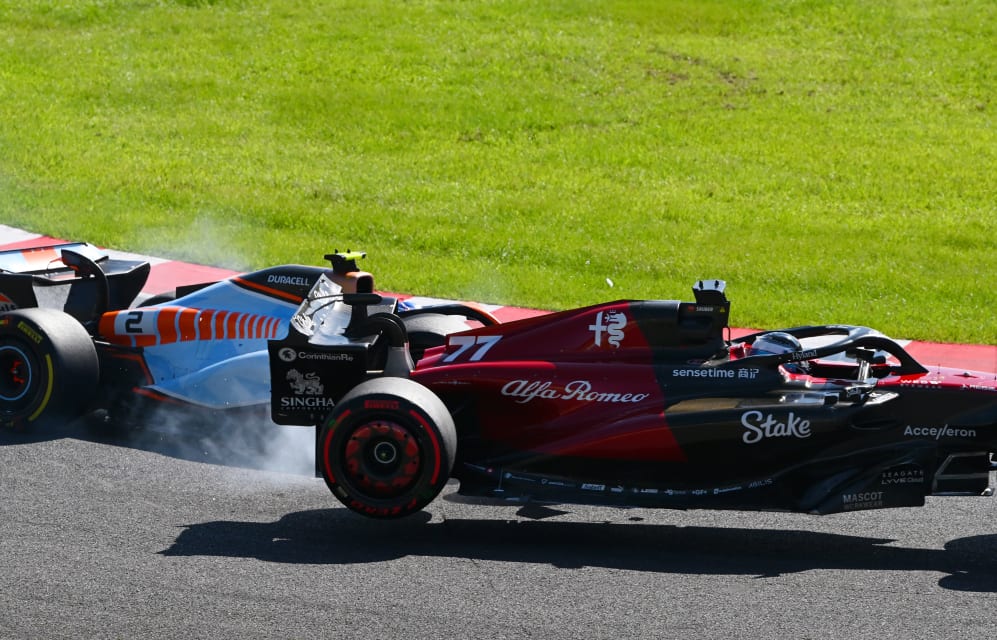 Looking at the race-ending incident with Sargeant, Bottas explained why he could not continue on after the collision. He said: "We tried [to continue], but there was too much damage. The car was undriveable.
"Some damage to the suspension, also had a hole in the sidepod, so it was not really driveable. So, unlucky, with Sargeant obviously. [I] just tried to make the move from the outside, but he probably locked up and ended up taking me out."
READ MORE: Perez frustrated by 'disastrous weekend' in Japan but hails Red Bull's 'tremendous year'
Bottas was not the only Alfa Romeo driver to sustain damage at the start of the race, with a stray piece of carbon fibre that came about as a result of the Finn's incident with Ocon and Albon damaging Zhou's front wing. But he said the pace from then on was not too bad as he finished in 13th.
"Yeah, very good start and then, trying to make my way forward, all I saw was four or three cars touching and one massive carbon piece went straight into my front wing, that was it," said Zhou.
"I had to just take it easy to not destroy the car on Lap 1, then the race was a bit compromised. After that, the pace was alright actually. We were quicker than the AlphaTauri, they seem to have a better package this weekend, [but it] was an improvement that's for sure."
F1 NATION: A dominant Verstappen victory as Red Bull seal a sixth constructors' crown – it's our Japanese GP review
Previewing how we can expect Alfa Romeo to perform at the Sprint weekend in Qatar in two weeks, Zhou said: "We need to see obviously every track, and this weekend from my side, I made the one mistake in qualifying on the curb – and with the traffic, which we had in that period, compromised our weekend.
"But let's say the pace in general, the speed is a bit more back to what we are supposed to be. Just fighting from our side for P10 and P15-ish."