Bottas says he had 'the shakes' after risk-taking pole lap at Imola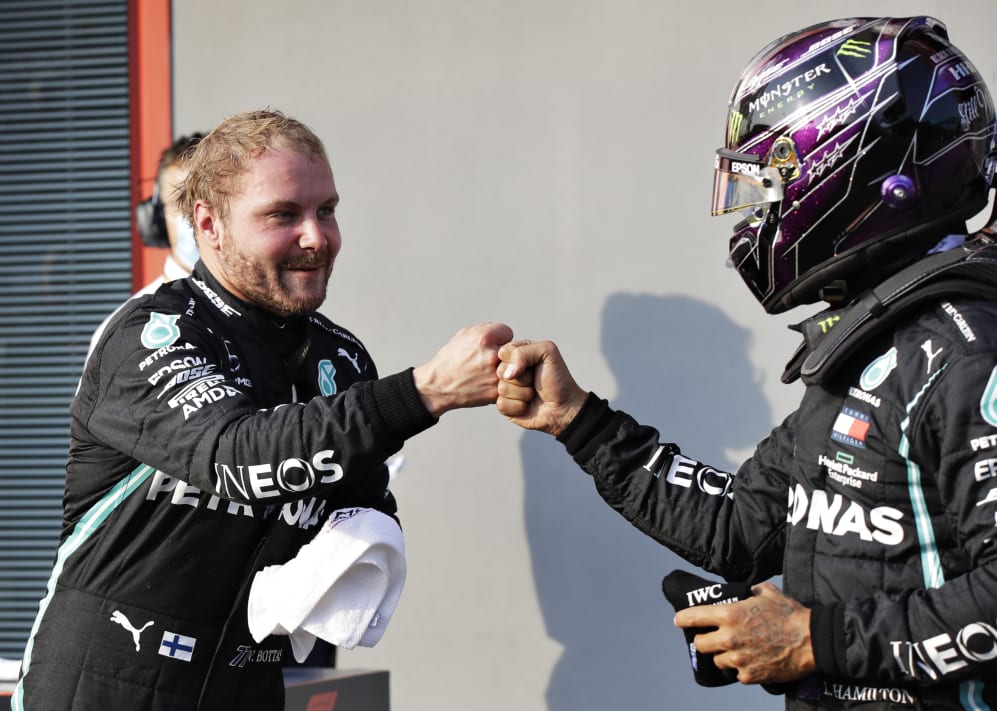 Valtteri Bottas took a clean sweep of qualifying segment P1 times for the Emilia Romagna Grand Prix en route to the 15th pole position of his career – and his fourth of the season. But after ultimately out-qualifying Mercedes team mate Lewis Hamilton by 0.097s, Bottas revealed that his final Q3 effort at Imola had definitely got his adrenaline pumping.
Bottas was under pressure as he headed into his final run in Q3, with Hamilton sitting on provisional pole, 0.031s clear of the Finn. But a storming final effort from Bottas ultimately saw him stop the clocks with a 1m 13.609s, just under a tenth up on Hamilton, who complained of a "p*** poor" final effort from himself after qualifying.
AS IT HAPPENED - Qualifying for the Emilia Romagna GP at Imola
"You always have to [fight for it]," said Bottas after qualifying, having last taken pole at the Eifel Grand Prix two races ago. "You don't ever get easily the pole positions and I really enjoyed it. This track, when you push flat-out, it's beautiful. I knew I had to improve in the last lap and I found those small gains that were needed and it's a great feeling when you get those. Definitely I had the shakes after. It was good fun.
"For me, the Turn 2-3 [the Tamburello chicane], that's something I was really working on today," he added. "I only got there at the end. And the last couple of corners as well, when I tried to risk and go for it, I struggled with a bit of instability on the car, but I knew in the last lap I had to try, so I risked it, and the car just managed to turn in nicely and it was good."
Bottas, who finished the weekend's only free practice session nearly half a second down on Hamilton on Saturday morning, will now have a fight on his hands to keep him team mate – and Red Bull's Max Verstappen, who took P3, ahead of the impressive Pierre Gasly in fourth – behind him in Sunday's race. And that fight will begin for Bottas with the long run down to Tamburello.
"It's going to be a good fight," said Bottas. "It's one of the longest runs in the calendar into Turn 1 [technically, Turn 2], so no doubt Lewis and Max will be chasing me. But it's a good place to start and hopefully the pace is good. Game on."
Mercedes locking out the front-row, meanwhile, boded well for the Silver Arrows wrapping up their seventh straight constructors' title here this weekend, which they'll achieve if they score 11 points or more in Sunday's race.