Report
Brilliant Bottas beats Vettel in Suzuka as Mercedes crowned constructors' champions again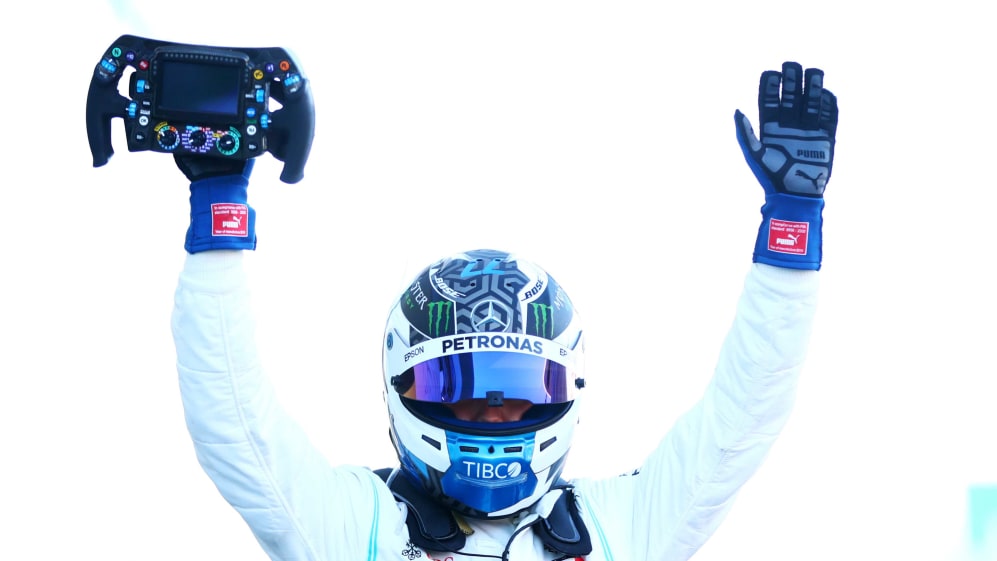 A searing start from Valtteri Bottas from third on the grid was the key to the Finn taking victory at the Japanese Grand Prix – his first win since Azerbaijan in April – as Mercedes were crowned constructors' champions for a record-matching sixth time, Bottas finishing ahead of Sebastian Vettel and Mercedes team mate Lewis Hamilton.
Bottas jumped polesitter Vettel off the start to lead the German into Turn 1 at Suzuka, before going on to control the race at the front, managing a two-stop strategy to perfection to bring home the sixth victory of his career.
Behind, a titanic battle between Hamilton and Vettel for second place in the final laps of the race saw Vettel eventually hold off his rival, crossing the line just 0.4 seconds ahead.
READ MORE: Bottas toasts 'perfect day' after dominating Japanese GP
A first lap coming together between Charles Leclerc and Max Verstappen saw Verstappen suffer race-ending damage, the Dutchman eventually pulling out of the Grand Prix on Lap 14, while a fine recovery drive from Leclerc saw the Monegasque finish sixth - although a post-race penalty for the Verstappen clash and for driving with a damaged front wing afterwards would eventually drop him to seventh.
The sole remaining Red Bull of Alex Albon came home P4, while a brilliant race from Carlos Sainz saw the McLaren driver finish fifth.
Daniel Ricciardo may have been despondent this morning after qualifying a lowly P16. But the canny Australian had converted that to seventh by the race end,, which became sixth after Leclerc's penalty. He was thus classified ahead of Leclerc, Toro Rosso's Pierre Gasly, the Racing Point of Sergio Perez – who ended his race in the barriers but was still classified P9 – and the second Renault of Nico Hulkenberg.
Meanwhile, as Mercedes secured their sixth straight constructors' championship – matching Ferrari's record from 1999-2004 – it also became a mathematical certainty that one of either Bottas or Hamilton will be crowned drivers' champions this season, ensuring the teams' sixth straight double championship, a new record.
FORMULA 1 JAPANESE GRAND PRIX 2019
Japan
2019
Race results
POSITION
TIME
POINTS

1

Valtteri

Bottas BOT

Mercedes

1:21:46.755

25

2

Sebastian

Vettel VET

Ferrari

+13.343s

18

3

Lewis

Hamilton HAM

Mercedes

+13.858s

16

4

Alexander

Albon ALB

Red Bull Racing

+59.537s

12

5

Carlos

Sainz SAI

McLaren

+69.101s

10
AS IT HAPPENED
Vettel made by far the quickest start of any driver on the grid. Unfortunately for him, he made it while the lights were still on – and as he stuttered forward, stopped and then launched proper when the lights did finally go out, his loss of momentum allowed Valtteri Bottas to sweep past both him and Leclerc to take the lead into Turn 1.
Verstappen made a fine start too, and slipped ahead of Leclerc into Turn 2. But the Monegasque couldn't slow his car down enough, tagging the Red Bull as it went around the outside of him and sending it sliding onto the grass, as Leclerc suffered front wing endplate damage. The stewards took note of the incident, deciding to take a closer look after the race, while Verstappen would ultimately pull out of the race on Lap 15, as Red Bull judged his car to be too badly damaged. And just like that, Honda's best hope of taking a Suzuka victory was gone.
At the front, Bottas led from Vettel – the Ferrari driver judged not to have jumped the start after an investigation by the stewards – Leclerc, Hamilton, with Carlos Sainz in fifth and Lando Norris sixth, both having enjoyed a great start to jump Alexander Albon's Red Bull. Leclerc eventually pitted for the damage on Lap 4, getting a new front wing and medium tyres, and emerging last, his hopes for a third victory in five races in tatters.
Lap 4 saw good mates Alex Albon and Lando Norris looking decidedly un-matey, as Albon launched a Senna-esque lunge into the Casino Triangle chicane, bumping the McLaren off track and forcing him to pit early – yet another job for the stewards, who ruled no further action was necessary.
Meanwhile, early midfield movers in the race were the two Renaults and two Racing Points, with Lance Stroll P7, Nico Hulkenberg P8, Sergio Perez P9 and Daniel Ricciardo P10 by Lap 8 of the race.
Bottas was controlling the pace at the front, opening up a decent gap over Vettel as those two and Hamilton lapped clear at the head of the field, Sainz kept things steady in a respectable fourth, managing to keep Albon at bay.
Vettel was the first of the lead drivers to pit on Lap 16, his new softs indicating that he was set for at least a two-stopper, having already started on the red-walled rubber. Bottas then pitted a lap later for mediums, with Hamilton brought in on Lap 21 for his own mediums – Mercedes informing Bottas that he was due to stop again, but that they wanted Hamilton to attempt a one-stopper.
For his part, Hamilton was apoplectic, as he emerged from the pits almost a pit stop's worth of time down on team mate Bottas. "Why didn't you give me hard tyres?!" he asked his race engineer Pete Bonnington. "I'm out of the race."
Mercedes eventually decided to ape Bottas and Vettel and switch Hamilton onto a two-stopper, bringing him in for used softs on Lap 42 – Vettel having made his second stop on Lap 31, Bottas on Lap 36. And while Bottas was away up at the front, it set up a thrilling final 10 laps as Hamilton on used softs went after Vettel on new mediums for second place.
Hamilton was driving at his scintillating best, his frustration pouring out onto the racetrack as he hunted down the German. But ultimately, he would come up four-tenths short at the line, Vettel just holding on to salvage second place after his brilliant pole position earlier in the day.
Behind, Alex Albon earned the best finish of his career to date, coming home fourth at Red Bull power unit supplier Honda's home track, with Sainz just under eight seconds behind, the pair finishing ahead of Leclerc, who stopped late in an ultimately futile attempt to wrench the fastest lap point off Hamilton.
Leclerc would eventually be handed both a five and a 10-second penalty after the race, however, the former for his part in the Verstappen incident, and the latter for continuing to circulate with a badly damaged front wing. Those penalties would see him fall from sixth to seventh.
Ricciardo would have been delighted to lead a double score for Renault, as Leclerc's penalty promoted him to P6, while team mate Hulkenberg was classified in P10. Behind Leclerc in seventh, Pierre Gasly survived late contact with Sergio Perez to claim an excellent P8, with Perez eventually classified P9.
But the spoils of the day went to Bottas, as he closed out win number six of his career, and a badly needed one, too, given that his last victory had come at Baku in April. The Finn, the first driver to ever win from the second row in Suzuka, duly earned the Driver of the Day award for his troubles, while with Mercedes outscoring Ferrari by 17 points, they earned their sixth straight constructors' title.
The key quote
"I'm happy, very happy you know. Obviously it was pretty close qualifying and yeah starting third here is never easy but obviously no point ever to give up on everything, and I knew everything was possible today. Opportunities were there. First one at the start and I had a really nice start and obviously Sebastian had an issue and I managed to get into the lead then the pace was super good and I could control the race, I really enjoyed it, had fun. I'm very very happy." – Valtteri Bottas
What's next?
Formula 1 returns at the Autodromo Hermanos Rodriguez for the 2019 Mexican Grand Prix on October 25-27. And with the drivers' championship now a two-way fight between Hamilton and Bottas, get set for a scintillating internecine battle between the Mercedes pair in Mexico City.