Report
Brilliant Bottas romps to emphatic victory in Australian season-opener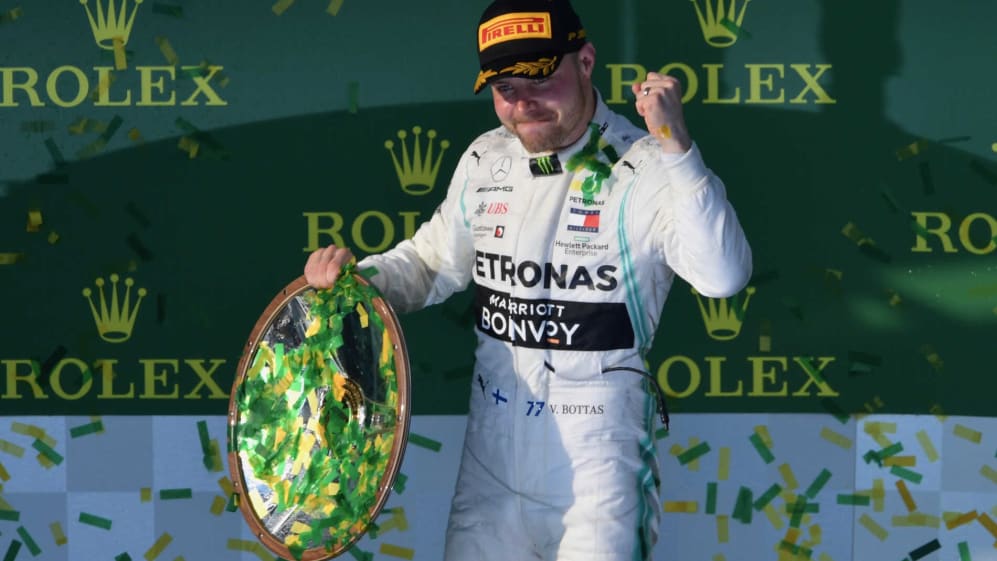 As the 2019 season finally began in earnest at the Australian Grand Prix, Mercedes' Valtteri Bottas enjoyed a sensational start to his year with a dominant display in Melbourne, leading home team mate Lewis Hamilton for a Mercedes one-two ahead of the Red Bull of Max Verstappen.
Bottas finished the race over 20 seconds clear of the field, and even claimed a bonus point for the fastest lap of the race to come away from Albert Park with a full 26 points.
Ferrari were forced to play third best in Australia, Sebastian Vettel finishing fourth for the Scuderia, one place up on his team mate Charles Leclerc, who was called off the attack on the German late in the race. Haas' Kevin Magnussen headed off a hugely competitive and closely fought midfield in sixth, ahead of the Renault of Nico Hulkenberg and the Alfa Romeo of Kimi Raikkonen in eighth.
FORMULA 1 ROLEX AUSTRALIAN GRAND PRIX 2019
Australia
2019
Race results
POSITION
TIME
POINTS

1

Valtteri

Bottas BOT

Mercedes

1:25:27.325

26

2

Lewis

Hamilton HAM

Mercedes

+20.886s

18

3

Max

Verstappen VER

Red Bull Racing

+22.520s

15

4

Sebastian

Vettel VET

Ferrari

+57.109s

12

5

Charles

Leclerc LEC

Ferrari

+58.230s

10
The race as it happened
The seeds of Valtteri Bottas' victory were sewn off the line in Albert Park, the Finn rocketing out of his grid slot to head Hamilton by the time they reached Turn 1. Behind, Daniel Ricciardo's home race got off to a nightmare start, as he got launched over the grass at the pit exit as he tried to squeeze past Racing Point's Sergio Perez and ripped his Renault's front wing off, the resulting damage appearing to give the Australian a handling imbalance on his R.S.19.
Down at Turns 1 and 2, Leclerc came within a whisker of blotting his Ferrari copybook early on as he attempted a move around the outside of Sebastian Vettel, nearly wiping the two scarlet cars out of the race before the end of the first lap.
Further down the order, McLaren's Carlos Sainz enjoyed a strong getaway from P18 to climb three positions – but having ended up in that lowly grid place after a frustrating qualifying yesterday where we was blocked by Robert Kubica, Sainz's tough start to the year continued when his MCL34 had a fiery expiration on lap 11.
Say What? The best team radio from Australia
At the front of the field, Bottas looked comfortable ahead of Hamilton, while behind, Max Verstappen was showing that there was pace in the Honda-powered Red Bull, the late-stopping Dutchman moving from fourth to third on lap 32 with a brilliant move around the outside of Turn 3 on Vettel. Both the Ferrari man and his new SF90 seemed out of sorts on race day in Melbourne, with Vettel asking his race engineer at one point 'Why are we so slow?'
No-one on the Ferrari pit wall seemed to have an answer, and as Verstappen got clear and went after the second-placed Hamilton – who ultimately managed to hold on until the race end, aided by Verstappen slewing off the track at Turn 1 in his hot pursuit – Vettel had to suffer the ignominy of team mate Leclerc being told to hold station behind him, the Ferraris cruising around in formation in fourth and fifth.
Lap 30 saw Ricciardo capping off his miserable Renault debut when the team retired him with a suspected issue, while a lap before, Haas' Romain Grosjean pulled off to the side of the track for his own retirement. The cause? Amazingly, the Frenchman's front-left tyre appeared to have been fitted incorrectly in his pit stop, the self-same issue that forced his withdrawal from a strong points-paying position in 2018.
MUST-SEE: Watch how close Ferrari came to disaster in Australia race start
With a handful of laps to go, and with around a 25-second advantage, Bottas was so comfortable that he radioed into the Mercedes pit to ask if he should pit for fresh tyres in order to try and set the fastest lap of the race to try and claim an extra point. Mercedes replied strongly in the negative, but the Finn had enough life left in his tyres to set it anyway and round out a perfect weekend, with a full 26 points to his name.
"I don't know what to say," said a stunned Bottas after crossing the line to record win number four of his career, while also heading a Mercedes one-two for the first time since he last won at Abu Dhabi in 2017. "I don't know what just happened. It was definitely my best race ever."
Verstappen had never run in the top three at Albert Park until today, but showed that there was front-troubling pace in his Red Bull-Honda RB15 to claim the final podium position - Honda's first since 2008.
But it was back to the drawing board for Ferrari after the season opener, Vettel crossing the line in fourth a full 57.1 seconds adrift of Bottas, with Leclerc tucked in obediently behind as Ferrari stuck to the Vettel-biased plan that they'd announced they'd go for early on in the season.
Behind, Haas' Kevin Magnussen headed what looks to be a very evenly matched 'front' of the midfield, the Dane in P6 to Toro Rosso's Daniil Kvyat in P10 separated by less than 10 seconds.
So, the spoils go to Valtteri Bottas who, after failing to score a victory in 2018, has got one under his belt with just one race down in 2019.
Every time a driver has headed a team one-two in Melbourne, that driver has gone on to win the championship, while the team have taken the constructors'. Have we just witnessed the dawn of Valtteri Bottas as a serious championship contender?
What's next?
The teams and drivers will head back to Europe to debrief on the opening race, before reconvening in a little under two weeks in Sakhir for the Bahrain Grand Prix. There they can expect a very different challenge to Melbourne, with hot temperatures, an abrasive track surface and a layout which offers plenty of opportunities for overtaking.