Opinion
BUXTON: Why Ferrari should have backed a more offensive strategy for Leclerc in Baku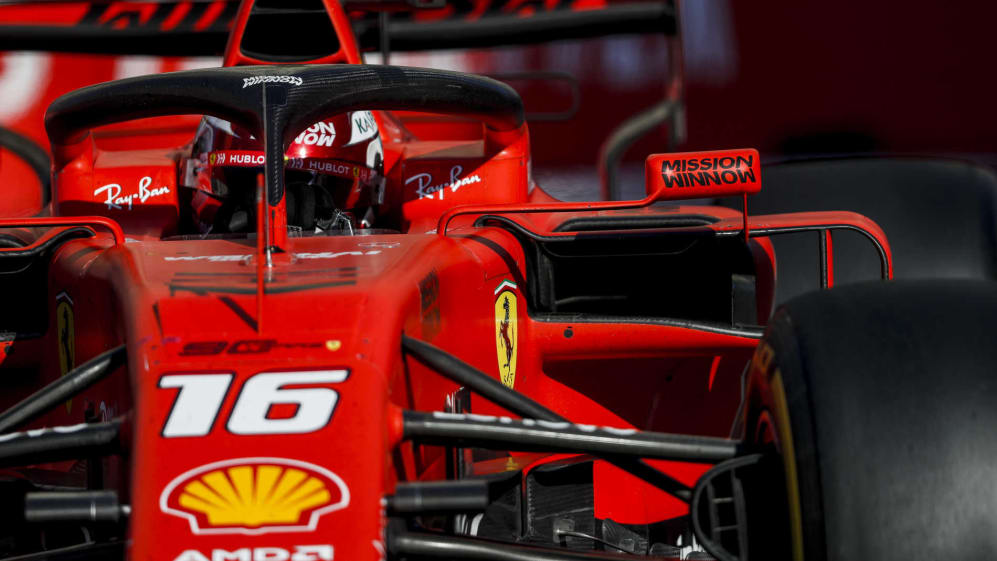 So we're four races in and there are some staggering statistics doing the rounds. Mercedes with the best start to an F1 season in history. That colossal 74-point gap at the top of the standings.
For me though, the season so far can be summed up quite simply. After four races and four Mercedes one-twos, Ferrari only have three podiums. Three. Not even the second best team at every race. That's the stat. For the championship favourites.
It's got everyone scratching their heads, not least those in red. But there's an overwhelming feeling starting to form that Ferrari are falling into the arms of a problem with which they have long wrestled. That, much like the Italian football team, under the weight of history and expectation, they are so frightened of losing that they can't win.
READ MORE: The contrasting ways Mercedes and Ferrari approached Baku
Baku was a case in point. They had it all. And they gifted it away. They didn't so much as give Mercedes a sniff as deliver it on a plate. And, once again, it all came down to strategy.
By race morning, the team was already on the back foot. One driver in third, the other in eighth and on a medium tyre that would necessitate an alternate strategy. For Vettel to fight for victory, he'd have to get past or at least stay on terms with Mercedes from the off. For Leclerc, he would have to make up ground. And fast.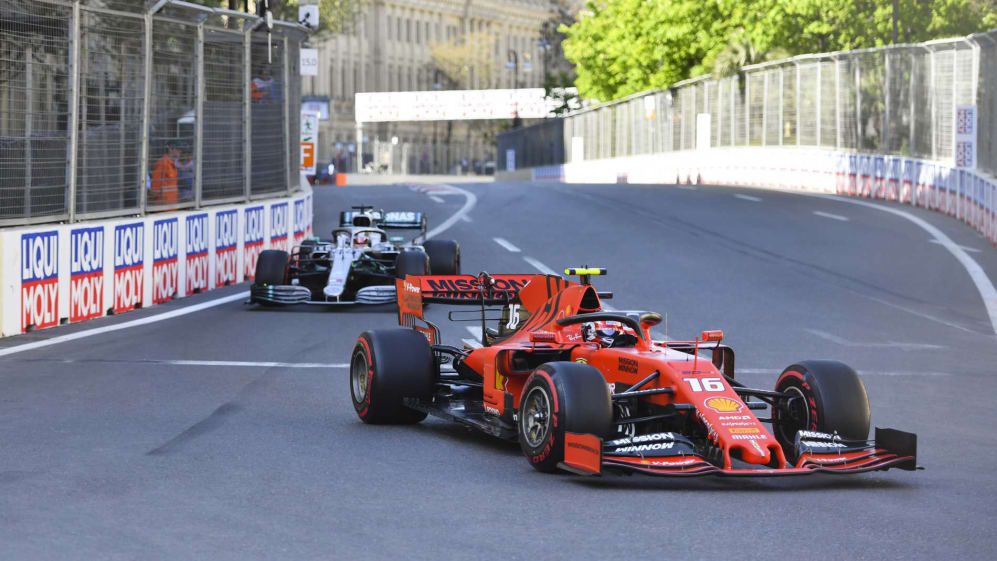 In many ways, Leclerc's poor start did him a favour. It stopped him overworking his potentially delicate mediums off the line. This was always the problem with the medium tyre for anyone who started on it. Any early Safety Cars, and the peculiar nature of the mediums and their warm-up, meant that they'd potentially be sitting ducks on a restart.
Such was Leclerc's weekend pace advantage that, once DRS was enabled in the race, he could start to pick off his rivals and make his way through the field with relative ease. By the time he came up to his team mate at the end of Lap 10, he'd been able to maintain the life and pace in his tyres and was unquestionably the fastest man on track.
Ferrari's decision to pit Vettel and get him out of Leclerc's way showed they recognised the need to not hold their charging driver up. In this moment, Ferrari for all the world looked to be playing a blinder to make the most of their poor hand.
By Lap 15, Leclerc held a 14-second gap over the Mercedes duo. The AWS predictor showed that, had he pitted on or around Lap 17, he'd have come out either in between the two Mercedes or just behind Hamilton. On fresh tyres.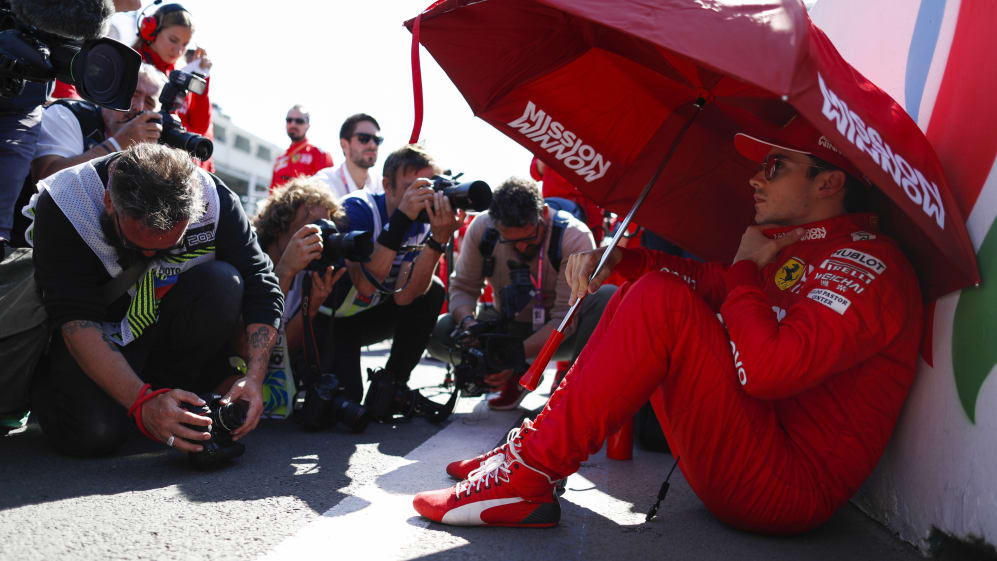 The problem here, of course, is that looking at a one-stopper, he'd have needed the hards, as rules dictate he couldn't have run medium-medium, and softs would never have lasted the remainder of the race. Hards were absolutely not the race tyre and he'd have dropped like a stone. Pit him for softs, and he'd have been committed to a two-stop strategy that was sub-optimal in terms of time lost in the pit lane (20 seconds in green-flag conditions). Lose that much time, and there's a chance he could have lost out to Verstappen for fourth.
The upside of the two-stop strategy, however, was the potential to have allowed him the ability to go on the offensive. Softs for the first stop, run them hard for 10 laps then stop for the race-preferred mediums. Or, should wear have proven better as the temperature dropped, soft-soft.
There was, at this point, even the potential of running a sacrificial two-stopper with a medium-medium and a short run on softs at the end in order to get Leclerc into the mix with Mercedes and draw Vettel back into the fight by slowing the silver cars.
A strategy based either on hope, indecision or a staggering conflation of the two, seemingly conspired to hand Ferrari its second 3-5 in two weeks
With his older mediums starting to lose out to the fresher-shod Mercedes duo, however, Leclerc began to edge towards losing the advantage that would have allowed him to stop and emerge in the fight. He also only had until about Lap 21 for a Safety Car to make its appearance. You see, for as long as he held in excess of a 10-second advantage at the front of the field (half the length of the pit stop delta) there was the possibility that, should an SC be called, Leclerc could pit from the lead of a slow-moving field and emerge with his advantage intact.
Safety Cars are regular features in Baku, so while on the surface it appears not to have been crazy to have left him out until the 21st lap, you're still looking at 30 laps remaining of the race at the time the SC cushion was lost, which, even if it had been called on that lap, still places Leclerc onto a one-stopper for hards or a two-stopper had he taken on the soft.
All of which left him hung out to dry on a nothing strategy. If the decision was to leave him out in case a Safety Car showed up later, he'd still have been in a position of needing hards to go to the end, or taking on softs and two-stopping.
READ MORE: Strategy cost us in Azerbaijan, says Leclerc
He was caught, passed and even then wasn't stopped. By the time he was brought in, on Lap 34, he had 17 laps to try and make up the time he'd lost on a set of failing tyres. But in leaving him out for so long, he'd fallen behind not only the top three but BOTH Red Bulls. He overworked his softs trying to despatch Gasly, and so was forced to make the second stop anyway to go for fastest lap.
The frustration for many observers comes from the fact that there seemed to be little to no aggression in the strategy Ferrari employed for Leclerc. The pace he'd shown up to Lap 15 where he held that 14-second lead, let alone the remainder of the weekend, showed the potential in the package. But it wasn't exploited. Instead, a strategy based either on hope, indecision or a staggering conflation of the two, seemingly conspired to hand Ferrari its second 3-5 in two weeks. On a weekend it should have dominated.
Of course Leclerc's strategy had its genesis in his qualifying crash. It was a mistake he placed firmly on his own shoulders, refusing to blame the team. And yet one has to question Ferrari's very strategy of sending their drivers out to qualify on medium tyres at all. Because if we want to pinpoint the moment its weekend began to fall apart, it is here.
Had both drivers set an ample time on the medium tyre in Q2 and made it through on just that run (as Leclerc's time showed they could) then both would have started the race on what we now know to be the sub-optimal strategy. They'd have had to hang on to their mediums for 34 or 35 laps and then run in on the softs. Unless there'd been a Safety Car of course, but had there been and they'd needed to switch any earlier to softs, they'd have committed themselves to a two-stopper anyway.
So why? Why, when they had the best car all weekend, did they choose a risky Plan B, when Plan A was the fastest lights-to-flag option?
That's the ultimate issue here and the frustration for tifosi the world over. Even when they've got the best car, they've conspired to work against themselves. The weekend was theirs. It was for their rivals to plan an alternate method of attack. But Ferrari did their job for them.
People are asking whether Ferrari hung Leclerc out to dry in Baku? Honestly, it really doesn't matter. Because as long as Ferrari's strategies keep hanging the entire team out to dry, Mercedes are going to keep licking its lips.