Feature F1 Unlocked
BUXTON: Nobody came close to Verstappen in 2023 – Catch him if you can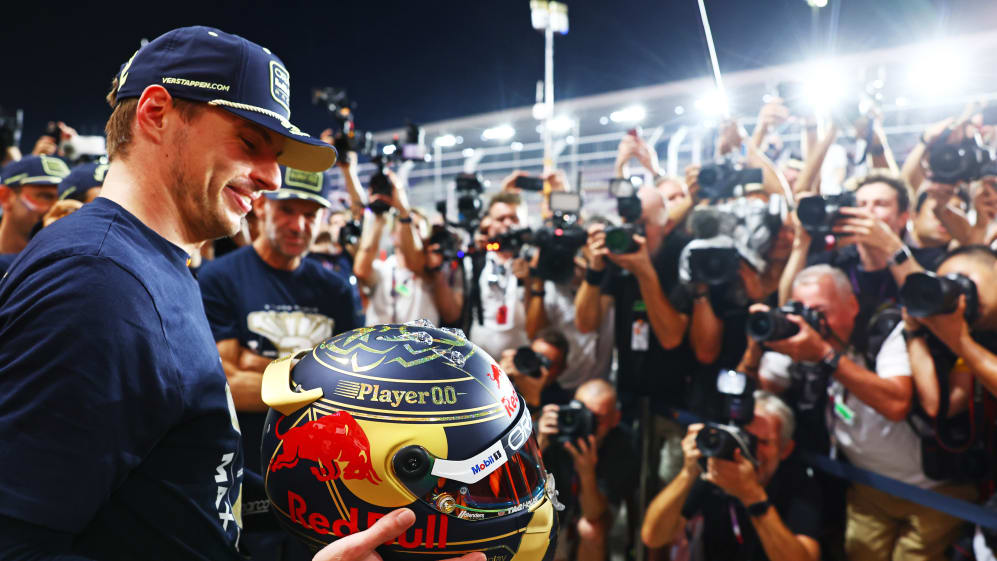 Max Verstappen, three-time Formula 1 world champion.
To put that into context, he now sits at a table surrounded by exceptional company: Senna, Stewart, Lauda, Brabham and Piquet. Verstappen's three, however, all occurred together. Only Schumacher, Hamilton, Vettel and Fangio took three back-to-back. Only Vettel began his run, like Verstappen, with his first.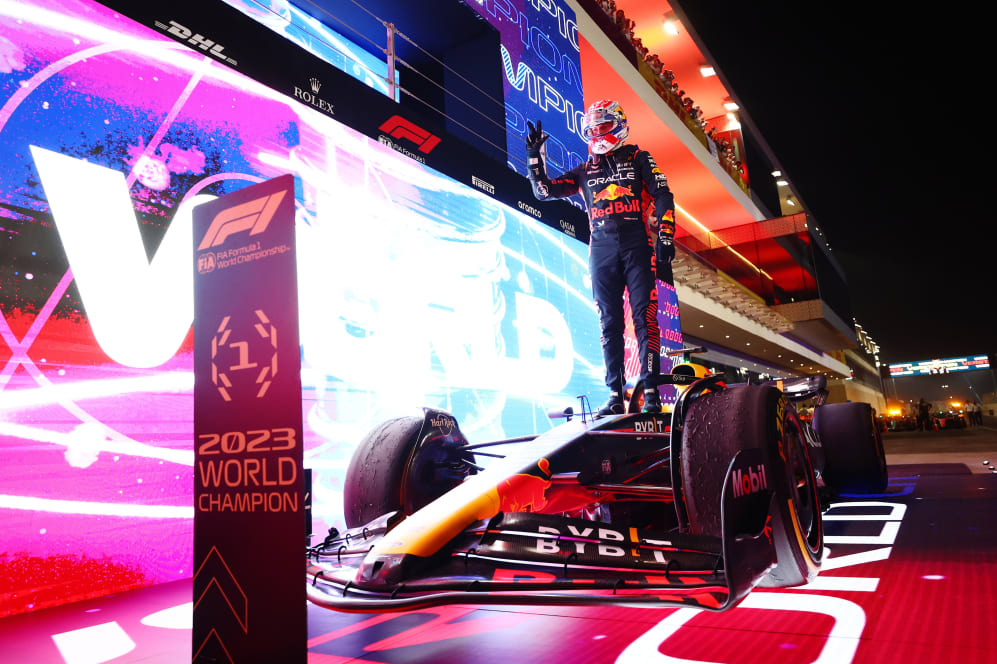 It was decided in Brazil 2022, when a shock win for Mercedes gave the team undue faith to continue for another season with a car concept that deep down they knew was fundamentally flawed.
It was decided soon after the 2022 summer break when Zak Brown delayed making the changes which, once he eventually made them six months later, set McLaren on the path back to victory in Qatar.
It was decided in Maranello's corridors of power with the challenges of a new direction and leadership.
READ MORE: Horner says Verstappen is amongst the 'greatest this sport has seen' as he applauds three-time champion
It was decided in the design offices of Bradbourne Drive. By Adrian Newey and his team of genii behind the RB19.
It was decided by Honda and Red Bull Powertrains. It was decided by Jonathan Wheatley and the operational perfection of the team under his watch.
It was decided by Hannah Schmitz, Gianpiero Lambiase, Pierre Waché, Paul Monaghan, Ben Waterhouse – by everyone you've seen on the podium in Red Bull kit. By those in the garage and those on pit stop duty. Those you see on TV. And the hundreds that you don't.
It was decided by Christian Horner. It was decided by Helmut Marko. It was decided by Dietrich Mateschitz. It was decided by Jos Verstappen and Sophie Kumpen
It was decided by Max Verstappen.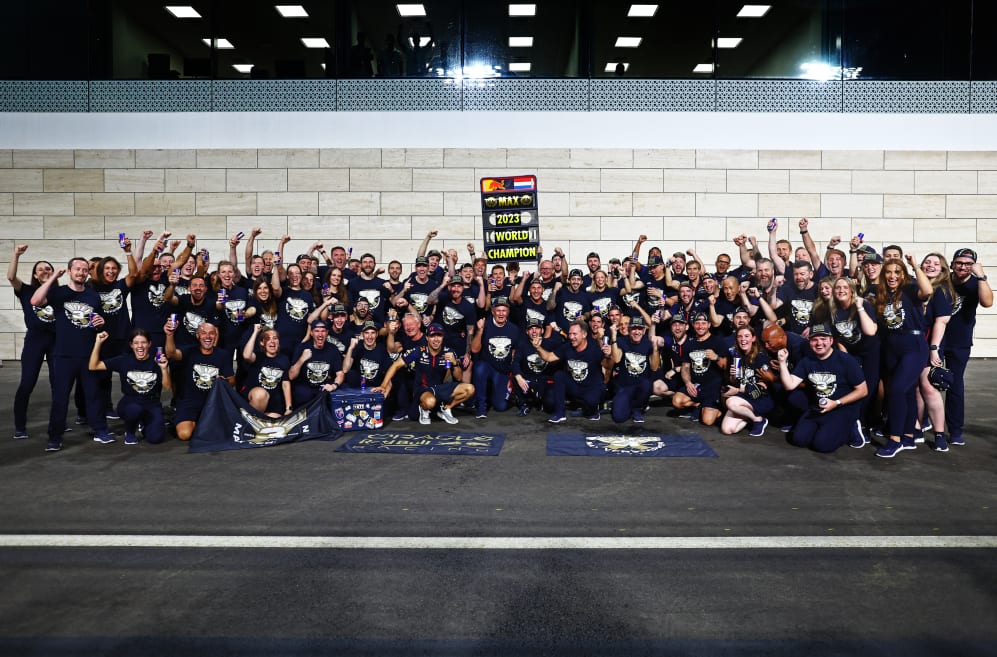 World championships are not the making of one person or even one team. They require a myriad of variables to come together, some created by method and process, others by blind luck. But without them all, the perfect storm cannot exist.
It's when those facets that can be controlled are done so with absolute ruthless efficiency and nigh on perfection that the conditions exist for the kind of domination we've witnessed this year. And for that to be so, it always falls on the driver to deliver.
Rare are the times in this game where a driver and team have come together with such synergy. Fangio had it with Mercedes. Ascari with Ferrari. Clark and Lotus. Michael with Ferrari. Seb with Red Bull. Lewis with Mercedes. Fleeting moments of absolute perfection, of a symbiotic relationship between driver, car and team. Add Max Verstappen and Red Bull Racing to that limited list.
WATCH: The DNA of a champion – Verstappen's journey to winning his third F1 world title
Verstappen himself has come of age this season. His rivals will tell you that. They talk of how he has calmed his once notorious wildness. Speak with reverence as to his relentless perfection.
"Faultless," is how Lewis Hamilton described him. High praise from a man who knows only too well what it is and what it takes to achieve that level.
Those who work with Verstappen say they've never worked with anyone better. They've never found anyone as driven, nor anyone who can do the seemingly impossible when the tide turns against them. No one who can, and consistently does, extract the maximum from every opportunity. A driver who can turn it on at 100% from the very first lap. Of practice. Unsighted.
Verstappen's demolition of the field in 2023 has been unrelenting and unforgiving. He has been metronomic, almost machinelike, and perhaps in that, there's an element of disappointment – both for us and for him. While wins are wins and the competitor in Verstappen wants to dominate and destroy, if you play his post race radio from 2023 against that from 2021 there is only one conclusion you can draw. Max loves a fight. Max lives to fight.
So we can marvel at his third, at the perfection of his craft and the brilliance of his team. But as his eyes now focus on number four, what we all would give to see how this evolved racer fares back in the fight.
He is a different driver to the one who took his first title just two short years ago. To the driver whose desperation, whose need to win every battle saw him lose focus on the bigger picture of the season itself.
READ MORE: Rivals quick to praise Verstappen as he makes it three F1 titles in a row
I don't think there's a race fan around who wouldn't relish witnessing the three time champion Max Verstappen back in the heat of a world title fight.
How will 2024 pan out? The decisions which will shape it have already been made.
Mercedes will bring a new car and a new philosophy. McLaren are already winners again. Ferrari, too, are now primed. Aston Martin determined. And the target on Verstappen's back looms bolder than ever.
Catch him if you can.
Check out the championship Max Verstappen collection on F1 Store here
To read on, sign up to F1 Unlocked for free
You'll unlock this article and get access to:
Live leaderboard data
Epic experiences and rewards
Money-can't-buy competitions