Carlos Sainz and Justin Thomas score victory at the inaugural Netflix Cup in Las Vegas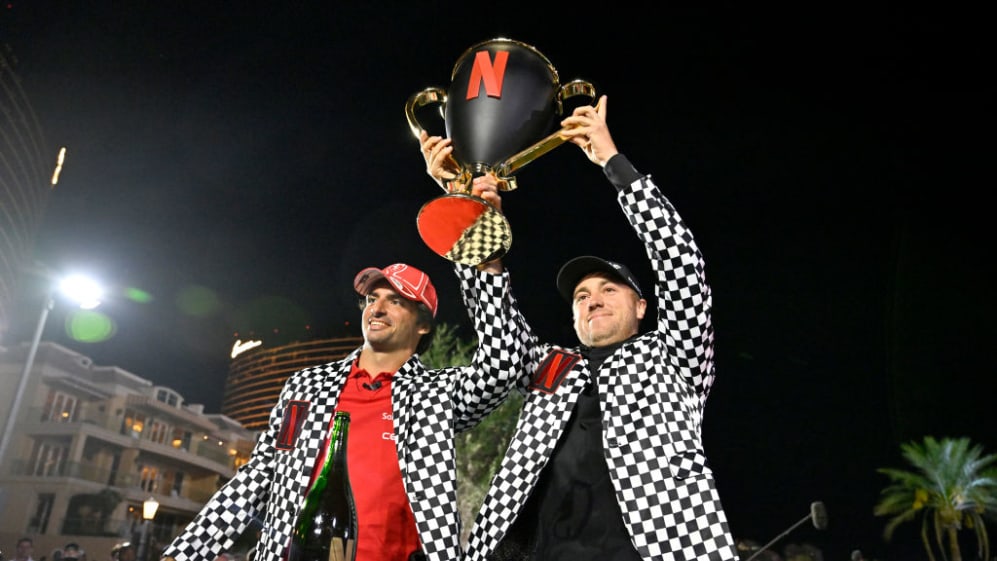 Carlos Sainz – and his partner Justin Thomas – scored victory at the inaugural Netflix Cup last night ahead of this weekend's Las Vegas Grand Prix.
The Wynn Golf Club in the Nevada city played host to the first ever Netflix Cup golf tournament on Tuesday as the stars of the streaming platform's behind-the-scenes sports shows Drive To Survive and Full Swing came together to battle it out in a highly entertaining affair.
READ MORE > IT'S RACE WEEK: 5 storylines we're excited about ahead of the 2023 Las Vegas Grand Prix
Sainz and Thomas defeated McLaren's Lando Norris and his partner Rickie Fowler early on, before facing Alpine's Pierre Gasly and Tony Finau in the final, after they had earlier beaten Williams' Alex Albon and Max Homa.
Sainz and Thomas then went head to head with Gasly and Finau in the closest to the pin challenge on the playoff hole. In the end it was the Ferrari driver and his two-time major winning partner, Thomas, who claimed the victory.
There was plenty of action from the get-go as the four golfers teed off at the same time on the first hole before racing down on their golf carts on the "race course" to get to their balls on the fairway.
Oops! Error retrieving Twitter post
They then tried to arrive fastest to the greens, with the aim being to see who could locate their golf ball the quickest before putting it into the hole, all while navigating the surprise challenges that came their way.
F1 NATION: Tricky corners, testing temperatures and an F1 wedding? Pedro de la Rosa's Las Vegas lowdown
There was also plenty of action following the event as Thomas celebrated by drinking from the trophy only for Sainz to break it after dropping it on the floor while standing on the podium, as you can see below.
The drivers will now turn their attention to the first ever Las Vegas Grand Prix, which kicks off this Thursday.
Oops! Error retrieving Twitter post