Podcast
Carlos Sainz on filling childhood hero Alonso's shoes at McLaren
As an impressionable nine-year-old, Carlos Sainz would often drag his father out of bed at 4am so that they could sit and watch his hero Fernando Alonso winning Formula 1 races halfway around the world. Fifteen years later, and the Spaniard now stands poised to replace Alonso at McLaren.
What happened in between those two periods, as Carlos Sainz explains in the latest episode of the official F1 podcast, Beyond The Grid, presented by Bose, has been a journey to the top of the motorsport tree filled with success and setbacks – happily more of the former than the latter.
From the time he could walk, Sainz was already displaying the genetic traits that had made his dad, Carlos Sainz Senior, a two-time World Rally champion.
"Apparently, when I was two years old, my Dad was rallying all the time," says Sainz. "And when he came back from rallying, he saw me on a little battery car, doing a lot of Scandinavian flicks entering the corners and doing a lot of donuts, and he was asking, 'Who the hell has taught this guy to do that?' – and no-one had taught me! But I had it in my blood and eventually I ended up being a racing driver."
Eschewing rallying in favour of circuit racing, Sainz spent his formative years pounding out laps at his dad's indoor karting track in Madrid until, in 2003, his attention was drawn to a young Spaniard who'd just become the first driver from his country ever to take victory in F1...
"When I turned nine, 10 years old, there was this Spaniard called Fernando Alonso starting to win races in Formula 1," says Sainz. "I met him in 2005 at the Spanish Grand Prix at Barcelona, and when I met him, I went back home and I told my Dad, 'Dad, I want to be like Fernando Alonso one day.'"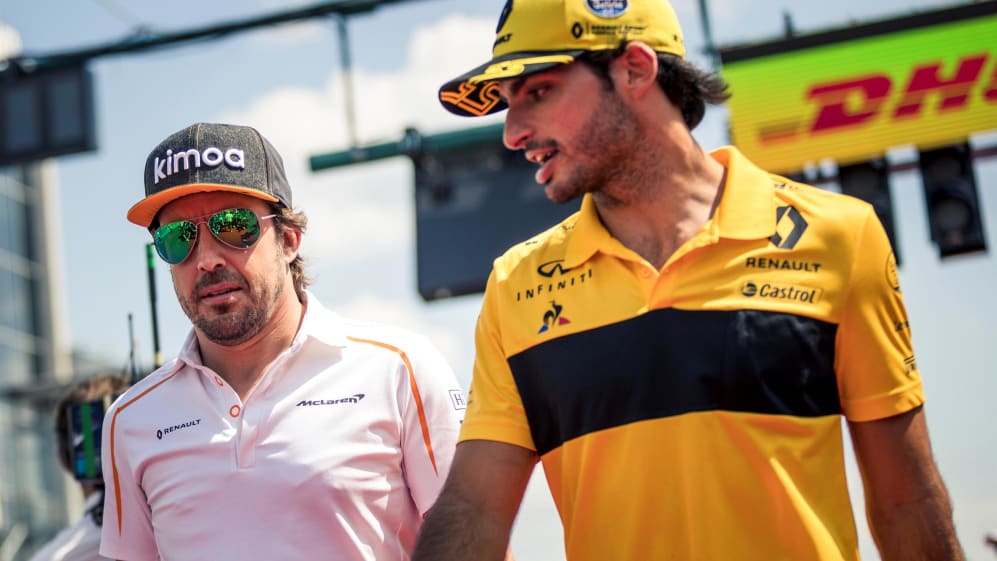 Sainz worked hard to make that dream come true, and after support from Red Bull in his junior single-seater career, he stepped up to F1 alongside Max Verstappen at Toro Rosso in 2015. A year-and-a-bit stint at Renault began in 2017, before in August of this year, Sainz accepted the challenge to become team leader – at just 24 years old – at McLaren on a multi-year deal, in place of his retiring childhood hero. And having clapped eyes on the team's stunning headquarters, the McLaren Technology Centre, Sainz is now more convinced than ever that all the ingredients are there to allow him to steer the team back to race and championship-winning glory…
"It's unbelievable," Sainz tells Beyond The Grid host Tom Clarkson of McLaren's HQ. "The first time I went there and saw it, the first thing that came to my mind was, 'How can these guys not be winning?'... That's why I'm a strong believer that McLaren, in the future, is going to make it back."
To hear more from Sainz about his fascinating path to F1, as well as his plans to reinvigorate McLaren, simply listen on the player above, or head to Apple Podcasts, Spotify or your favourite podcast app.
And to check out all the episodes to date – including interviews with Sainz's current rivals Pierre Gasly, Esteban Ocon and Charles Leclerc – click here.