Feature
CHINA PREVIEW – the stats and info you need to know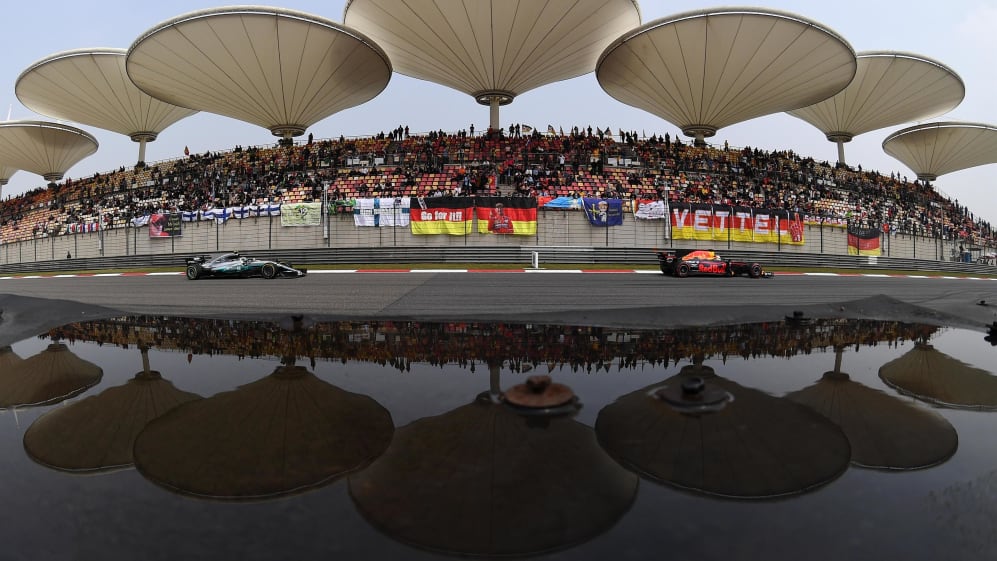 Two rounds in and it's 2-0 to Ferrari – not a situation many would have predicted three weeks ago. Can Mercedes respond at the Shanghai International Circuit, a track on which the world champions have not lost since 2013? Or will Sebastian Vettel steal China from their hands and make it a season-starting hat-trick?
If he does, then history will favour him – and not Hamilton – becoming a five-time champion in 2018, as no driver has ever won the first three rounds and then failed to secure that year's title. Indeed, you have to go back to 1982 to find the last driver who won the opening pair of races and lost the title - Alain Prost.
The pressure is certainly on the Silver Arrows. While they could blame their first-round Australia loss on a software glitch, in Bahrain last weekend they were beaten fair and square by the Scuderia – in both qualifying and the race, and even with Vettel on the 'wrong' tyres.
And thanks to Max Verstappen and Daniel Ricciardo's early exits in Sakhir, Red Bull remain very much the jokers in the pack. Yes, they've been unable to match Ferrari and Mercedes on single-lap speed thus far, but we never got to see what had looked set to be some very competitive race pace in Bahrain…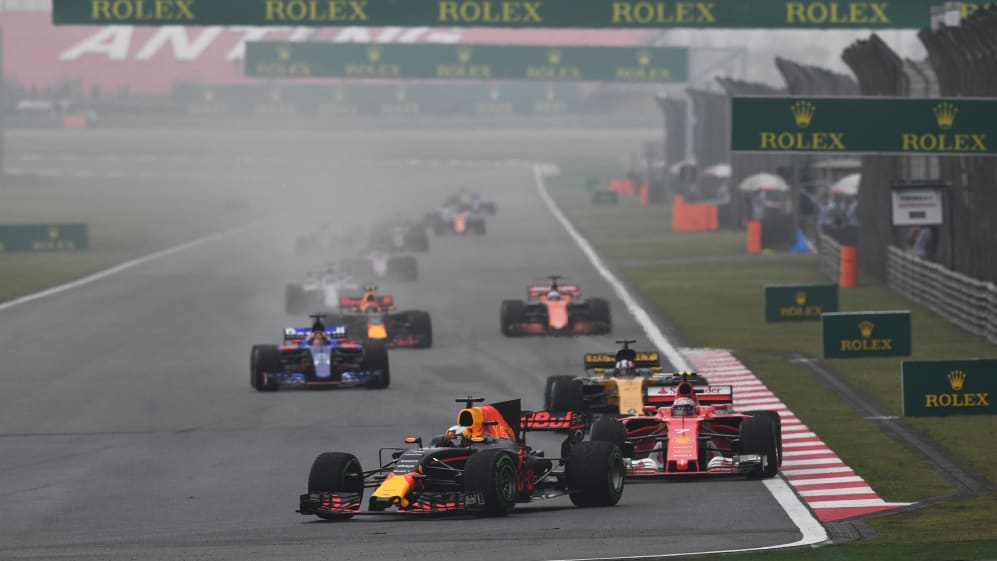 The form book
Mercedes are unbeaten in China in the current hybrid era, with victories for Lewis Hamilton in 2014, 2015 and 2017, and for Nico Rosberg in 2016. Hamilton also won in Shanghai twice with McLaren, making this one of just four tracks he's won at five times (the others being the Circuit of The Americas, Hungaroring and Silverstone). The only circuit on which the Briton has won more often is the Circuit Gilles-Villeneuve in Canada (6).
As for Ferrari, their last triumph was with Fernando Alonso in 2013. The Italian team have been on the podium every year since, but the closest they've come to winning was Vettel's second place last season. Nevertheless, after their Bahrain showing you'd have to be brave to bet against that changing this Sunday.
Red Bull's long-run simulations may have looked good in Bahrain, but it's worth bearing in mind that they've only ever won once in Shanghai, back in 2009 in what was their first ever victory. Max Verstappen made the podium last year, from 16th on the grid no less, though it was a very distant third place for the Dutchman, behind Hamilton and Vettel.
There will be big interest in the midfield too this weekend, after the enthralling race that played out in Bahrain. Keep your eyes on Toro Rosso – Pierre Gasly's fourth place in Sakhir was won on merit, so it will fascinating to see if the Honda-powered Italian team can spring another surprise.
Their strong form, along with that of the American Haas squad, is set to provide some real headaches for their more established rivals Renault and McLaren, neither of whom would have been expecting to play second fiddle to the young upstarts.
And what of Force India? Last season they were 'best of the rest' behind the big three. In Australia they were nowhere. Bahrain brought signs of progress and they scraped a single point. They really need their development work to pay off in China to kick start their season.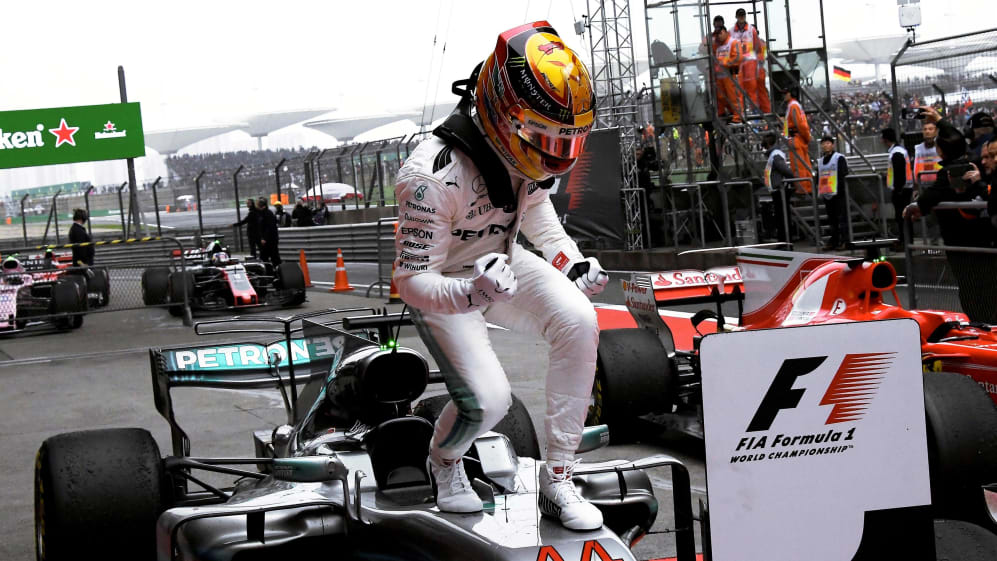 The stats that matter
Mercedes' qualifying record in Shanghai is better than on any of the other circuits on the calendar. This is the only track on which they have been on pole for the past six consecutive years, with 2013 being the only time they failed to convert that advantage into victory. But, in Bahrain no Mercedes topped any session over the weekend, even including Q1 and Q2. This was a first in the current turbo hybrid era.

How important is pole here? In 14 races, the winner has started from P1 nine times. The lowest winning grid slot was sixth, where Michael Schumacher started in 2006.

With third place in Bahrain, Lewis Hamilton equalled Kimi Raikkonen's all-time record for consecutive points finishes. The Briton is looking for a 28th straight top-ten finish this weekend to make the record his own.

Vettel's victory in Bahrain took him to 49 in total for his career. Only three drivers have scored 50 or more wins – Michael Schumacher (91), Lewis Hamilton (62) and Alain Prost (51). Prost was the last driver to win the opening two races of a season and not win the title (1982) and also the last man to win the opening race in consecutive years without winning either title (1987 &1988). No driver has won the opening three races and not been crowned champion that same year…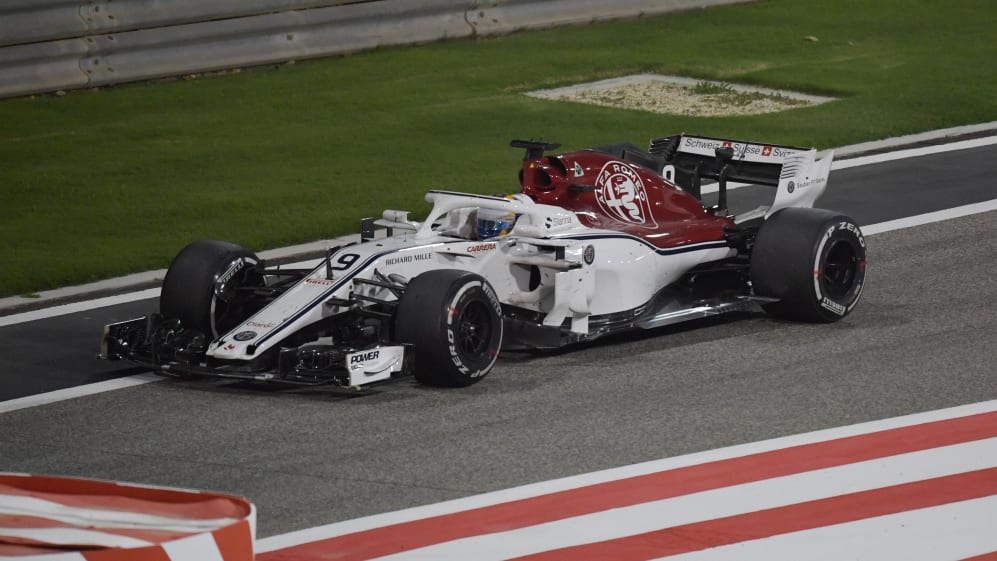 Marcus Ericsson opened his 2018 account with ninth place in Bahrain, but the Swede has only scored consecutive points once in his career, back in 2015.

Williams are currently last in the Constructors' Championship, and are the only team without a point so far. They've been knocked out in Q1 three times out of four opportunities, and they haven't completed a single lap in a points position as yet this season. Aside from Lance Stroll and Sergey Sirotkin, four other drivers are yet to score in 2018: Sergio Perez, Charles Leclerc, Brendon Hartley and Romain Grosjean.

Shanghai is notable for exceptionally high reliability. The 2015 Chinese GP was the sixth of seven races in history to pass without a single retirement. Prior to that, the 2011 and 2012 races featured just one retirement each, both caused by a loose wheel after a pit stop (Jaime Alguersuari in 2011, Michael Schumacher in 2012). There were two retirements in 2014 and only three in 2015. Of the five retirements last year, only three were due to mechanical failure.

Rain has affected the Chinese Grand Prix five times in 13 previous runnings, and qualifying was rain-affected in both 2015 and 2016. The 2009 China race was one of 11 races in history to have been started behind the Safety Car due to wet conditions. Despite the high presence of rain in this event, there have never been more than two Safety Car periods in any Chinese GP, although the Safety Car has been deployed at each of the last 3 races here.

How about this for some bizarre symmetry? The 2016 and 2017 races in Shanghai saw a Mercedes win, a Ferrari finish second, the Red Bulls finish third and fourth, and the other Ferrari finish. Surely we won't see the same pattern this year…
When it joined the F1 calendar in 2004, the Shanghai International Circuit, with its stunning architecture, its unique lakes-and-pavilions paddock, and its imposing 29,000-seat main grandstand, was hailed as a race track for the new millennium. And the breath-taking venue can still make that claim.
The 5.451km layout was constructed on marshland deemed unsuitable for housing. To shore up the wallowing wasteland more than 40,000 concrete pillars were inserted into the ground – something that the track's designers, Hermann Tilke and Peter Wahl, described as "a huge undertaking".
The clockwise layout contains an eclectic mix of corners, from the 270-degree ever-tightening Turn 1 to the fast esses in sector two. The final sector incorporates one of the longest straights of the F1 season, at the end of which lies the best overtaking point on the lap, a second-gear hairpin.
That never-ending Turn 1 / 2 combination is arguably the track's trademark. After a very fast entry, it sucks the driver in, forcing him to shed speed as the corner gets tighter and tighter, before – after what seems like an eternity – spitting him out into the downhill, tight Turn 3.
Elements like this make Shanghai a stern test of tyres, but it's also tough on cars and power units. And then there's the weather, which is often precarious. It all adds up to a venue that can throw up a very unpredictable race weekend.
The tyres
China sees official tyre suppliers Pirelli take the somewhat unusual step of selecting non-sequential compounds. Teams can use the white-marked medium and the yellow-marked soft, but then there is a jump to the purple ultrasoft – available for the first time here – missing out the red supersoft, which was the softest compound in Shanghai last year.
"The new wider range of 2018 P Zero compounds have allowed us to come up with some nominations this year where there is a gap in the tyres selected," explains Mario Isola, Pirelli's Head of Car Racing.
"There's quite a big gap from medium to the softer compounds, which are quite close together (with the exception of the hypersoft). So, by missing out the supersoft in China, we end up with three choices that are quite evenly spaced out, which in turn opens up several different possibilities for strategy.
"These strategy calculations have, of course, already begun, with teams selecting different quantities of the ultrasoft heading into the race, and we could also see some different approaches to qualifying as well.
"With China being an unpredictable race anyway, thanks to a number of different overtaking opportunities and notoriously variable weather, this tyre nomination introduces another parameter, which should hopefully contribute to an even better spectacle."

The forecast
After the relatively balmy temperatures of Melbourne and Bahrain, the teams can expect somewhat cooler conditions in Shanghai this weekend.
Friday's high will be around 20 Celsius, but this could well be accompanied by rain, which could throw a serious spanner into the team's practice programmes.
Dry but cloudy is the outlook for Saturday, at around 17C, while Sunday should finally bring clear skies and sunshine in time for the race, with temperatures rising again slightly to around 18C.
Bear in mind, however, that with weather in Shanghai, history has taught the F1 paddock to expect the unexpected...
When does the Chinese Grand Prix start?