Interview
Cooperation the key to a better F1 - Ross Brawn Q&A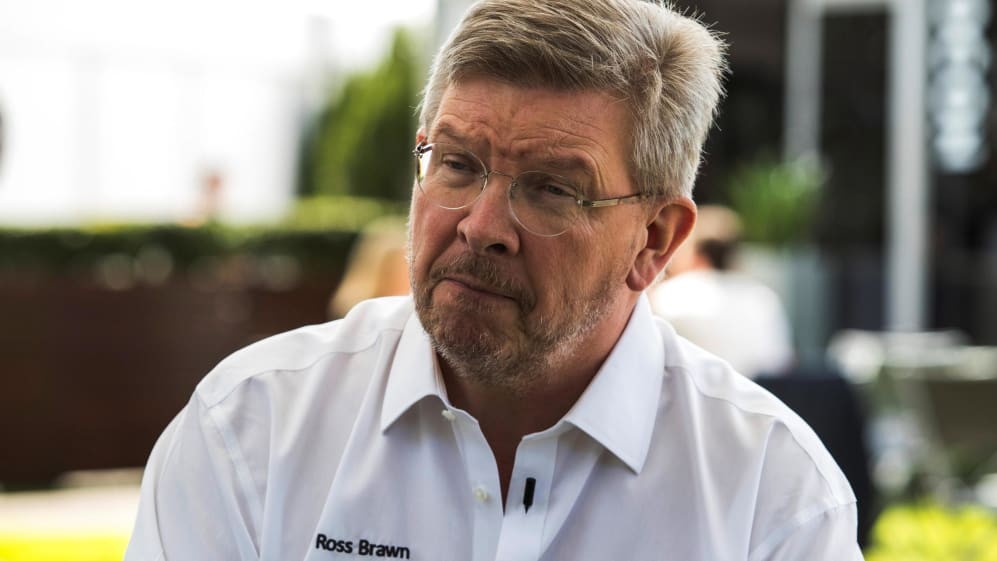 To many, Ross Brawn is the 'public face' of new Formula 1 owners Liberty Media. Along with CEO Chase Carey and commercial chief Sean Bratches, the former technical director, team principal and team owner is tasked with taking over what used to be Bernie Ecclestone's sole responsibility: running the world's premier motor racing series. All three have spent the first months of their roles doing two things more than anything else: asking questions, and listening to the answers. So with the first race of the season up on us, how is Brawn finding his new role?
Q: Ross, your Formula One career has been very colourful: from technical director to team owner to team principal, winning eight constructors' and drivers' championships, and finally to Managing Director, Motor Sports, for Formula 1. What are you expecting from this new chapter of your life in F1 racing?
Ross Brawn: This is a very good description. (Laughs) Because it is a new chapter, that's what has drawn me back into Formula One. It is a new challenge. Other than that I wouldn't have wanted to get involved again. My ambition is to experience this side of the business more so than I did before: the commercial side of the business - the engagement with the fans, the involvement with the teams from a strategic point of view, where we go with Formula One. It's that opportunity to get involved from that side which got me excited and made me want to come back.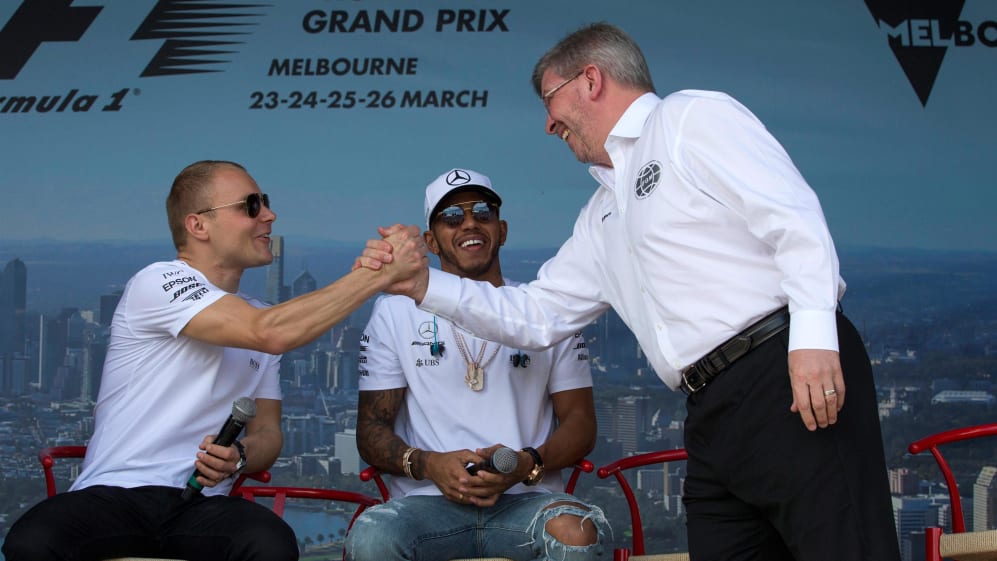 The comparison with Valtteri Bottas is going to be fascinating
Q: How long did you have to think about it?
RB: It took a few weeks from the first proposal. I mean the first proposal was fairly gentle, as I was consultant for Liberty Media for a few months and that enabled me to get to know some of the people that were going to be involved - [Formula 1 Chairman and CEO] Chase Carey in particular. So I had a sort of 'soft' introduction into their plans. It all started in September or October last year.
Q: Now we are right at the beginning of a new season: how would the Melbourne race need to pan out in order for you to lean back in your chair and think to yourself, 'That was good!'?
RB: Ha, well, good racing is always the key. Good racing means strong competition between teams, cars and drivers. It will also be my first experience of being involved in the event as well - so having a smooth event, with everything functioning properly in terms of the responsibilities we have on the commercial side.
Q: Where are you going to watch the race? For decades it was the pit wall…
RB: …good question! (Laughs) I don't know yet. Have not thought about it so far. I guess wherever it is, it will be a strange experience for me, not being actively involved with one of the teams. No team radio, no musing over strategies or how long the tyres will last… Strange!
Q: If you look at the bigger picture, what would make for a successful season?
RB: Well, we are talking about a year. What I hope in this first year is that we will have established the procedures and the approach that we're going to take to try to move Formula One forward. I am a firm believer that we should set a vision of where we want to be in five years' time. If we can start to have the teams work together [with us] on a plan of where we want to be - what kind of engine do we want and what kind of car do we think we want. Some people might argue that five years is too far ahead, but actually it is not. Plus that will give us capacity to anticipate some more changes if we feel they're good and it also means that all the decisions we will make are based on trying to achieve that vision. The changes, the improvements or the objectives might be achieved well before that as well. So if by the end of the year we can have the start of that vision of where we want to be, that would be an important achievement.
Q: There are so many hopes and expectations pinned on what Liberty will do in the coming year. Does that mean you will have to work harder to live up to all these expectations?
RB: Yes, it is encouraging. Everybody is pretty much self-motivated. It is good to see people responding positively. Going back to what I just said about what I want to see: I want to see a more co-operative relationship in Formula One. And it will take a while for everybody to adjust to that, because in the past there was more of a conflict between the commercial rights holder and the teams. It was more of a control strategy. And that's not our style. It is not my style, it is not Chase's style, it is not [Formula 1's Managing Director, Commercial Operations] Sean's [Bratches] style. It is not the way we would want to be involved. If that's what is needed to control Formula One then probably we are not the right people. What we want to bring is much more of a spirit of co-operation where everybody is trying to improve Formula One. Because a great Formula One is a great Formula One for everyone. That is my view and approach. We should set the ambitions on a far higher level.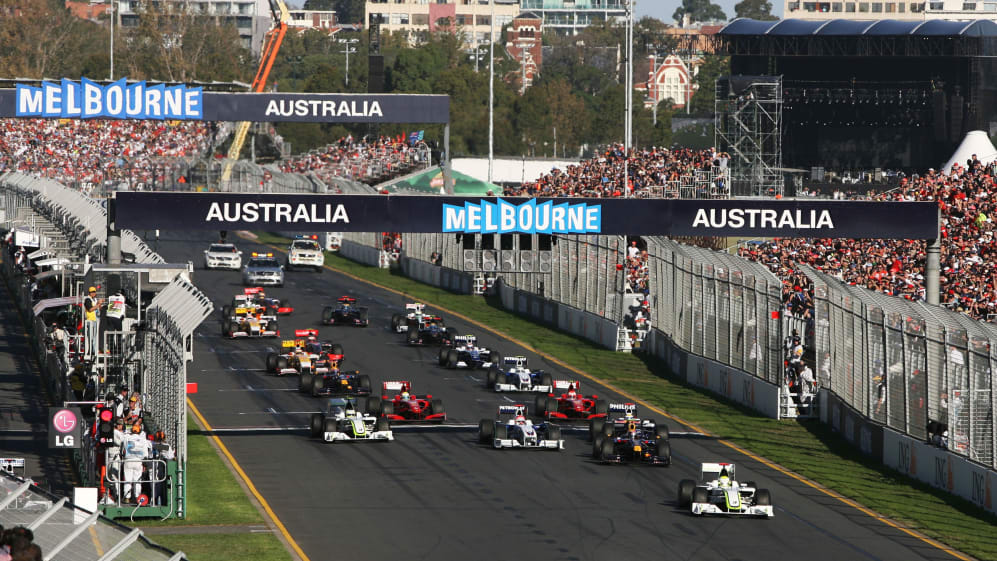 We have to find solutions that can accommodate manufacturers and small teams
Q: Do you speak with Bernie Ecclestone? Is there a fruitful dialogue?
RB: Yes. He gives some advice and some thoughts. It is a pretty natural relationship that I have with Bernie. A very respectful relationship.
Q: With all your plans, how helpful is it having a retired, reigning world champion?
RB: It is not ideal. From a sporting perspective it is good to have the world champion on the grid as a reference. But it is better that Nico [Rosberg] retired if he felt that he didn't want to face up to it any more, than being on the grid without the level of motivation he would need. For him it was probably the right decision - and probably for the sport it was as well, because we wouldn't want to see a world champion in decline. Because that's not great for the sport either.
Q: Which driver from the upcoming generation do you see filling the gap with Nico gone? We have Lewis, of course…
RB: …yes, Lewis is one of the reference points in Formula One - and he is in the right car and the right team. The comparison with Valtteri Bottas is going to be fascinating. At Red Bull you have a fascinating competition between Ricciardo and Verstappen, with Verstappen obviously an exciting element of Formula One. My dream for this five-year plan is that we have more Verstappens in Formula One. We want a system that sees only the best drivers in Formula One. Don't get me wrong: there is a good standard of drivers in Formula One, but if we didn't have the commercial requirements that some of the teams have regarding their drivers, we could raise the standard even higher. But to do that you have to remove the commercial dependency that small teams have on drivers.
Q: Is total balance possible in Formula One racing? With the manufacturers on one side and the smaller, private teams on the other side?
RB: It should be an ambition to have the right balance between manufacturers and small teams. Manufacturers are very important in Formula One - they add to the quality of Formula One. We should be concerned about manufacturers in Formula One, because their reasons for being in Formula One are a little bit different than perhaps an entrepreneurial team owner. But nonetheless they are an important part of Formula One. We have to find solutions that can accommodate manufacturers and small teams.
Q: Is a budget cap a solution?
RB: It is quite a controversial solution, but one that we should discuss. But it's nothing that we ultimately would impose or try to impose. It is a very difficult thing to do when a number of teams are very strongly against it. It does offer some solutions, but I think we have to look for solutions from other directions as well to reduce the impact of resource on performance. Eventually we will get there.