Feature
What To Watch For in the Miami GP: Costly mistakes and Ferrari under attack from row two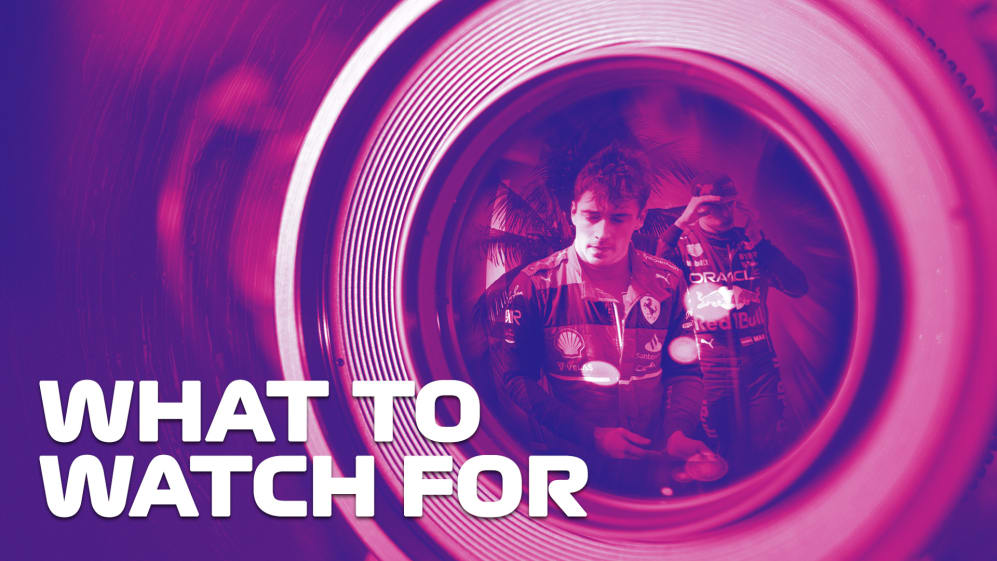 From Ferrari ending a three-year wait to familiar faces lining up alongside each other, and from AlphaTauri having an edge over their rivals to Esteban Ocon's costly mistake, we pick out some of the key areas to keep an eye on at the Miami International Autodrome…
1. Ferrari with a front row to defend
The last time there was an all-Ferrari front row was in Mexico three years ago, and that was courtesy of Max Verstappen receiving a post-qualifying penalty having gone fastest overall. Prior to that it was Spa in the same year, so it has been a while since the tifosi have been able to enjoy the sight of their two cars leading the field away when the lights go out on race day.
It could have been very different if Verstappen hadn't made a mistake on his final qualifying lap in Miami, but the defending champion ran wide and starts third. The pace he had shown despite a tough Friday does bode well for a close race, however, and Ferrari know they will be under attack from the two Red Bulls behind.
READ MORE: Leclerc takes pole ahead of Ferrari team mate Sainz in first-ever Miami Grand Prix qualifying session
Playing the team game could be important but Carlos Sainz in second place has ground to make up after a pair of retirements in his last two races, leaving him a distant fifth in the drivers' championship. Even with the perfect qualifying result, there's a long way to go for Ferrari to convert it into a victory.
2. Old team mates on row three
We've been used to seeing Valtteri Bottas and Lewis Hamilton starting alongside each other in the past, but you'd have been brave to bet on it being a regular occurrence this year. But for the second time in five races they will share row three, with Bottas ahead of his former team mate on this occasion.
The Finn has been enjoying a fine season for Alfa Romeo so far, and is just four points behind Hamilton in the drivers' championship, and he arguably has had a faster car in race trim at most circuits.
READ MORE: 'I really wanted to deliver' – Bottas proud to claim season-best grid slot in Miami after Friday shunt
So if Hamilton wants to help secure Mercedes another top-five finish (they've had one in every race so far this season despite their relative struggles compared to the top two teams) he's going to need to find a way past the driver he enjoyed a good relationship with inside the same team over the past five years.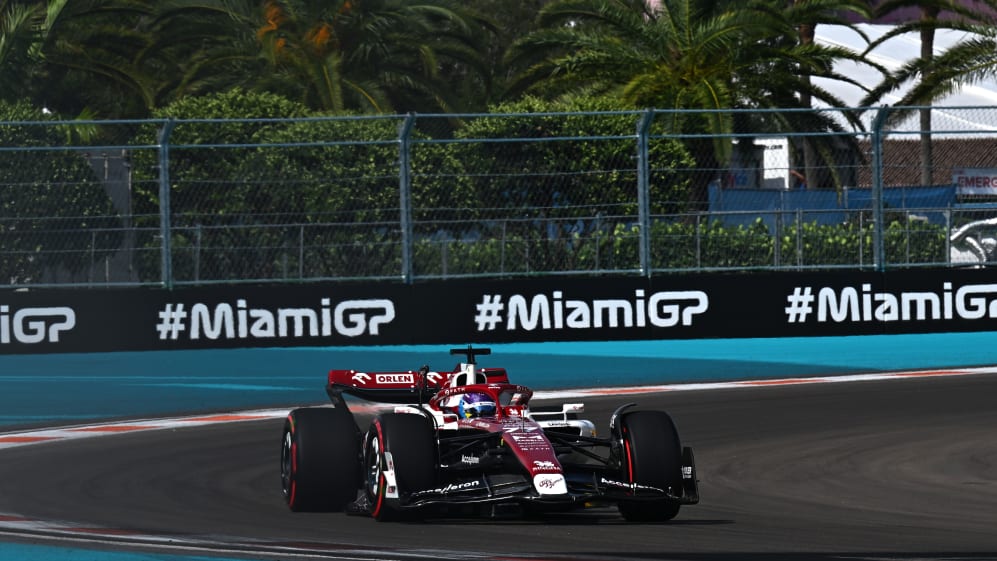 It's a battle that will take on a completely different dynamic this time around compared to their races in the past, but for Mercedes the more important aspect will be the car's overall performance after some encouraging signs to start the weekend, having brought some new components to Miami.
How those upgrades impact the race pace might be crucial to who comes out on top, and also George Russell's chances of making progress from P12 on the grid. Russell – who has also been in the top five at every race – was reasonably confident after Friday but then said he had no confidence in the car in qualifying to drop out in Q2 – so which Russell will we get in the race?
READ MORE: Russell 'confused' by poor Miami qualifying having harboured hopes for pole
3. AlphaTauri's top ten advantage
It has been a slightly tough start to the season for AlphaTauri, with flashes of pace but no consistent results to show for it. The team have scored in each of the opening four races, with Yuki Tsunoda's seventh place in Imola the best of the bunch.
But after scraping through Q1 they managed to get both drivers into Q3 for the first time this year, marking a big turnaround from the last race when they were eliminated in the first part of qualifying.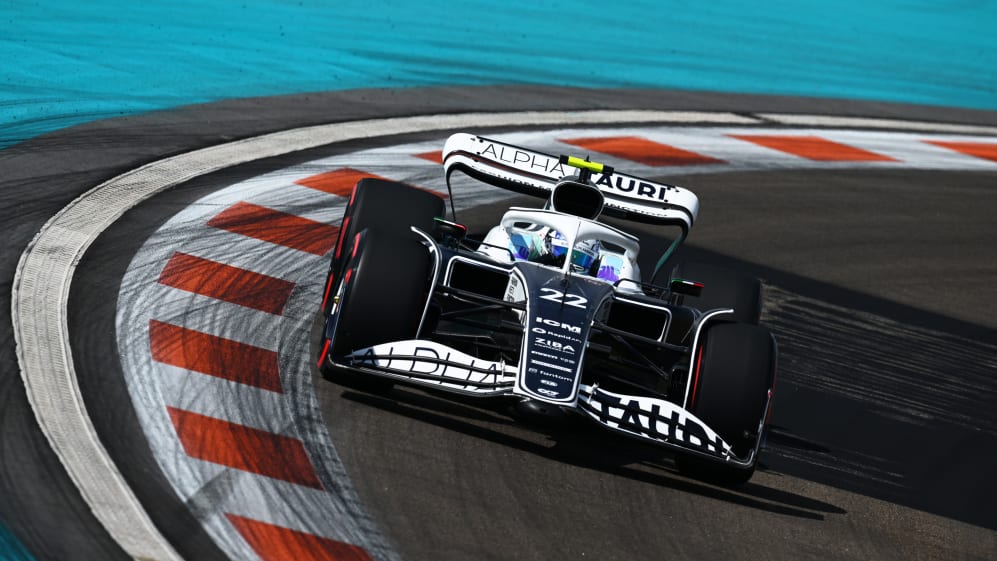 As Tsunoda's result in Italy attests, the car can be competitive on a Sunday but AlphaTauri haven't had the clean races to exploit that until now, and Miami looks like giving them a big chance of doing so. Pierre Gasly starts from seventh and Tsunoda ninth, with Lando Norris and Lance Stroll their biggest competition.
An incident-free start will be crucial to their hopes, with the first sector looking particularly tricky to negotiate cleanly on the opening lap. But AlphaTauri are the only team other than Ferrari and Red Bull to have both cars in the top ten, with the likes of Mercedes, Alfa Romeo and McLaren all seeing one of their two drivers have tough qualifying sessions.
READ MORE: FACTS AND STATS: First pole and front row lock-out for Ferrari in the States since 2006
4. Ocon's charge from the back
Alpine have looked fast on numerous occasions this year and while Fernando Alonso just missed out on a spot in Q3, Esteban Ocon wasn't even participating in qualifying after crashing in FP3. The Frenchman cracked his chassis when going off at Turn 14, and the team were unable to change the chassis in time, meaning he will start from either the back of the grid or the pit lane.
All is not lost for Ocon, though: the likelihood of Safety Cars and on-track incidents means there could be chances for the field to be bunched up, while the three DRS zones are expected to ensure overtaking is possible for faster cars.
The question for Ocon will be just how quick he is having missed out on crucial track time on a new circuit, but with the likes of Williams and Haas appearing to be struggling expect to see the Alpine driver making moves early on and potentially putting himself in contention for points.
5. Costly small errors
All of the teams and drivers have been getting to grips with a new track in Miami – but grip itself has actually been an issue this weekend.
The track surface is rough but as with any new circuit it takes time for the grip level to build up, as the more laps that are completed the more rubber goes down and therefore the quicker the track gets. At least, it does where the rubber is going down on the racing line.
The drivers have noticed that the grip level remains particularly low off-line, and so they didn't want to move out of the way for too long during practice sessions. While the grip level has been increasing, there is still a clear difference and it means if a driver gets slightly off-line they will lose a lot of performance, potentially for a few corners while they are cleaning up their tyres again.
Of course, the bigger mistakes tend to end in the wall, too, as highlighted by Valtteri Bottas, Carlos Sainz and Ocon at various stages so far this weekend.
HIGHLIGHTS: Relive the action from qualifying as Leclerc takes pole ahead of Sainz