'We make it super difficult for ourselves' says Verstappen after missing out on Miami pole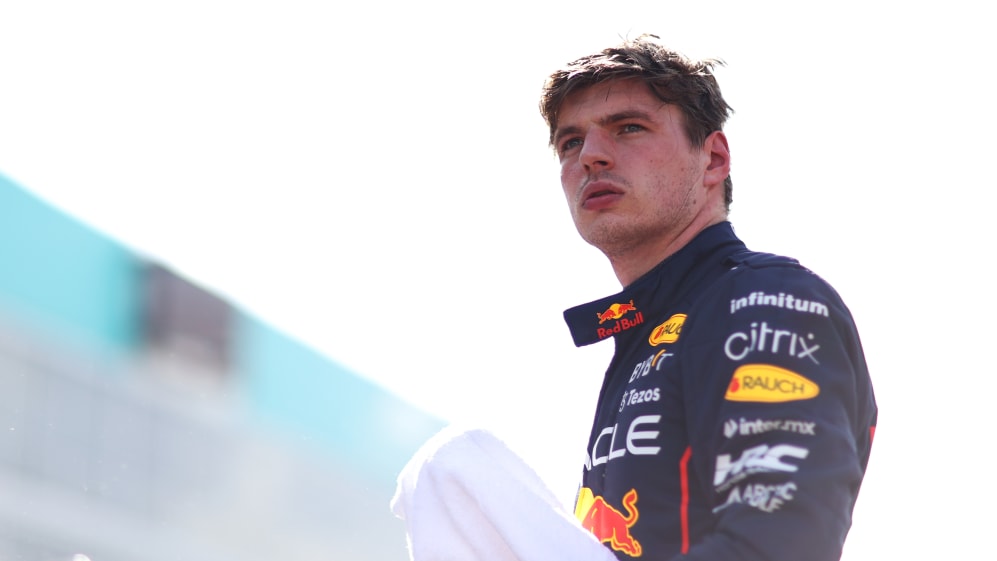 Max Verstappen said he was still feeling the effects of his FP2 reliability issues after qualifying third for the Miami Grand Prix. And the reigning champion called on Red Bull to make their lives – and his – easier going forward.
Verstappen missed out on pole position after making a mistake late in Q3, the Ferrari drivers having eclipsed his provisional pole time, with the Dutchman settling for third on the grid alongside team mate Sergio Perez.
But having missed a big chunk of running of Friday after a gearbox change and hydraulics issue, Verstappen expressed frustration after failing to net P1. "It's just been incredibly messy, and we make it super difficult for ourselves," he said.
READ MORE: Leclerc takes pole ahead of Ferrari team mate Sainz in first-ever Miami Grand Prix qualifying session
"Basically [we had] four or five laps yesterday, and then you start today still learning the track, trying to find a set-up, because yesterday you have no clue of what… worked, because obviously there was no data to look at.
"I'm of course still pleased to be in third position, and actually be very close to the [Ferraris] but I think we can do so much better by just actually operating a bit cleaner and smoother... If we had a clean weekend, we would have been on pole."
The championship contender was asked how Red Bull could operate "cleaner and smoother" in subsequent weekends.
READ MORE: Verstappen laments 'extremely painful' start to Miami GP weekend as Red Bull endure rocky Friday
"Well I mean, like I said before, I've only done four or five laps yesterday and you cannot afford that on a new track like this and a street circuit in general, because it's very critical to just do laps and just understand the car and get in a rhythm, because on a normal track it's quite easy to get in a rhythm; on a street circuit it's a lot more difficult.
"We basically failed on that side and of course, I think in general we are experienced enough to catch up quite a lot of it, but to really fight against a strong team like [Ferrari], you cannot afford it, and of course we still got close but I think we could've done a much better job today if we had a cleaner Friday," he maintained.
FACTS AND STATS: First pole and front row lock-out for Ferrari in the States since 2006
As for the mistake that cost him pole position on Saturday, Verstappen explained: "Yes, a bit of a weird moment to lose the car, but again, it's not really knowing the limits I guess, and just trying a bit more. Suddenly, it snapped in Turn 5. I tried to keep it on the road but that didn't work. Bit odd, the way it snapped, but these things can happen."
The reigning champion has a 27-point deficit to Leclerc ahead of tomorrow's Miami Grand Prix, Verstappen hoping that the straight-line speed of his Red Bull can overturn Ferrari's advantage.
Watch the Miami GP Live on F1 TV Pro with exclusive onboard cameras, pre-race show and technical shows. Stream live ad free on your favourite device with F1 TV Pro. Subscribe now (only available in selected countries)