Crash doesn't spoil 'very positive' day - Vandoorne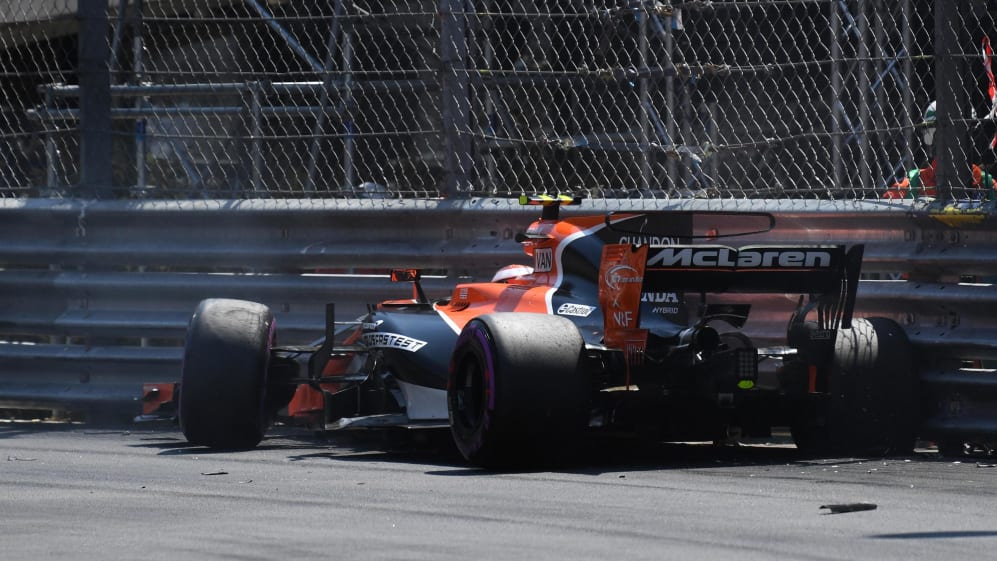 Stoffel Vandoorne shrugged off his qualifying crash at Monaco, saying it did nothing to detract from what was a very positive day as McLaren got both cars into Q3 for the first time this season.
Vandoorne had been an impressive seventh in the second part of qualifying, just 1s off Ferrari's Kimi Raikkonen - but in the last minutes he hit the inside wall at the final chicane, pitching him into the barriers on the exit. The resulting yellow flags ensured him of the first Q3 slot of his career - and though he was unable to participate in the top-ten shootout, he nonetheless finished the day full of optimism.
"I think it was a very positive day for us," reflected the Belgian, after qualifying 10th.
"We've been building our weekend through all the practice sessions and [entered] qualifying very confident. I think we showed a great performance - in Q1, Q2 every time we went out there we were fifth, sixth, seventh.
"So yeah we had a good crack - unfortunately it resulted in a crash at the end of Q2, but that's what happens sometimes when you push the cars on the limit round Monaco.
"The team is going to rebuild the car - it shouldn't be a problem - and tomorrow is another day. We're going to go back out there, have fun and try our best."
While Monaco plays more to McLaren's strengths - as also shown by temporary team mate Jenson Button's ninth-place qualifying result - Vandoorne believes his improved pace also reflects the fact he is now beginning to settle at the the team, ahead of what is only his seventh F1 start.
"I'm feeling a lot more comfortable with the guys as well and I think this weekend we've shown that with our performance," he said. "Hopefully we can carry that forward - I'm feeling very positive the team is going in the right direction."
Grid penalties for both Vandoorne and Button mean they are set to start Sunday's race from 12th and 20th respectively. Vandoorne picked up a three-place drop for his crash with Felipe Massa at the last round, while Button loses 15 for taking on new power unit elements.
WATCH: Vandoorne hits the barriers in Monaco qualifying