Feature
Daniil Kvyat: The Russian's redemption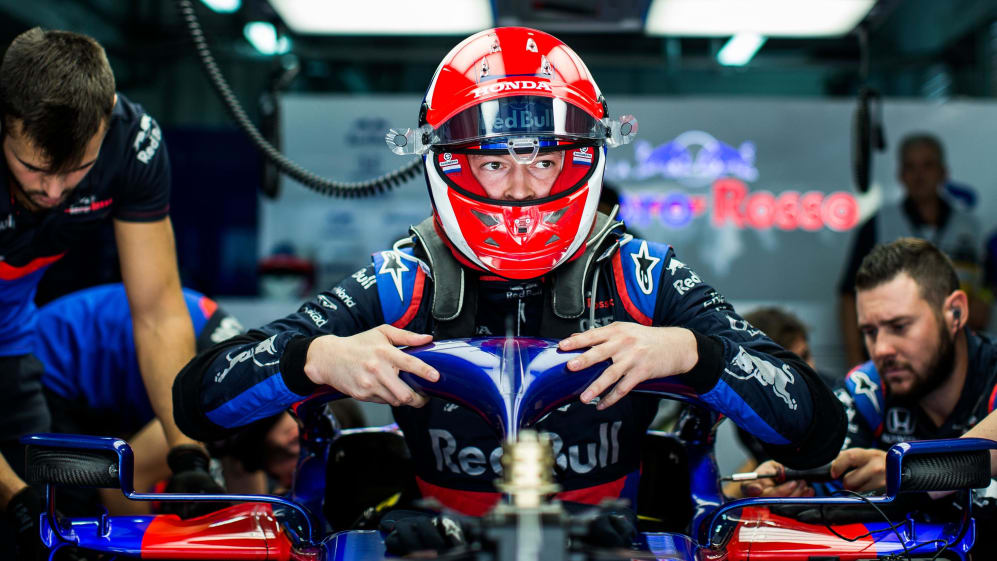 After being sent back to Toro Rosso from Red Bull Racing in 2016 and then cast aside altogether at the end of 2017, it looked like Daniil Kvyat's time in Formula 1 would be a tale of a star gone supernova. But just a few weeks later Ferrari snapped him up as a development driver, and a year later, Red Bull were on the phone asking him to return to Toro Rosso. It's quite the turnaround and quite the story…
Formula 1 isn't renowned for tales of redemption. Fail to deliver and you're usually out on your ear. But Daniil Kvyat's journey is about as far away from the standard script as possible. Tipped as a future champion by Dr Helmut Marko during his karting days, Kvyat blazed a bright and shining trail through the junior formulae, eventually claiming the 2013 GP3 championship with an assuredness that belied his 19 years.
His reward was promotion to Toro Rosso and after an impressive start in 2014 he was swiftly vaulted to the senior team for 2015 – in place of departing four-time champion Sebastian Vettel. Fourteen points finishes from 19 races, as well as out-scoring highly regarded team mate Daniel Ricciardo pointed to a driver determined to deliver on Marko's forecast, but the following year Kvyat's career imploded.
The first four races of the 2016 season were messy for the Russian, with an out-of-character wildness on-track that saw him branded a "torpedo" by Vettel after a bruising start in China that resulted in a verbal spat in the cool-down room as the pair prepared to walk out on the podium. And then, in the following race, on home turf in Russia, Kvyat tangled with the Ferrari star for a second time. On this occasion the collision caused Vettel to retire and Kvyat to limp to a lowly 15th.
With Max Verstappen putting in eye-catching performances at Toro Rosso and with pressure building for the Dutchman to be given a better chance to shine, the Torpedo's second detonation was the final straw. Four races into his second F1 campaign, and just one race after his second F1 podium, he was turfed out of the team in favour of Verstappen.
Sent back to Toro Rosso, Kvyat struggled over the remainder of the season, and while he was retained for 2017, Red Bull eventually lost patience. Just after the summer break the drinks company cut him loose, not just from Toro Rosso but also from their whole driver programme. Things looked pretty bleak.
But taking some time out, away from the pressure cooker of F1, was just what Kvyat needed. He could re-group, reassess what he really wanted, from life as much as motor racing. But whether he wanted to continue in the sport was a moot point, as it quickly became apparent that the sport wanted him. Ferrari came knocking and, valuing his experience, signed him up as their development driver, with a heavy focus on simulator work. The team's Maranello base became the Russian's second home.
"That was a good year, honestly," says Kvyat. "They treated me really well. You help the team and you get to know somewhere outside the Red Bull world. It was good to see how another team operates. I really liked it. I wanted to go to the track, but it helped me grow hungrier to return to Formula 1 in a racing capacity."
The opportunity to work with a high-profile team, but without the huge pressure that comes with it – or indeed being inside the hugely competitive Red Bull junior programme – proved to be just the tonic. Since entering his first single-seater championship in 2010, it had proved to be a relentless rise for Kvyat. There was barely time to catch a breath. This was an opportunity to take stock and think about what he'd experienced.
"My career evolved quickly," he says. "I've had no time. I had to skip a few little steps. It wasn't a bad thing. Even last year, when I wasn't racing, I wanted to get back racing. But sometimes, you need to take a little step back to go forward in the future."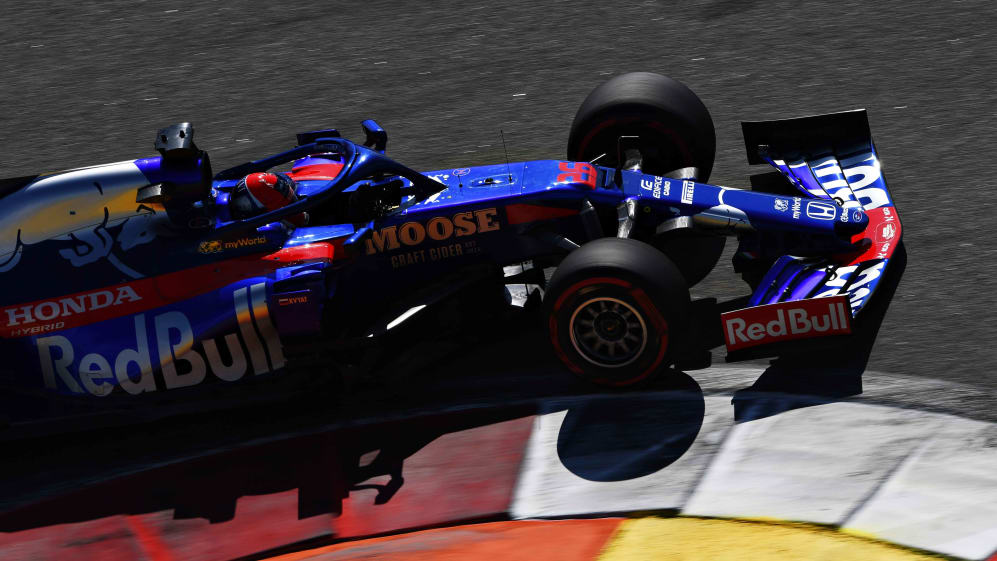 While there were some days on the sofa, Kvyat didn't ease up on his training, the Russian keeping up a regime as demanding as when he was in F1 so that he stayed in shape and was ready if and when an opportunity came up.
Then came the call in the summer. "In the beginning, Red Bull needed their space, I needed my space – but we started to be more in touch in the summer," he says. "I remember having a normal chat, as ex-colleagues, with Dr Marko and Christian [Horner] in Canada. It was just a catch-up to see how things were. There was maybe one phone call from my side to enquire and then there was a phone from Dr Marko's side. And the call came later on in the year. I really wanted to get back to F1. And, when this opportunity came up, I didn't think twice. We had a meeting and pretty much decided on everything there and then."
Kvyat admits he was "slightly anxious" on returning to Toro Rosso, the Russian getting re-acquainted with his office and the team at the end-of-season Abu Dhabi test, but he adds he need not have worried. "Everything was so smooth, it felt like I never really had a break. From lap five or six I really was into it."
It's been quite the comeback, with Kvyat scoring points on seven occasions before the summer break, including a stunning, opportunistic podium in the wet at Hockenheim – Toro Rosso's first since 2008. Before team mate Alexander Albon left to join Red Bull after the summer break, Kvyat had outshone the Thai driver by 11 points. It has been an impressive showing.
"This year, I've been driving almost all year at my peak, driving better than ever and using my potential," he says. "It's really enjoyable. That's what makes me enjoy the sport so much and, of course, when the results come with it, it makes you enjoy it even more. So, it's really good. It has been a good season so far, many points scored and a podium for a team that hasn't had one for 11 years. It's a fantastic achievement."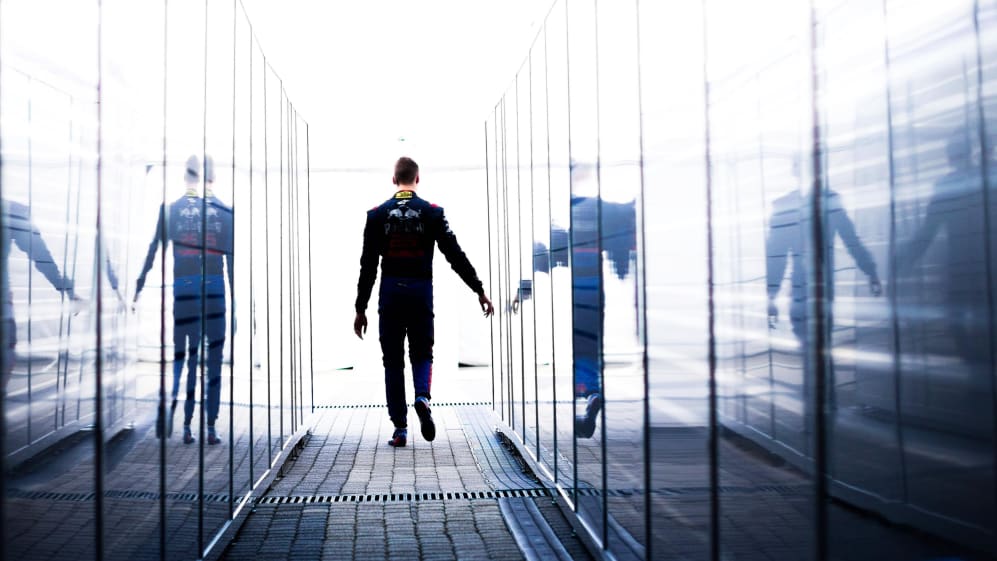 It's clear that Kvyat is enjoying his racing again, like he did in that first season for Toro Rosso. He no longer looks like he carries the weight of the world on his shoulders. The Russian is a funny guy, but the joker inside of him had been missing in action during those bad times. That's no longer the case.
"I didn't have any expectations this year, to be honest," he says. "I just said to myself that I have this great opportunity and whatever the level will be of the car, I'm going to try to do my best with it. The level of the car has been very competitive and the team has been very competitive this year as well. So, I was able to extract most out of myself and the car every weekend this year."
Did that time out away from F1 make him a better driver? "I don't know," he says. "I don't think you can change yourself. You can't throw your old self away and build a new one. But, you can change the things around yourself. Small things around which can make a big difference in the end. I've realised a few things. Every athlete has his own professional secrets, in a way. But maybe one day I will expand on that.
"My career was over in my mind at some point last year and it was great to get another opportunity from Red Bull. They believed in me again and they offered me this chance to show that I learned from all the crises of the past and now I'm doing a better job."
With that in mind, it's no surprise that Kvyat isn't mapping out his racing future. He says the focus is on doing the best job he can, from race to race, and then seeing what happens. But of course, underneath, he craves the opportunity to prove himself once again at a top team – and should that arise, he reckons he's better prepared than ever.
"I have no particular plan, especially with Red Bull - it's hard to have a particular plan," he says. "Everything is quite open. I need to keep doing the job I'm doing. They said that they were happy with my year so far and just asked me to keep doing this job. They asked me to try to get the highest position possible for this team and then they will see where things will be.
"Whatever way it will go, I need to have patience. I need to accept that sometimes it might take time to get a chance at the highest level. But now I know that whenever the opportunity will come at the highest level, I'm ready. I'm more ready than ever."