New father Kvyat caps 'surreal' weekend with surprise podium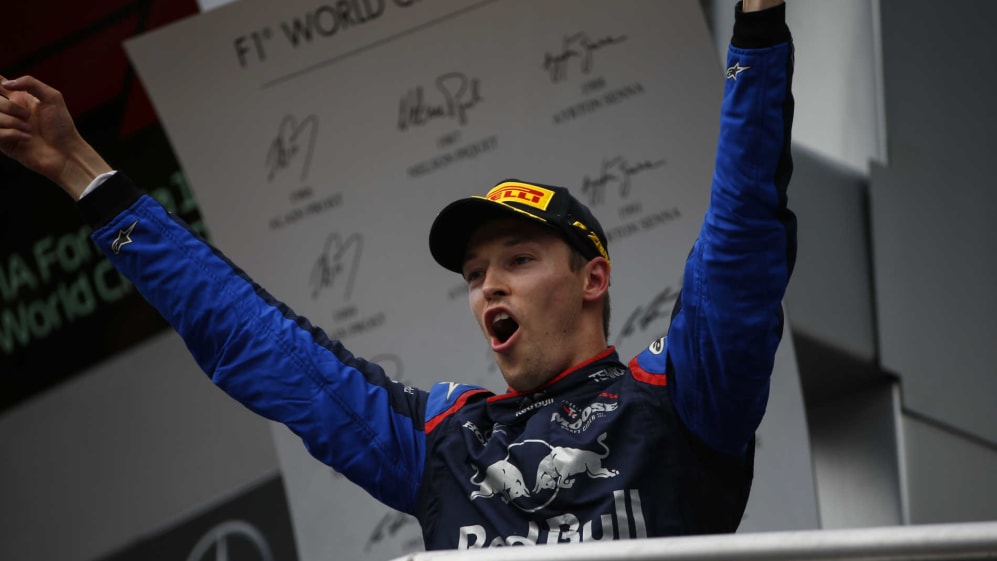 As 24-hour periods go, Daniil Kvyat's takes some topping. Just hours after his partner gave birth to his first child, the Russian made all the right moves in a wild and whacky German Grand Prix to score a wholly unexpected third place.
The podium - the third of Kvyat's career and Toro Rosso's second ever – will come as great vindication to the 25-year-old, who returned to the grid this year after spending 2018 as Ferrari's development driver following Red Bull's decision to drop him from their stable in 2017.
What made Kvyat's podium all the more extraordinary was that it came from 14th on the grid, with the Russian even running as low as 19th in the early stages. But he kept his head, kept his STR19 on track and made sure he was on the right tyres at the right time to emerge in podium contention after the final Safety Car.
It was a horror movie, with a bit of black comedy
A succession of faultless laps to the chequered flag completed the job, with Sebastian Vettel's late pass to snatch second hardly a disappointment.
"It was amazing," said Kvyat, who scored both of his previous podiums with Red Bull, the last at China 2016. "Incredible with Toro Rosso, after so many years to bring a podium to the team is amazing. The race was crazy.
"It was a horror movie, with a bit of black comedy. At one point I thought the race was done for me and it came alive again. It was an incredible rollercoaster – a bit like my whole career…"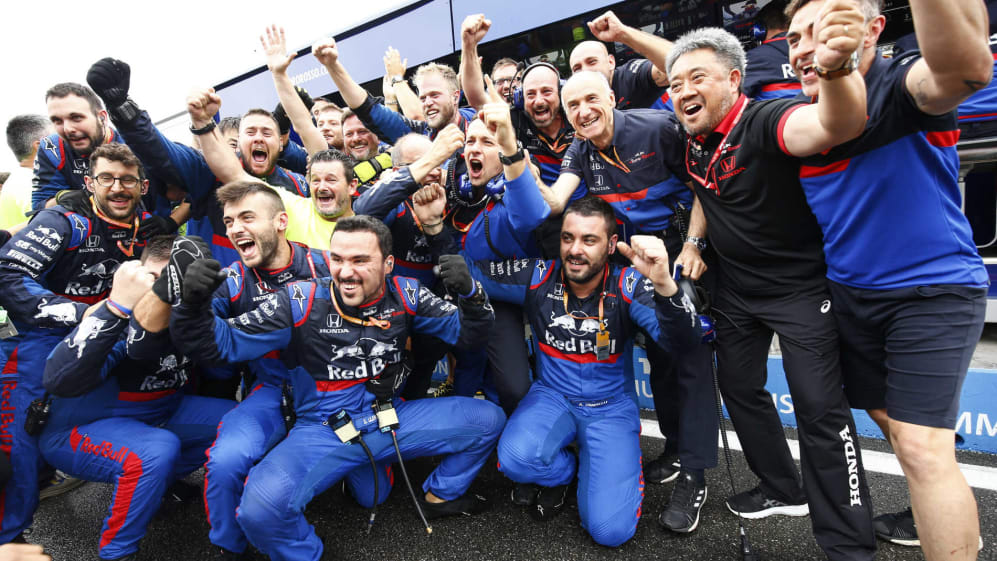 A great weekend professionally for Kvyat then, but also on a personal front.
"My daughter was born last night," revealed Kvyat afterwards, saying he kept the news quiet so as to focus on the race. "We don't have a name yet. I'll get home and [my partner and I will] decide together. I think we're on the flight with Max [Verstappen, German race winner] tonight so I hope he will behave.
"It feels a bit surreal at the moment, it's all a bit unreal for me, I need a bit of time. "11 years since Toro Rosso's last podium, Sebastian [Vettel] at Monza, amazing day. I'm so happy. Really, thanks to everyone in the team, it was just an incredible day."
And a significant one in his personal development too? Potentially, according to the man himself.
"This doesn't feel like any other podium to be honest, it feels like something else. I know it's a bit of a history because it's the first podium in such a long time. It feels different this time. I was ready, I was more ready now than ever to fight for those podiums.
"I think this year I'm more mature, my head is cooler, I'm more ready to fight on top. Today I proved it to myself and everyone around, and I hope soon that this will become a habit."
In one fell swoop, Kvyat vaults from P14 to P9 in the drivers' standings, his 15 points lifting him above Lando Norris, Daniel Ricciardo, Nico Hulkenberg, Kevin Magnussen and Sergio Perez.